1932 Bucciali TAV8-32 Saoutchik 'Fleche d'Or'
Unlike most upcoming manufacturers, Alberto Bucciali nearly lost his life fighting as a pilot in the WW1 before manufacturing his own cars. And of the few he made with his brother Paul-Albert, this TAV8 was their best. Flanked on its side was the same stork that adorned the fuselage of his SPAD XIII fighter plane during dangerously low photo reconnaissance missions amongst anti-air assaults and braces of German Fokkers.
Lucky to make it out alive, even after sustaining a gun wound to the neck, Bucciali's need to fly aircraft was eventually satisfied enough to concentrate on motor car design. His first cars were unconventional, using small two-stroke engines, and in 1926 the Bucciali brothers decided to design and implement a front-wheel-drive system known as the Traction Avant (TAV).
Using an oversize ball joint design, the front suspension was independent and one of the more complicated systems of its time. To highlight their innovation, several show cars were constructed and displayed around the world with hope of selling the Traction Avant patent rights to larger manufacturers. Unfortunately, despite campaigning TAV3 around America, very few orders came in and the first was made at the 1930 Paris Motor Show.
Georges Roure was so taken with the front-engine Bucciali and a mockup sixteen cylinder engine at the show, that he ordered the top model with a Guillet cabriolet body. When the engine couldn't be delivered, a Voisin sleeve valve engine was substituted and it was first shown at the Nice Concours d'Elegance. During the trip, Roure was critical of many details and offered to pay more money to have his car rebodied. Impressed by a Saoutchik convertible that was fitted to a show chassis, Roure eventually ordered a strikingly low, four door saloon body by Saoutchik.
After receiving its Saoutchik body, the Bucciali brothers must have been particularly pleased. During a period of financial troubles they could view the ultimate expression of their efforts. Saoutchik's design was exceptional as a whole and in detail with its, armchair radiator, Grebel headlights, enormous length, curvaceous fenders and low ride height. At the front was the Bucciali script pierced by a golden arrow to reflect Saoutchik's name. Before being delivered, it was driven over 1000 kms by engineer Paul-Albert.
Upset with the cumbersome maintenance of the sleeve valve engine and front wheel drive system, the next owner, Count de Rivaud, removed the body and fitted it on his Bugatti Type 46. With a transmission and drive train in the way, the Saoutchik body sat much higher and new fenders had to be crafted. This did little for the original elegance of the car, and fortunately, with much persistence, the TAV8 was pieced back together.
In the 1970s, the original Saoutchik body greenhouse was taken off the Bugatti and used as a basis to recreate the Bucciali. The car's original engine and drive train was found, but a new chassis, fenders and many other pieces had to be manufactured.
Not until 1991 did TAV8 make its grand return by being offered for public sale at Christies Pebble Beach Auction. At the time, it failed to sell, until being offered again by Chrisites at Retromobile and subsequently ending up in America. It took several more years until the car made its official Concours debut at the Pebble Beach in 2006.
Unfortunately, while the Bucciali brothers were daring innovators, had they not taken the decision to develop a complicated front wheel drive system they probably would have produced a far greater number of cars. The example seen here is among only six road-cars that did little to recoup the initial financial investment.
See full 1932 Bucciali TAV8-32 Saoutchik 'Fleche d'Or' Gallery here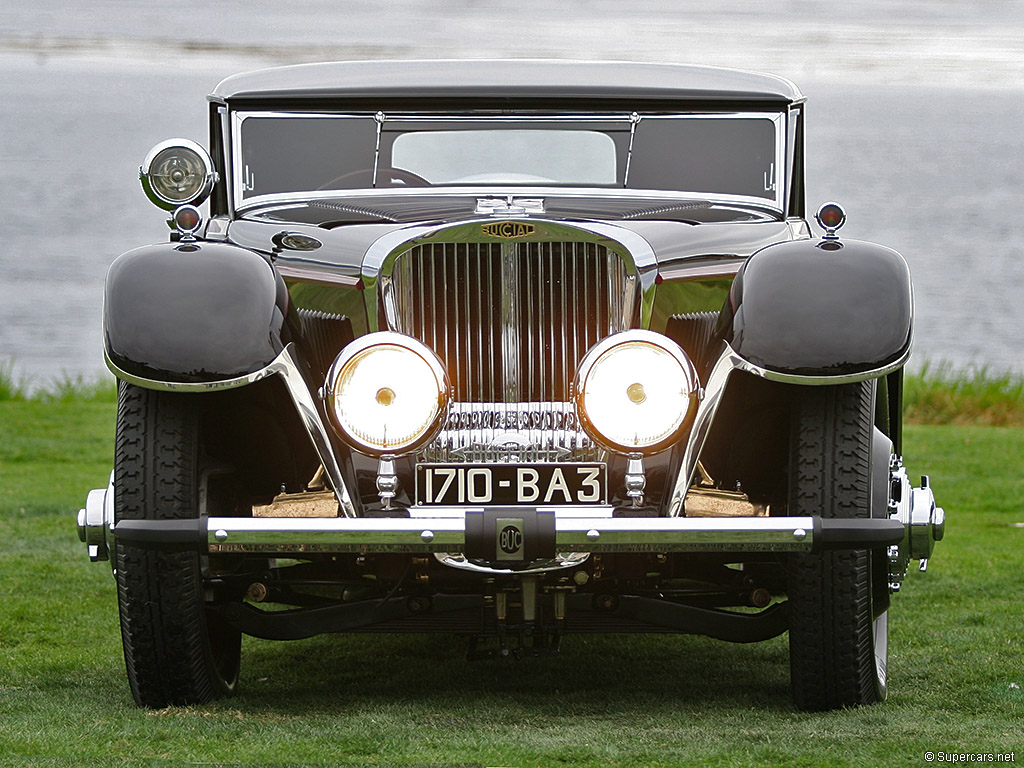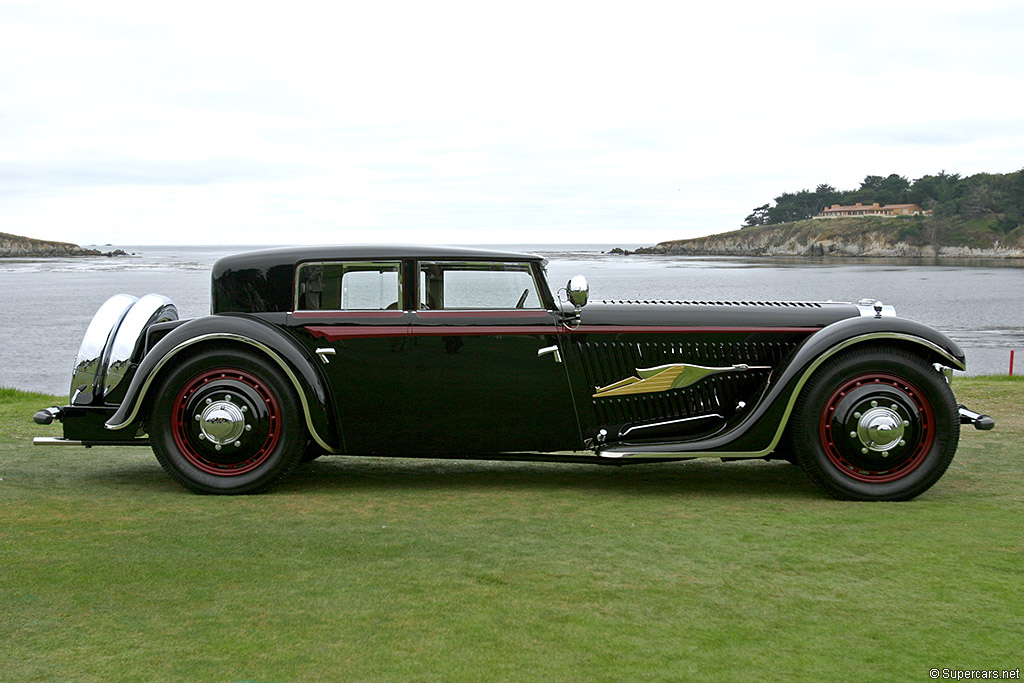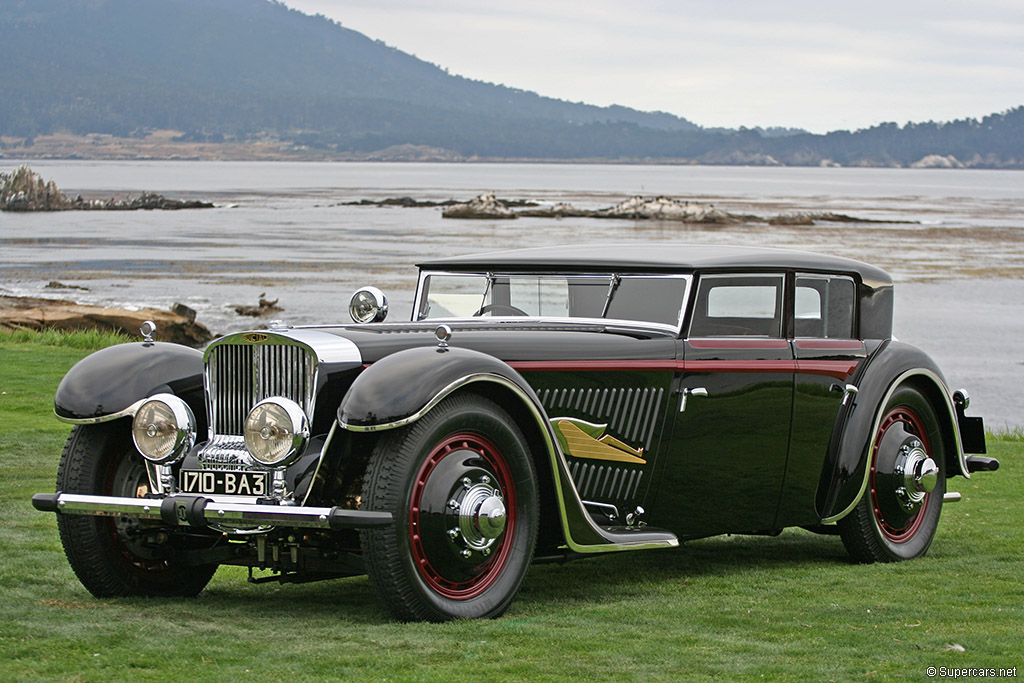 In Detail
| | |
| --- | --- |
| | |
| engine | Type C18H Voisin V12 |
| position | Front Longitudinal |
| aspiration | Natural |
| valvetrain | Knight Sleeve Valves |
| fuel feed | 4 Zenith Carburetors |
| displacement | 4885 cc / 298.1 in³ |
| bore | 72 mm / 2.83 in |
| stroke | 100 mm / 3.94 in |
| power | 84.3 kw / 113 bhp @ 3500 rpm |
| specific output | 23.13 bhp per litre |
| bhp/weight | 39.24 bhp per tonne |
| body / frame | Steel Body on Wood over Steel Chassis |
| driven wheels | FWD |
| wheel type | Alpax Wheels w/Built-in Drums |
| front brakes | Drums |
| f brake size | mm / in |
| rear brakes | Drums |
| r brake size | mm / in |
| steering | Sensaud de Lavaud Double-Acting Steering Box |
| f suspension | Oversize Ball-jointed Half Shafts w/Semi-Elliptic Leaf Springs |
| r suspension | Live Axle w/Maybach Springs |
| curb weight | 2880 kg / 6349 lbs |
| wheelbase | 3750 mm / 147.6 in |
| front track | 1650 mm / 65.0 in |
| rear track | 1650 mm / 65.0 in |
| length | 5790 mm / 228.0 in |
| width | 1981 mm / 78.0 in |
| transmission | Transverse Bucciali 4-Speed Manual |
| gear ratios | :1 |
| designers | Jacques Saoutchik |