1932 Duesenberg Model SJ
Supercharged Duesenbergs were the top American supercars of their time. They join the Supercharged Stutz, Cadillac V16, Packard Twelve and Marmon Sixteen to uphold American honors against the Rolls-Royce Phantom II, Bentley Speed 6, Hispano-Suiza J12 and Mercedes-Benz 540 k. With its centrifugal, gear-driven supercharger, 320 bhp was possible which eclipsed any other production car of the period.
Eric Minoff on the La Grande Dual Cowl Phaeton
The Model SJ, the supercharged version of the J, debuted in 1932 originally equipped with a set of eight separate hard pipes, the arrangement you see on this car. The early hard pipes, as they were referred to, only existed for less than a year, at which point they replaced with the 4 flexible stainless steel pipes you see on virtually all SJ and many J's.
The stainless pipes were so racy and popular at the time (Mercedes-Benz, Maybach, Rolls Royce, Bentley, Delahaye, Delage, Talbot-Lago, Auburn, and many others all had them), that many owners actually converted their hard pipe SJ's (or no external pipe J's) to the 4 stainless steel pipes. While these pipes did have their advantages, such as prestige and (on SJ's) the ability to disconnect the pipes for a [loud] boost of power, some owners liked their hard pipe SJ's too much to change them.
One owner went so far to tell August Duesenberg (after the owner had received a notice from the company offering to change the pipes) that he loved his hard pipes b/c they glowed at night and impress my girlfriend! Hence, you can definitely tell if a Duesenberg is an SJ if it has hard pipes, but cannot if it has stainless steel ones.
In Detail
| | |
| --- | --- |
| submitted by | Richard Owen |
| engine | Lycoming Straight-8 |
| position | Front Longitudinal |
| aspiration | Centrifugal, Gear Driven Supercharger |
| valvetrain | DOHC 4 Valves / Cyl |
| displacement | 6876 cc / 419.6 in³ |
| bore | 95.25 mm / 3.75 in |
| stroke | 120.6 mm / 4.75 in |
| compression | 5.2:1 |
| power | 238.6 kw / 320 bhp @ 4200 rpm |
| specific output | 46.54 bhp per litre |
| bhp/weight | 122.7 bhp per tonne |
| torque | 576.22 nm / 425 ft lbs @ 2400 rpm |
| redline | 5200 |
| body / frame | Steel over Steel Ladder Frame |
| driven wheels | RWD |
| front tires | 7.00×19 |
| rear tires | 7.00×19 |
| front brakes | Drums w/Hydrualic Assist |
| rear brakes | Drums w/Hydrualic Assist |
| front wheels | F 48.3 x 17.8 cm / 19 x 7 in |
| rear wheels | R 48.3 x 17.8 cm / 19 x 7 in |
| steering | Ross Cam and Lever |
| f suspension | Rigid Axle w/Semi-Elliptic Springs, Hydrualic Shock Absorbers |
| r suspension | Live Axle w/Semi-Elliptic Springs, Hydrualic Shock Absorbers |
| curb weight | 2608 kg / 5750 lbs |
| wheelbase | 3620 mm / 142.5 in |
| front track | 1425 mm / 56.1 in |
| rear track | 1425 mm / 56.1 in |
| transmission | Warner Hy-Flew 3-Speed Manual |
| gear ratios | 2.485:1, 1.397:1, 1.000:1 |
| top speed | ~207.6 kph / 129 mph |
| 0 – 60 mph | ~10.0 seconds |
| 0 – 100 mph | ~20.0 seconds |
Auction Sales History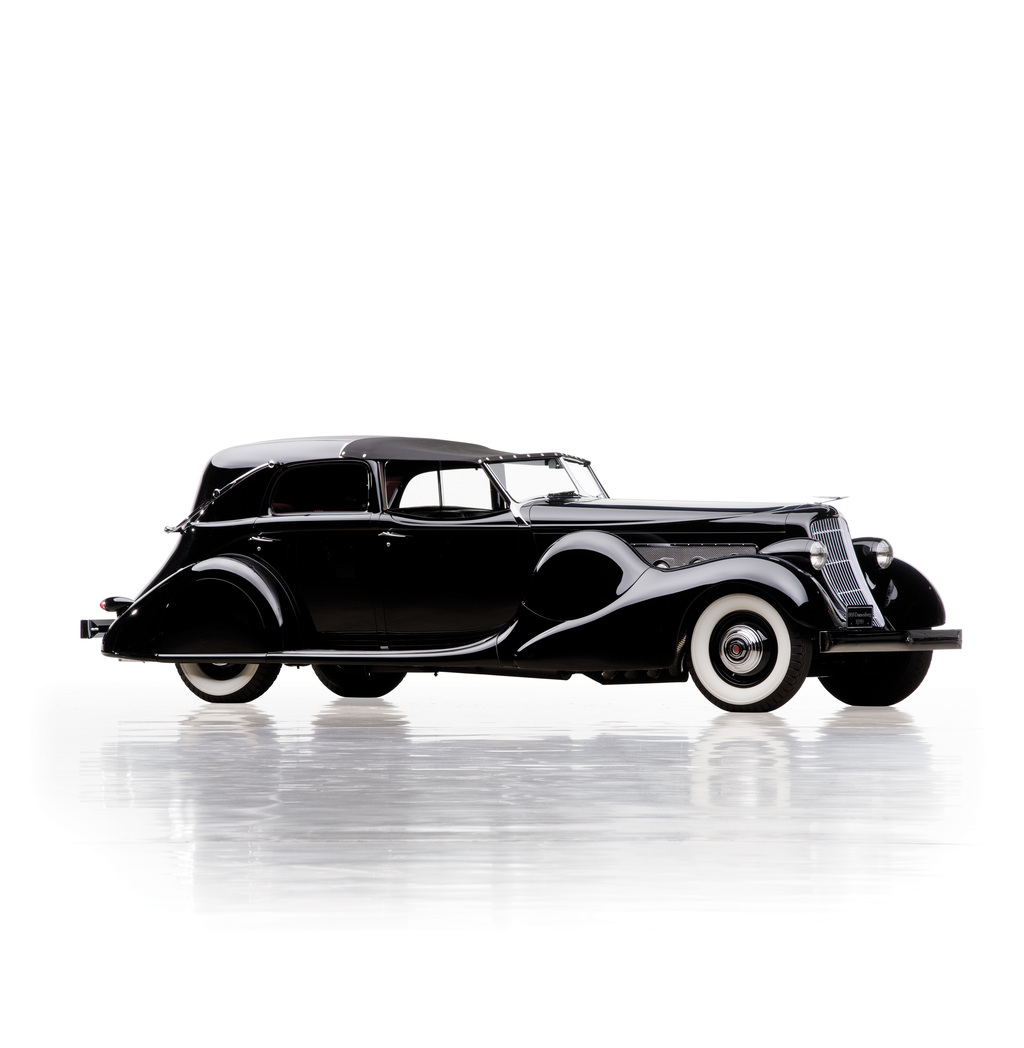 1935 Duesenberg Model SJ Bohman & Schwartz Town Car J553 – sold for $3,630,000 A one-off streamlined creation on a factory-supercharged chassis. Designed for Mae West; built for candy heiress Ethel Mars. Formerly owned by William Harrah and Richard Dicker. Featured in all of the important Duesenberg texts. Original engine, chassis, and body; ACD Certified Category 1 (D-044). The ultimate SJ Duesenberg.
Auction Source: Paul & Chris Andrews Collection by RM Sotheby's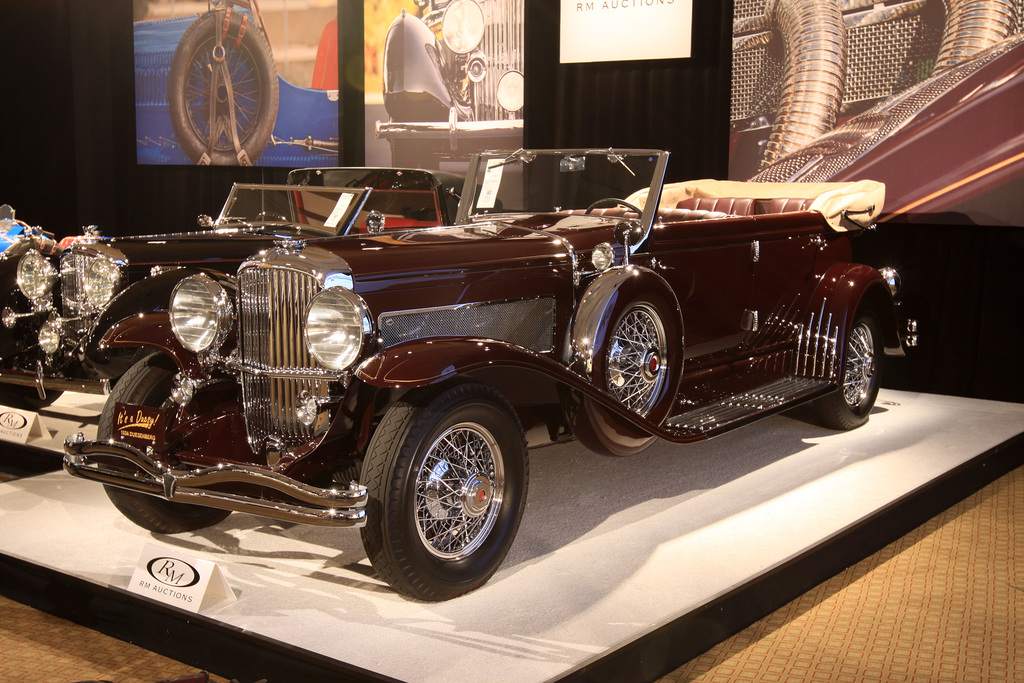 1934 Duesenberg Model SJ LeBaron Convertible Sedan J494 – sold for $1,567,500
The only SJ Convertible Sedan by LeBaron. Formerly owned by Edith Ludwig and Edmund C. Lynch Jr.Original engine, body, and chassis. Known history from new. Featured in Out West with the Hardys and Automobile Quarterly, Vol. 1, No. 1.
Auction Source:
Amelia Island 2014 by RM Auctions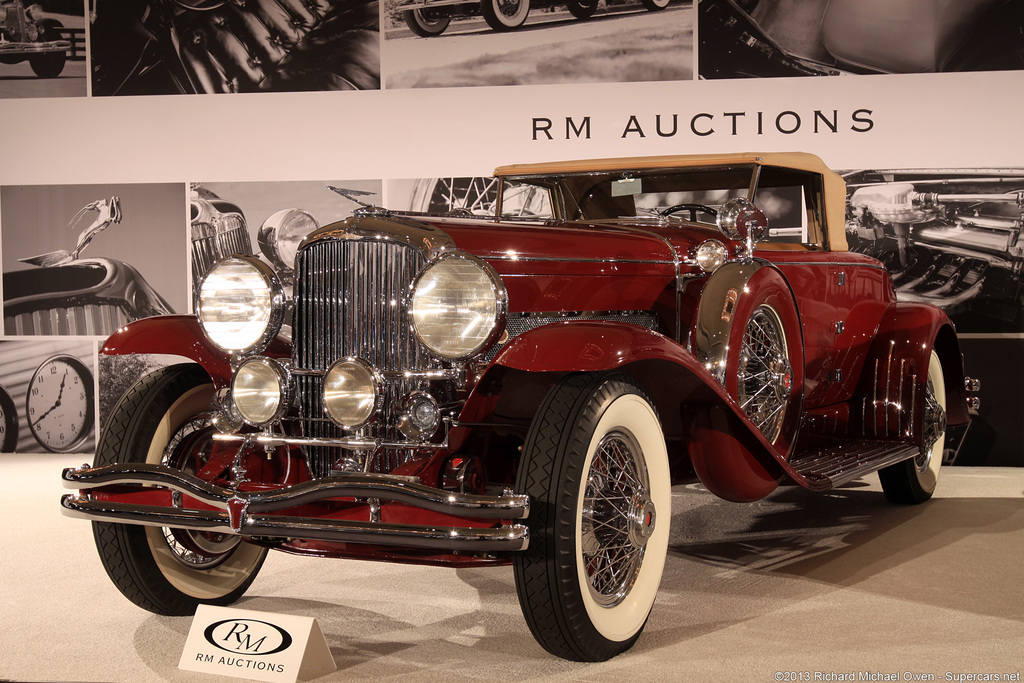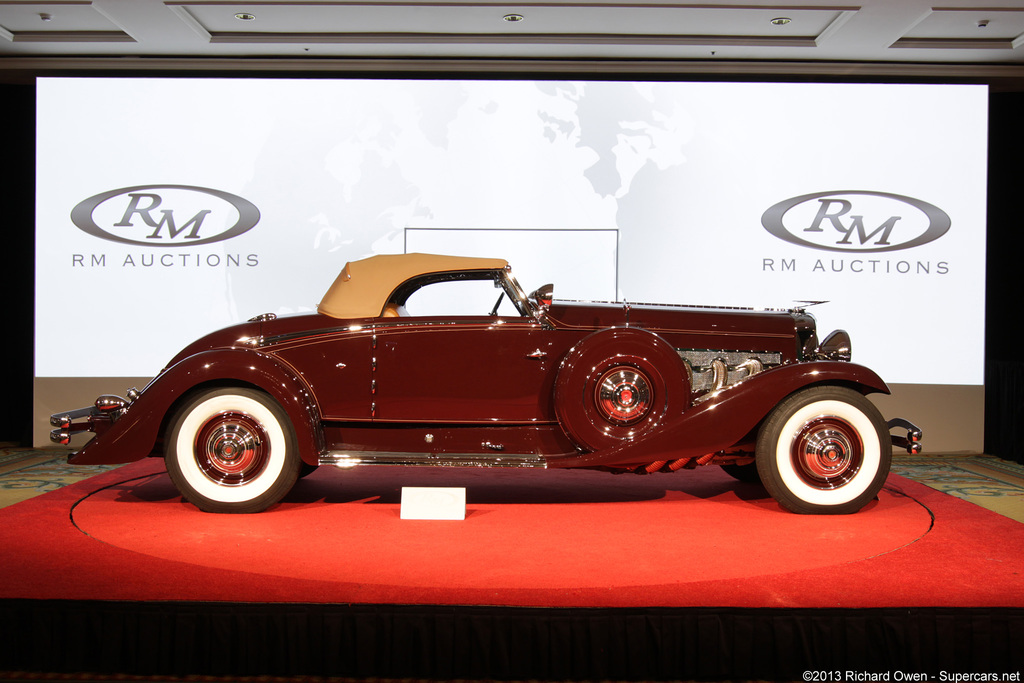 1935 Duesenberg Model SJ LaGrande Convertible Coupe J530 – sold for $4,510,000
Arguably the most beautiful convertible coupe on the Duesenberg chassis. One of three produced, and the only supercharged example. Believed equipped with an original supercharger. Formerly the property of Raymond Lutgert and General William Lyon. Driven extensively, including the Texas and Wyoming Duesenberg Tours.
Auction Source:
2013 Amelia Island by Rm Auctions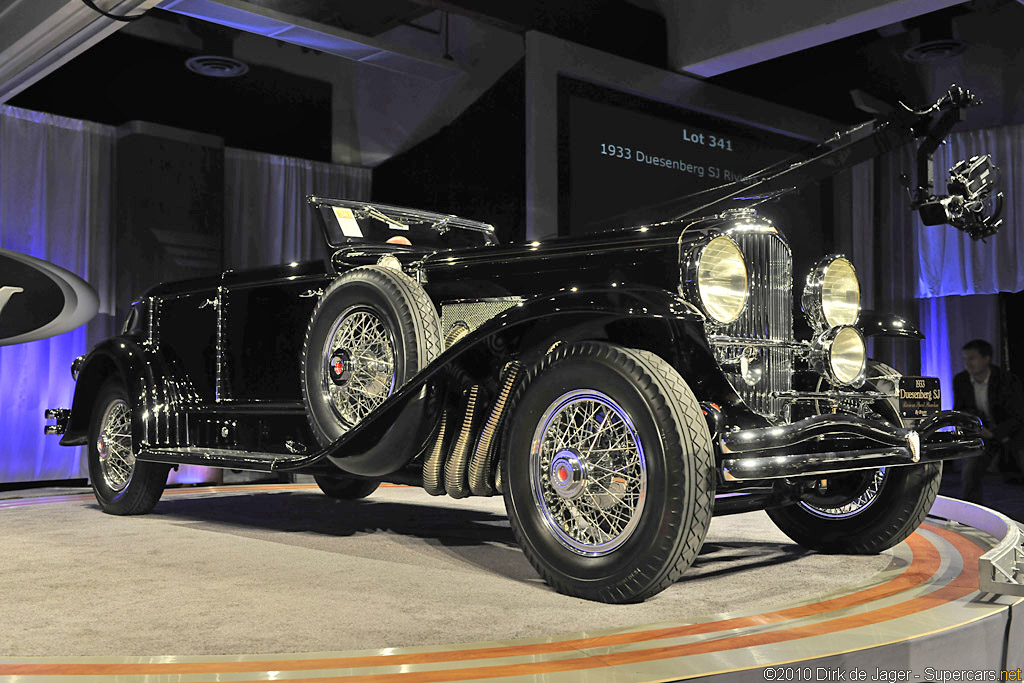 1933 Duesenberg SJ Riviera Phaeton 2551 –
A factory-supercharged Model SJ. Original Phaeton body. Today, Lt. Col. Jacob Schick's magnificent SJ528 is one of a mere handful of original-bodied supercharged Model J Duesenbergs remaining today. It is one of three Brunn Riviera Phaetons built and, amazingly, one of two such factory-supercharged cars. In 2006, SJ528 was shown at the prestigious Amelia Island Concours d'Elegance, where it was awarded Best in Class. As expected, it is an exceedingly rare event when an original-bodied Duesenberg with the specification, pedigree, provenance and rarity of SJ528 comes to market. For the confirmed collector of the finest custom-coachbuilt cars of the Classic Era, SJ528 is very likely the finest example available today.
Auction Source: RM Auctions' 2010 Sports & Classics of Monterey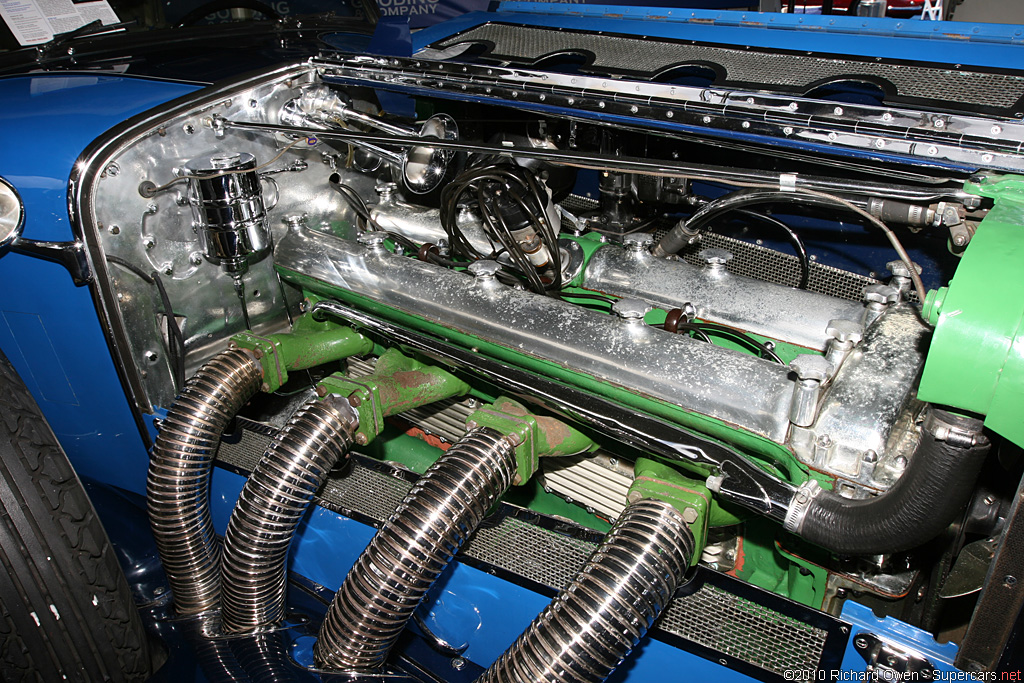 1933 Duesenberg SJ LWB Convertible Berline 2437 –
This long wheelbase convertible sedan displays many of the features and design details for which the later production cars are known. The skirted front fenders give the car a more modern look, as do the 17" diameter drop-center wheels. As one of Murphy's most popular bodies for the Model J chassis, the design was continually improved. This example has the very sporty and desirable, highly-raked windshield with Murphy's signature ultra-thin posts, as well as the cockpit-inspired, deeply curved cowl line that continues beautifully from behind the windshield into the front doors. When it left the factory, 2437 was fitted with Marchal reflectors within the Twilite headlamp shells, an unusual factory option that the car still retains.
Auction Source: 2010 Gooding & Company Pebble Beach Auction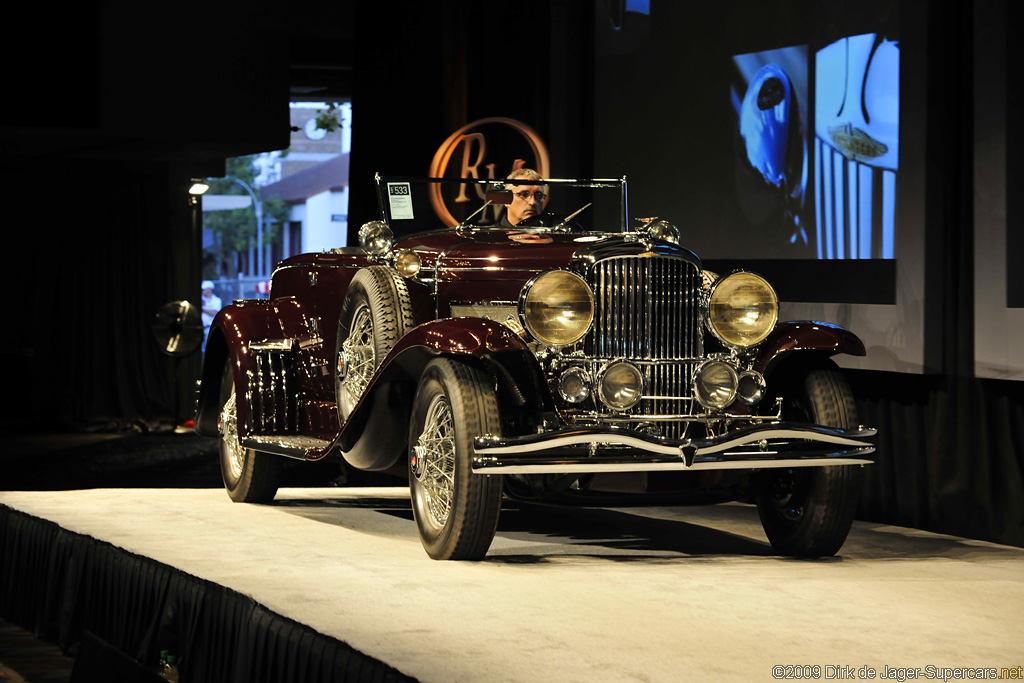 1935 Duesenberg Model SJ Disappearing Top Convertible Coupe –
While many of the finest custom coachbuilders of the era offered a truly stunning array of the finest bespoke coachwork to suit virtually any customer need or taste, the Walter M. Murphy Company of Pasadena, California is generally recognized today as the most successful coachbuilder on the Duesenberg Model J chassis. At once simple and elegant, Murphy-built bodies were distinguished by their trim lines and undeniable sporting character, seeming all the more so when compared to contemporary East Coast designs, which were generally heavier and more ornate in their concept and execution.
Auction Source: 2009 RM Auctions Sports & Classics of Monterey
1935 Duesenberg Model SJ Bohman & Schwartz Roadster –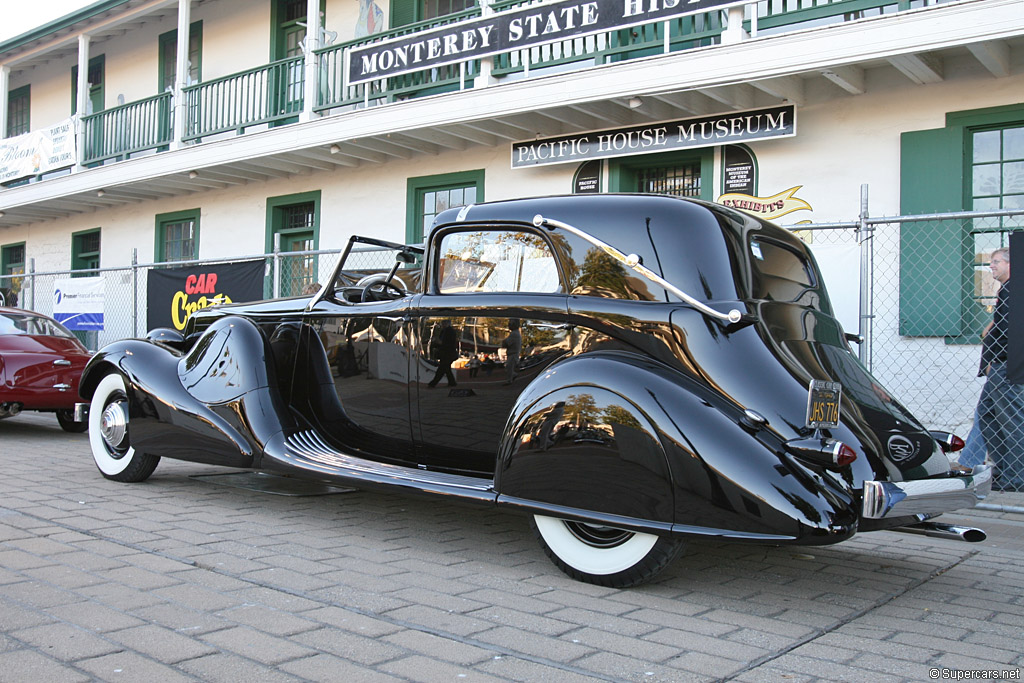 1935 Duesenberg Model SJ Bohman & Schwartz Town Cabriolet – sold for $4,400,000
Considered the most beautiful formal town car of the period, this outstanding one-off creation was penned by Christian Bohman and Maurice Schwartz. Commissioned by Mars Candy Company heiress Ethel Mars, SJ553 is one of just 36 factory supercharged Duesenbergs, and one of the few to retain its original coachwork, drivetrain, and chassis. It remains a superlative example of the art of custom coachbuilding in America.
Auction Source:
2007 Monterey Preview