1932 Packard Twin Six 905
Released at the Roosevelt Hotel in New York city, the 1932 Twin Six marked Packard's reemergence into the super luxury market. It became their flagship model and a pillar of American prestige.
As early as 1912, Packard manufactured the world's first V12 engine and it was first put into series production for the 1915 Twin Six. Production halted in 1920, but V12 development continued for racing and later powered the WW1 Libery aircraft. After nearly a decade of absence, Packard's V12 returned to face new competition from Duesenberg and the Cadillac V16.
Developed from the bottom up, Packard's 'second generation' V12 couldn't have come at a worse time. Effects of the depression were shrinking demand for majestic cars like the Twin Six and all of its competition as well. For this reason, the Twin Six was launched alongside the Light Eight, a more affordable eight cylinder model which was more financially important to the company.
As an answer to Buick's powerful V8, Packard hired Conelius Van Ranst to make a small bore V12 at an odd, but compact, angle of 67 degrees. Furthermore, it was inspired by his work at Cord and was designed with a complex drive train that powered the front wheels! Unfortunately, major transaxle problems delayed development, and a more traditional RWD platform was chosen after only one FWD prototype was completed. Despite these setbacks, the smoothness and positive attributes of the new V12 motivated Packard to move forward with the model. They enlarged the V12 to balance their heavier Deluxe Eight chassis that was used instead.
The finished engine used modern downdraft carburetors built by Stromberg which were modified to have a larger venturi. This was attached to a zero lash valve train that used a single, center-mounted camshaft to actuate nearly horizontal valves with GM-patented indirect hydraulic tappets. The system was quiet and since spacing between valve train components was reduced to zero, it could go 50 000 miles before a valve adjustment. It also placed some of the combustion chamber in the block, which gave it a 'modified L-head' designation. These new features helped the V12 produce a favorable 160 bhp and 322 ft. lbs. of torque which could power most of the various bodies that covered it to 100 mph.
Automatic clutch control was a popular feature among luxury brands which engaged the clutch when the accelerator was released. Packard embraced the concept with their 'finger control free wheeling' by offering a switch on the dashboard that automatically used engine vacuum to engage the clutch. This later became an option which was discarded due to lack of control.
At the time, a custom coach built body was a symbol of status and wealth and the Twin Six helped increase Packard's prestige by featuring some of the best American bodies by Brewster, Fleetwood, Judkins and LeBaron. To keep most of the work in house, Packard hired Raymond Dietrich to design their own in-house bodies which for the most part reflected the conservatism of Packard's target market. These were offset by Nine more flamboyant designs which flaunted Packard's 'Individual Custom' tag. Prices ranged from $3895 for a standard touring model while the top-of-the-line Landaulet went for $7950. All these designs were later touched up by Count Alex de Sakhnoffsky to include longer front hoods that matched the width of the body.
One of the most striking Twin Six bodies was the Boattail Speedster designed by Ed Macauley which was a further developed version of the earlier 734 Speedster. It was distinguished by its dramatic converging rear end and teardrop pontoon fenders. Further adding to the streamlined shape was a completely disappearing top, hidden spare wheels and rear fender skirts. Most Boattail Speedsters were built by LeBaron and every year Macauley updated its design.
All Twin Sixes were produced in the Ninth Series as either a 905 or 906 model and despite the hard economic times, production reached 549 cars. After 1933, Packard upgraded from the ninth to the tenth series and the Twin Six became known as the Twelve. By the Twelfth series, the engine was increased to 473 cu. in.
See full 1932 Packard Twin Six 905 Gallery here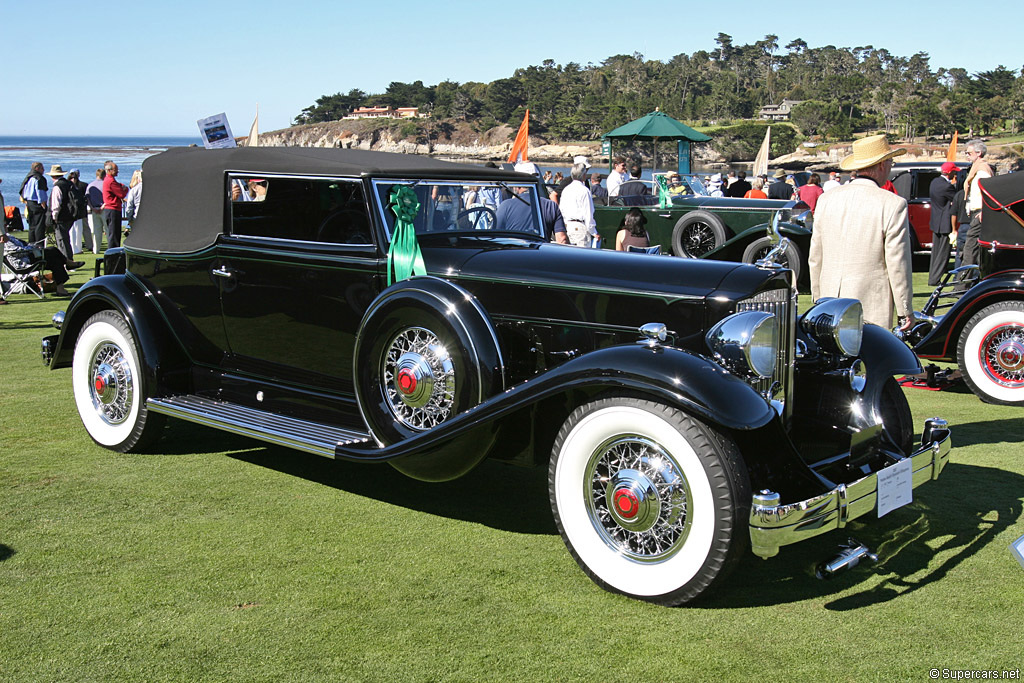 In Detail
| | |
| --- | --- |
| submitted by | Richard Owen |
| production | 304 |
| price $ | $ 7,950 |
| engine | 67 Degree, Cast Iron, V12 w/Modified L-Head |
| position | Front Longitudinal |
| aspiration | Natural |
| valvetrain | 2 Horizontal Valves per Cyl w/Zero Lash Valve Silencers |
| fuel feed | Downdraft Stromberg EE-3 Carburetor |
| displacement | 7292 cc / 445 in³ |
| bore | 87.12 mm / 3.43 in |
| stroke | 101.6 mm / 4.00 in |
| compression | 6.0:1 |
| power | 119.3 kw / 160 bhp @ 3200 rpm |
| specific output | 21.94 bhp per litre |
| bhp/weight | 64.13 bhp per tonne |
| torque | 436.57 nm / 322 ft lbs @ 1400 rpm |
| redline | 4200 |
| body / frame | Steel Body over Press Steel Ladder-Type Frame w/X Center Brace |
| driven wheels | RWD, Hotchkiss Final Drive |
| wheel type | Wire or Wood |
| front tires | 18×7.5 |
| rear tires | 18×7.5 |
| front brakes | Cable Operated Bendex Drums w/Bragg-Klierath Vacuum Assist, Perrot Control |
| rear brakes | Cable Operated Bendex Drums w/Bragg-Klierath Vacuum Assist |
| steering | Packard Worm & Sector |
| f suspension | Solid Axle w/Semi-Elliptic Leaf Springs |
| r suspension | Live Axle |
| curb weight | 2495 kg / 5500 lbs |
| wheelbase | 3609 mm / 142.1 in |
| front track | 1505 mm / 59.25 in |
| rear track | 1505 mm / 59.25 in |
| transmission | 3-Speed Synchromesh w/Free Wheeling Clutch |
| final drive | 4.69:1 |
| top speed | ~162.5 kph / 101 mph |
Auction Sales History
900362 – Offered by RM at the Amelia Island Concours Auction, this Sport Phaeton was described as one of the twelve produced. Its history is unknown, since the body was taken off its original chassis then modified to go on a more modern Packard chassis. Afterwards the hybrid car was purchased and the body was again modified to go back on a more suitable 1932 Twin Six chassis. This dark violet Twin Six was offered at RM's Amelia Island Auction and sold for $1 650 000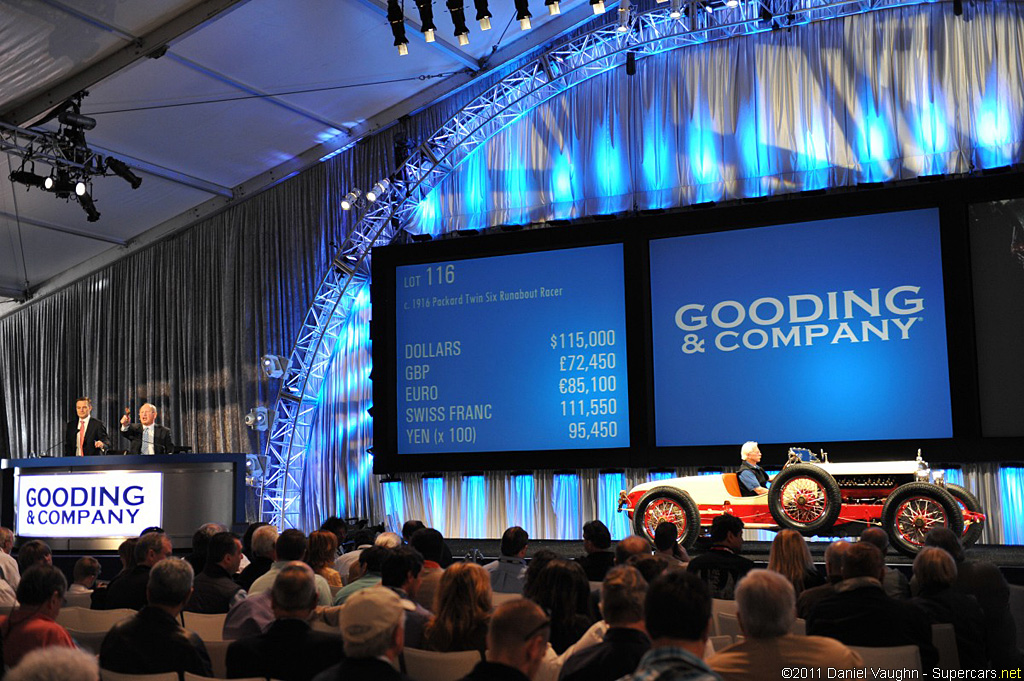 1932 Packard Twin Six Model 905 Coupe Roadster 579-64 – sold for $737,000
Among the Most Beautiful and Sporting Classic Packards. One of Only a Few Twin Six Coupe Roadsters Known to Survive. Distinguished Chain of Knowledgeable Owners. Meticulously Restored to Original Appearance. First in Class at the 2009 Pebble Beach Concours d'Elegance. Perfect 100-Point Score in CCCA Judged Competition. Amelia Island and Meadow Brook Class Winner. 
Auction Source:
2012 Scottsdale Auction by Gooding & Company