1933-1939 Bugatti Type 57 Galibier
Named after the Col du Galibier pass in the Dauphiné Alps, the Type 57 Galibier was Bugatti's factory designed and produced four-door sports saloon.
Originally the Type 57 was a pillarless coupe design with a suicide rear doors and later cars switched this arrangement with a central pillar for a suicide front door. Later cars also featured a cover over the fender-mounted spare tire.
Originally all the Galibiers were produced by Carrosserie Bugatti and some were bodied to the Bugatti design by Gangloff, Van Vooren and Graber.
The Galibier befitted from all the Type 57 engineering, development and upgrades throughout production. It used the twin-overhead camshaft 3.3-litre inline-8 which was good for 135 bhp in standard form.
Chassis arrangements included Rudge Witworth wire wheels, fifteen inch drum brakes and an uncluttered chassis having good strength. As with most Bugatti designs the Type 57 was relatively simple in design, but the result of complicated craftsmanship.
Many Galibiers have been rebodied over time into more sporting roadsters and the occasional cabriolet. Some of the these were done in period by factory coachbuilders, but many were done well into the post-war period with replica bodies.
Our estimate is that Bugatti produced 65 Galibiers throughout the three series of Type 57 production and 25% are now wearing different coachwork.
Pictures & Gallery
See full 1938 Bugatti Type 57 Galibier Gallery here
Specs & Performance
| | |
| --- | --- |
| | |
| type | Series Production Car |
| production years | 1933 – 1939 |
| built at | Molsheim, Alsace, France |
| body stylist | Jean Bugatti |
| coachbuilder | Carrosserie Bugatti |
| engine | Inline-8 |
| position | Front Longitudinal |
| aspiration | Natural |
| valvetrain | gear-Driven DOHC, 2 Valves per Cyl |
| fuel feed | Single Updraft Stromberg UUR-2 Carburettor |
| displacement | 3245 cc / 198.02 in³ |
| bore | 72 mm / 2.8 in |
| stroke | 100 mm / 3.9 in |
| power | 100.7 kw / 135 bhp @ 4500 rpm |
| specific output | 41.6 bhp per litre |
| bhp/weight | 82.82 bhp per tonne |
| redline | 5000 |
| body / frame | Body over Steel Frame |
| driven wheels | RWD |
| wheel type | 18 Inch RudgeSpoked Wire |
| front tires | 18 x 5.50 |
| rear tires | 18 x 5.50 |
| front brakes | Cable Operated Drums |
| rear brakes | Cable Operated Drums |
| front wheels | F 45.7 x 12.7 cm / 18 x 5 in |
| rear wheels | R 45.7 x 12.7 cm / 18 x 5 in |
| f suspension | Rigid Axle w/Semi-Elliptic Springs, Hartford Friction Shock Absrobers |
| r suspension | Live Axle w/Reversed Quarter-Elliptic Springs, Hartford Friction Shock Absorbers |
| curb weight | 1630 kg / 3594 lbs |
| wheelbase | 3300 mm / 129.9 in |
| front track | 1350 mm / 53.1 in |
| rear track | 1350 mm / 53.1 in |
| transmission | 4-Speed Manual |
| tran clutch | Single Dry Plate |
| final drive | 4.16:1 |
| top speed | ~152.85 kph / 95 mph |
Auction Sales History
1936 Bugatti Type 57 Galibier 57415 – sold for €130,748
The current English owner, also a member of the Bugatti Club, subsequently purchased 57415, importing it to the United Kingdom in 2005, with some work remaining to be done. Registered in the UK, the car has been enjoyed and driven ever since. Handsomely presented in black with a lovely green leather interior, the car is well suited for continued enjoyment and currently shows less than 48,000 kilometres, which are believed to be accurate. Brought out of nearly a half century of storage, it is once again ready for the road and all the pleasures of ownership afforded by an elegant Type 57 Galibier. Auction Source: 2008 RM Automobiles of London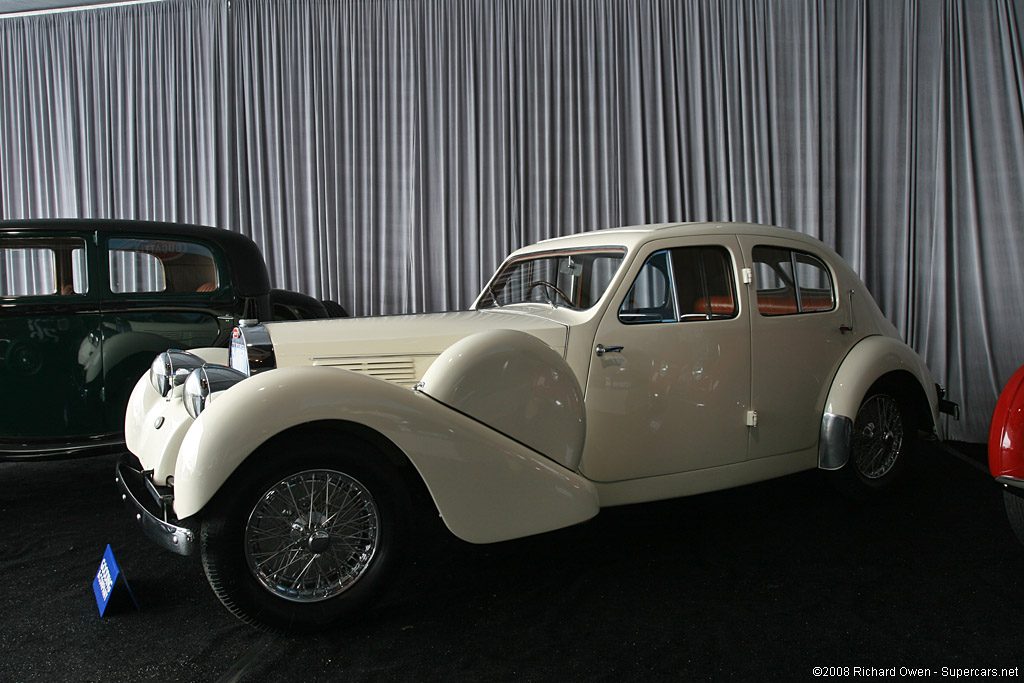 1939 Bugatti Type 57C Galibier Sport Saloon 57806 – sold for $396,000 A Very Late Example With All The Final Type 57 Improvements. Restored And Maintained By Experts To The Highest Standards. Factory Supercharged Type 57C Galibier Sport Saloon. One Of 95 Type 57Cs Built. A Very Late Example with All The Final Type 57 Improvements. One of 95 Type 57Cs Built. Auction Source: 2008 Monterey Preview