1933→1934 Delage D8-15
Having a 2.6-liter engine, the Type D8.15 was a smaller version of the 4-litre Delage that shared the Series S and Series N chassis. It was tax rated in France at 15CV which made it cheaper to run than the larger version.
Our feature car was sold by Artcurial as part of the Baillon Collection. It features exceedingly rare two-door sedan body by Autobineau to a design by Letourneur & Marchand. Equipped with its original 2.6-liter engine,it sold for €125,160.
Story by Richard Michael Owen
In Detail
| | |
| --- | --- |
| type | Series Production Car |
| production years | 1933 – 1934 |
| built at | France |
| displacement | 2668 cc / -1.0 in³ |
| specific output | 29.99 bhp per litre |
Auction Sales History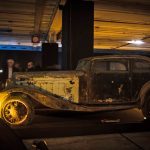 1930 Delage D8-15 S Coach Autobineau 39089 – sold for €125,160
Was part of the collection of Roger Baillon. Coachwork by Autobineau and not by Delage according to Daniel Cabart and Claude Rouxel. still equipped with its original engine. The interior is damaged, with a few cobwebs, but it seems complete, with none of those superb Jaeger instruments missing. The odometer shows 48,903km. At the rear we can see a former Parisian registration number, that of 4235 DR 75 and the body also seems very complete with its spare wheel, as a part of the complete set of five spoked wheels.