1933 Lincoln Model KB
The flagship car for the entire Ford was the Lincoln Model K. With its smooth-running V12 engine and highly-appointed body styles, they rivaled the Cadillacs and Packards of their time.
For 1933, Lincoln kept their 448 in³ V12 engine in the KB and made a smaller version for the KA. The larger engine retained the fork and blade connecting rods which allowed two cylinders share a single bearing.
Other changes to the 1933 model year included a better-reinforced chassis, an adjustable vacuum booster, a new transmission and thermostatic shock absorbers.
Body styles for the 1933 model adapted to the new sloping radiator, independent headlights and skirted fenders. The catalog announced 26 different body styles produced from 17 different coachbuilders in 1933.
Total production run of the 1933 Lincoln KB reached 533 units.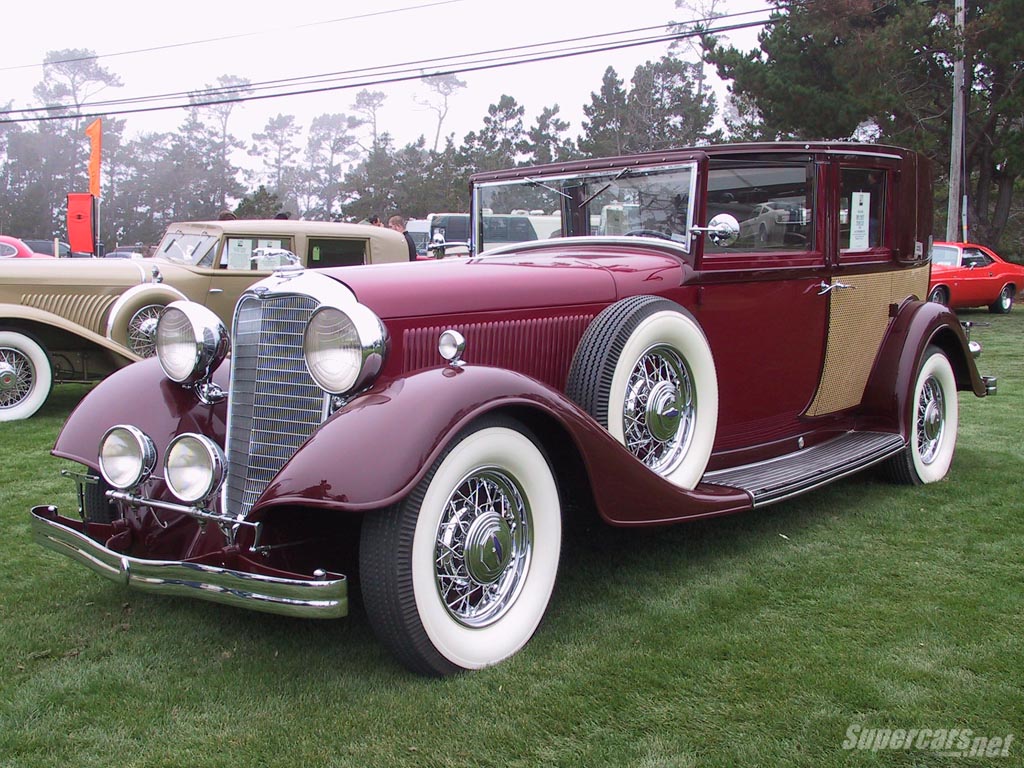 In Detail
| | |
| --- | --- |
| submitted by | Richard Owen |
| type | Series Production Car |
| built at | USA |
| engine | V12 |
| fuel feed | Single Downdraft Dual-Choke Carburetor |
| displacement | 7341 cc / 448.0 in³ |
| power | 111.9 kw / 150 bhp @ 3400 rpm |
| specific output | 20.43 bhp per litre |
| torque | 395.9 nm / 292.0 ft lbs @ 1200 rpm |
| body / frame | Body Over steel Chassis |
| front brakes | 4-Wheel Mechanical Drum Brakes with Vacuum Booster |
| rear brakes | 4-Wheel Mechanical Drum Brakes with Vacuum Booster |
| f suspension | Solis Axle and Semi-Elliptical Leaf Springs |
| r suspension | Live Axle and Semi-Elliptical Leaf Springs |
| transmission | 3-Speed Manual Gearbox |
Auction Sales History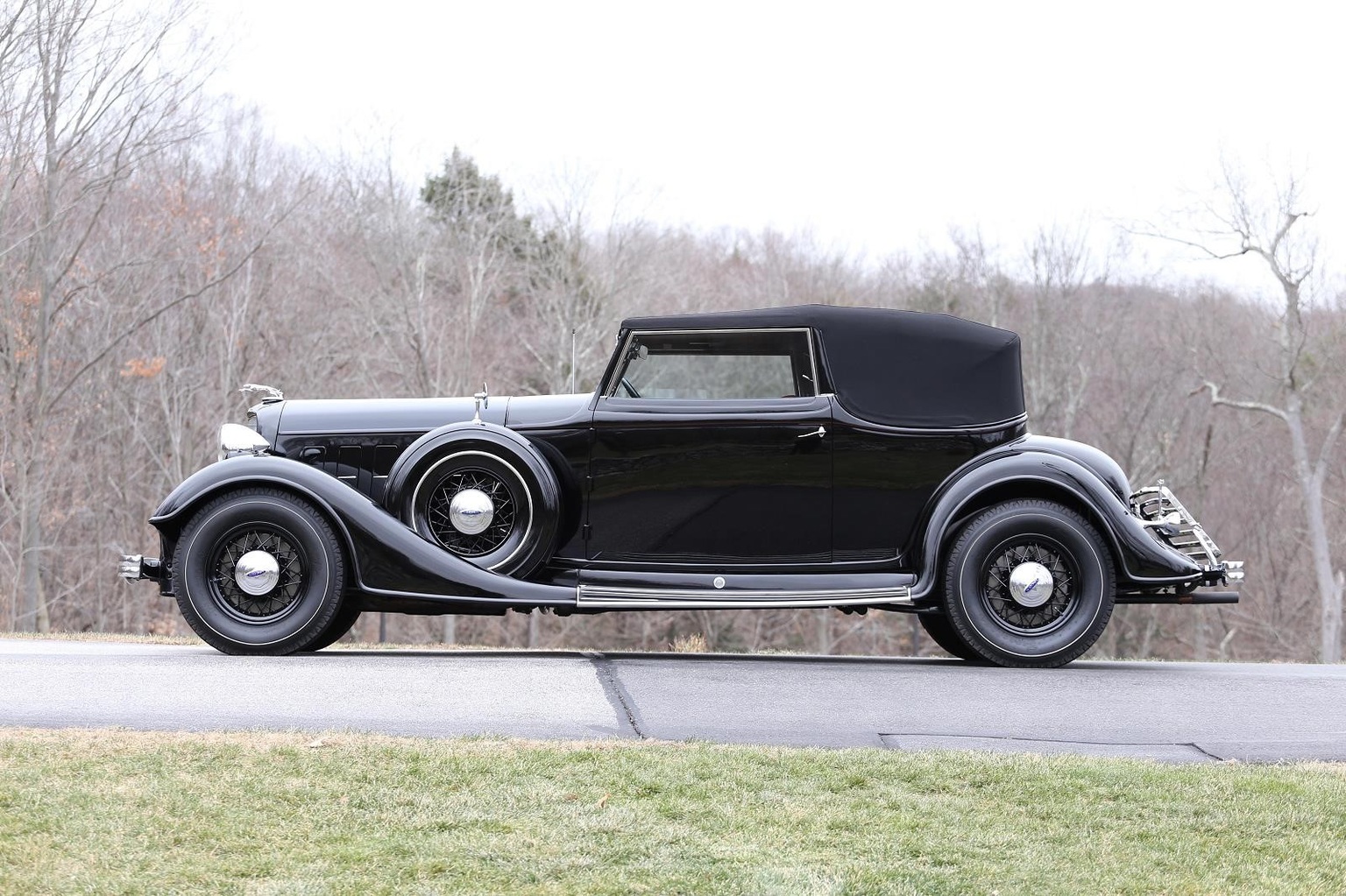 1934 Lincoln KB Brunn Convertible Victoria KB 3375 – sold for $451,000 Beautiful custom coachwork by Brunn. Extremely long term single ownership. Extremely authentic example with original features throughout. One of just three examples known to survive. Smooth and powerful V12 engine. Auction Source: The Scottsdale Auction 2015 by Bonhams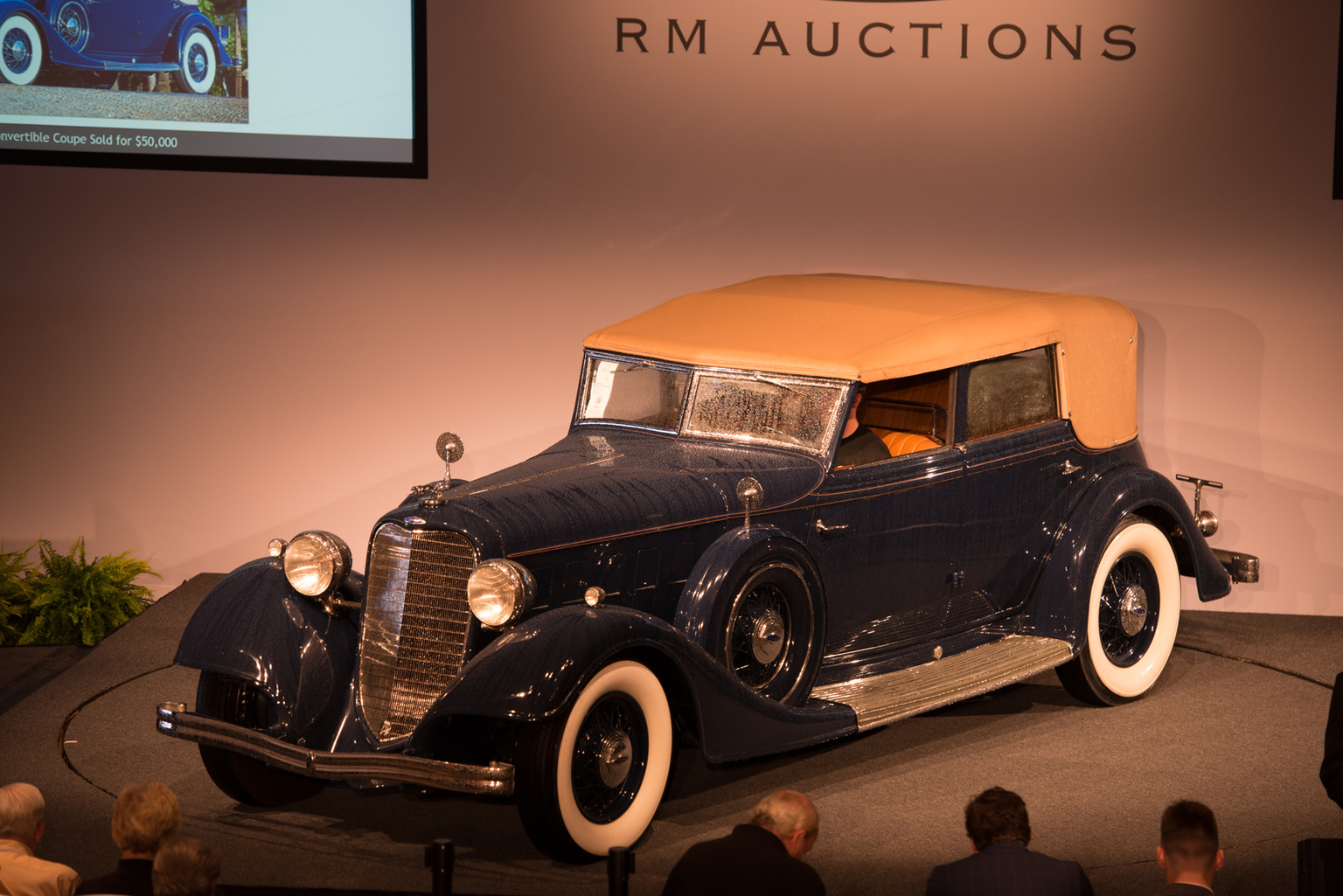 1934 Lincoln Model KB Convertible Sedan KB3434 – sold for $275,000. The history of the car offered here is known back to the 1950s, when it was acquired by legendary Lincoln collector and long-time Pebble Beach Concours judge Jack Passey from a fellow enthusiast in Modesto, California. Passey recalls that when he acquired the Lincoln, it had a tow bar attached to the rear bumper, and he used it to pull home several other "finds" without difficulty. He eventually passed the car to a fellow collector and judge, Bill Smith, at which point it was still original and, as can be seen from its tow duties, in very solid and nicely running condition.
Smith conducted a concours-quality restoration over a three-year period, which ended up being a frame-off process that encompassed the chassis, body, powertrain, upholstery, and top. The bulk of the effort was carried out in his own shop, with engine work by Ellsworth Machine, of Palo Alto, California; paint by Avenue Auto Body, of San Carlos; and upholstery by Bill Debuque, of Cooks Upholstery in Redwood City. Since the Lincoln's completion in 2010, it has received two First in Class awards at West Coast shows. Auction Source: 2013 St. John's Auction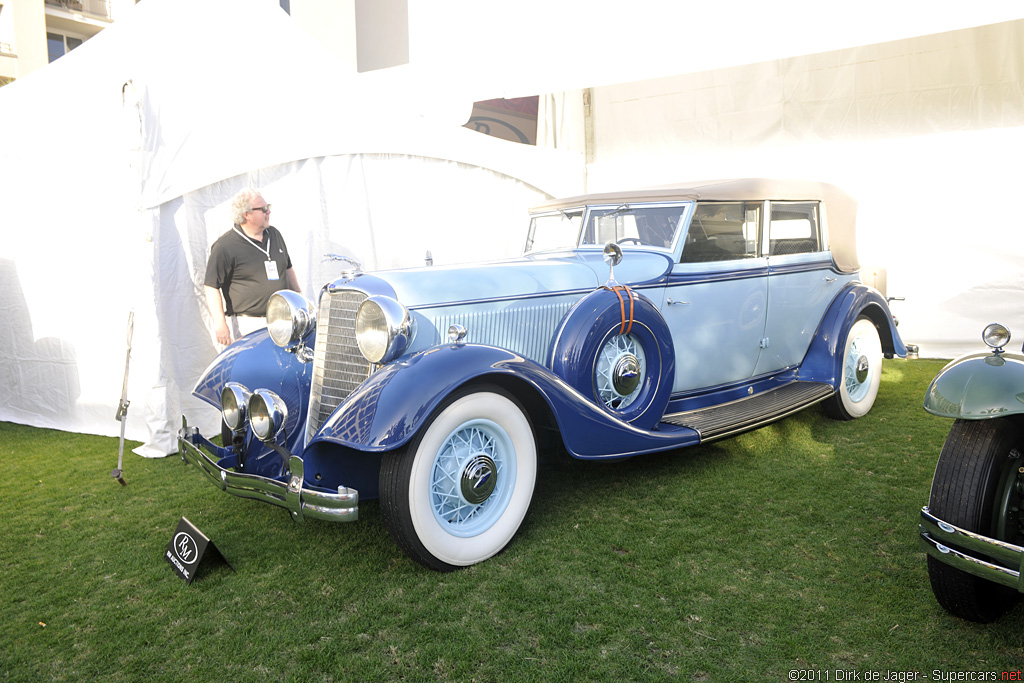 1933 Lincoln Model KB Convertible Sedan KB2284 – did not sell for $210,000 One of 15 built, four known in the CCCA. 96.5 points, first place at CCCA 2011 National Grand Classic. Single-family ownership for a half century, including former president of Lincoln Owners Club. Auction Source: Amelia Island 2012 by RM Auctions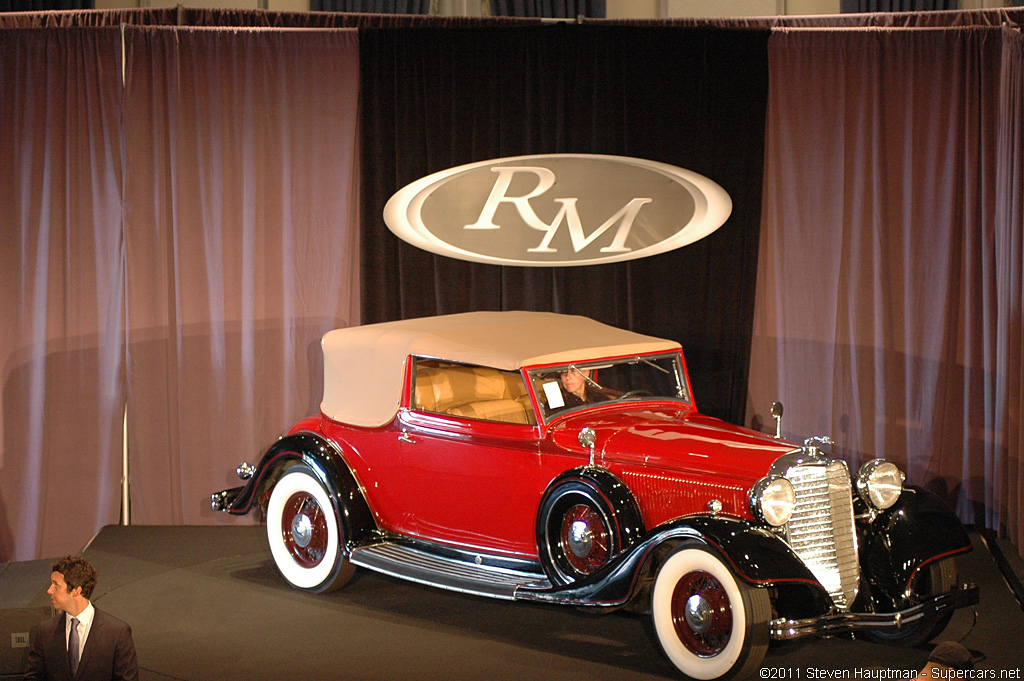 1933 Lincoln KB Brunn Convertible Victoria – sold for $134,750 One of only three examples known to exist. Almost 48 years of single-family ownership. Fascinating period images supporting chrome wheel covers. Strong V-12, long wheelbase and stunning Brunn coachwork. Auction Source: 2011 St. John's Auction by RM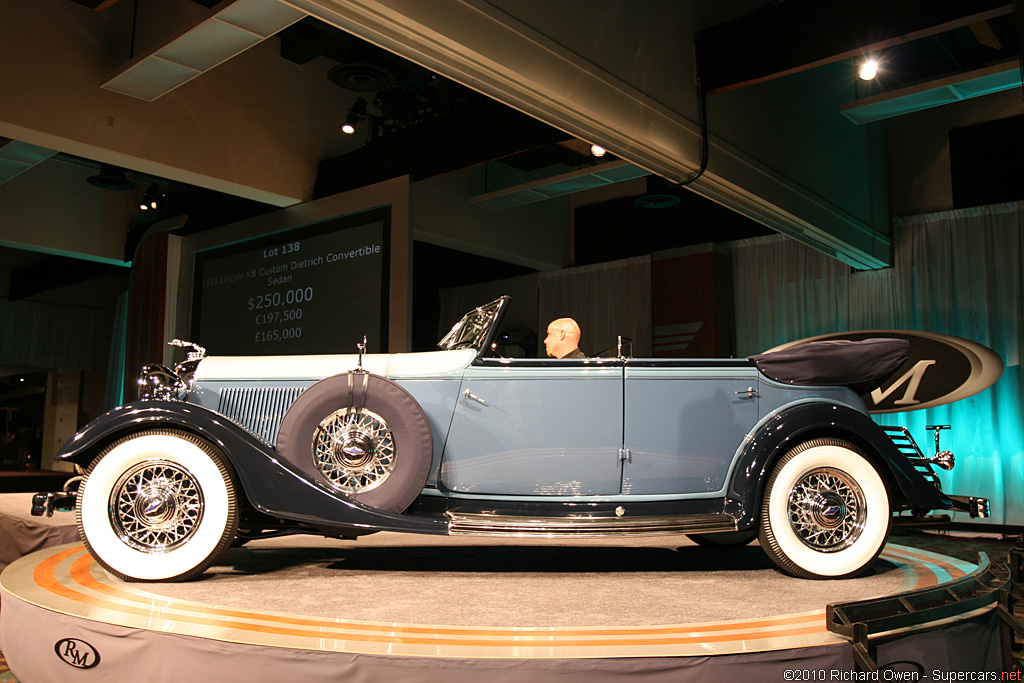 1933 Lincoln KB Custom Dietrich Convertible Sedan – sold for $385,000 One of just 15 Dietrich Convertible Sedans produced. A First in Class winner at Pebble Beach. Its fashionably raked, V-shaped windscreen and "suicide"-style doors are emblematic of Dietrich's inspired designs. As offered today, the Lincoln is quite remarkable in its overall presentation, and despite the age of its restoration, it remains indicative of an older, high-quality restoration that was performed to exacting, show-winning standards. Auction Source: RM Auctions' 2010 Sports & Classics of Monterey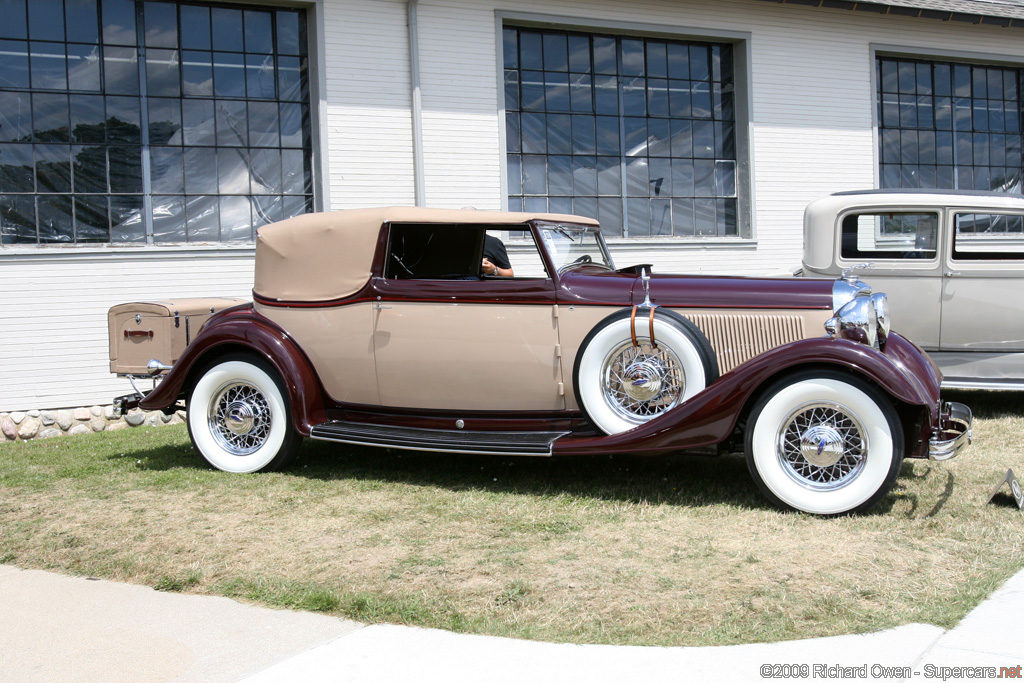 1933 Lincoln KB Convertible Victoria – sold for $154,000. The example offered here features what many consider to be the most attractive of the coachbuilt bodies offered on the 1933 KB chassis – Brunn's striking Convertible Victoria. With its low windshield, clean top lines, close coupled body, lovely front end and sweeping fender lines, it is a masterpiece of classic era design and one of about three known to exist.
The car received a full professional restoration before being acquired by noted Lincoln collector Roy Warshawsky of J.C. Whitney fame. The car was reputed to be one of his favorites and remained in his collection until his death, at which point it was acquired by Ohio collector Richard Scott. Although the car was in excellent condition cosmetically, years of display had taken its toll on the car's mechanical condition. Intending to drive the car, Scott set about returning the vehicle to full operating condition, ultimately entering – and successfully completing – a 1,000 mile CCCA CARavan in the Pacific North West. A 100-point CCCA Senior Award-winning car, this Lincoln has since joined one of the nation's preeminent car collections, wherein it has benefited from continued professional care and maintenance. Auction Source: 2009 Meadow Brook Concours