1934→1935 Voisin C25 Aérodyne
The height of Gabrielle Voisin's vision was reached with the Aérodyne, a four-seat fastback that exemplified France's love for aviation. But unlike anything else from the period, Voisin was able to utilize modernist lines where the other design houses couldn't escape French Curves.
The Aérodyne's story began in summer of 1934 when Voisin created a prototype to be later displayed that fall at the Paris Motor show. With it, he was trying to draw attention to his innovations such as a sliding sunroof, radial engine and new style that was different from the previous Noël-Noël Telmont lines.
Lightweight expression is one main theme of the Aérodyne. Examples of this can be seen in the slender fenders which required support struts, an open cockpit and small headlight surrounds.
Another focus of the car is the retractable roof which shapes the entire fastback roofline and closes directly onto the top of the windshield. The unit is pneumatic and relies on a twin-cylinder suction engine that is mounted in the trunk. Operation of top is slow, but nearly silent. Several windows were put into the sunroof to provide rearward vision at various positions.
Aimed at the top of the market, the Aérodyne was fully equipped with features such as Dufaux-Repusseau dampers which could be adjusted from the dashboard. A full bevy of Jaeger gauges also complemented the dashboard and Lalique ashtrays were included in the doors.
Chassis details of the C25 were not far off the C24 with an altered rear box section. The sleeve-valve inline-6 remained largely untouched except the front radiator fan was driven by a belt instead of gears.1 The unit was attached to a two speed gearbox with electromechanical overdrive.
The sleeve valve engine replaced the standard poppet valves with moving sleeves that surrounded the piston to uncover intake and exhaust ports. This complex system worked without return springs, and enabled very high engine speeds with less stress than a conventional pushrod design. The resulting quieter ride offset the slight haze left by the exhaust as oil slipped between the sleeves.
While the intention was to make two dozen Aerodynes, only a few examples were really completed, including our feature car which won Best of Show at the 2011 Pebble Beach Concours d'Elegance. The small production numbers were a direct result of the poor economy at the time coupled with a high price tag.
Several sources have listed that seven Aérodynes were produced and that four cars survive. We can only definately say that we've photographed three separate examples.
1934 Voisin C25 Aérodyne Gallery
In Detail
| | |
| --- | --- |
| | |
| submitted by | Richard Owen |
| type | Series Production Car |
| production years | 1934 – 1935 |
| built at | France |
| production | 7 |
| engine | Inline-6 |
| position | Front Longitudinal |
| aspiration | Natrual |
| valvetrain | Sleeve Valves |
| fuel feed | Twin Carburetors |
| displacement | 2994 cc / 182.7 in³ |
| bore | 76 mm / 2.99 in |
| stroke | 110 mm / 4.33 in |
| power | 78.3 kw / 105 bhp @ 3800 rpm |
| specific output | 35.07 bhp per litre |
| bhp/weight | 67.74 bhp per tonne |
| body / frame | Aluminum Body over Steel Chassis |
| driven wheels | RWD |
| front brakes | Drums |
| rear brakes | Drums |
| steering | Worm & Nut |
| f suspension | Solid Axle w/Leaf Springs, Adjustable Shock Absorbers |
| r suspension | Semi-Elliptic Leaf Springs, Adjustable Shock Absorbers |
| curb weight | 1550 kg / 3418 lbs |
| wheelbase | 3280 mm / 129.1 in |
| front track | 1400 mm / 55.1 in |
| rear track | 1350 mm / 53.1 in |
| length | 4870 mm / 191.7 in |
| transmission | 2-Speed Manual w/Overdrive |
| top speed | ~130 kph / 80.73 mph |
| designers | André Christmas, Ski Gabriel Voisin |
Auction Sales History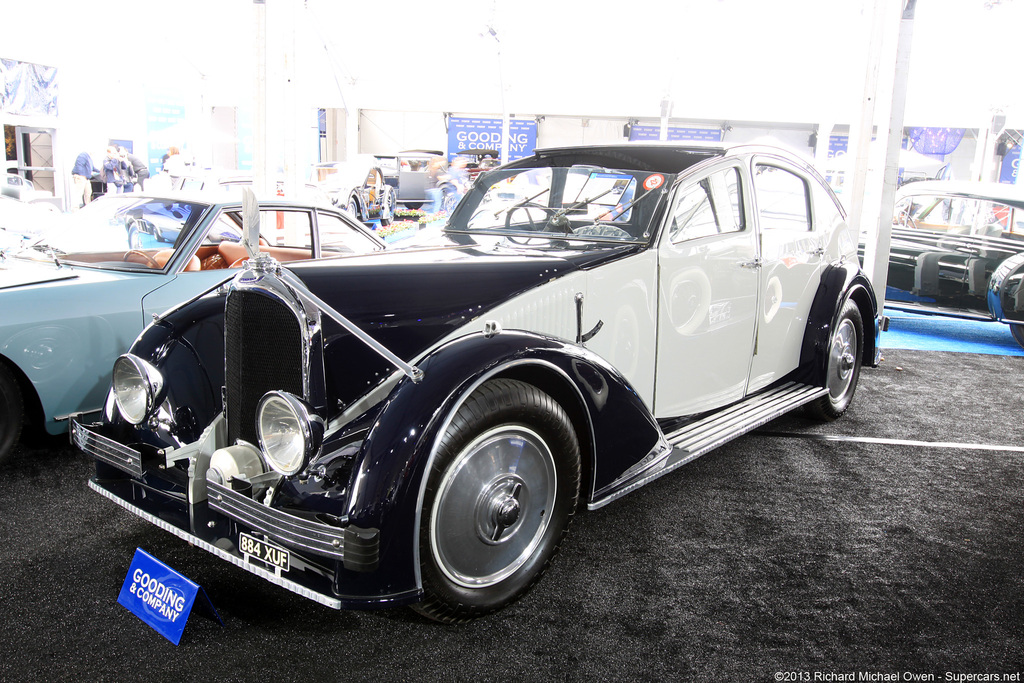 1935 Avions Voisin C25 Aérodyne 50023 – sold for $1,925,000 A Masterpiece of Art Deco Design. Innovative Aero-Inspired Coachwork. Mechanically Advanced Chassis. One of Only Eight Examples Built and Four Known to Survive. Part of the Henry Browne de Kilmaine Collection for 45 Years. Included in Several Important French Exhibitions. Exacting Restoration by Blakeney Motorsports Ltd. Displayed at the Exclusive Windsor Castle Concours d'Elegance. One of the Most Significant Voisin Automobiles. Auction Source: Gooding & Company's 10th Anniversary 2013 Pebble Beach Auction
Sources and Further Reading
1.Courteault, Pascal et. al. Automobiles Voisin: 1919-1958, Pei Intl: August 1995.
2.Borgeson, Griffith . 'Gabriel Voisin, Archetype of Constructors' Automobile Quarterly V13 N4 : 1975.