1934 Delage D6-11
The D6-11 was Delage's smallest offering in 1934. It used a 6-Cylinder, 2-litre engine to produce 55-60 bhp.
According to Peter Jacobs only 18 survivors of the D6-11 have been accounted for.
In Detail
| | |
| --- | --- |
| | |
| type | Series Production Car |
| built at | France |
| engine | Inline-6 |
| displacement | 2000 cc / 122.05 in³ |
| power | 44.7 kw / 60 bhp |
| specific output | 30.0 bhp per litre |
Auction Sales History
1934 Delage D6-11 S Coach 37445 – sold for €85,824 Purchased from Serge Pozzoli on June 22, 1967, the car on offer has a beautiful original interior in fabric and under cover (including the door panels). The nice dashboard is complete except a manometer, the windshield is broken though and some accessories such as headlamps and hubcaps are missing. The exceptional line of this car made this a favorite of Roger Baillon.
Auction Source: The Baillon Collection at Rétromobile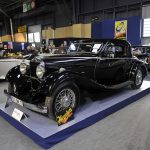 1934 Delage D6-11 S Brandone Coupe – sold for €157,260
The car was presented at the Concours d'Elegance of Cannes in the summer of 1934, where it won the Coupe de l'Elegance. It was then sold to Mr Olivier de Hollier de Nointel, who, very happy with his purchase, kept the car for more than thirty years. In 1966, the car found a second owner in the person of Madame. Denquin who, again, kept the car for another thirty years, proof that this beautiful car had the complete appreciation of its successive owners.
In 1996, the car was sold to Mr Christian de La Briffe, who gave the car for a thorough restoration to Etablissements Bonnefoy, in Saint-Amand-Montrond, in the district of Cher. Beautifully restored the elegant and distinctive car was much admired when it participated at the Bagatelle Concours d'Elegance the next fall. In February 2000, the car was acquired by New Yorker Robert Griffin, and after a journey to Boston by air, the car a cosmetic improvement along 'American lines'. Thus upgraded, the car participated at the Pebbel Beach Concours d'Elegance a few months later, where it received the Blue Ribbon.
A couple of French connoisseurs who were Delage marque fanatics and who knew all the qualities and characteristics of this very special car, acquired this D6-11 in December 2004, bringing the car back to France once again. They got the Brandone coupe back to its original look and finish.
Auction Source: 2012 Artcurial Motorcars à Rétromobile