1934 Ford V8
For 1934, Ford again updated their V8 line with a more powerful engine and slight styling changes. Officially called the Model 40, the 1934 V8 had a flatter grill with a heavier surround and numerous detail differences.
Power from the push-rod V8 was raised to 85 bhp with the use of a Stromberg two-barrel carburetor.
Many body styles were available for the 1934 V8 including desirable configurations such as the 3-Window Coupe, 5-Window Coupe, 2-Door Roadster, and 2-Door Cabriolet.
Our feature car is the highly desirable DeLuxe Roadster in Black with black with Aurora Red wheels. This is one of only 6,000 produced in 1934 among very few current survivors. It was auctioned by RM Auctions at their 2012 Monterey Sale.
In Detail
Auction Sales History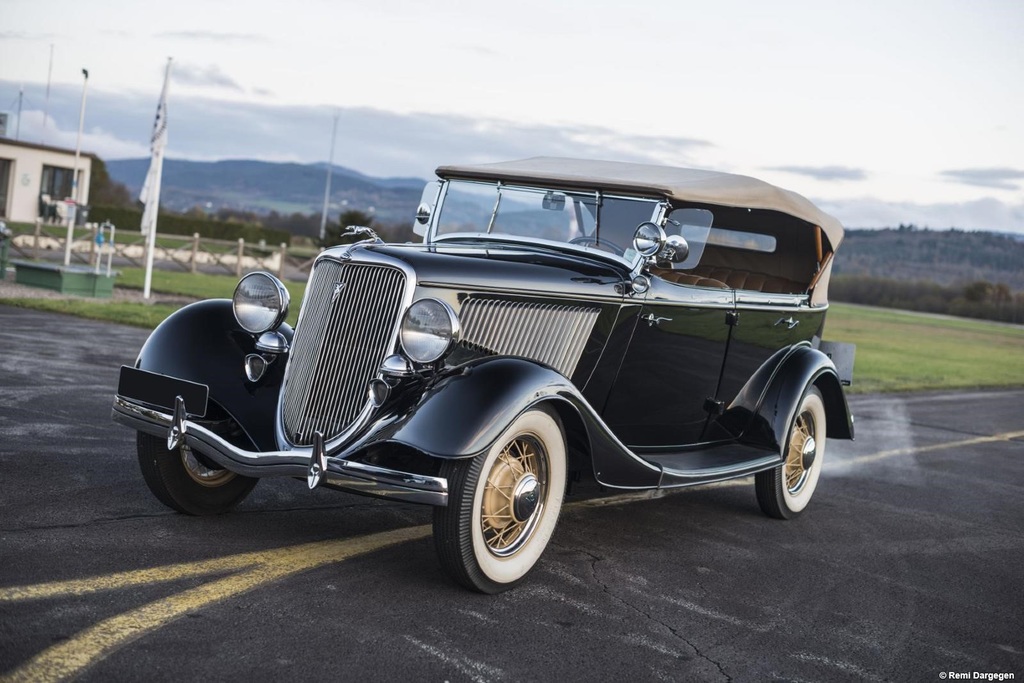 1934 Ford V8-40 Torpédo Le Baron – sold for €57,216. This Ford V8 Torpedo had been previously in André Lecoq's collection for a long time. He wanted a car that was easier to handle than his Horch or his Mercedes 500 K on the sinuous roads of Brittany. Discovered with a dealer from Vidauban during the 1970s, this was probably a car assembled in period at the Asnières Ford factory. It was sound, but in need of restoration, which was carried out in the Lecoq workshops, and the car has withstood the test of time remarkably. The first rally that André Lecoq participated in with this car was the "Rallye du Bicentenaire des États-Unis", in 1976, organised, incidentally, by Christian Huet. He subsequently had the opportunity to take part on many other occasions in this Ford V8-40 that offered a great performance and a true robustness, matched with a high level of comfort. With four seats under cover and an uncomplicated and powerful engine, this is an excellent car for rallies, being capable of attacking the hills with ease or sauntering at a leisurely pace along country roads. Well presented, this car has 49,237 km on the odometer. Auction Source: Rétromobile 2015 by Artcurial Motorcars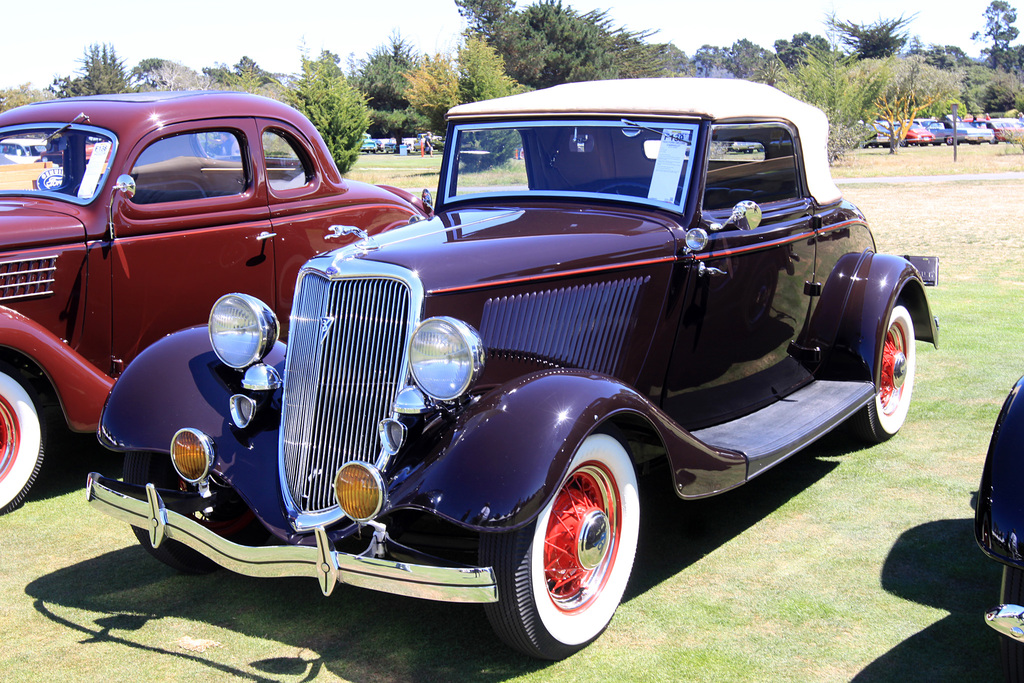 1934 Ford Deluxe Cabriolet – sold for $55,500. Total frame-off restoration. All steel original sheet metal restored to perfection. Refinished in Coach Maroon with contrasting Red wheels and striping. Restored interior with Brown factory style leatherette, woodgrain dash and rebuilt gauges. Flathead V-8 that still has aluminum heads and intake manifold. Rumble seat has been restored properly. Five new Firestone whitewall tires. Options include bumper guards, fog lights, factory dash radio, Greyhound radiator cap and wheel trim tags. Auction Source: The Daytime Auction in Monterey by Mecum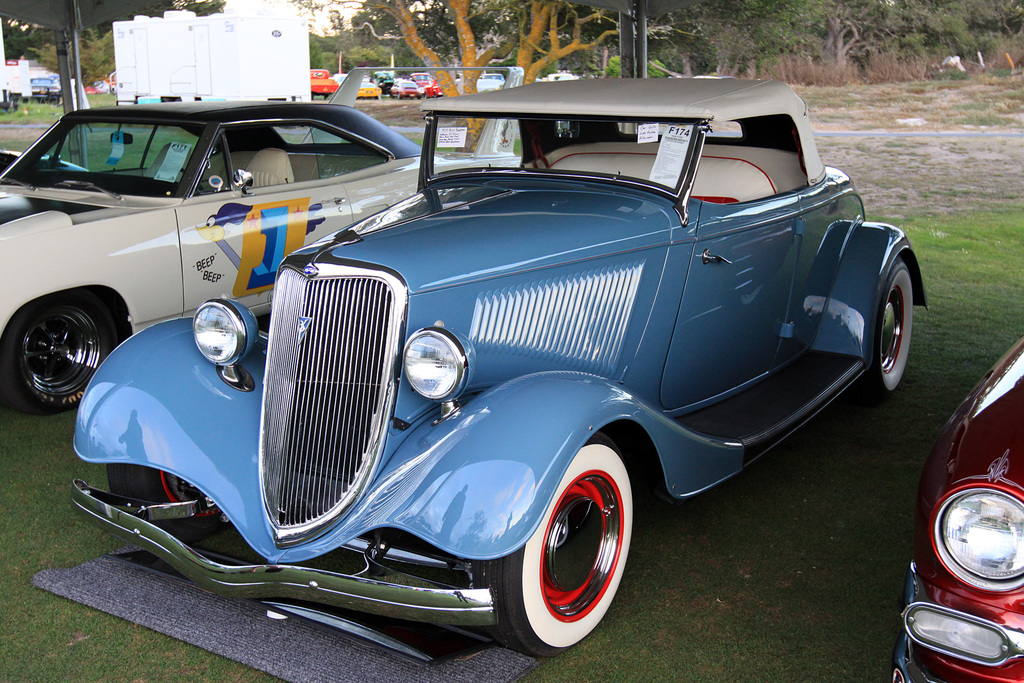 1934 Ford Roadster Hot Rod – sold for $100,000. All steel authentic nostalgia Henry Ford Hot Rod. No expense spared frame-off restoration. Built from a near perfect original car over a 12 year period. Rare vintage speed equipment. Fully dressed early Ford Flathead V-8. Rare polished aluminum Ford heads. Rare polished aluminum intake. Two Stromberg 97's. 1939 Ford transmission. Hydraulic brakes. Desirable rumble seat. 1950s style boat interior. Upgraded 12 volt system with special period style generator. The owner history of this car includes some of the who's who in the early hot rod scene. Auction Source: The Daytime Auction in Monterey by Mecum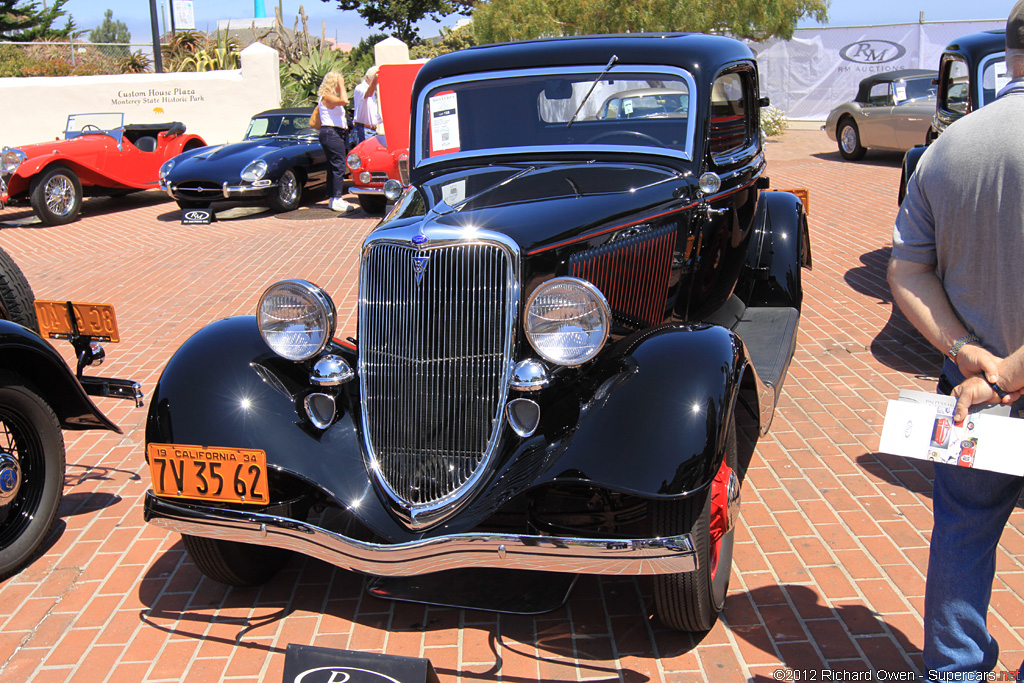 1934 Ford V-8 Model 40 DeLuxe Three-Window Coupe – sold for $90,750 Finished in black, the car is nicely accented with Aurora Red wheels and pinstripe. An interior in correct, rose beige mohair complements an opening rear window and harmonizes with brown carpet on the floor. Dashboard and window moldings have expertly-refinished wood grain, and the instruments have been completely restored. The odometer shows fewer than 80 miles, the distance traveled since completion of the restoration. Auction Source: Monterey 2012 by RM Auctions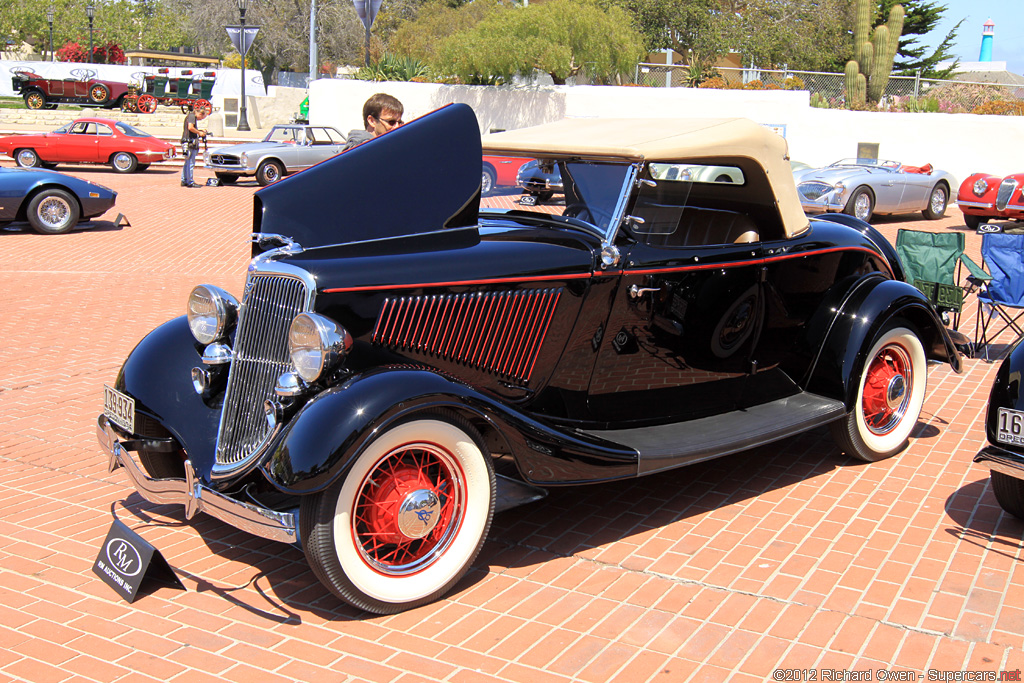 1934 Ford Model 40 DeLuxe Roadster – sold for $88,000 This 1934 Ford DeLuxe Roadster has been the subject of a body-off restoration. Beautiful in black, with correct Aurora Red wheels and pinstripe, it has a new LeBaron Bonney top and side curtains and correct brown leather interior and rumble seat. Accessories include wheel trim rings and a greyhound mascot. All chrome is excellent, and the glass is all in the correct Ford script motif. The tires are Firestone wide whitewalls. Auction Source: Monterey 2012 by RM Auctions