1935 Bugatti Type 57S Prototype
In 1935 Bugatti made as many as four prototype Competition chassis that provided a basis for the stunning Coupé Aerolithe and a Torpédo Competition that appeared at the 1935 Paris Motor Show.
These cars had a bespoke Gondola-shaped chassis which curved inward towards the rear of the car. Official blueprints from August of 1935 still survive of this prototype chassis and at least one original chassis still exists. They show a lower, lighter and lower design than the previous Type 57 design.
Later, Bugatti made a production version of the type 57S chassis that did not have the characteristic Gondola shape. Author Julius Kruta there must have been a problem or extreme cost to make the curved chassis. He goes on further to explain that the many of new 1936 bodies such as the Atlantic and Atalante had rear body profiles which were inspired by the Gondola prototypes.
Another feature of the 57S Prototype was the reduced grill height which gave way to an entirely new grill shape for the production cars.
Because the Gondola-shaped prototype chassis were never sold and only used as as show cars, they were never assigned legitimate chassis numbers. As many as four were made and one was found and purchased by Jim Hull who recreated Torpédo Competition bodywork around it.
Jim sourced sheet magnesium from Magnesium Elektron, Ltd and recreated the entire Torpédo Competition body with help from Jerry Weeks Baker of Indianapolis.
Pictures & Gallery
See full 1935 Bugatti Type 57S Prototype Gallery here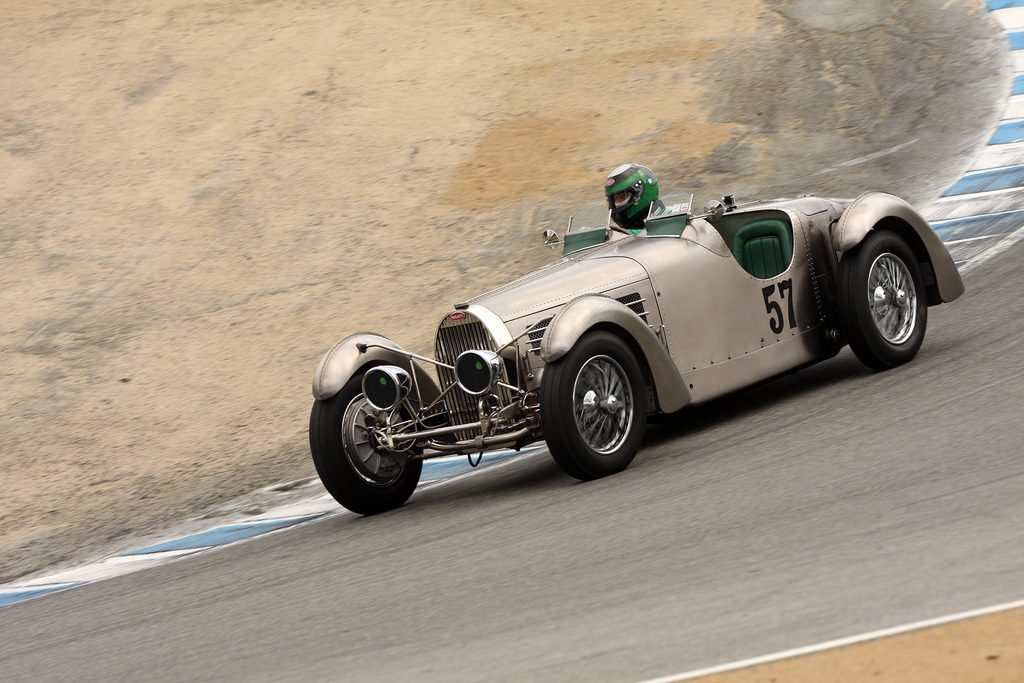 Specs & Performance
| | |
| --- | --- |
| | |
| type | Limited Production Car |
| built at | France |
| production | 4 |
| engine | Inline-8 w/Cast Iron Block, Dry Sump Lubrication |
| position | Front Longitudinal |
| aspiration | Supercharged |
| valvetrain | 2 Valves per Cyl, DOHC |
| fuel feed | Stromberg UUR-2 Carburetor |
| displacement | 3257 cc / 198.8 in³ |
| bore | 72 mm / 2.83 in |
| stroke | 100 mm / 3.94 in |
| compression | 8.5:1 |
| power | 156.6 kw / 210 bhp @ 5500 rpm |
| specific output | 64.48 bhp per litre |
| redline | 5500 |
| body / frame | Steel over Ash Wooden Supports over Steel Frame |
| driven wheels | RWD |
| front tires | Dunlop |
| rear tires | Dunlop |
| front brakes | Drums |
| rear brakes | Drums |
| front wheels | F 45.7 x 14.0 cm / 18 x 5.5 in |
| rear wheels | R 45.7 x 16.5 cm / 18 x 6.5 in |
| steering | Worm & Roller |
| f suspension | Semi-Indpenedant Centrally Collared Axles w/de Ram Shock Absorbers, Leaf Springs |
| r suspension | Solid Axle w/de Ram Shock Absorbers, Quarter-EllipticLeaf Springs |
| wheelbase | 2979 mm / 117.3 in |
| front track | 1349 mm / 53.1 in |
| rear track | 1349 mm / 53.1 in |
| transmission | 4-Speed Manual |
| top speed | ~177.0 kph / 110.0 mph |
| 0 – 60 mph | ~10 seconds |