1935 Mercedes-Benz 500 K Spezial-Roadster
America had the Duesenberg, France had the Talbot Teardrop and Germany had the 540K Spezial Roadster. Also known as the Special Roadster, only 26 of these striking models were made with the best engineering and highest craftsmanship available to Mercedes-Benz. If only one car could epitomize Mercedes-Benz luxury, this would be the best choice as it's the company's masterwork.
Released at the Paris Motor Show in 1936, the 540K became a flagship Mercedes-Benz and was built by special order only. It followed the eight cylinder 500K and helped maintain Mercedes-Benz as a prestige marque that produced the fastest production automobiles in the world.
Each car was individually built to customer's needs and Mercedes-Benz prepared a range of available bodies. Among these were the spectacular Spezial Roadsters built by Mercedes-Benz's own Karrosserie Sindelfingen. These flowing two-seaters were one of the most striking prewar designs, easily distinguished by their prominent hood, sweeping fenders, recessed grill, external exhaust pipes, raked windscreen and extreme length. They are arguably the most beautiful German supercars and have a commanding presence.
Hermann Ahrens was responsible for styling the Special Roadster. His design was a marvel of proportion that was harmonious despite being over 17 feet long and only accommodating two passengers. This beauty was extended underneath the skin with a chassis that would become the company's ultimate pre-war expression.
Engineer Gustav Rohr upgraded the 540K chassis when he wasn't already working on the incredible Mercedes-Benz Grand Prix cars. He built upon the 500K's original concept initially developed under the direction of Hans Nibel. The layout called for a supercharged inline-8 that could propel any style of body with relative ease.
The 540K expanded on this theme by having an enlarged 5.4 liter inline-8 which was good for was good for 180hp and 170 kph. The main highlight of the engine was its gear driven, Rootes-type supercharger (or Kompressor) that could spool up on demand to increase the power from 115bhp to 180bhp. This setup was a similar to the supercharged S, SS and SSK racecars which were designed by Ferdinand Porsche to help Mercedes-Benz dominate racing in the twenties.
Like the 500K, the 540K chassis had an array of impressive features, the most important being four-wheel independent suspension. Upfront were twin parallel wishbones and the rear had swing arms. Synchromesh was standard for three of four forward speeds in the transmission and top gear catered to high speed autobahn travel. The 540K was lengthened, with a longer wheelbase that extended the hood and allowed for a new vee-shaped radiator. Rohr also updated the suspension and braking systems.
While factory records show that the factory built over 400 540Ks, as little as 26 Spezial Roadsters where completed. With superb engineering, exacting craftsmanship and gracious styling, the Spezial Roadster is now one of the most sought supercars and fetches over five million USD at auction.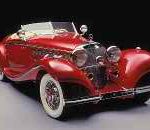 Chassis No. 154086 – Originally sold through Mercedes-Benz UK to Sir John Chubb in 1937, 4086 was ordered with high doors and a long tail with a exposed spare wheel. In the fifties it was converted to left an drive and refurbished by Mercedes-Benz. It was fully restored in the eighties and won a first in class at Pebble Beach in 1988. The car was retained by the Ecclestone Collection before being auctioned at RM Auction's Automobiles of London sale where it sold for 3 905 000 GBP.
In Detail
| | |
| --- | --- |
| submitted by | Richard Owen |
| type | Series Production Car |
| built at | Germany |
| price $ | $ 10,780 |
| engine | M24 Supercharged Inline-8 |
| valvetrain | OHV, 2 Pushrod Actuated Valves per Cyl |
| fuel feed | One Double Updraft Carburetor |
| displacement | 5019 cc / 306.3 in³ |
| bore | 86 mm / 3.39 in |
| stroke | 108 mm / 4.25 in |
| compression | 6.5:1 |
| power | 119.3 kw / 180 bhp @ 3400 rpm |
| specific output | 35.86 bhp per litre |
| body / frame | Steel over Box Section Steel Frame |
| driven wheels | RWD |
| front tires | 7.50-17 |
| rear tires | 7.50-17 |
| front brakes | Hydraulic Drums w/Bosch-Dewandre Vacuum Booster |
| rear brakes | Hydraulic Drums w/Bosch-Dewandre Vacuum Booster |
| front wheels | F 43.2 x 8.9 cm / 17 x 3.5 in |
| rear wheels | R 43.2 x 8.9 cm / 17 x 3.5 in |
| steering | Worm & Nut |
| f suspension | Double Wishbones w/Coil Springs |
| r suspension | Swing Axle w/Double Coil Springs |
| wheelbase | 3290 mm / 129.5 in |
| front track | 1515 mm / 59.6 in |
| rear track | 1502 mm / 59.1 in |
| length | 5150 mm / 202.8 in |
| width | 1820 mm / 71.7 in |
| height | 1580 mm / 62.2 in |
| transmission | 4-Speed Manual |
| gear ratios | 3.42:1, 1.62:1, 1.00:1, 0.62:1 |
| top speed | ~160.9 kph / 100 mph |
| 0 – 60 mph | ~16.0 seconds |