1936→1937 Packard One Twenty Model 120-C
In 1936 the One Twenty was joined by the Packard Six which was an even cheaper model in the Junior Range.
This year the Factory made a new chassis for the One Twenty that used I-beam instead of U-beam chassis. This meant that virtually all the body panels except the running boards were interchangeable with the previous versions.
New to 1937 was a Model 120-CD which was offered as a deluxe version with automatic radiator shutters, Marshall-sprung seats, a banjo-spoke steering wheel, clock, deluxe radiator camp, increased level of interior trimming and white-wall tires. The Model 120-CD was available as a Touring Coupe, Club Sedan, Station Wagon, Touring Sedan and Touring Limousine.
While not much changed for the One Twenty in 1937, Darrin broke the trend of stately and predicable in-house designs with their striking Convertible Victoria. Packard initially refused to include Darrin designs as a factory option, but this changed when a single Convertible Victoria was parked in front of a dealer's convention in Detroit. In 1940 Packard offered the Darrin Convertible Victoria and advertised it as the "Glamour Car of the Year!"¹
The source of these graceful bodies came from France. Howard 'Dutch' Darrin relocated from Paris to California and one of his first projects was the Packard chassis. By the time Packard officially recognized Darrin, he had done around 16 Packards including both coupes and convertibles.² These were the first Packards to feature no running boards, but also had an extensive makeover including channeled body sections that removed up to three inches of height from the body, curved doors with the signature 'Darrin Dip', reprofiled fenders and a lowered engine that dropped the entire body. In many ways these were modernized versions of Packard's existing designs, but they were very expensive to produce. With an extended hood, Darrin bodies were also designed with an excellent sense of proportion which some of the standard bodies lacked.
Sources & Further Reading
1. Kimes, Beverly Rae.Packard. A History of the Motor Car and the Company..Automobile Quarterly: 1978.
2. Coachbuilt.com.Darrin of Paris, 1937-1939
See full 1937 Packard One Twenty Model 120-C Gallery here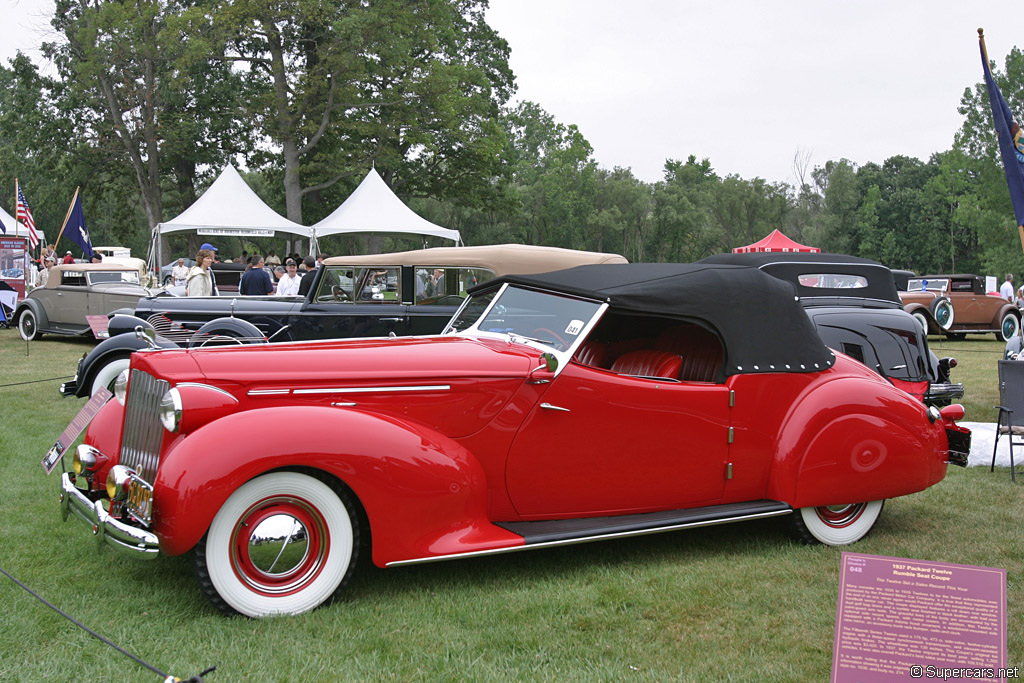 In Detail
| | |
| --- | --- |
| | |
| type | Series Production Car |
| production years | 1936 – 1937 |
| built at | Detroit, Michigan, USA |
| production | 50100 |
| predeccesor | 1936 Packard One Twenty Model 120-B |
| succeccesor | 1938 Packard Eight Model 1601 |
| engine | Inline-8 w/L-Cylinder Head |
| position | Front Longitudinal |
| aspiration | Natural |
| ignition | Auto-Lite Single Breaker Distributor |
| block material | Cast Iron w/Aluminum Cylinder Head |
| valvetrain | Side Valves |
| fuel feed | Downdraft Stromberg EE-14 |
| displacement | 4621 cc / 282 in³ |
| bore | 82.5 mm / 3.25 in |
| stroke | 114.3 mm / 4.5 in |
| compression | 6.41:1 |
| power | 89.5 kw / 120 bhp @ 3600 rpm |
| specific output | 25.97 bhp per litre |
| torque | 305.1 nm / 225 ft lbs @ 1500 rpm |
| body / frame | Steel & Wooden Body over Steel Ladder-Type Chassis |
| driven wheels | RWD |
| wheel type | 16-Inch Steel Disc |
| steering | Worm & Roller |
| f suspension | Parallel Arm w/Coil Springs, Delco Shock Aborbers |
| r suspension | Solid Axle w/Semi-Elliptic Leaf Springs, Delco Shock Absorbers, Anti-Roll Bar |
| wheelbase | 3048 mm / 120 in |
| front track | 1498 mm / 59 in |
| rear track | 1524 mm / 60 in |
| transmission | 3-Speed Manual |
| final drive | 4.09:1 |