1936 Bugatti Type 57SC Atlantic
One of the most bizarre, elusive and expensive of cars is the Bugatti Type 57SC Atlantic. With its low stance, powerful engine, lightweight construction, 123 mph (200 kph) top speed and influential teardrop body, many believe this is the ultimate Bugatti and the first supercar ever made.
Ettore's son, Jean Bugatti, who played a large role in the development of the Type 57 series, personally styled the Atlantic. Jean's lines draw an interesting mix of aircraft style together with the avant-garde tear-drop shape. Design highlights include a heavily raked windscreen, riveted fins and kidney-shaped doors with matching side windows.
Momentum behind the style was structured by a design concept of incorporating Electron, an alloy of magnesium and aluminum from IG Farben of Germany, in the design. Though it is strong, and up to one third the weight of aluminum, it is also highly flammable thus welding was not possible. This meant that each panel had to be riveted into place which posed a particular problem for traditional design. Therefore, Jean incorporated the rivet's aesthetic into the wings of the car and created a telling combination of function and form.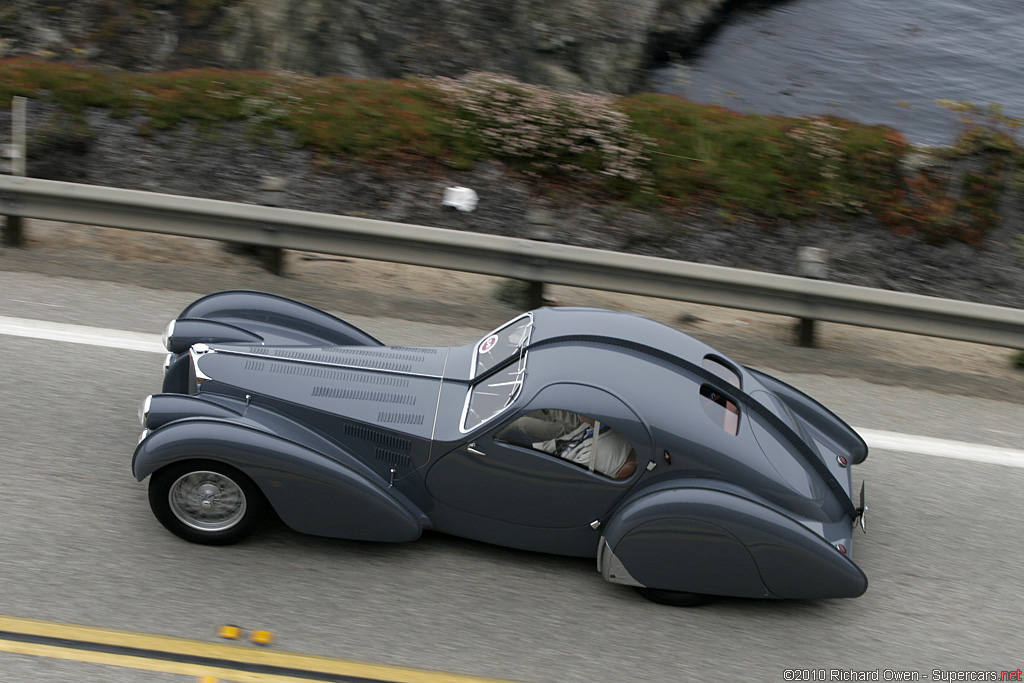 As the first car to bear fins, the silver Electron Aerolithe Prototype debuted as a possible sport model of the Type 57 series at the 1935 Paris Motor Show. As much of a sensation as the car must have been, it only drew three orders. By the time production commenced in 1936, standard aluminum was chosen over the flammable electron and the specially lowered Type 57S chassis, with its smaller, V-shaped radiator was used.
The engineering on these Atlantics was similar to the other Type 57s which formed a basis for Bugatti competition and grand touring. Chassis arrangements included Rudge Witworth wire wheels, complex De Rams shocks absorbers, fifteen inch drum brakes and a strong, uncluttered chassis. The Type 57SC chassis was the combination of the supercharged 57C engine with the low and short 57S chassis used for racing.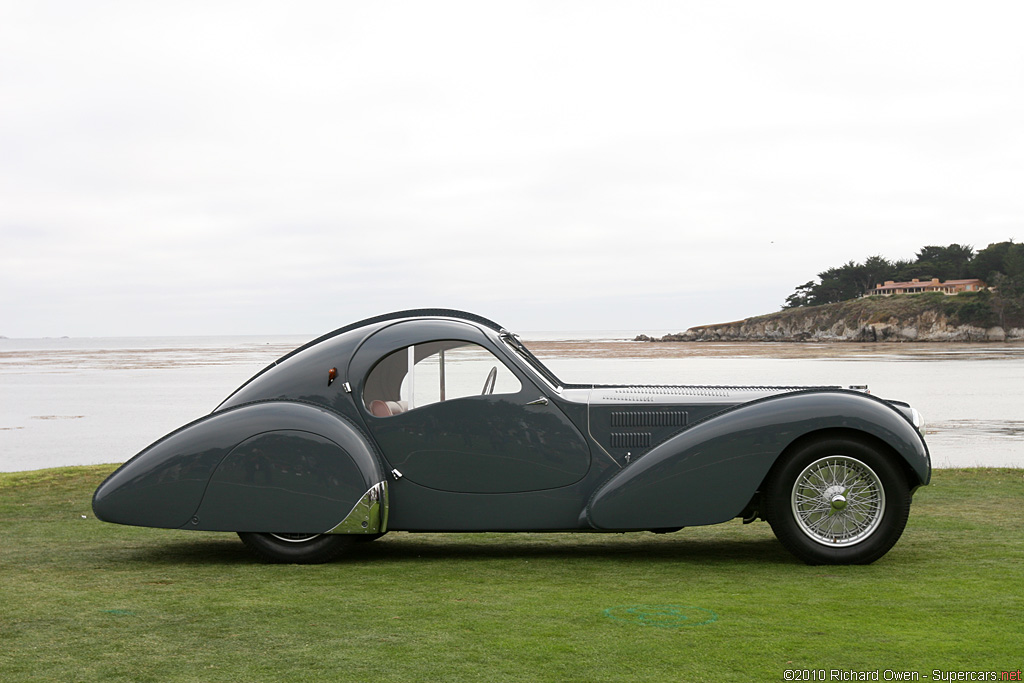 Chassis
The 75 year history of each Bugatti Atlantic is entertaining conjecture for any Bugatti enthusiast. The first prototype is gone and only two of three aluminum bodied production versions remain largely original.
Pictures & Gallery
See full Bugatti Type 57SC Atlantic Gallery
Video
Specs & Performance
| | |
| --- | --- |
| type | Limited Production Car |
| built at | Molsheim, Alsace, France |
| production | 3 |
| predecessor | 1934 Bugatti Type 57 Aérolithe |
| engine | Inline-8 w/Cast Iron Block, Dry Sump Lubrication |
| position | Front Longitudinal |
| aspiration | Supercharged |
| valvetrain | 2 Valves per Cyl, DOHC |
| fuel feed | Stromberg UUR-2 Carburetor |
| displacement | 3257 cc / 198.8 in³ |
| bore | 72 mm / 2.83 in |
| stroke | 100 mm / 3.94 in |
| compression | 8.5:1 |
| power | 156.6 kw / 210 bhp @ 5500 rpm |
| specific output | 64.48 bhp per litre |
| bhp/weight | 220.36 bhp per tonne |
| redline | 5500 |
| body / frame | Aluminum over Ash Wooden Supports over Steel Frame |
| driven wheels | RWD |
| front tires | Dunlop |
| rear tires | Dunlop |
| front brakes | Drums |
| rear brakes | Drums |
| front wheels | F 45.7 x 14.0 cm / 18 x 5.5 in |
| rear wheels | R 45.7 x 16.5 cm / 18 x 6.5 in |
| steering | Worm & Roller |
| f suspension | Semi-Indpenedant Centrally Collared Axles w/de Ram Shock Absorbers, Leaf Springs |
| r suspension | Solid Axle w/de Ram Shock Absorbers, Quarter-EllipticLeaf Springs |
| curb weight | 953 kg / 2101 lbs |
| wheelbase | 2979 mm / 117.3 in |
| front track | 1349 mm / 53.1 in |
| rear track | 1349 mm / 53.1 in |
| transmission | 4-Speed Manual |
| top speed | ~200 kph / 124.3 mph |
| 0 – 60 mph | ~10 seconds |
| designers | Jean Bugatti, Joseph Walter |
Chassis Numbers
Chassis 57374, the Rothschild Car – Here is the first production Atlantic which is identified by its low set headlights that only slightly protrude. It was built in 1936 and possibly with parts and panels from original Aerolithe prototype. The first owner of #57374, Lord Philippe de Rothschild of London, ordered the car in light blue with dark blue interior. A subsequent owner sent the car back to Bugatti in 1939 to receive a supercharger and make the car a true 57SC. After the war, Bob Oliver of Los Angeles owned #57374 and modified it in drastic ways. Bob resized the rear windows and painted the car several different colors including red. Peter D. Williamson picked up the modified car at auction in 1971 for $59,000 USD and spent years restoring the car to its 1936 specification. He debuted it at the 2003 Pebble Beach Concours were it won best in show. It has since been purchased by a new owner for $36 million and resides in the Mullin Automotive Museum.
Chassis 57473, The Holzschuch car – Easily the most controversial Atlantic, this car stayed in France and was sold the Holzschuch family who promptly sold it back to the factory in 1937. In 1939, the factory again had the car and additional louvers were included as well as an extension to the rear fenders. The car suffered a horrible train collision in 1955 which killed both passengers. The twisted chassis was then held at the Gien train station for nearly ten years then sold to a junk yard. In 1965, Paul André Berson discovered the remains and spent ten years recreating the car for Nicolas Seydoux. After displaying it at 2000 Villa d'Este Concours it was comprehensively restored by Paul Russel usuing as many of the original panels as possible. The completed car was first displayed at the 2010 Pebble Beach Concours d'Elegance in grey.
Chassis 57591, The Pope Car – The last Atlantic is the most published of the three and can probably claim to be the most original. It is instantly recognizable from its external headlights which many people feel make it the most desirable of the three. Ralph Lauren has owned this car since 1988 and it was restored by Paul Russel. With a strong inclination towards important and authentic cars, Ralph includes #57591 as a highlight in his collection which has Type 57SC Gangloff Cabriolet #57563.
#57591 was initially purchased by R.B. Pope of London in Dark Sapphire Blue. The car still bears its EXK6 plate from its original registration in the UK. It was supercharged in 1939, before being sold to notable author Barry Price in the sixties. Eventually New York designer Ralph Lauren picked up the car from venture capitalist Tom Perkins. He commissioned Paul Russel to comprehensively restore #57591 using as many original parts as possible. During the lengthy two-year procedure, Paul and his team discovered details such as original tan goatskin upholstery and seats filled with horsehair bags wrapped in muslin. After the project was complete it was shown at the 1990 Pebble Beach Concours D'Elegance where it won best of show. Like many of Ralph's Bugattis the car is finished in black.
Sources & Further Reading
1. Simon, Bernhard & Julius Kruta. The Bugatti Type 57S. Monsenstein & Vannerdat: Germany, 2003.
2. Conway, H.G. Bugatti-Les Pur-Sang Des Automobiles, Robert Bentley Inc: 1963.
3. Dumont, Pierre, Bugatti Thoroughbreds From Molsheim, 1975.
4. Laugier, Pierre-Yves. Bugatti, Les 57 Sport , 2004.
Story by Richard Micheal Owen, Edited by Leif Parker, for Supercars.net