1936 Delage D6-70 Spéciale
This pretty Delage is one of the first dual-purpose grand tourers and easily the most beautiful cars that has raced and won at LeMans. It was built during Delage's transition year, back when they were being saved and swallowed up by Delahaye. As such, this car benefits from both company's engineering and expertise.
Fortunately, after the take over, Delahaye realized the potential of sports car racing and Delage's skill to engineer winning cars. The managing committee planned to make a single chassis with a modified cylinder head for Louis Delâge. He used Delahaye chassis 50688 and modified it to sufficiently call it his own. This included a short-stroke version of the Arthur-Léon Michelat's 3.6 engine in the Delahaye 135CS chassis.
Delage decided his racecar would be bodied by Figoni et Falaschi who had already produced bodies for a stable of LeMans winners and endurance racers. Figoni was known for his lightweight, seemingly-aerodynamic bodies and the one he made for 50688 was his most impressive to date. It was compact, purposeful and one of the first teardrops in the world.
Unfortunately, the debut of Delage's car was delayed after the 1936 edition of LeMans was cancelled due to labor strikes. Instead, the car became a showpiece for Delage and it impressed crowds on the European Concours d'Elegance circuit. It won at its first show in Deauville with Mme Richer-Delavau. However, not before long, 50688 was used for its intended purpose at local hill climbs and sprint races.
In 1937, this Delage finally got its chance to race LeMans when sold to the capable hands of Louis Gérard. He and his cousin Jacques de Valence finished the race in fourth and won their class at an average speed of 121.1 kph. This respectable finish was overshadowed by big Bugatti that was seven laps ahead and took overall victory. It was contested as a private entry but likely had some support from Louis Delâge and Walter Watney.
After LeMans, 50688 was separated with its body and Delage prepared an open two seat body for the chassis. In this configuration Gerard's Delage successfully took part in the 1938 sports season and won the RAC's Tourist Trophy.
The contemporary history of 50688 is unknown. Currently Roland d'Ieteren is fielding and showing a car which is identical to 50688 in its original configuration. This car has been shown many times at events like Retromobile and it raced at the 2006 LeMans Classic.
While this small racer didn't save Delage's independence, its influential styling was a huge contribution. After the LeMans victory, Figoni et Falaschi were encouraged further develop their teardrop design. They became famous for several more signature Teardrops and even built one very special car Talbot-Lago for the 1939 Lemans.
See full 1936 Delage D6-70 Spéciale Gallery here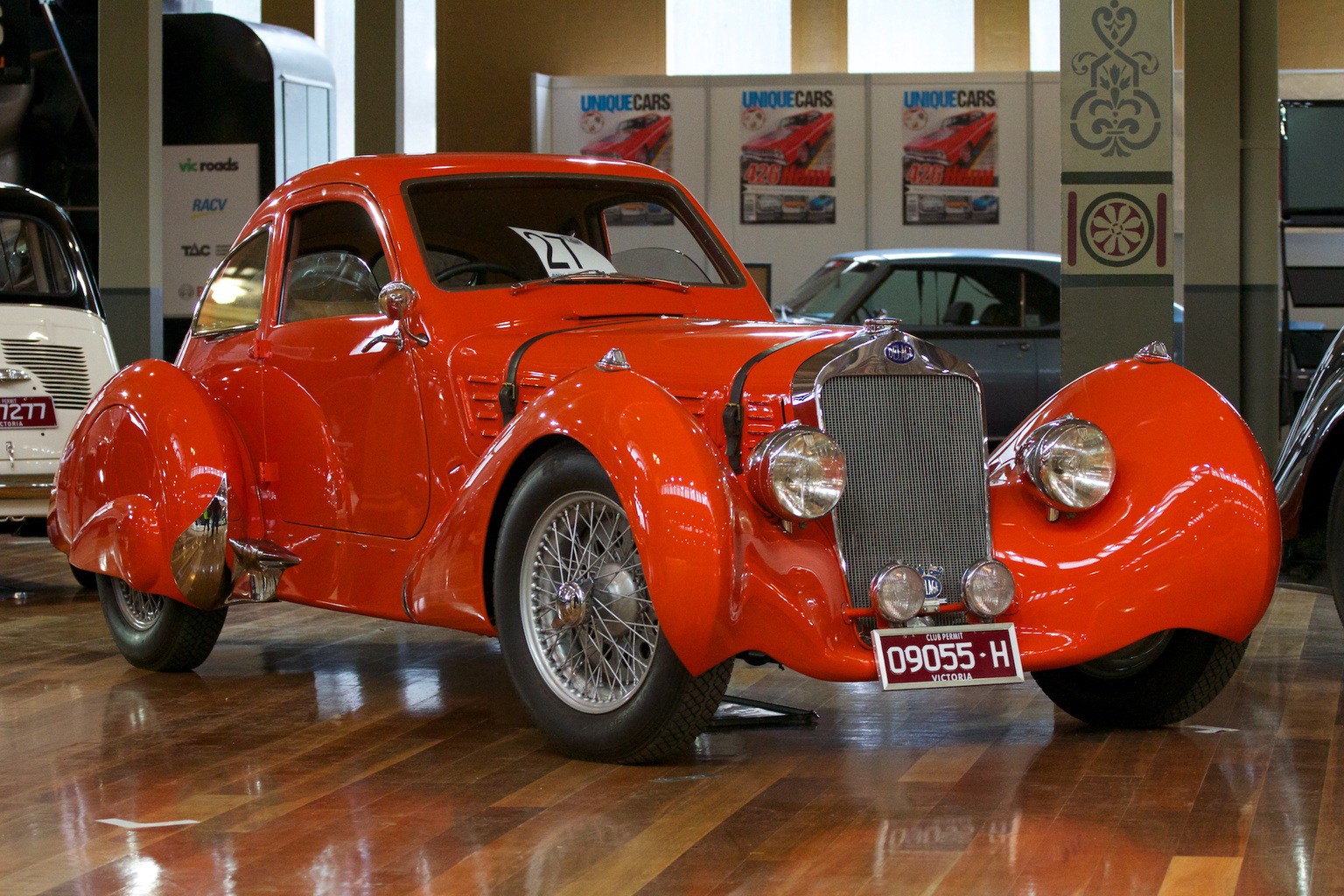 In Detail
| | |
| --- | --- |
| type | Series Production Car |
| engineers | Arthur Michelat, Louis Delâge |
| engine | Michlat Inline-6 |
| position | Front Longitudinal |
| aspiration | Natural |
| block material | Cast Iron Block, Bronze Head |
| valvetrain | OHV, 2 Valves per Cyl |
| fuel feed | 3 Solex 44 HD |
| displacement | 2973 cc / 181.4 in³ |
| bore | 83.7 mm / 3.3 in |
| stroke | 90.5 mm / 3.56 in |
| power | 96.9 kw / 130 bhp @ 4400 rpm |
| specific output | 43.73 bhp per litre |
| bhp/weight | 104.0 bhp per tonne |
| body / frame | Aluminum Body over Steel Frame |
| driven wheels | RWD |
| front tires | 5.5×18 |
| rear tires | 5.5×18 |
| front brakes | Drums |
| rear brakes | Drums |
| f suspension | Wishbones w/Transverse Leaf Springs, Friction Dampers |
| r suspension | Live Axle w/Transverse Leaf Springs, Friction Dampers |
| curb weight | 1250 kg / 2756 lbs |
| wheelbase | 3188 mm / 125.5 in |
| transmission | 4-Speed Cotal 35 Mkg |
| top speed | ~186 kph / 115.51 mph |
Auction Sales History
1936 Delage D6-70 Figoni et Falaschi Milord Cabriolet 50607 – sold for $544,500 Known history since new. A specialist-administered concours restoration. Numerous extraordinary design features, including a folding windshield and a three-position top.
Auction Source: 2014 Arizona by RM Auctions
1936 Delage D6-70 Milord Cabriolet 50607 – did not sell for $1,100,000 Known history since new. Recent, specialist-administered concours restoration. Numerous extraordinary design features including folding windshield and three-position top.
Auction Source: Monterey 2012 by RM Auctions