1937 Delahaye 135 M
The 135 M (Modifie), is an upgraded version of the 135 first released in 1935. These cars typically feature custom coach built bodies and no two are identical. Combining luxurious appointments and race-winning engineering, the Delahaye 135 is one of the most desirable French cars from its time.
Coachbuilders such as Figoni at Falaschi, Chapron, Franay, Letourner & Marchand, and Guillore all had their turn at building an image for the Delahaye name. Many of these cars were built specifically for Concours events which demanded elegance and uniqueness.
First shown in 1935, the 135 was an lower, more powerful and sporting version of the Type 138 model it replaced. This model was updated in 1937, to include the 3,557cc engine in various states of tune. The the 135M or Modifie featured either one or three carburetors for 95hp or 115hp. The top model was the Modifie Speciale with 135hp.
At the center of the 135 chassis was a robust six-cylinder engine. It's simple pushrod design ensured reliability while the modest capacity gave good fuel economy. For almost fifteen years Delahaye used this engine for their most celebrated chassis.
During the late thirties the 135 Sport competed with success in Grand Prix, rally and endurance racing, winning the 1936 Marsailles GP and closely missing the French GP (but still taking second, third, forth and fifth place). Furthermore, the highlight of the 135's career came at the 1938 LeMans 24 Hours race when Eugene Chaboud and Jean Tremoul took overall victory with their 135 Sport.
Around 50 examples of the 135 were made with a shorter chassis known as the Competition Court for small two seat coupes and cabriolets.
During the onset of war, Delahaye reverted back to their earlier commercial designs for the effort. Afterward they continued their 135 line which was tolerant of the poor fuels available after the war. The new cars featured a longer and narrower grill, but still retained the grace of the pre-war cars.
See full 1937 Delahaye 135 M Gallery here
In Detail
| | |
| --- | --- |
| type | Series Production Car |
| engine | Cast Iron, Water Cooled, Inline-6 |
| position | Front Longitudinal |
| aspiration | Natural |
| valvetrain | 2 Valves / Cyl |
| displacement | 3557 cc / 217.1 in³ |
| bore | 80 mm / 3.15 in |
| stroke | 107 mm / 4.21 in |
| power | 82.0 kw / 115 bhp @ 4000 rpm |
| specific output | 32.33 bhp per litre |
| driven wheels | RWD |
| front tires | 5.50×17 |
| rear tires | 5.50×17 |
| front brakes | Drums w/Servo Assist |
| rear brakes | Drums w/Servo Assist |
| front wheels | F 43.2 x 14.0 cm / 17 x 5.5 in |
| rear wheels | R 43.2 x 14.0 cm / 17 x 5.5 in |
| steering | Worm & Nut |
| f suspension | Idependant w/Transverse Semi Elliptic Leaf Springs, Friction Dam |
| r suspension | Live Axle w/Transverse Semi Elliptic Leaf Springs, Friction Damp |
| front track | 1380 mm / 54.3 in |
| rear track | 1485 mm / 58.5 in |
| transmission | 4-Speed Cotal Preselector |
| 0 – 60 mph | ~10 seconds |
Auction Sales History
1938 Delahaye 135 M cabriolet Coachwork Langenthal 6S103 – sold for €149,500
The car is well presented and in good operating condition. It has its original 6S103 type engine with the same number as that of the chassis, and French registration documents. This superb cabriolet, thanks to its well known but uncommon body work, on a classic chassis whose reputation is well-established, is a very good example of the exceptional creations which were able to be produced during this period of luxury in the motor world.
Auction Source:
2015 Les Grandes Marques du Monde au Grand Palais
1950 Delahaye 135M Letourneur et Marchand Cabriolet 801348 – did not sell for €110,000
This Letourneur et Marchand-bodied example was built in 1950 and spent most of its life in France. We understand that the first French owner retained it for nearly 30 years, until he sold it on 24 October 1979 to Mr. Andre Acoulon from St. Maur de Fosse, Val de Marne, just outside of Paris. As per the plaque still mounted on the sill of 801348, it was restored in France by Atelier de Restoration Automobile, in Sorigny. The present owner, from Holland, acquired the car in 2003 and ever since, it has remained within his collection, still on its old French number plates. Very well-known by the Delahaye Club in France, the car has participated in many classic rallies and concours events, where it was very well received. A wonderful and well-maintained example of Delahaye's signature model, it is accompanied by a large file of documents, including invoices, and is ready to be shown or enjoyed on tours and rallies.
A desirable 135M model equipped with triple-carburettor induction and Cotal pre-selector gearbox, chassis number '800269' was supplied new to Lucerne, Switzerland in 1946. The body is certainly one of Graber's finest from this period, reminiscent in many ways of the factory coachwork for the contemporary Alfa Romeo 2500. In 1956 the Delahaye was sold to Bern and then again in 1958 to an owner in Thun who kept the car until 1998, since when it has undergone a high quality, detailed restoration. The original fittings have all been refurbished (including the white steering wheel), the body very sympathetically restored, a new hood made and the interior professionally re-trimmed in red hide, very much in Graber's original style
1948 Delahaye 135 M Cabriolet "Malmaison" 800997 – sold for €333,581
This Delahaye 135 M DHC was built in his workshops in 1948 and was one of the first examples of this "transition" model combining the pre-war style and the integral pontoon line. Named "Malmaison" it was exhibited on the Pourtout stand at the 1948 Paris Motor Show. The vertical and narrow grille was a variant of the new front styling by Philippe Charbonneaux for Delahaye in 1946. This car participated in numerous concours d'élégance events in 1949. We know that in 1952, under the registration number 1548 C 75 (Paris), it was the property of the Marquis de Cuevas who owned and managed a famous ballet company. It then went through the hands of several French owners among them the Comte de Ribot in 1954 (n° 461 BW 06), Mr. Louis de Poitevin de Fontignac in 1957 (n° 851 CM 16), Mr. Beauvais in 1970 (n° 613 LC 86), Mr. Vernhes in 1982 (n° 3429 KM 32) and M. Ramos (n° 1943 JP 33) in 1983. In 1988-1989 the body, paintwork and upholstery of the car was restored by the Atelier Automobiles Anciennes in Chambray-lès-Tours. A letter written by Claude Pourtout (son of Marcel) who supervised the restoration work testifies that this car was built by his father's company. Sold at an auction in New York in October 1989 it has since been part of various American collections. The power unit is a Type 103 6S engine with three carburettors delivering 115bhp at the time and it drives a 4-speed Cotal electro-magnetic gearbox and we are told that the car works perfectly.
Finished in bright red with white dashboard and leather interior, it is fitted with Rudge-type chrome-plated wire wheels (optional on the 135 M). A period Philips radio will be delivered with the car. Accompanied with its American title this Delahaye 135 M is rated "Full CCCA Classic" in the US. With 45 000 km recorded on the clock, it is ready to make its first ever appearance at the main international concours d'élégance events.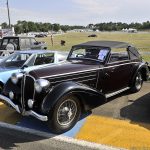 1938 Delahaye 135M Chapron Cabriolet 49278 – sold for €117,940
Our 135 M, a classic four-seater cabriolet with bodywork by Henri Chapron (order n°5785), belonged for many years to the well-known collector Jacques Dumontant, who inherited it from his father and often used it on his travels in search of vintage cars. Although the 135 M usually came with openwork sheet-metal wheels, this one has more elegant wire wheels, always available as an option at the time (and vice-versa). The current owner acquired the car in 2003, and the engine received a major overhaul in 2004 – details can be seen in the accompanying folder, along with the original service booklet.
1951 Delahaye 135M Cabriolet by Chapron – sold for €117,600
art of the O'Quinn Collection since 2005, its restoration was completed some years ago and comes complete with copies of over 50 pages of invoices and correspondence. A recent inspection confirms that the 135M maintains its post-restoration splendour with the exterior panel fit and deep maroon finish remaining very good, while the bright trim is generally very nice with very slight pitting. The interior continues to present well with the leather upholstery showing slight evidence of use, while the dash, instruments and door panels remain very nice. Overall, this automobile represents both the proven quality and performance for which Delahayes are renowned.
1948 Delahaye 135M Cabriolet by Pennock – sold for $220,000
Delivered new to the United States, this Pennock-bodied cabriolet was re-sold to Mr. Dale McCauley of Grosse Ile, Michigan in 1952. It remained in his possession until 1997, when it was sold to a prominent Midwest collector, who had D&D Restorations of Covington, Ohio carry out a show-quality cosmetic and mechanical restoration. It changed hands again in 2002, after which it was entrusted to the Alan Taylor Company of Escondido, California for a mechanical and cosmetic refinement. A new convertible top and headliner were installed, and all the interior woodwork was refinished. Suspension, brakes, steering and electrical systems were thoroughly refurbished, as the owner was an enthusiastic participant in driving events. Seat belts were fitted at this time.
The car successfully completed the Pebble Beach Tour d'Elegance in 2003, followed by display at that year's Concours d'Elegance, receiving a second-in-class against some very stiff competition. It subsequently placed well at the 2003 Palos Verdes Concours. Mosier Restorations gave the car a complete service and tune-up in 2006, including new batteries, exhaust system and a rebuilt starter.
The paint, in dark green and tan, is excellent, with no flaws, scratches or chips readily visible. It harmonizes with matching tan leather on seats and doors, accented by green piping. The top is done in matching tan canvas. The driver's seat is just slightly worn from use, while the interior wood, on dash and doors, is excellent. The banjo-style steering wheel is very attractive.
Panel fits are very good, the large stone guards on the rear fenders are devoid of dings or markings, and all chrome is very good. Blackwall tires are mounted on green-painted wire wheels, and the car is fitted with Marchal driving lights.
The engine is generally clean and the undercarriage is sanitary, but not necessarily concours quality. A car cover is included as well. The coachwork is lovely, and the car would require little effort to be returned to the show field.