Delahaye 145 Grand Prix
To encourage local manufacturers, the French Government and the Automobile Club of France hosted a competition that would boost the image of French racing and engineering. To do so they offered a million francs to any company that could beat the Italian speed record around Montlhery with a car that adhered to the upcoming 1938 Grand Prix regulations. For the challenge, Delahaye constructed the 145. It was their first purpose built racer and our feature example is the one that took the prize.
Known as the Million-Franc Delahaye, it doesn't get much more important than our feature car, chassis number 47881. It faded from view for over six decades before making a triumphant return at the 2006 Pebble Beach Concours. At the show, authors Richard S. Adatto and Diana E. Meredith revealed that of the four 145s constructed, this was the indeed the winning Delahaye.
To win the event, Delahaye worked with financial banking and support from Ecurie Bleue. They had Jean Francois design an unsupercharged, 4.5 liter V12 that fit well within the Grand Prix regulations. The valvetrain was distinct, having three camshafts, one in the center of the V for both banks of intake valves and two located on the outside for the exhaust. The intention was to offer a detuned version for GT cars, of which two were made, but for the trial magnesium alloy cylinder heads, block and crankcase were used, as well as a lightweight valve train and a special counter-balanced crank shaft.
Covered in crude aluminum bodywork and supported by a chassis similar to the 135 S, the V12 project was completed in a year and raced a few times before its high speed test.
In what became the performance of his life, Rene Dreyfus set the fastest average speed of 146.6 kph at Montlhery in this car and won all of France's accolades. After his record run, Bugatti was present and had four days to beat his time. During this tense period, Dreyfus sat on his record, but decided a final run was needed incase Bugatti had a trick up their sleeve. At the same time, both Dreyfus and Jean-Pierre Wimille took to the track. While the Bugatti dropped out with piston troubles, Dreyfus bested his time and became a national hero. He later described it as the "toughest fight of my career".
Afterwards. Lucy O'Reilly from Ecurie Bleue had a red and white victory stripe painted on all their cars in recognition of their feat. The first 1938 Grand Prix was held at Pau, where the 145 dominated German and Italian competition with its low fuel consumption and lightweight construction. The Million-Franc car was then taken to the Mille Miglia where it placed forth. While two 145s raced LeMans in 1938, they dropped out and handed the victory to one of the more reliable Type 135 Sports.
This entire period before the war was Delahaye's finest period. Only four 145s were constructed and two were rebodied by Chappron in 1946/7 into road-going supercars. These were joined by two dramatically bodied roadsters that used a detuned version of the V12 known as the Type 165.
At the 2006 Pebble Beach Concours, Peter Mullin debuted his 145 as the Million-Franc Delahaye for the first time. In the restoration leading up to the show, lightweight components such as hollow axles, drilled components and magnesium housings were found all over the car. It was also discovered that a type 155 engine was installed, and that the original might be in one of the other four cars. While this car was pieced together in 1987 by restorers Crosthwaite and Gardiner, even using some original body panels, Peter decided to have it refinished in its splendid Mille Miglia configuration for the 2006 Pebble Beach Concours. As a true enthusiast he also raced the car at the Monterey Historics.
More Delahaye 145 GP 
Story by Richard Owen
Bibliography
Adatto, Richard and Diana Meredith. Delahaye Styling and Design. Dalton Watson Fine books. 2005.
Dorizon, Peigney and JP Dauliac. Delahaye-Le Grande Livre. Paris Editions EPA. 1995.
Renou, Michel. Delahaye-Tout l'historie. Paris Editions EPA. 1994.
See full 1937 Delahaye 145 Grand Prix Gallery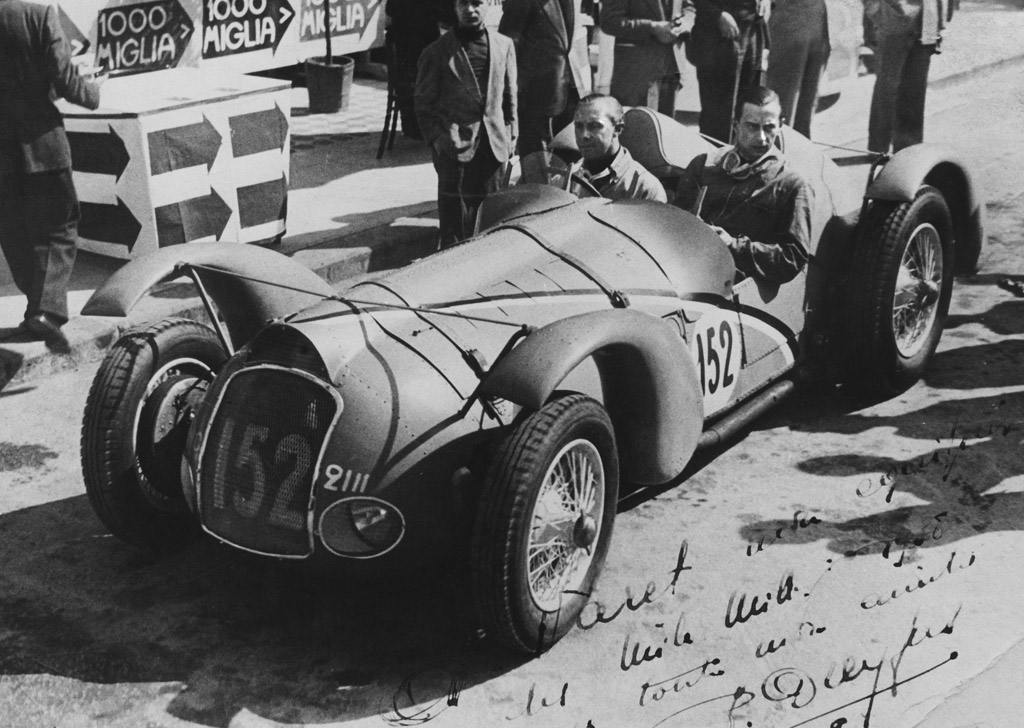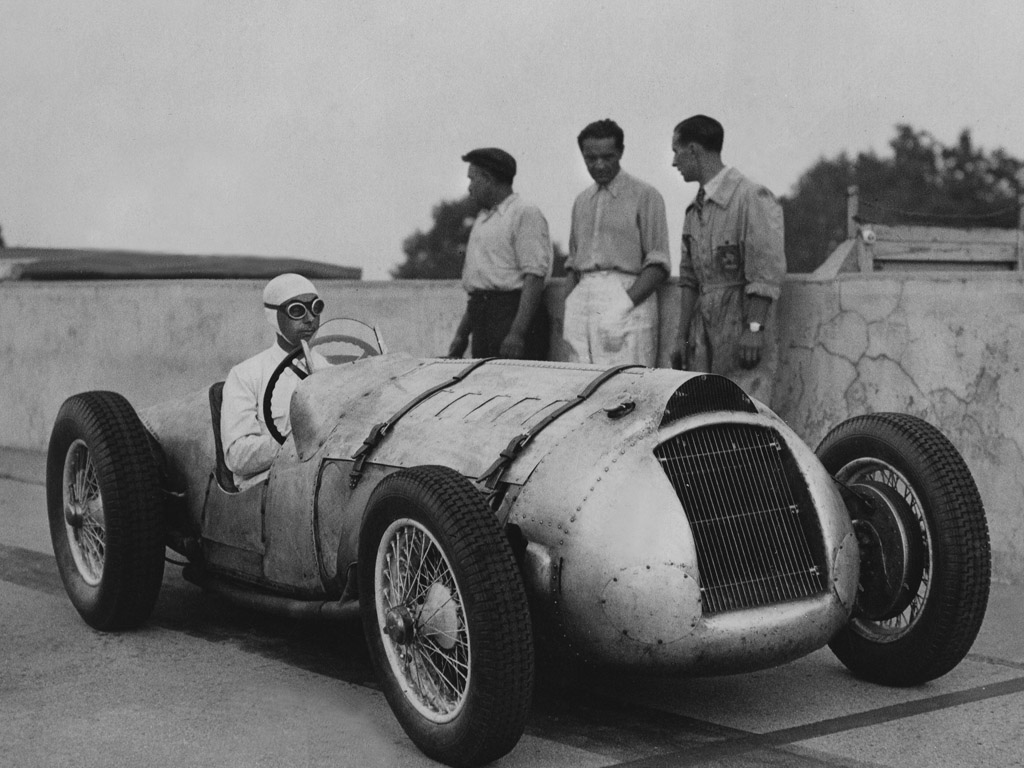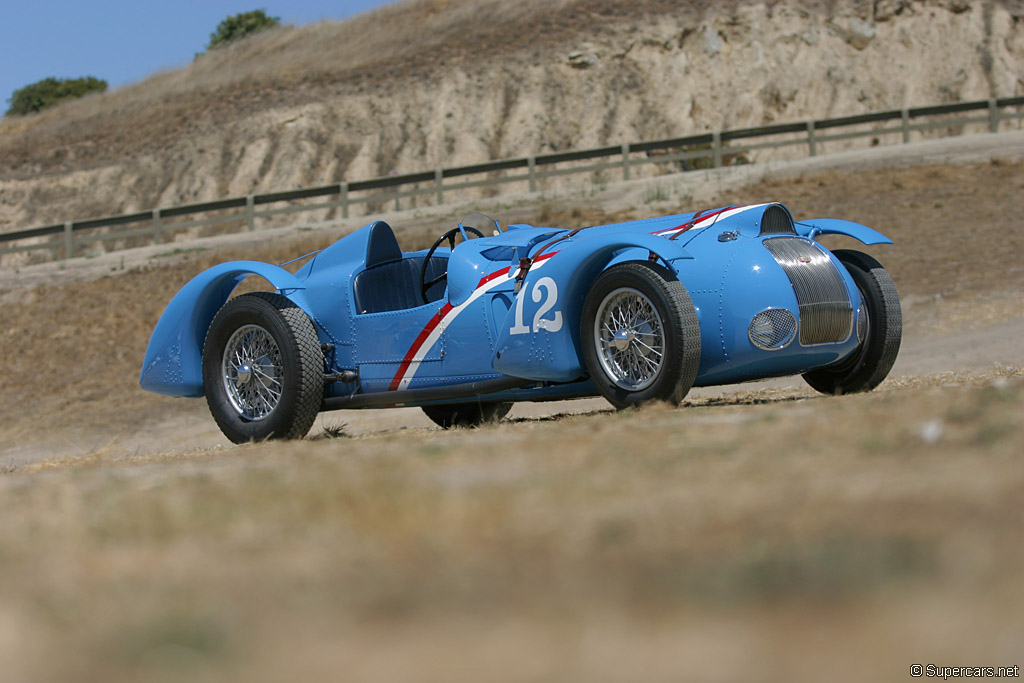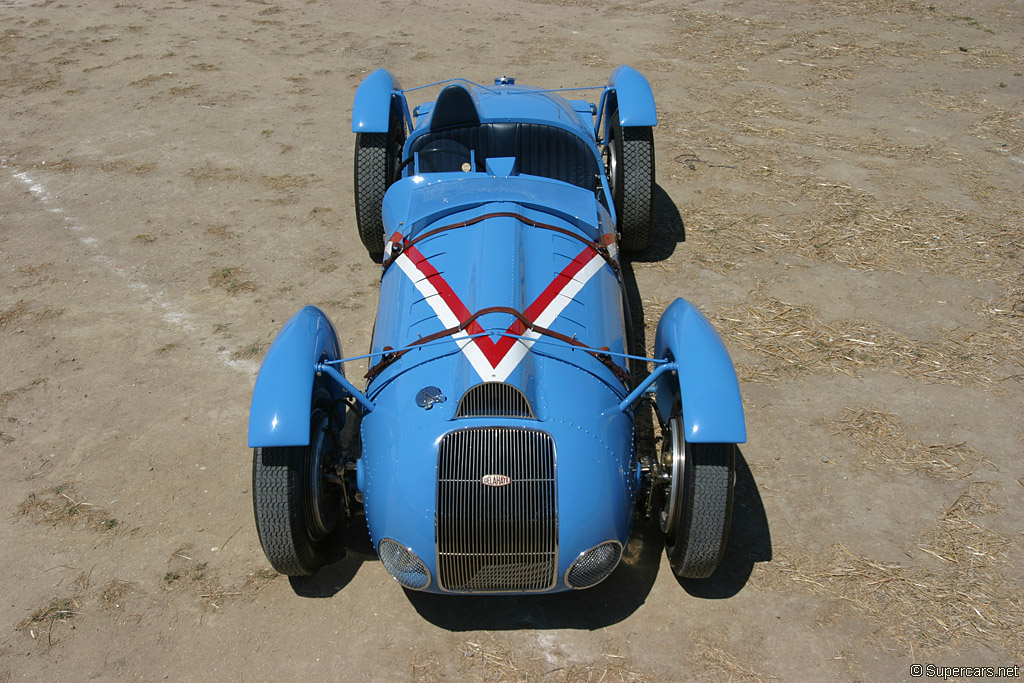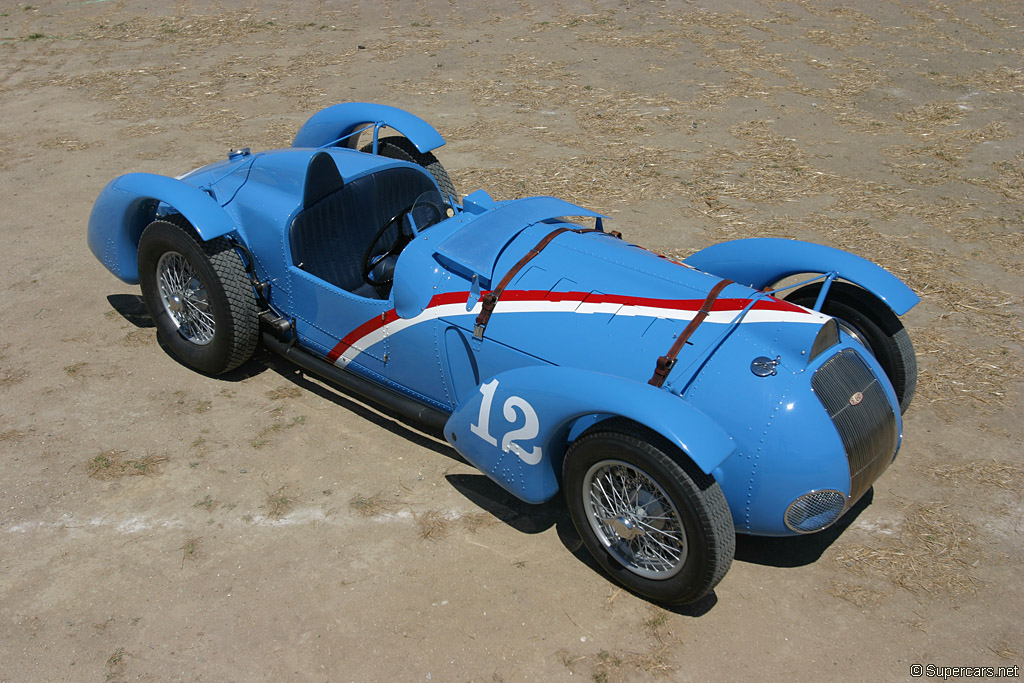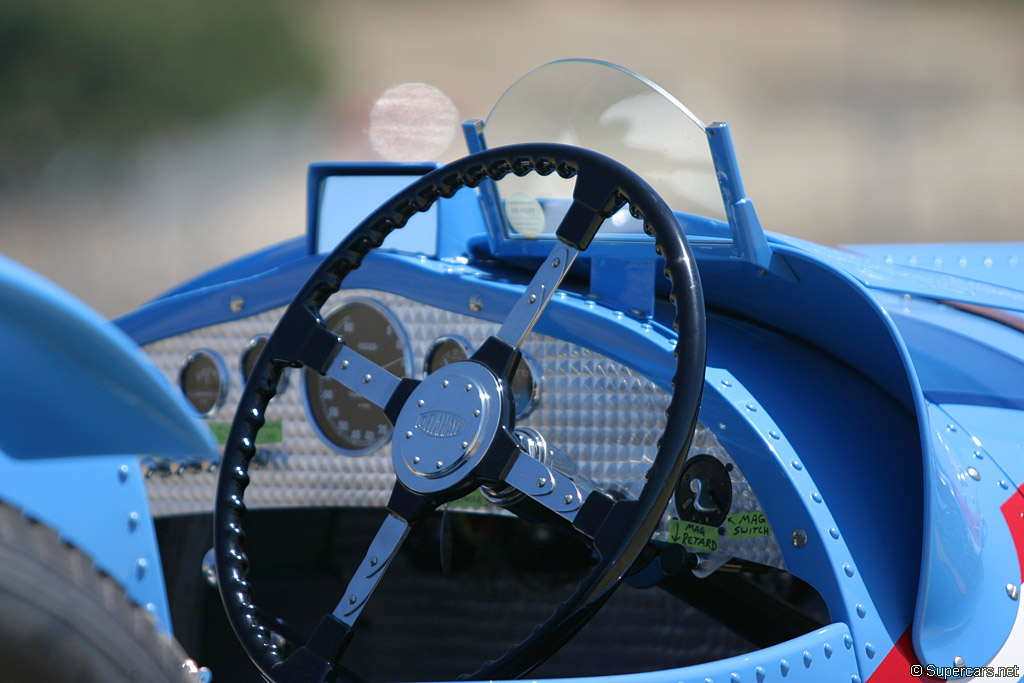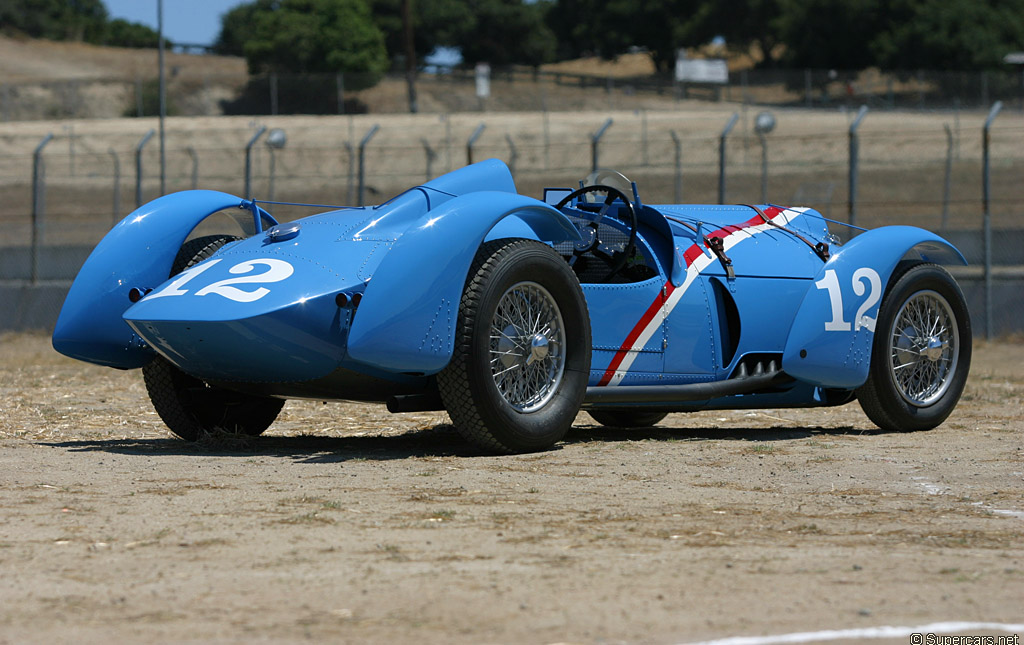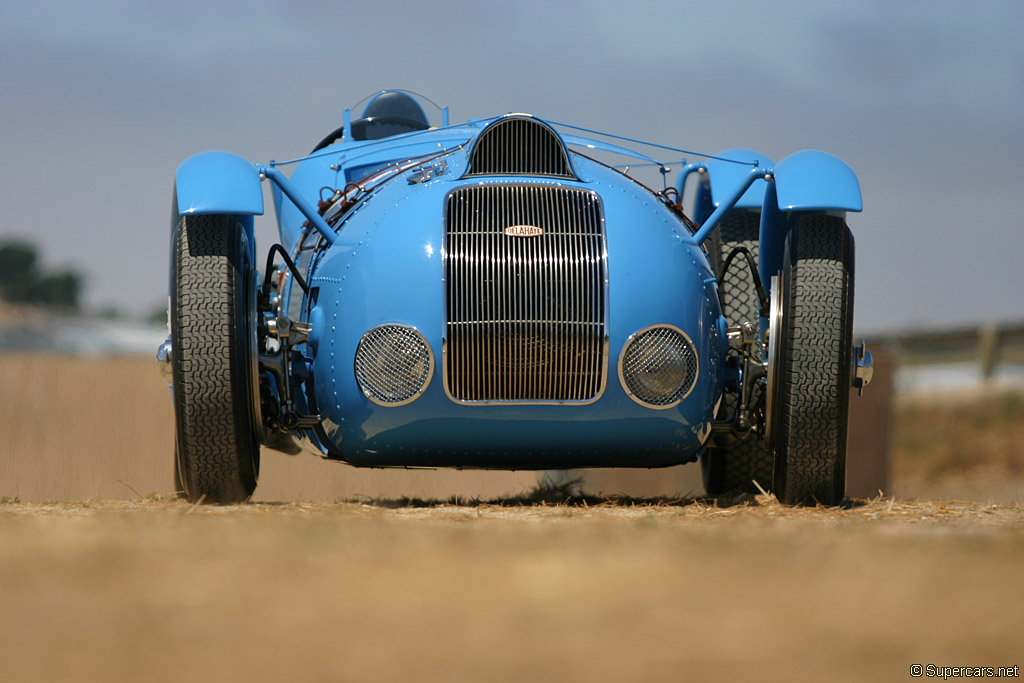 In Detail
| | |
| --- | --- |
| related cars | 1946 Delahaye 145 |
| submitted by | Richard Owen |
| engine | Alloy 60 Degree V12 w/Magnesium Sump |
| position | Front Longitudinal |
| aspiration | Natural |
| valvetrain | OHV, 2 Valves per Cylinder |
| fuel feed | 3 Stromberg Carburetors |
| displacement | 4496 cc / 274.4 in³ |
| bore | 75 mm / 2.95 in |
| stroke | 84.7 mm / 3.33 in |
| power | 182.7 kw / 245 bhp @ 5500 rpm |
| specific output | 54.49 bhp per litre |
| bhp/weight | 222.73 bhp per tonne |
| body / frame | Aluminum Body over Tubular Steel Frame |
| driven wheels | RWD |
| front brakes | Drums |
| f brake size | mm / in |
| rear brakes | Drums |
| r brake size | mm / in |
| steering | Worm & Nut |
| f suspension | Lower Wishbones w/Friction Dampers |
| r suspension | Live Axle w/Semi-Elliptic Leaf Springs |
| curb weight | 1100 kg / 2425 lbs |
| wheelbase | 2700 mm / 106.3 in |
| front track | 1347 mm / 53.0 in |
| rear track | 1362 mm / 53.6 in |
| transmission | 4-Speed Manual |
| gear ratios | :1 |
| top speed | ~230.1 kph / 143 mph |