1937 Mercedes-Benz 540 K
Released at the Paris Motor Show in 1936, the 540K became Mercedes-Benz's flagship model and was built by special order only. It followed the eight cylinder 500K and helped maintain the company's prestige by being one of the fastest production cars in the world.
At the Paris Motor Show, Mercedes-Benz said the 540K name "conjures up visions of breath-taking exploits of racing cars and drivers of international fame, but also of superlative comfort and coachwork of exquisite beauty, fine paintwork, brightly polished metal, the finest hardwoods and leather – massive and yet outstandingly attractive bodies – in short: the car for the connoisseur."
Each car was individually built to the customer's needs and Mercedes-Benz prepared a range of available bodies. Among these, were the spectacular Spezial Roadsters built Mercedes-Benz's own Karrosserie Sindelfingen. These flowing two-seaters were one of the most striking prewar designs, distinguished by their prominent hood, sweeping fenders, external exhaust pipes, raked windscreen and extreme length. The are still, arguably, the most beautiful German supercars and have a commanding presence.
Engineer Gustav Rohr was responsible for designing the 540K cruisers and upgraded them while he also worked on the incredible Mercedes-Benz Grand Prix cars. He fitted an enlarged 5.4 litre inline-8 which was good for 180hp and 170 kph. The main highlight of the engine was its gear driven, Rootes-type supercharger (or Kompressor) which would spool up on demand to increase the avilable power from 115bhp to 180bhp when engaged. This setup was a similar to the supercharged S, SS and SSK racecars which were designed by Ferdinand Porsche to help Mercedes-Benz dominate racing in the twenties.
When built, the 540K featured an updated chassis with a longer wheelbase that extended the hood and allowed for a new vee-shaped radiator. Rohr also included better suspension and braking. Like the earlier cars, the suspension was also fully independent.
Factory records show that 419 of these cars were built and featured a wide array of coachwork. Surprisingly, most were built by the factory's own Karrosserie Sindelfingen which was managed by Wilhelm Haspel. They offered a variety of Cabriolet bodies that were designated 'A' through 'D'. These were joined several coupes designs and the very coveted Special Roadsters.
Bibliography
Lozier, Herbert. The Car of Kings: the Mercedes K and S , Chilton Book Co, Philadelphia: 1967.
Melin, Jan. Mercedes-Benz Supercharged 8-Cylinder Cars of 1930s Volume 1, Nordbok International Co-Editions., Gothenburg: 1985.
Story by Supercars.net
In Detail
| | |
| --- | --- |
| tags | 540k |
| submitted by | Richard Owen |
| type | Series Production Car |
| built at | Germany |
| engine | Supercharged Inline-8 |
| position | M 24 II, Front Longitudinal |
| aspiration | Supercharged |
| valvetrain | 2 Valves per Cyl |
| displacement | 5401 cc / 329.6 in³ |
| bore | 88 mm / 3.46 in |
| stroke | 111 mm / 4.37 in |
| compression | 6.5:1 |
| power | 134.2 kw / 180 bhp @ 3400 rpm |
| specific output | 33.33 bhp per litre |
| bhp/weight | 80.36 bhp per tonne |
| body / frame | Steel over Pressed Steel Frame |
| driven wheels | RWD |
| front tires | 7.0×17 |
| rear tires | 7.0×17 |
| front brakes | Hydrualic Drums |
| rear brakes | Hydrualic Drums |
| front wheels | F 43.2 x 10.2 cm / 17.0 x 4.0 in |
| rear wheels | R 43.2 x 10.2 cm / 17.0 x 4.0 in |
| steering | Worm & Nut |
| f suspension | Double Wishbones w/Coil Springs |
| r suspension | Swing Axle w/Trailing Arms, Double Coil Springs |
| curb weight | 2240 kg / 4938 lbs |
| wheelbase | 3290 mm / 129.5 in |
| front track | 1535 mm / 60.4 in |
| rear track | 1547 mm / 60.9 in |
| length | 5100 mm / 200.8 in |
| width | 1800 mm / 70.9 in |
| height | 1530 mm / 60.2 in |
| transmission | 4-Speed Manual |
| gear ratios | 3.90:1, 2.88:1, 1.45:1, 1.00:1 |
| final drive | 3.08:1 |
| top speed | ~170 kph / 105.6 mph |
Auction Sales History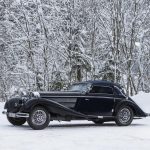 1938 Mercedes-Benz 540 K Cabriolet A Coachwork 154076 – sold for €2,760,000 Delivered in Berlin on 5th February 1938, chassis number '154076' was first owned by 'Tauentzien – Verlag', an advertising agency whose proprietor was one Georg Niedermeier. This particular 540 K Cabriolet A with its attractive enclosed spare wheel and sporty rear end not unlike those of certain 'Spezial Roadsters' is featured in Jan Melin's reference work: 'Mercedes-Benz Supercharged 8-Cylinder Cars of the 1930s' (Volume 2, pages 222 & 223) in which it is pictured just after its restoration to concours condition at 'Reifen Wagner' in Germany, well known specialists for these Kompressor cars. Shown at the Louis Vuitton Bagatelle concours in 2001, the 540 K was owned in 2002 by Kenneth McBride of Seattle, WA, USA, returning to Europe in 2004 when it was purchased by the renowned Mercedes-Benz collector Etienne Veen. The current private vendor purchased the car from him in February 2006. Fully serviced and on the button, it comes with a UK V5C registration document.
Auction Source: The Mercedes-Benz Sale 2015 by Bonhams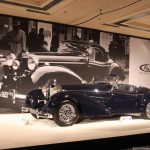 1939 Mercedes-Benz 540K Special Roadster 408383 – sold for $7,480,000 A fully one-off, owner-commissioned 540K Special Roadster. Built for the Horn brothers of Berlin. Formerly the property of Alf Johansson and the Lyon Family Collection. Features original mileage. All matching numbers, including original and rare five-speed transmission. Freshly restored Pebble Beach Concours d'Elegance award winner.
Auction Source: 2013 Monterey Auction by RM Auctions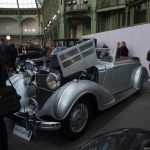 1938 Mercedes-Benz 540K Vanden Plas Cabriolet 169333 – sold for €672,750 The bulk of 540K production was destined for the home market but this example was first owned Mr Randolph Hearst, son of the millionaire American newspaper publisher, William Randolph Hearst, who was the inspiration for the central character in Orson Welles' cinematic masterpiece, Citizen Cain. After '169333' left the Hearst estate it was owned by Mr Andrew Darling in Minnesota for many years before passing to the collection of Mr Jorge Fernandez in Spain. We are advised that the car is in very good and mainly original condition, having been well maintained throughout the years, and that it runs and drives well. Representing the very best that money could buy in the late 1930s, it is an excellent example of this classic German model.
Auction Source: 2013 Les Grandes Marques du Monde au Grand Palais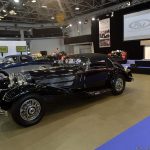 1936 Mercedes-Benz 540 K Sport Cabriolet A 130945 – sold for €2,324,000 One of a limited few transitional 500 K-540 K Sport Cabriolet A models. One hundred-point restoration; Pebble Beach award; Best of Show at Forest Grove. Two Monte Carlo Historic Rally entries. Prominently featured in Jan Melin's definitive book, Mercedes-Benz 8: The Supercharged 8-Cylinder Cars of the 1930s. Inspection by experts from Mercedes-Benz Classic Germany.
Auction Source: Monaco 2012 by RM Auctions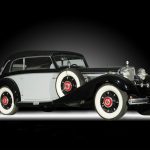 1937 Mercedes 540 K cabriolet B 154105 – sold for €494,630 The Mercedes 540 K on offer, with the chassis number 154105, left the Mercedes works in February 1937. It is equipped with a body "Cabriolet B", which offered four spacious seats, under the soft-top. According to a marque expert, the car was delivered to a Hamburg-based Portugese Consul in March of the same year and then the car went off to the US, where it became a part of the Rockefeller family car fleet. At that time, there are records of this car participating in various Mercedes exhibitions.
Auction Source: 2012 Artcurial Motorcars à Rétromobile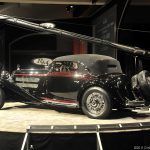 1936 Mercedes-Benz 540 K Sport Cabriolet A 130945 – sold for $2,970,000 One of a limited few transitional 500 K-540 K Sport Cabriolet A models. 100-point restoration, Pebble Beach award, Best of Show at Forest Grove. Two Monte Carlo Historic Rally entries. Prominently featured in Jan Melin's definitive book, Mercedes-Benz 8: The Supercharged 8-Cylinder Cars of the 1930s. Recent inspection by experts from Mercedes-Benz Classic Germany.
Auction Source: 2011 Monterey Auction by RM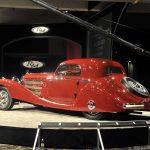 1936 Mercedes-Benz 540 K Spezial Coupe 130944 – sold for $3,080,000 Offered from the Lyon Family Collection. Single-family ownership for two decades. The 1936 Paris Salon car. Complete with copy of original build sheet; delivered new to Jean-Claude Solvay of Belgium. Inspected in person by experts from Mercedes-Benz Classic Germany. Matching-numbers – One of a limited few 540 Ks with coupe coachwork.
Auction Source: 2011 Monterey Auction by RM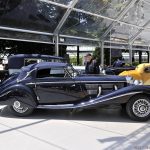 1937 Mercedes-Benz 540K Cabriolet A – sold for €1,400,000 Built for 14th Maharajah of Indore. 540K – the ultimate specification in desirable Cabriolet A form. Concours-quality restoration by RM Auto Restoration. Very original, complete car before restoration. Multiple concours awards including Pebble Beach.
Auction Source: RM 2011 Villa d'Este Auction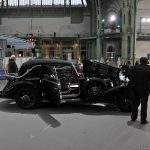 1937 Mercedes-Benz 540 K Cabriolet C 169312 – sold for €506,000 Launched at the Paris Salon in October 1936, the 540K had an engine that developed 115bhp un-supercharged or 180bhp with the compressor engaged. The gearbox was a four-speeder, but with a direct top gear rather than the overdrive ratio used on the earlier 500K. With the supercharger engaged, the 540K's blown straight-eight gave it a top speed approaching 110mph (177km/h) matched by servo-assisted hydraulic braking. Its performance potential was such that Mercedes-Benz in the UK retained racing driver Goffredo 'Freddy' Zehender as technical adviser and demonstration driver, since the super
Auction Source: 2011 Automobiles d'exception au Grand Palais by Bonhams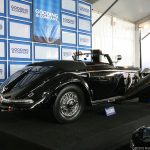 1937 Mercedes-Benz 540K Sport Cabriolet A 154084 – sold for $2,145,000
As imposing as ever, this spectacular 540K remains in show-quality condition throughout and is poised to be a star of any concours. Eligible for the finest events worldwide, this beautifully prepared Mercedes-Benz is, without question, one of the most attractive open luxury cars of the era and is an outstanding example of German engineering at its finest. Possessing a rarely matched combination of quality, overall performance and comfort, the 540K walks the fine line between sports and luxury cars and sets the standard for the competition. In the late 1930s, there were only a handful of vehicles that could claim the same stature as an open, two-door supercharged Mercedes-Benz.
The extraordinary attention to detail found in every facet of this car reflects both the passion of its original creator as well as the precise, accurate work of the restorers who have tended to this magnificent motorcar. From the pristine engine bay with its gleaming chrome pipes and engine-turned finishes, to the spectacular interior trim with its highly-polished woodwork, mother of pearl instrument panel and bakelite fittings, to the even glow of its imposing Bosch headlamps, this Mercedes-Benz is the automotive embodiment of classical elegance.
No great collection can do without an attractive, open 540K. The late production Sport Cabriolet is considered to be the most beautifully proportioned of the line and is certainly the most desirable of the entire Sindelfingen cabriolet series. Their long rear coachwork with rear-mounted spares, deeply backset radiator and elegantly sweeping lines put them on a visual par with the Special Roadster. The cresting high-door design and voluptuous clamshell fenders place this Roadster amongst the most desirable of all Mercedes-Benz motorcars.
The Sport Cabriolet A presented here is an example of great distinction, a proud representative of the marque, tour proven and a serious concours contender. Truly a Mercedes-Benz that sets the bar, it needs only a new caretaker to continue in its dignified manner and unsurpassed style.
Auction Source: 2010 Gooding & Company Pebble Beach Auction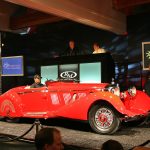 1937 Mercedes-benz 540K Mayfair Roadster 154080 – sold for $2,530,000 The lovely 540K Special Roadster offered here is considered by many to be the seminal work of the Mayfair Carriage Co. It is at once sleek and pretty, sporting and elegant. With its folding windshield and extensive use of louvers, it is undeniably sporting – while the flowing lines and skirted rear fenders lend an air of elegance to the design. The coachwork is much lighter than the more traditional closed bodies traditionally fitted to these … read more
Auction Source: 2007 Monterey Preview