1937 Talbot-Lago T150C SS
Of all the cars available in in the art deco era, the T150C was almost always transformed into rolling sculpture. Most of the cars were bodied by Figoni et Falaschi into some of the most voluptuous shapes sometimes referred to as the 'Goutte d'Eau' or teardrop.
During its era, the teardrop, also known as the 'Goutte d'Eau', was one of the select few automobiles that both redefined automotive style and won top-level races. Having successfully combined racing function and elegant form, the Teardrop became trend setting and motivated many other French manufacturers to consider more streamlined design.
While all of the French coach builders contributed to the styling 'renaissance' of the thirties, none did so quite much as Italian-born Giuseppe Figoni. He teamed with businessman Ovidio Falaschi to create one of the most prolific and successful French design companies: Figoni et Falaschi.
The Teardrop was Figoni et Falaschi's most coveted work. It was, in a sense, a revolt against the more functional cars from the twenties. Here was a design devoid of any straight lines, one decorated with sensual curves which advertised speed without even moving. This style was emphasized by the diminishing pontoon fenders, called 'enveloppantes' by Figoni, and a converging rear end that could be called a fastback.
Figoni's flowing designs were first seen in 1935 and on the Delahaye 135 chassis. These were a direct response to the Mercedes-Benz 540 K Autobahnkurier launched a year earlier at the 1934 Frankfurt Motor Show. By 1937, the Talbot Teardrop became the ultimate expression of this streamlined era and made its seminal mark in Paris as well as the 1937 New York Auto Show.
Throughout production Figoni played with the design, creating some roadster versions and other variations on different chassis. Pourtout was commissioned to built at least two teardrop coupes which were different in detail from the Figoni body.
T150C Chassis & Racing
With its independent front suspension, lightweight construction, excellent braking and low ride height the T150C chassis was focused on competition. It also benefited from Talbot's rich heritage in motor sport and included engineering similar to the Talbot which won the 1937 French Grand Prix. The definitive version of the T150 was the shortened and lighter SS chassis which the New York Style Teardrops were built upon.
Before creating his vision of a supercar, engineer Antonio Franco Lago traveled to England in the 1920s. There, he eventually found investors willing to offer the capital needed to purchase his needed licenses. The first of these was a Wilson pre-selector gearbox which was complex, but allowed the driver to select the next gear in advance and then simply dab the clutch. Armed with this transmission and a suspension design from Sunbeam-Talbot-Darracq Antonio moved back to France on a mission.
Working with engineer Walter Brecchia, Lago turned the Talbot T120 into the Talbot-Lago T150. The transformation included a new cylinder head with hemispherical combustion chambers and the Wilson gearbox. Immediately the sporting pedegree of the T150 was apparent and a 3-liter car contested LeMans in 1935 but retired. The following year the engine was increased to four litres to match 1936 regulations. Unfortunately, the larger car didn't achieve any sales success or race success.
In 1937 Lago announced the T150C, a lightweight variant of the old chassis that stood for course or competition. These won the Tunisia, Montlhèry race as well as the British Tourist Trophy. Later in the year, Talbot released his road-going versions. The first of these was named SS after the American term Super Sport. They had a short wheelbase of 2.65m. A longer 2.95m variant was offered called Lago Speciale and was generally meant for more luxurious bodies. By 1937, Figoni et Falaschi had struck a deal with Talbot-Lago to create teardrop bodies for both versions of their chassis.
The first Teardrop was shown in August of 1937 at the Paris-Nice Criterium de Tourism. Featuring the 4-litre engine and shortened version of the competition chassis the completed car was good for 100 mph.
Remarkably, one showroom stock Teardrop raced and placed third overall at the 1938 24 Hours of LeMans. The following year 90117, a specially prepared T150C SS featuring aluminum bodywork, an outside fuel filler and other special components, raced under Luigi Chinetti, but retired on the 88th lap. These Lemans cars were followed up by a another car won its class at the 1948 24 Hours of SPA. During these races, the Talbots faced stiff competition from Alfa Romeo and Bugatti.
In Detail
| | |
| --- | --- |
| tags | teardrop |
| submitted by | Richard Owen |
| type | Series Production Car |
| coachbuilder | Figoni et Falaschi |
| production | 11 |
| engine | Inline-6 w/Hemispherical Combustion Chambers |
| position | Front Longitudinal |
| aspiration | Natural |
| valvetrain | Pushrod OHV, 2 Valves per Cyl |
| fuel feed | Tripple Stromberg Carburetors |
| displacement | 3996 cc / 243.85 in³ |
| compression | 7.4:1 |
| power | 104.4 kw / 140.0 bhp @ 4200 rpm |
| specific output | 35.04 bhp per litre |
| bhp/weight | 93.52 bhp per tonne |
| driven wheels | Front Engine / RWD |
| front tires | 600×17 |
| rear tires | 600×17 |
| front brakes | Drums |
| rear brakes | Drums |
| steering | Worm & Nut |
| f suspension | Independant w/Transverse Leaf Springs |
| r suspension | Live Axle w/Leaf Springs |
| curb weight | 1497 kg / 3300 lbs |
| wheelbase | 2650 mm / 104.3 in |
| front track | 1372 mm / 54.0 in |
| rear track | 1461 mm / 57.5 in |
| transmission | Wilson Four-speed Pre-Selecto |
| final drive | 4.1:1 |
| top speed | ~185.1 kph / 115.0 mph |
Auction Sales History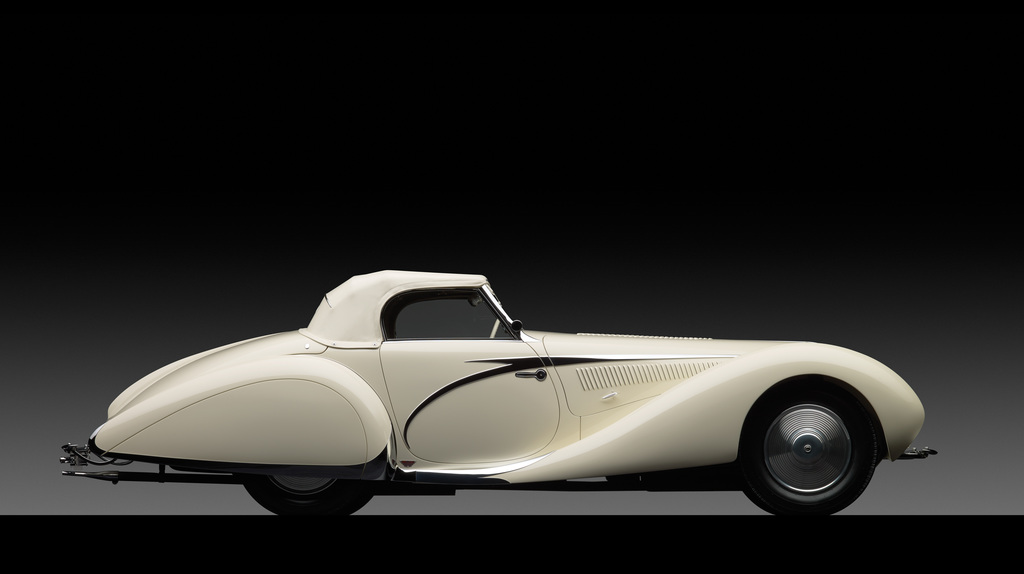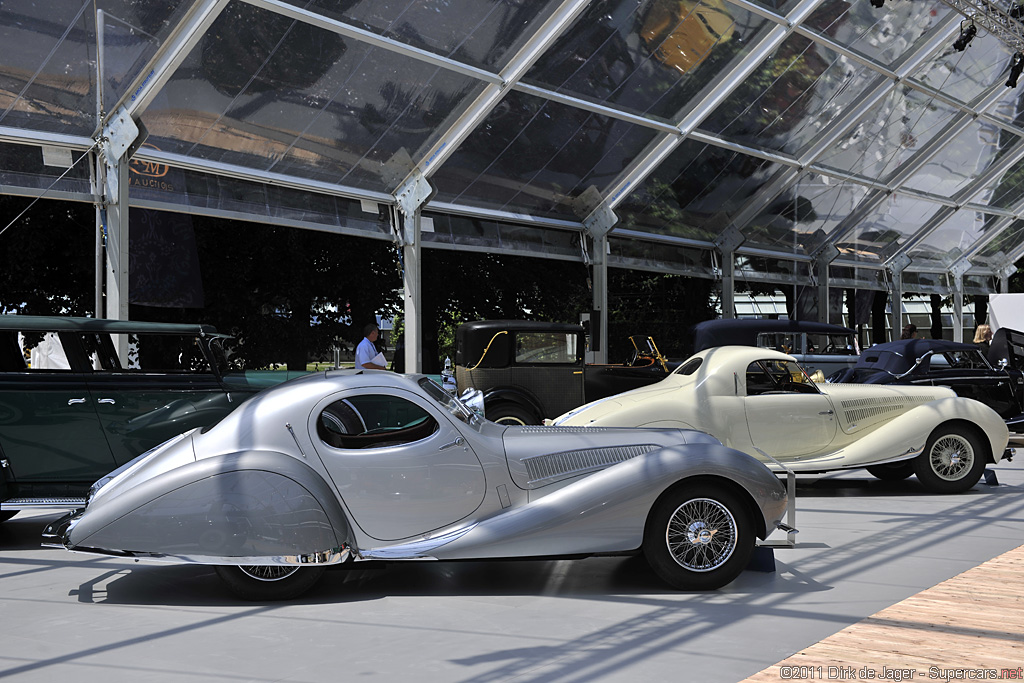 1938 Talbot-Lago T150-C SS Teardrop Coupé 90112 – sold for €3,136,000
A triple award winner at Pebble Beach in 2009 and Best of Show at Meadow Brook in 2010. Shown at concours events in period. Show-quality restoration by RM Auto Restoration. One of only 11 examples with Second-Series "New York" Figoni coachwork. Rare Factory sunroof. Sophisticated race-bred, short-wheelbase T150-C SS Talbot-Lago chassis.
Auction Source:
RM 2011 Villa d'Este Auction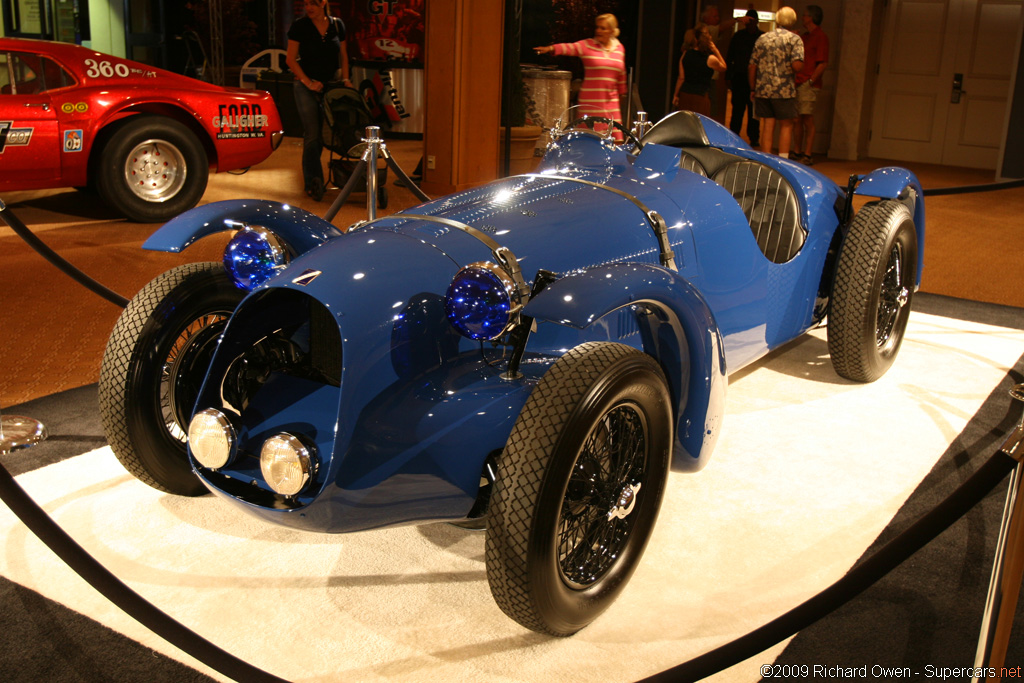 1938 Talbot-Lago T150 C SS Teardrop Roadster –
In the world of important French cars, provenance is second only to design, and 900115 stands with the best of the Teardrops, having a continuous history from new, a commendable and unique competition record, and no history of fire, accident, or deterioration. Although its coachwork has taken two forms, the Grand Prix racing coachwork it still wears today was installed new for its second owner. Furthermore, all the car's major components remain intact and together even now, so many years later.
Auction Source: 2009 RM Auctions Sports & Classics of Monterey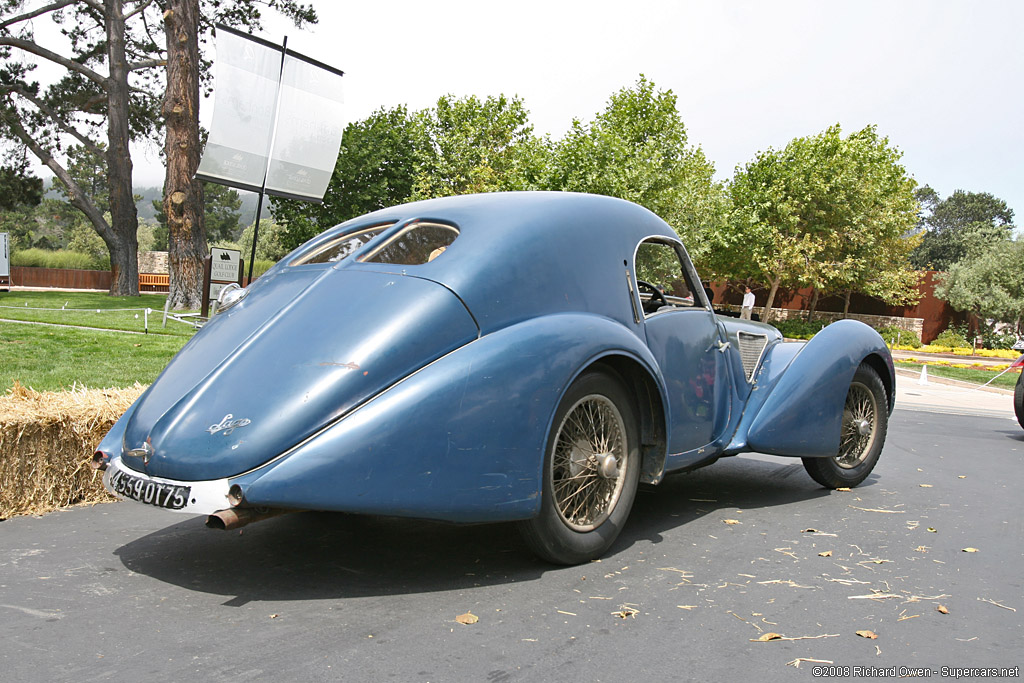 1939 Talbot-Lago T150C SS Pourtout Aerocoupé –
The subject car is unrestored in a period that recognizes the value of such condition. Cars can be restored many times, but they are only original once. As the era of the so-called trailer queen is ending, the most prestigious Concours d'Elegance like Pebble Beach now mark cars down for over over-restoration and have classes for unrestored cars.
Auction Source: 2008 Monterey Preview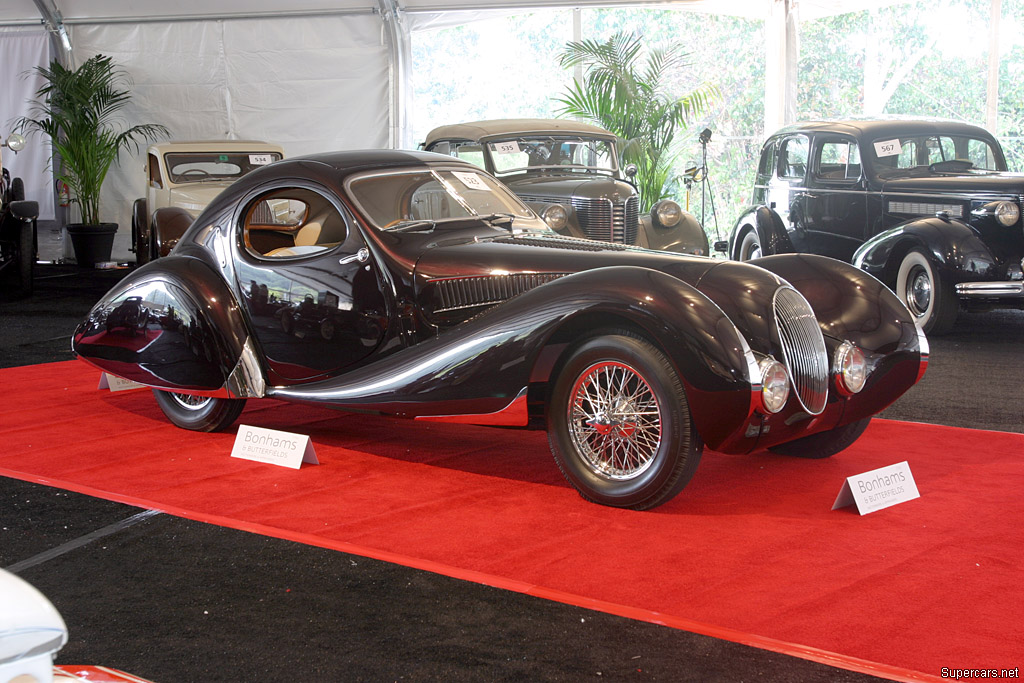 1938 Talbot-Lago 'Special' 150 SS Goutte d'Eau Coupe 90109 – did not sell for $2,800,000
The car has evidently been superbly restored and, although having been a museum exhibit for a number of years, has enjoyed a recent and modest road test where engine, gearbox and brakes were reported to be in good working order. The ex-Rob Walker, Countess of Strafford.
Auction Source:
2006 Monterey Preview