1938 Bugatti Type 57C Coupé Aerodynamique
Most Type 57s feature bodywork penned by Jean Bugatti in one of four distinct styles named after Mont Ventoux, the Col du Galibier and the Stelvio Pass, but this custom coupe took the best traits from each. It was built by employees at the factory as a gift to Ettore Bugatti and was probably one of the last cars he acquired. It uses some of the trademark Type 57 traits, but with a full profiled fastback design that was unique among Type 57s. Furthermore, the car remained predominantly with the factory and was continually developed.
The story of Ettore's own Type 57 begins with chassis 57335 in 1935. It was initially built as a 'Type 57 TT' competition car with an elegant torpedo body and tiny front windshield probably made by Corsica. It was driven this way by Pierre Veyron and Lucien Wurmser at the Paris-Nice Rally in April 1936. Later it was gifted to Pierre Veyron, but was crashed heavily and returned to the factory.
With a competition-spec chassis available, the workers at the factory decided to turn 57335 into a dramatic coupe as a gift to Ettore Bugatti. They used the fastback profile from a Galibier with a two-door setup from the Ventoux without any running boards.
Completed to a thorough standard, every detail of the new coupe was custom made including much of the interior and switchgear. Custom features included a cloisonné 'EB' logo from Italy on the rear bumper and a unique Bugatti emblem on the dashboard. Furthermore, since the chassis was initially designed for competition, it used a particularly strong engine and transmission.
As a coupe, 57335 was completed in June 1938 for Ettore Bugatti's birthday. According to the factory workers it was completed on their own time. Bugatti retained the car for several years, but not without several major stories and incidents. In this very car, Ettore hit a motorcyclist. It was subsequently fixed and fitted with a more responsive Durand steering box. Later, it was given to Pierre Marco, the chief mechanic that would look after Bugatti's factory after the war.
When Germany invaded France in May 1940, Bugatti race driver Robert Benoist completed an epic drive in 57335 from Molsheim through Switzerland. To save himself and the car, he drove at night and reached speeds near 100 mph. Following this, the car was retained by by Bugatti executive director, Pierre Marco on its plates 3738 NV3.
During its 20 year tenure with the factory this car was continually developed. Several upgrades were done to the car including a three-spoke Type 101 steering wheel, Lockheed hydraulic brakes, Lockheed hydraulic brakes, Type 101 supercharger, Rudge-Whitworth wire wheels and a rubber-mounted engine and a downdraft Weber carburetor.
After Bugatti folded in 1959, the car was offered by Belgium dealer Jean De Dobbeleer and sold to Lyman Greenlee of Indiana. The car then only changed hands twice in nearly 50 years. Gary Kohs displayed it at the Pebble Beach Concours d'Elegance in 1985 and again in 2003 for Bugatti's feature display. Remarkably the chain of owners had the sense to keep 57335 in original condition.
After a divorce settlement Gary Kohs was forced to sell 57335 and it was offered at Gooding & Company's 2009 Pebble Beach Auction. David Gooding described it as "one of the most spectacular Bugattis ever built." Pat O'Quinn picked up the car for inclusion his extensive Houston Collection for 1.375 million USD inclusive of buyer's premium. Following the death of O'Quinn and dissolution of his collection, the car was again offered at auction by Bonhams at their Les Grandes Marques du Monde au Grand Palais sale.
Bonhams described the car as
[quote]breathtakingly original and complete, right down to the wiring harness and electrical components. Finishes throughout the car are as they were applied by Bugatti three-quarters of a century ago. In addition to its extensive file of documentation it has a complete set of "EB" stamped tools in a leather folder. The floorboards, bonnet and body have their original number stampings. Its original two-panel glass roof was removed before it was sold by the factory, but could easily be re-created without compromising the otherwise overall originality and preservation.[/quote]
Pictures & Gallery
See full 1938 Bugatti Type 57C Coupé Aerodynamique Gallery here
Specs & Performance
| | |
| --- | --- |
| | |
| | |
| type | One Of |
| built at | Molsheim, Alsace, France |
| body stylist | Jean Bugatti |
| production | 1 |
| engine | Inline-6 |
| position | Front, Longitudinal |
| aspiration | Supercharged |
| displacement | 3257 cc / 198.75 in³ |
| bore | 72 mm / 2.83 in |
| stroke | 100 mm / 3.94 in |
| driven wheels | RWD |
| wheel type | Rudge-Whitworth Wire Wheels |
Auction Sales History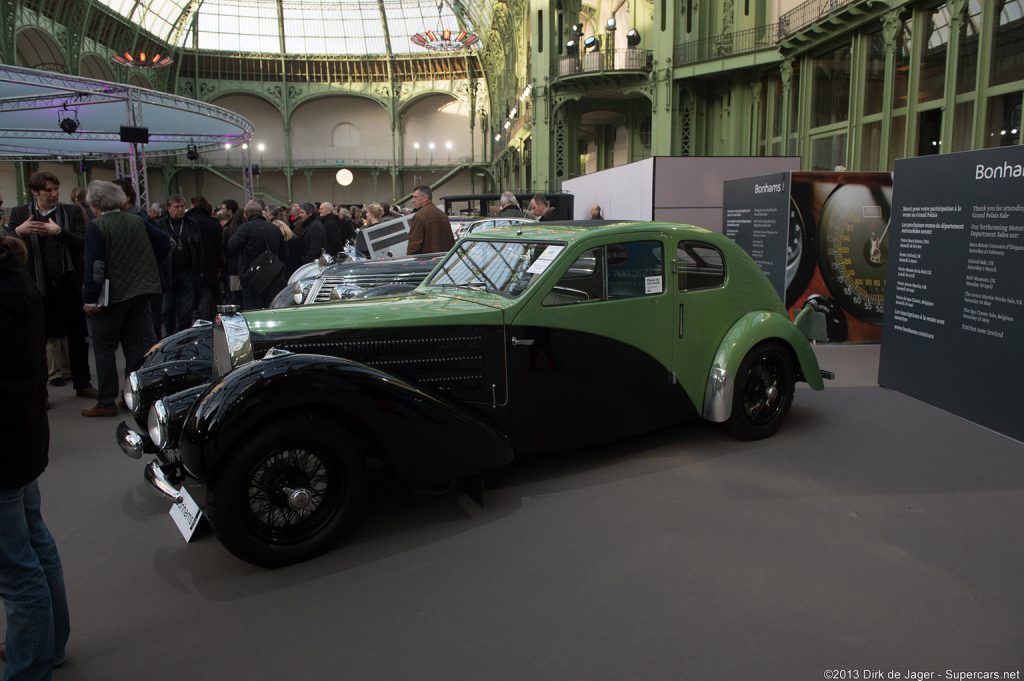 1938 Bugatti Type 57C Coupé Aerodynamique 57335 – sold for €690,000
Its unique Jean Bugatti-designed coachwork, highly developed supercharged engine, magnificent originality, twenty year history as the factory's development vehicle and most importantly its personal association with and use by Ettore Bugatti make this one of the most significant and important Bugattis to become available in years.
It is an intimate, personal part of the history of the Bugatti marque and its Patron, Ettore Bugatti, unsullied by restoration and embellished by its association with Ettore and Jean Bugatti, Jean-Pierre Wimille, Robert Benoist, Pierre Marco and a short list of owners who cherished and preserved it for future generations.
Auction Source: 2013 Les Grandes Marques du Monde au Grand Palais