1938 Lagonda LG6
In 1937, the Lagonda 4½-Litre reached its final and most refined development. The LG6 and its stable-mate, the Lagonda V12, were launched at the London Motor Show of that year and entered production at the beginning of 1938. The chassis was a completely new design by W.O. Bentley and featured an independent front suspension system with long torsion bars, which was much stiffer than that of its predecessor.
The 4½-Litre Meadows engine was retained, but it was also developed and refined to produce greater horsepower output. The LG6 model ended the long run of the Lagonda 4½-Litre. The car had tremendous performance with a top speed of 100 mph, but the thoroughly modern chassis and body design completely altered the character of these cars, and, deservedly, they took their place amongst the great automobiles of the Classic Era. If war had not broken out, there is no knowing what Bentley might have done with his six-cylinder car.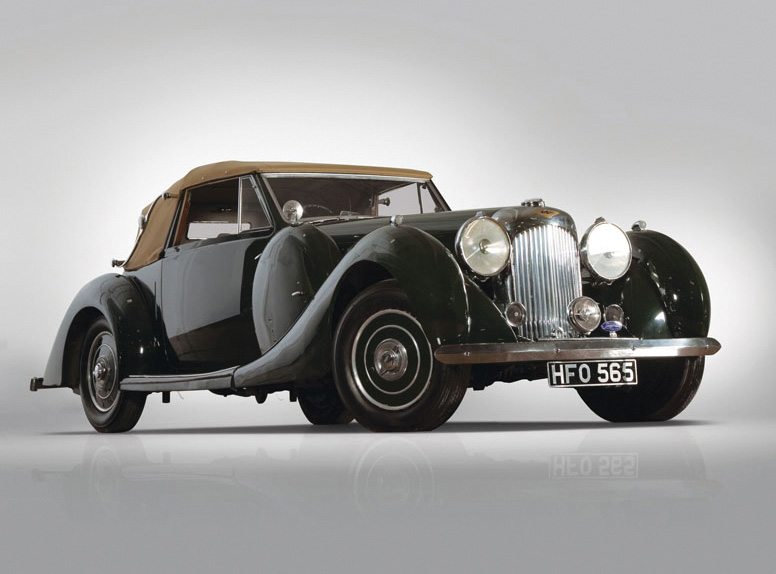 From the Ron Rezek Collection. First owned by F.G. Casswell of Spalding, Lincolnshire, UK, who registered the car "FPJ 199." Extensive restoration to factory-original appearance at Vancouver, Canada's RX Autoworks. The original colors and finishes were discovered and matched. Shown at the 2011 Pebble Beach Concours d'Elegance. Traveled an approximate 1,300 miles since restoration. Auction Source: The Pebble Beach Auctions 2015 by Gooding and Company
1937 Lagonda LG45 Rapide Sports Tourer 12172 – sold for €560,000 
The example offered here is an authentic LG45 Rapide, one of the 25 originals built, which joined the O'Quinn Collection in 2006. Today, most enthusiasts consider these wonderfully capable cars to represent the high-water mark for Lagonda. An exhaustive and very pricey professional restoration has resulted in what may well be the finest example extant. Fits, gaps, and panel work are exceptional, providing a solid foundation for the stunning,
show-quality paintwork. Arrow-straight stitching and superb Connolly leather upholstery are matched by show-quality plating, resulting in an extremely high-point presentation overall. Underneath the striking exterior, the engine bay and chassis detailing are magnificent and highly correct as well.
A recent inspection confirms that the LG45 Rapide remains as stunning today as when it was first acquired for the O'Quinn Collection in 2006. Certainly the finest LG45 Rapide we have ever had the pleasure of offering, this truly stunning example is certain to earn pride of place in any worthy collection. Auction Source: 2010 RM Auctions Sporting Classics of Monaco