1938 Maserati 8CTF
Gone was the ridiculous maximum weight of 750 kg that F1 had, replaced instead by a minimum weight depending on displacement, with a maximum of 3 litres for blown and 4.5 for naturally aspirated engines. Given their long experience with Superchargers, it was no surprise that the brothers opted for the former.
The result was doubling in horsepower. The CTF was the first european car to take consecutive wins at the indianapolis 500.
The engines' main feature was in having an independent power supply group for each set of four cylinders and two compressors type Roots superchargers. Like that twin-cam engine, the 3 litre 'eight' used a fixed cylinder head or 'testa fissa', which also explains the 8CTF type indication. In fact the new eight cylinder engine was not too dissimilar to the 'four' used in the final versions of the 4CM 1500 voiturette car. It was basically built from 2 inline-4 engines lined up.
It initially had over 350 bhp and after successive improvements was good for at least 365 bhp.
The Maserati 8CTF was finished off with an aluminium body similar to that of the 6CM, with a longer nose required by the larger engine.
See all our other Maserati Race Cars and full list of awesome Maserati cars and recent Maserati posts and news.
See all 1938 Maserati 8CTF images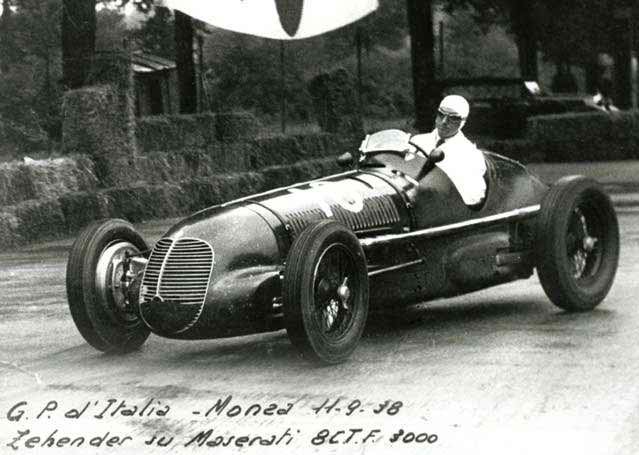 1938 Maserati 8CTF In Detail
| | |
| --- | --- |
| submitted by | Richard Owen |
| engine | Twin Supercharged Inline-8 |
| valvetrain | DOHC 2 Valves / Cyl |
| displacement | 2992 cc / 182.6 in³ |
| bore | 69 mm / 2.72 in |
| stroke | 100 mm / 3.94 in |
| power | 261.0 kw / 350.0 bhp @ 6000 rpm |
| specific output | 116.98 bhp per litre |
| bhp/weight | bhp per tonne |
| body / frame | Aluminum |
| driven wheels | Front Engine / RWD |
| front brakes | Hydraulic Drums |
| f brake size | mm / in |
| rear brakes | Hydraulic Drums |
| r brake size | mm / in |
| front wheels | F 48.3 x 8.3 cm / 19.0 x 3.3 in |
| rear wheels | R 48.3 x 10.2 cm / 19.0 x 4.0 in |
| steering | Worm & Sector |
| curb weight | 780 kg / 1720 lbs |
| wheelbase | 2723 mm / 107.2 in |
| front track | 1359 mm / 53.5 in |
| rear track | 1359 mm / 53.5 in |
| length | 4100 mm / 161.4 in |
| width | 1520 mm / 59.8 in |
| height | 1100 mm / 43.3 in |
| transmission | 4-Speed Manual |
| gear ratios | :1 |
| top speed | ~289.7 kph / 180.0 mph |