1938 Peugeot 402 Darl'mat 'Special Sport'
The most desirable Peugeot is this 402 Darl'mat Roadster also known as the 'Spécial Sport.' It was envisioned by Emile Darl'mat who had close contact with the Peugeot factory. The project was intended to boost Peugeot's image by offering a lightweight body, unique areodynamic styling and sporting engine. At the time, the Darl'mat's roadster was unlike anything else on the road and was occasionally raced in period.
The car's fabulous shape was drawn by Georges Paulin and fabricated from sheet aluminum by Marcel Pourtout. These two had collaborated on a number of aerodynamic cars including the a Peugeot 301 that debuted at the World's Fair in Chicago and the Eclipse retracting roof system.
When the factory agreed to let Darl'mat create his own sports car, he chose Paulin and Pourtout to work on the design. Darl'mat also worked directly with Peugeot's Director of Mechanical Studies, Alfred Geauque to create chassis and engine. This included a competition-tuned four-cylinder engine and Cotal gearboxes that were modified for the design.
Initially in 1936, Darl'mat's car was built on the Pegeuot 302 sedan chassis with a two liter engine. By 1938 Peugeot had introduced a 402 Legere chassis which became the foundation for the later cars. These had a shortened and widened chassis but retained the same 2-litre engine.
In 1937, three specially-prepared 302 Roadsters raced the 24 Hours of Le Mans placing 7th, 8th and 10th overall. These had no doors and an improved engine with a new cylinder head, higher compression and twin carburetors. This helped them win the 2-liter class ahead of the Adlers.
This helped Peugeot sell around 100 cars in Coupe, Cabriolet and Roadster form. The production roughly breaks down to 53 roadsters, 20 coupes and 32 cabriolets.
Chassis & Sales
400247-Fitted with rare factory soft top. Unknown early history in France. Eventually offered and sold at Retromobile in 2001. Shipped to Arizona, USA for a complete restoration by Mr. Edward Fallon. Subsequently displayed at the 2004 Pebble Beach Concours d'Elegance and took a first in the special Georges Paulin class. It was then shown at the 2005 Quail Motorsports Gathering, 2006 Palm Beach Concours d'Elegance and 2008 Meadow Brook Concours. Offered by Gooding & Company at their 2010 Amelia Island Auction with an estimate of $650,000 – $850,000 USD but did not sell with a top bid of $600,000 USD.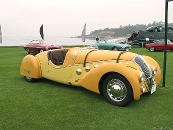 705516-Built on the 402 Legere chassis with special trim on the fender skirts and the tricolor 402 badge on the radiator. Other unique details include an alligator interior, custom gauges set in a turned metal dash and an outside filler cap. Sold for $777,000 USD inclusive of Buyer's Premium at Bonham & Brooks' 2009 Exceptional Motorcars and Automobilia sale at Quail Lodge Resort.
Auction Sales History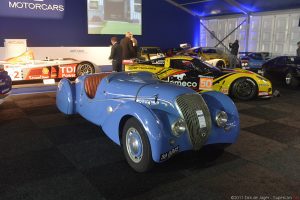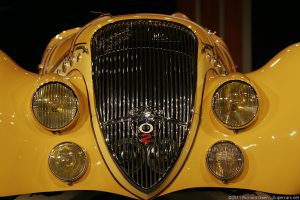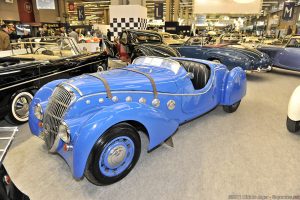 1938 Peugeot 402 Darl'mat 'Special Sport' 400210 – sold for €266,478. As one can see in the all-important invoice dossier (1982 to 2008), the car has always been very well used and maintained. It is equipped with an electromagnetic (Cotal) gearbox that was completely restored by Salermon in Montesson in 1990 (invoice). Its bodyshell, featured in the traditional and elegant "Bleu de France", was restored in 1977. The engine was completely rebuilt in 1982 (invoices), the powered axle revised in 1983, and the brakes in 1987. The top end of the engine was rebuilt most recently in 2004 (revised cylinder head, valve change, correction of the bearings of the camshaft). Auction Source: 2011 Salon Rétromobile Aucion by Artcurial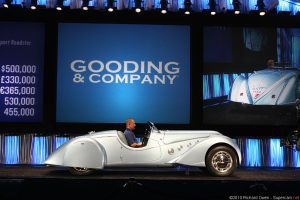 1938 Peugeot 402 Darl'mat Roadster 400247 – did not sell for $600,000. This car was Pourtout commission number 1639. It would lead a secluded existence in France for much of its life before surfacing at a Peugeot dealership in Nice around 2 decades ago. When discovered, the rare Peugeot had been in static storage for a number of years after having been retired from its service as an occasional rally car. At the time, the car was rather complete and intact, retaining the vast majority of its original components and Pourtout coachwork. The car has a unique feature of having a folding soft top. Auction Source: Gooding & Company 2010 Amelia Island Auction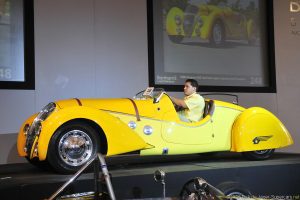 1938 Peugeot 402 Darl'mat Special Sport Roadster 705516. In all just 105 Darl'Mat Specials were built: 53 roadsters, 20 coupes and 32 cabriolets. The offered example is one of the preferred 1938 cars, built on the 402 Legere chassis. It has all the hallmarks of the design as well as special trim on the fender skirts. A beautiful, arrow filet runs from just behind the grill, along the lower hood line, dipping with the door line and defining the dual tone paint. It also features the tricolor 402 at the bottom of the grille where the 0 is a hole to insert a hand crank. Other special features include an alligator interior, custom gauges set in a turned metal dash and an outside filler cap. The car's provenance includes the most prestigious of American concours, the Pebble Beach Concours d'Elegance. There, it was part of a class that was a tribute to Paulin and Pourtout. Auction Source: 2009 Bonhams Exceptional Motorcars at Quail Lodge Resort
In Detail
| | |
| --- | --- |
| submitted by | Richard Owen |
| type | Series Production Car |
| built at | France |
| body stylist | Georges Paulin |
| coachbuilder | Pourtout |
| price $ | $ 8,600 |
| engine | Inline-4 |
| valvetrain | SOHC 2 Valves / Cyl |
| fuel feed | Dual Zenith Carburetors |
| displacement | 1991 cc / 121.5 in³ |
| bore | 83 mm / 3.27 in |
| stroke | 92 mm / 3.62 in |
| compression | 7.4:1 |
| power | 52.2 kw / 70.0 bhp @ 4250 rpm |
| specific output | 35.16 bhp per litre |
| bhp/weight | 68.63 bhp per tonne |
| driven wheels | RWD |
| front brakes | Drums |
| rear brakes | Drums |
| f suspension | Independent w/Transverse Semi-Elliptical Leaf Springs, Hydraulic Shock Absorbers |
| r suspension | Live Rear Axle w/Semi-Elliptical Leaf Springs, Hydraulic Shock Absorbers |
| curb weight | 1020 kg / 2249 lbs |
| length | 4200 mm / 165.4 in |
| width | 1680 mm / 66.1 in |
| height | 1100 mm / 43.3 in |
| transmission | 4-Speed Cotal Pre-Selector |