1939→1940 Packard One Twenty Model 1801
For 1940 Packard restyled the front end which had distinctive side grills that complemented the traditional center grill. The hood also received newly-designed louvres and the bumpers were a more simple one-piece design.
Design of the engine and chassis was almost completely carried over from the 1939 version with minor revisions to the rear suspension and cylinder head.
New the official catalog was the Darrin Convertible Victoria. To ramp up production, these were made at the derelict Auburn plant in Cornersville, Indiana. Since the bodies retained very little of the standard Packard pressings, they were very time consuming and expensive to build. To achieve a lower stance Darrin replaced the front cross member of the chassis to lower the front grill. In fact, a recall was later issued for all Darrin models to reinforce this area after delivery.
The factory also officially offered 12 other bodies for the Model 1801 including the Business Coupe, Club Coupe, Club Sedan, Convertible Coupe, Convertible Sedan, 2-Door Touring Sedan, 4-Door Touring Sedan, Station Wagon, Deluxe Convertible Coupe, Deluxe Club Sedan and Deluxe Touring Sedan.
Sources & Further Reading
Sources & Further Reading
1. Kimes, Bevely Rae.Packard. A History of the Motor Car and the Company..Automobile Quarterly: 1978.
2. Coachbuilt.com.Darrin of Paris, 1937-1939
See full 1940 Packard One Twenty Model 1801 Gallery here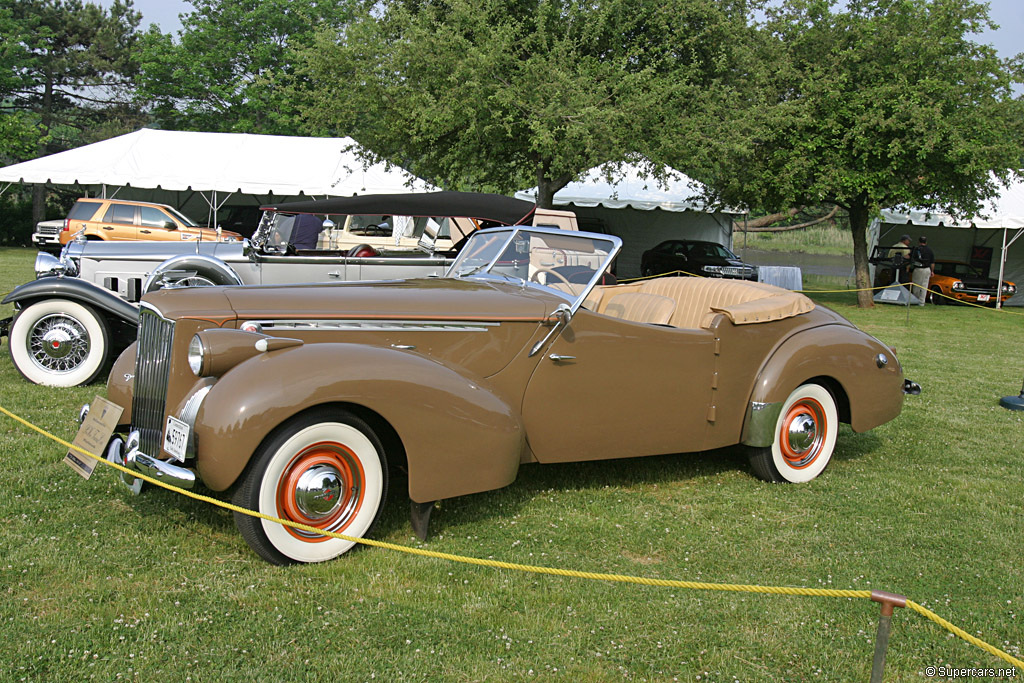 In Detail
| | |
| --- | --- |
| | |
| type | Series Production Car |
| production years | 1939 – 1940 |
| built at | Detroit, Michigan, USA |
| predeccesor | 1939 Packard One Twenty Model 1701 |
| succeccesor | 1941 Packard One Twenty Model 1901 |
| engine | Inline-8 w/L-Cylinder Head |
| position | Front Longitudinal |
| aspiration | Natural |
| ignition | Double Breaker Distibutor |
| block material | Cast Iron w/Aluminum Cylinder Head |
| valvetrain | Side Valves |
| fuel feed | Downdraft Stromberg EE-16 |
| displacement | 4621 cc / 282 in³ |
| bore | 82.5 mm / 3.25 in |
| stroke | 114.3 mm / 4.5 in |
| compression | 6.41:1 |
| power | 89.5 kw / 120 bhp @ 3600 rpm |
| specific output | 25.97 bhp per litre |
| torque | 305.1 nm / 225 ft lbs @ 1800 rpm |
| body / frame | Steel Body over Steel Ladder-Type Chassis |
| driven wheels | RWD |
| wheel type | 16-Inch Steel Disc |
| steering | Worm & Roller |
| f suspension | Parallel Arm w/Coil Springs, Delco Shock Aborbers |
| r suspension | Solid Axle w/Semi-Elliptic Leaf Springs, Delco Shock Aborbers, Anti-Roll Bar |
| wheelbase | 3226 mm / 127 in |
| front track | 1504 mm / 59.2 in |
| rear track | 1524 mm / 60 in |
| transmission | 3-Speed Manual |
| final drive | 4.09:1 |