1939 Alfa Romeo 6C 2500 Sport
Produced from 1939 and after the war until 1951, the 6C 2500 was the last of the famous six cylinder cars first started with the 1928 6C 1500. For this reason, the later 6C 2500s, and especially the elegant Villa d'Este model were considered the end of an era for Alfa, and some call them the last of the great Alfas.
The model was built up from the previous 6C 2300 and retained its all-independently sprung suspension. The 2500 was a faster car and was the first to reach 100 mph thanks to its increased engine capacity and an improved fuel feed.
The pre-war cars could be ordered in several chassis lengths and various stated of tunes: Turismo (87 bhp), Sport (95 bhp), SS or Super Sport (105 bhp) and SS Corsa (125 bhp).
The car was powered by an Inline-6 engine that traced its roots back to the prewar competition models. It was originaly deigned by Vittorio Jano and was reengineered by Bruno Treviso to have a 2443cc displacement, improved cylinder head and a 7:1 compression ratio. The top model was the Super Sport (SS) which had the shortest wheelbase for nimble handling and a tripple carburetted engine capable of 105 bhp. Only a select handful of these Super Sports, as little as four, were upgraded to full Corsa specification.
Pininfarina, Touring, Bertone, Vignale, Zagato with many others bodied the 6C 2500, and each gave the car their own style. The Pininfarina cabriolet a particularly glamorous design, having a wide bench seat offering room for three occupants, steering column mounted gear lever and winding side windows. After the war, Alfa Romeo began producing their own bodies, a move which would eventually put an end to the era of custom coach building. Offered as complete cars, the first few bodies Alfa built were the Sport Berlinetta and Cabriolet.
As a racing car, the 6C 2500 SS made its debut by winning the Tobruk-Tripoli coastal endurance race in 1939, and continued its sporting success after the war from 1946 to 1950 with three 6C 2500 Competitziones. Each featured unique aluminum bodies and 145 bhp engines.
An original sporting version came out in 1946 as one of the first postwar cars nicknamed the "Freccia d'Oro" (the first post-war car). It featured a shortened and rounded rear end following the most advanced aerodynamic concepts of the time.
Very late in the production run, Alfa was very proud to release the Villa d'Este version, named after the car's triumph at the concours with the same name. The V-shaped effect on the bonnet is still reflected in the modern Alfa Romeos of today.
A total of 2800 6C 2500s were made and it was Alfa's most successful model. The specification listed is for that of the SS model.
Story by Supercars.net & Alfa Romeo
In Detail
| | |
| --- | --- |
| engine | Cast Iron Straight-6 |
| position | Front Longitudinal |
| aspiration | Natural |
| valvetrain | DOHC, 2 Valves per Cyl |
| fuel feed | Carburetor |
| displacement | 2443 cc / 149.1 in³ |
| bore | 72 mm / 2.83 in |
| stroke | 100 mm / 3.94 in |
| compression | 7.5:1 |
| power | 70.8 kw / 95 bhp @ 4600 rpm |
| specific output | 38.89 bhp per litre |
| bhp/weight | 70.37 bhp per tonne |
| body / frame | Aluminum or Steel Body over Steel Frame |
| f brake size | mm / in |
| r brake size | mm / in |
| steering | Worm & Wheel |
| f suspension | Double Wishbones w/Coil Sprinbgs |
| r suspension | Swing axles w/Transverse Beams, Longitudinal Torsion Bar |
| curb weight | 1350 kg / 2976 lbs |
| transmission | 4-Speed Manual |
| gear ratios | :1 |
| top speed | ~155 kph / 96.3 mph |
Auction Sales History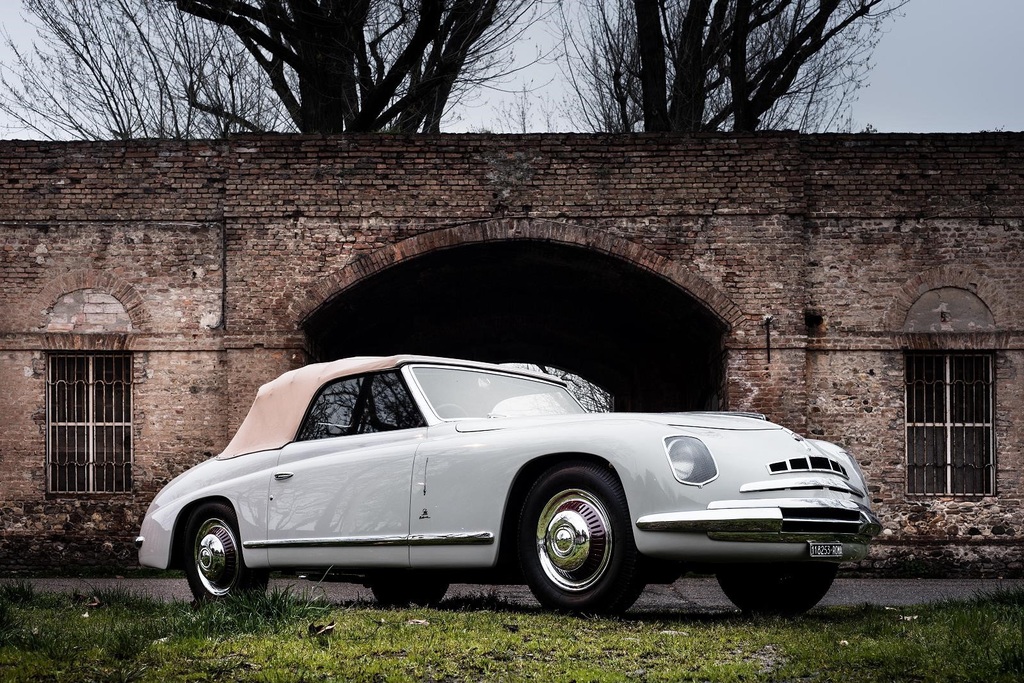 1947 Alfa Romeo 6C-2500 Sport Cabriolet Ghia 915358 – sold for €264,500
The car for sale today is one of the exceptional, and exceptionally rare, models which fall into this exclusive category. Mario Felice Boano had taken over Carrozzeria Ghia after Giacinto Ghia died in 1944. The Ghia factory had also been bombed in 1943, and later rebuilt. All four Boano cabriolets differ in detail, but are notable for the superior quality of their construction. This is the last of the four to be built and the only one in Europe. One was destroyed, one was unrecognizably remodeled, and the other resides in Japan.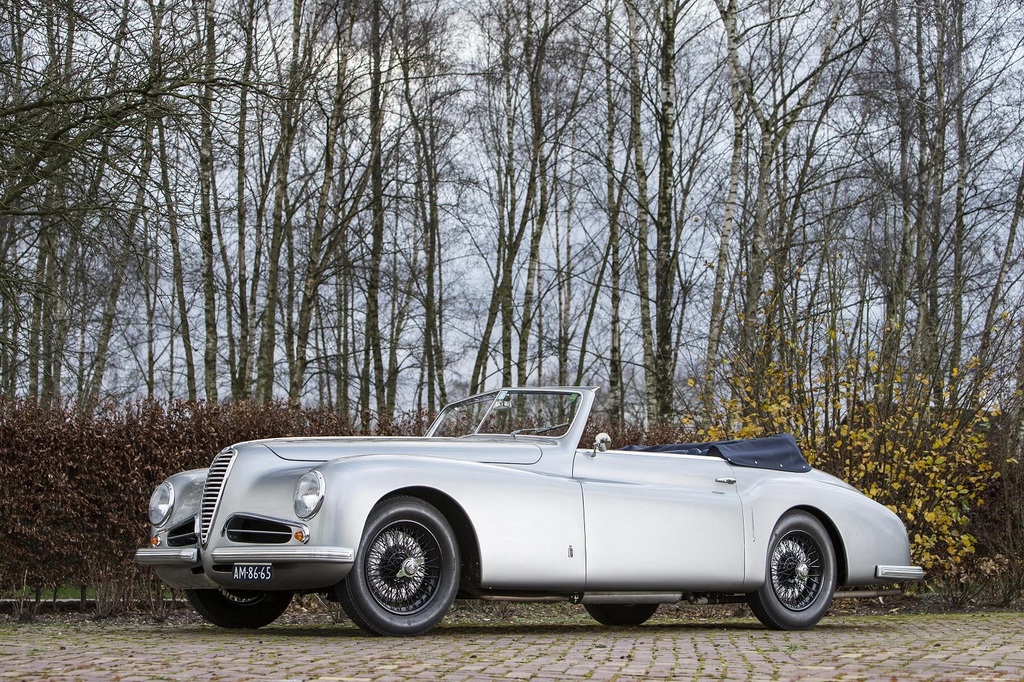 1947 Alfa Romeo 6C 2500 Sport Cabriolet Pinin Farina 915405 – sold for €322,000
Chassis number '915405' was delivered new to 'Societa per il commercio del prodotti Alfa Romeo', the Alfa Romeo agent in Lugano, Switzerland. The Alfa spent the next several years around the famous Swiss lake but at some time its first engine failed and was replaced by the 1950-built unit '926952' (the original engine was '926226'). In the mid-1970s the car was sold and came to Autohaus Düsseldorf where it remained in storage for many years waiting to be restored. In 1999 the car was bought by the highly respected restorer Norbert Kemkes from Neuss, Germany. Kemkes restored the Alfa, which after completion won the 'Best of Show' award at the 2009 Essen Motor Show.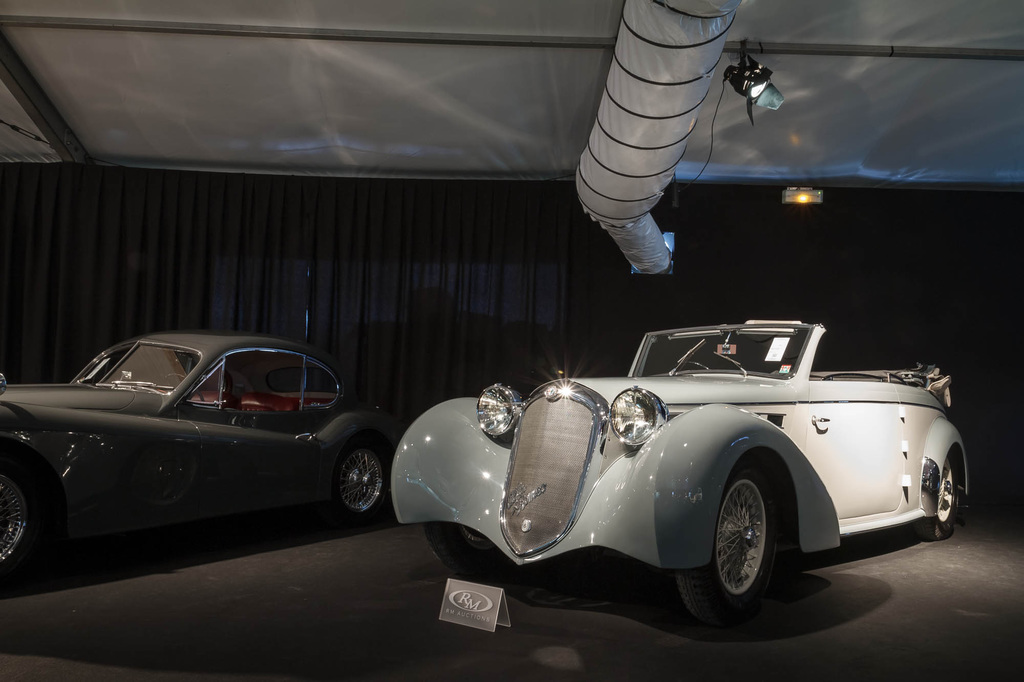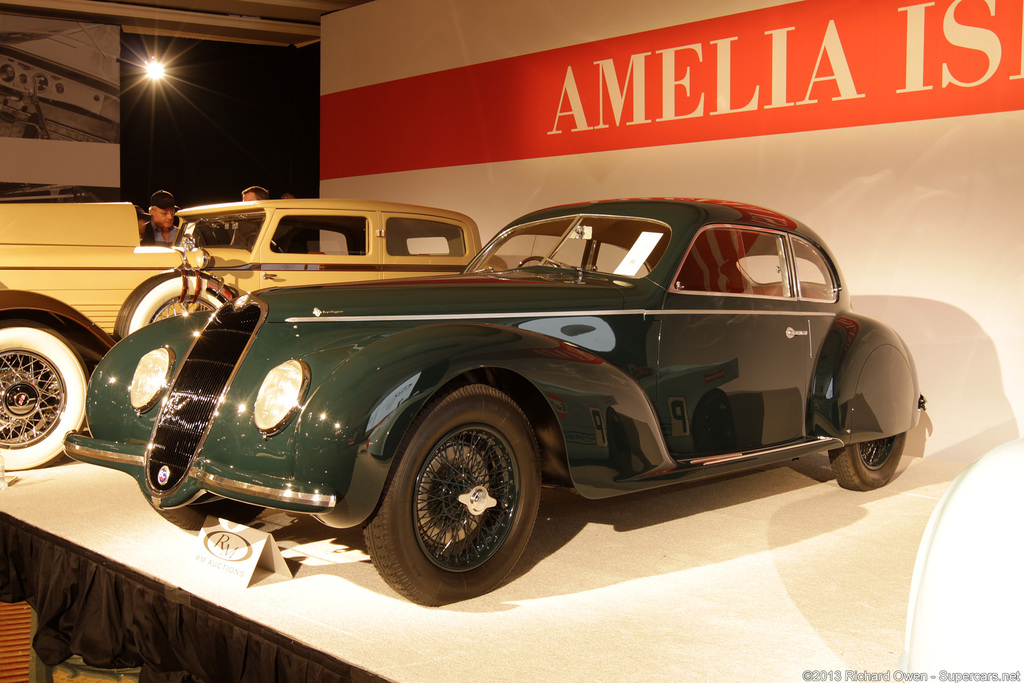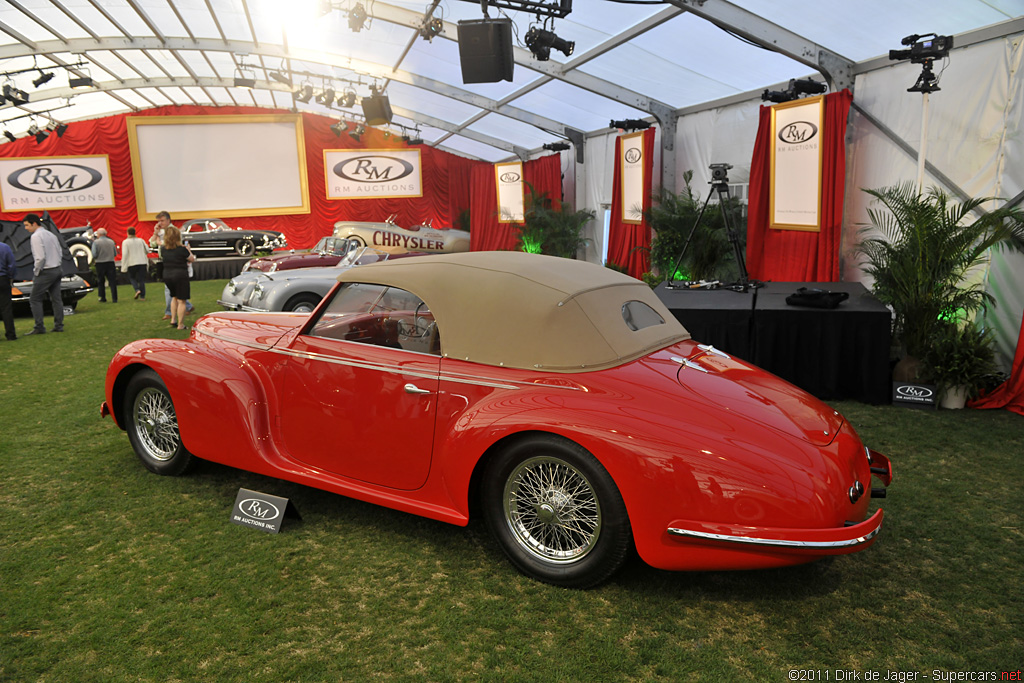 1942 Alfa Romeo 6C 2500 Sport Touring Cabriolet 915128 – sold for $275,000
Chassis 915128 is one of three examples originally built in this four-passenger cabriolet configuration by Touring; of those only two are extant, and only this car retains its original chassis, engine and body. This example was purchased new by General Von Carnap in Berlin; it is believed that he was responsible for sourcing several Alfas for high-ranking German officers. Angelo Tito Anselmi's authoritative book, Alfa Romeo 6C 2500, notes that the chassis was completed in June of 1942, and its delivery almost a year later in April 1943 would indicate the period spent constructing the beautiful cabriolet coachwork. Period images of this particular sporting body style are printed in the aforementioned book as well.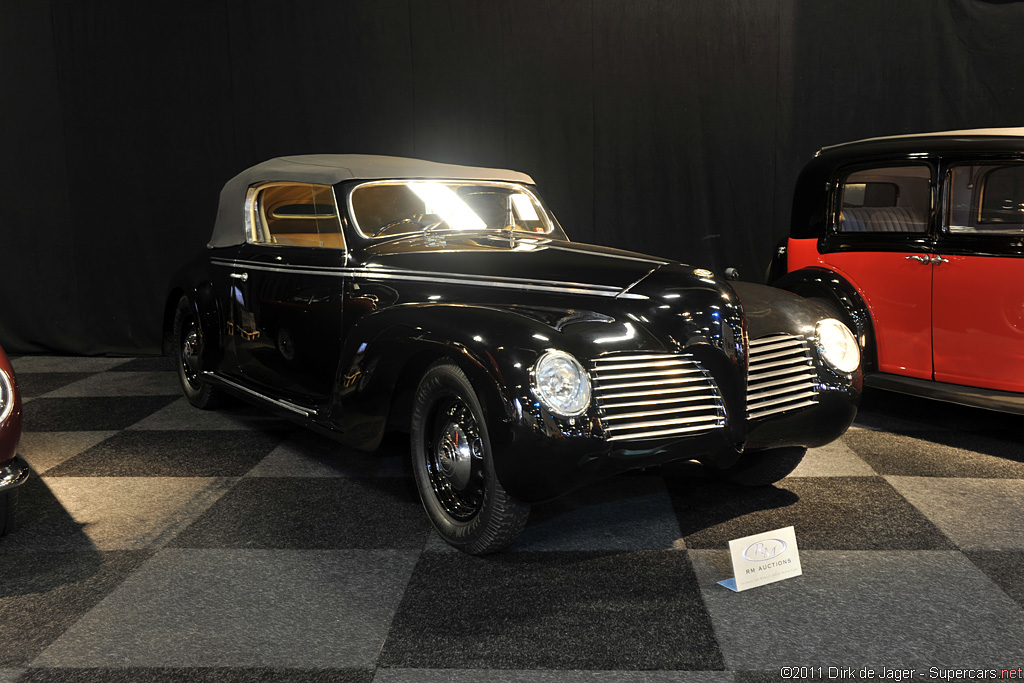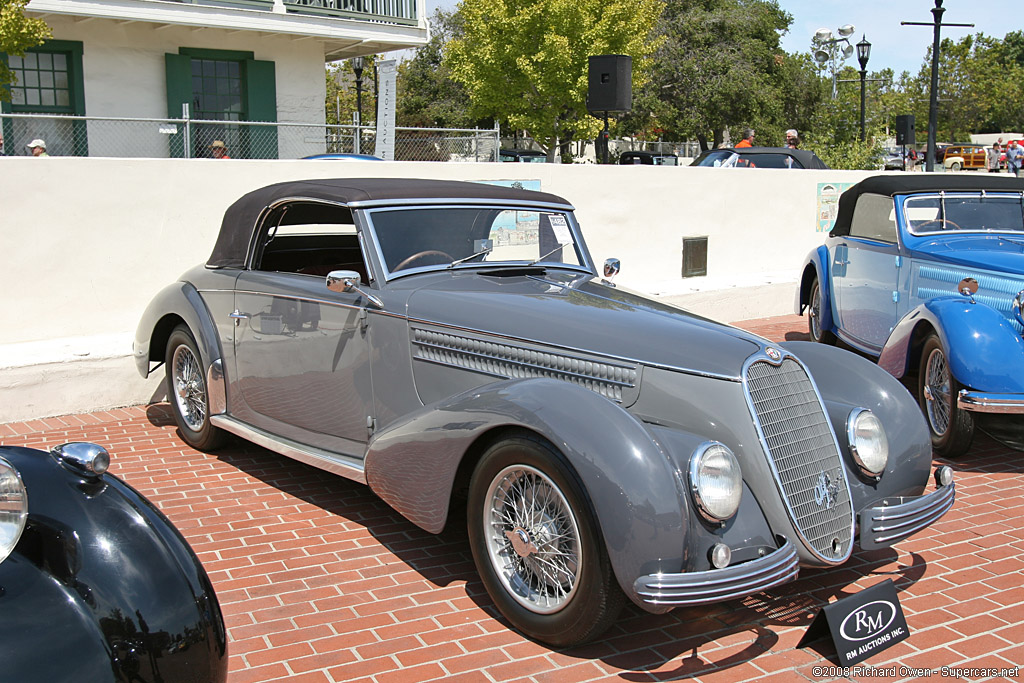 1940 Alfa Romeo 6C 2500 Sport Cabriolet by Graber 915089 – sold for $341,000
By the time Graber laid eyes on Alfa Romeo's chassis 915089 he was in his mid-thirties, and regarded as Switzerland's finest coachbuilder. In fact, his coach work on this car was the only work he performed on an Alfa Romeo 6C 2500, before World War II effectively halted Italian passenger car production. His work is simply stunning. Built over wood bucks made especially for this car, the car sported a long, sloping hood, integrated headlamps, sweeping front wings, a streamlined grille, and a graceful tapered rear with an enclosed spare wheel. The interior is equally impressive, upholstered in red leather with matching carpeting and featuring Veglia instrumentation and a floor-mounted shifter – a perfect blend of sporting elegance and grand touring luxury.
Auction Source:
2008 Monterey Preview