1939 Alfa Romeo 6C 2500 SS Spider Corsa
The Super Sport was Alfa Romeo's top model in 1939, combining an enlarged 2.5 liter engine with a new body from Carrozzeria Touring. The cars debuted at the Tobruk-Tripoli race in 1939 which was an alternative to the canceled Mille Miglia. Since supercharging was banned in 1939, the 6C 2500 became a replacement to the 8C 2900 Mille Migla.
Basis for the 6C 2500 came from the 6C 2300B which was launched in 1934 and became Alfa's sports car of choice by having a full range of variants. Although not being supercharged, competition models raced with success and contributed to Alfa's already high profile in motor sports. Race wins by the 6C 2300 at events like Pescara motivated Alfa to develop more sporting versions, and the Tipo 256, so called for its 2.5-liter, 6-cylinder engine was the best.
For the 1939 season, Alfa they turned to their 6C 2500. Alfa engineer Bruno Treviso enlarged Vittorio Jano's original DOHC six cylinder engine to 2443cc. The competition version featured a robust seven main bearing crankshaft, an improved cylinder head and a 7:1 compression ratio. These changes were included on the Super Sport (SS) chassis which had the shortest wheelbase for nimble handling and a triple carburetor engine capable of 105 bhp.
All the competition cars were built up from the existing 2300B SS chassis. This was independently sprung on both front and rear suspension and was built by Alfa Corse in Milan, an entity of Alfa Romeo. Ferrari was the head of Alfa Corse but also maintained Scuderia Ferrari in Modena which offered support for many of the racing 6Cs. Infact, the Scuderia had the necessary tools to increase the engine power from 105 to 120 bhp.
Bodywork for the Corsa cars were usually limited to Touring of Milan who initially made a run of Corsa Spiders for the 1939 Tobruk-Tripoli which were raced alongside two special Ala Spessa bodies. These were 'broad wing' bodies that were loosely based around the 2900B MM and, while heavier than the standard body, were thought to be more aerodynamically efficient. Like all aerodynamic cars before the 1960s, Touring relied on intuition to shape the Ala Spessa and Spider Corsa.
These cars debuted at the 1939 Tobruk-Tripoli race, a 1500 km stretch along the Libyan coast. The event was won by Ercole Boratto and Consalvo Sanesi in an Ala Spessa. One Touring Berlinetta was prepared for 1939 LeMans which was forced to retire.
Three special Torpedino Brescia bodies were made for 6C 2500 for the 1940 Mille Miglia. All three cars fell well behind Huschke von Hanstein and his BMW Touring Berlinetta with a smaller engine. A special car was made for the event using chassis 915.009 and an experimental eletro-magnetic fuel injection. Designed by Ottavio Fuscaldo, this system allowed the engine to peak at 5500 rpm and run on alternative fuels such as vegetable oil. The curious injection survived the entirety of the race to place 24th overall.
Unfortunately the Spider Corsa's racing career was cut short with the onset of war. In total around 17-19 Tipo 256s were manufactured and no Corsa Spider bodywork survived. This creates a problem for owners with butchered cars and also people that want to replicate the design. As a result many 2300/2500 chassis currently recreate the Spider Corsa bodywork but are missing the subtle details of Touring's original work.
Chassis & Sales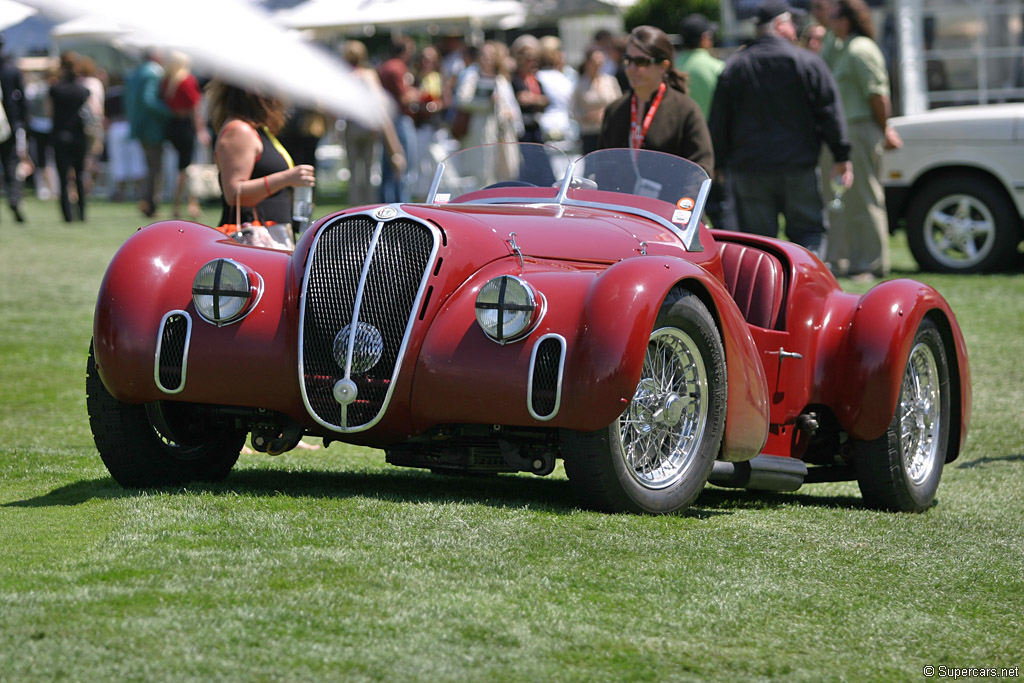 913213-Made from original prewar parts and rebodied to Mille Miglia Spider Configuration by Alfa Expert Conrad Stevenson. Bought as a project in 1991 and its aluminum body was recreated over a long period. The completed car was finished in 2004 to a cost of $200,000 USD. The chassis, engine, gearbox, and brakes are all pre-war 6C items. The chassis was fitted with correct prewar type rear torsion arm adjustment. After completion the car was contested in the 2004 California Mille, Monterey Historics from 2005 to 2009. Offered by Fantasy Junction in 2010 for $475,000 USD.
In Detail
| | |
| --- | --- |
| | |
| type | Series Production Car |
| engine | Cast Iron Inline-6 |
| position | Front Longitudinal |
| aspiration | Natural |
| valvetrain | DOHC, 2 Valves per Cyl |
| fuel feed | 3 Weber 36 DO2 Carburetors |
| displacement | 2443 cc / 149.1 in³ |
| bore | 72 mm / 2.83 in |
| stroke | 100 mm / 3.94 in |
| compression | 8.0:1 |
| power | 89.5 kw / 120 bhp @ 4750 rpm |
| specific output | 49.12 bhp per litre |
| bhp/weight | 109.09 bhp per tonne |
| body / frame | Aluminum Body over Steel Tube Frame |
| driven wheels | RWD |
| front brakes | Drums |
| rear brakes | Drums |
| steering | Worm & Wheel |
| f suspension | Coil Springs, Hydraulic Shock Absorbers |
| r suspension | Swing Arms w/Longitudinal Torsion Bars, Hydraulic Telescopic & Friction Dampers |
| curb weight | 1100 kg / 2425 lbs |
Story by Richard Owen