1939 Alfa Romeo 6C 2500 Super Sport
Produced from 1939 and after the war until 1951, the 6C 2500 was the last of the famous six cylinder cars first started with the 1928 6C 1500. For this reason, the later 6C 2500s, and especially the elegant Villa d'Este model were considered the end of an era for Alfa, and some call them the last of the great Alfas.
The model was built up from the previous 6C 2300 and retained its all-independently sprung suspension. The 2500 was a faster car and was the first to reach 100 mph thanks to its increased engine capacity and an improved fuel feed.
The pre-war cars could be ordered in several chassis lengths and various stated of tunes: Turismo (87 bhp), Sport (95 bhp), SS or Super Sport (105 bhp) and SS Corsa (125 bhp).
The car was powered by an Inline-6 engine that traced its roots back to the prewar competition models. It was originaly deigned by Vittorio Jano and was reengineered by Bruno Treviso to have a 2443cc displacement, improved cylinder head and a 7:1 compression ratio. The top model was the Super Sport (SS) which had the shortest wheelbase for nimble handling and a tripple carburetted engine capable of 105 bhp. Only a select handful of these Super Sports, as little as four, were upgraded to full Corsa specification.
Pininfarina, Touring, Bertone, Vignale, Zagato with many others bodied the 6C 2500, and each gave the car their own style. The Pininfarina cabriolet a particularly glamorous design, having a wide bench seat offering room for three occupants, steering column mounted gear lever and winding side windows. After the war, Alfa Romeo began producing their own bodies, a move which would eventually put an end to the era of custom coach building. Offered as complete cars, the first few bodies Alfa built were the Sport Berlinetta and Cabriolet.
As a racing car, the 6C 2500 SS made its debut by winning the Tobruk-Tripoli coastal endurance race in 1939, and continued its sporting success after the war from 1946 to 1950 with three 6C 2500 Competitziones. Each featured unique aluminum bodies and 145 bhp engines.
An original sporting version came out in 1946 as one of the first postwar cars nicknamed the "Freccia d'Oro" (the first post-war car). It featured a shortened and rounded rear end following the most advanced aerodynamic concepts of the time.
Very late in the production run, Alfa was very proud to release the Villa d'Este version, named after the car's triumph at the concours with the same name. The V-shaped effect on the bonnet is still reflected in the modern Alfa Romeos of today.
A total of 2800 6C 2500s were made and it was Alfa's most successful model. The specification listed is for that of the SS model.
Story by Supercars.net & Alfa Romeo
In Detail
| | |
| --- | --- |
| tags | 2500ss |
| submitted by | Richard Owen |
| type | Limited Production Car |
| built at | Italy |
| engine | Cast Iron Straight-6 |
| position | Front Longitudinal |
| aspiration | Natural |
| valvetrain | DOHC, 2 Valves per Cyl |
| fuel feed | Carburetor |
| displacement | 2443 cc / 149.1 in³ |
| bore | 72 mm / 2.83 in |
| stroke | 100 mm / 3.94 in |
| compression | 7.5:1 |
| power | 70.8 kw / 95 bhp @ 4600 rpm |
| specific output | 38.89 bhp per litre |
| bhp/weight | 70.37 bhp per tonne |
| body / frame | Aluminum or Steel Body over Steel Frame |
| steering | Worm & Wheel |
| f suspension | Double Wishbones w/Coil Sprinbgs |
| r suspension | Swing axles w/Transverse Beams, Longitudinal Torsion Bar |
| curb weight | 1350 kg / 2976 lbs |
| transmission | 4-Speed Manual |
| top speed | ~155 kph / 96.3 mph |
Auction Sales History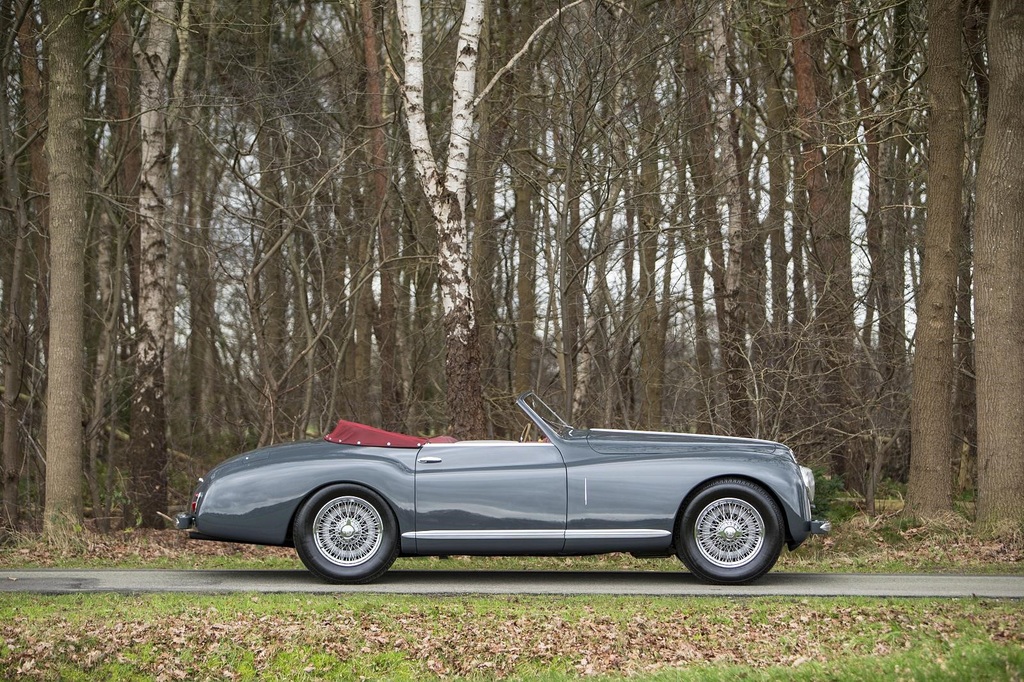 1948 Alfa Romeo 6C 2500 Super Sport Cabriolet 915566 –
Coachwork by Carrozzeria Pinin Farina.This Alfa Romeo 6C 2500SS carries two-seater cabriolet coachwork by Carrozzeria Pinin Farina. The late 1940s was a period of exceptional creativity for Pinin Farina, the 6C 2500 chassis, especially the Super Sport version, allowing the Italian maestro the freedom to experiment with new lines and design solutions. Construction of chassis number '915566' commenced in 1947. It is one of Pinin Farina's very rare 1st Series cars with lightweight aluminium coachwork (the 2nd Series bodies were made of steel). After completion the car was delivered in 1948 to Alfa Romeo agent Franz Gouvion in Bruxelles, Belgium. In 1960 the then owner, a Mr Ophorst, moved from Antwerp, Belgium to Rotterdam, Netherlands. The car was subsequently purchased, in 1979, by the Alfa Romeo collector Roy Karstens in Noordwijk, Netherlands. In 1995 it was bought by Maurice Kruseman in Maastricht, Netherlands and in 2008 passed to the current owner, who had it completely restored. The restoration was only completed in 2013 and the car is described as in generally excellent condition.
Auction Source: 2015 Les Grandes Marques du Monde au Grand Palais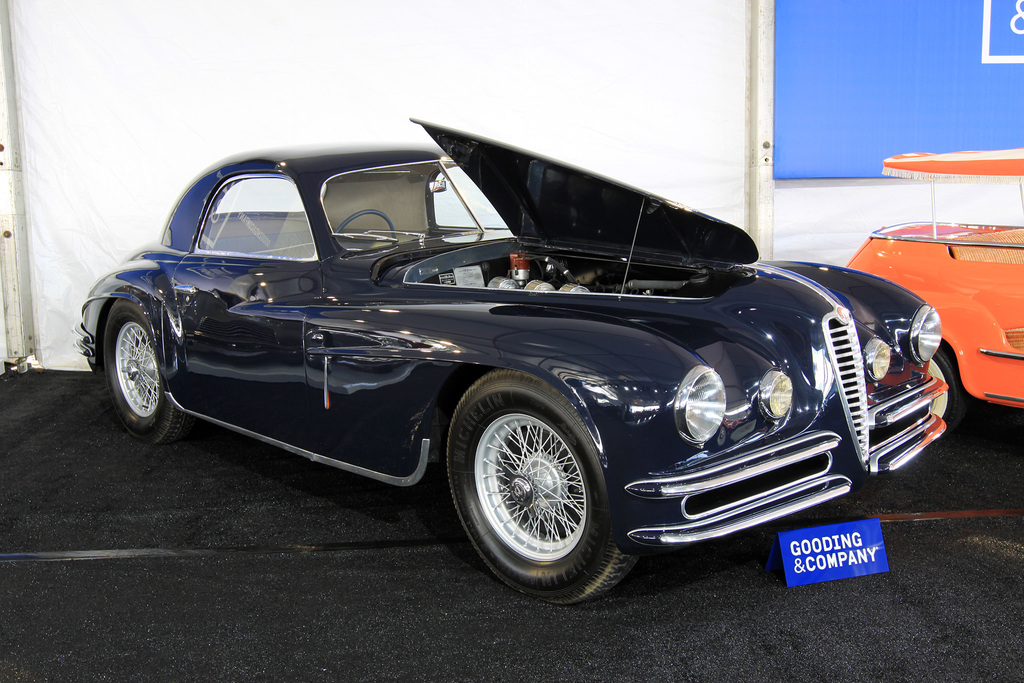 1949 Alfa Romeo 6C 2500 SS Coupé Touring 915831 – sold for $539,000
One of Only 413 Super Sports Coupes Produced. Recent, Accurate, and Breathtaking Restoration. Comprehensive Mechanical Rebuild by Marque Experts. Desirable High-Performance, Short-Wheelbase Super Sports Model.
Auction Source:
2014 Pebble Beach Auctions by Gooding & Company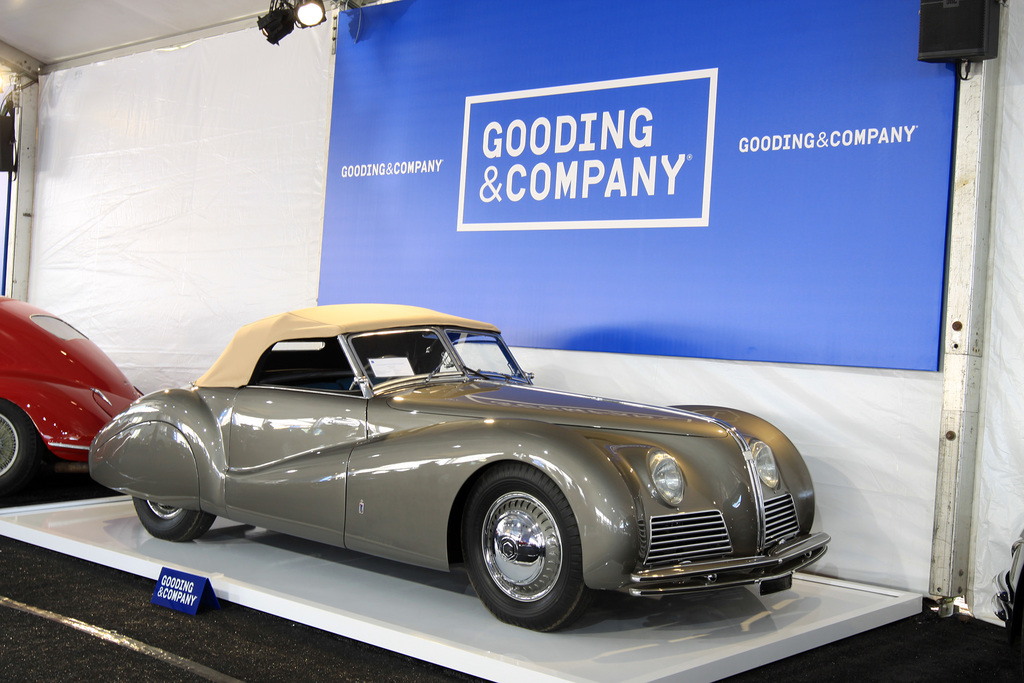 1939 Alfa Romeo 2500 Sport Tipo 256 Cabriolet Sportivo 915026 – sold for $4,000,000 A One-of-a-Kind Prewar Alfa Romeo Sports Car. One of Approximately 20 Examples of the High-Performance Tipo 256. Beautifully Finished and Highly Infuential Pinin Farina Coachwork. Fascinating Period Competition Record. Beautifully Preserved Original Upholstery.
Auction Source: 2014 Pebble Beach Auctions by Gooding & Company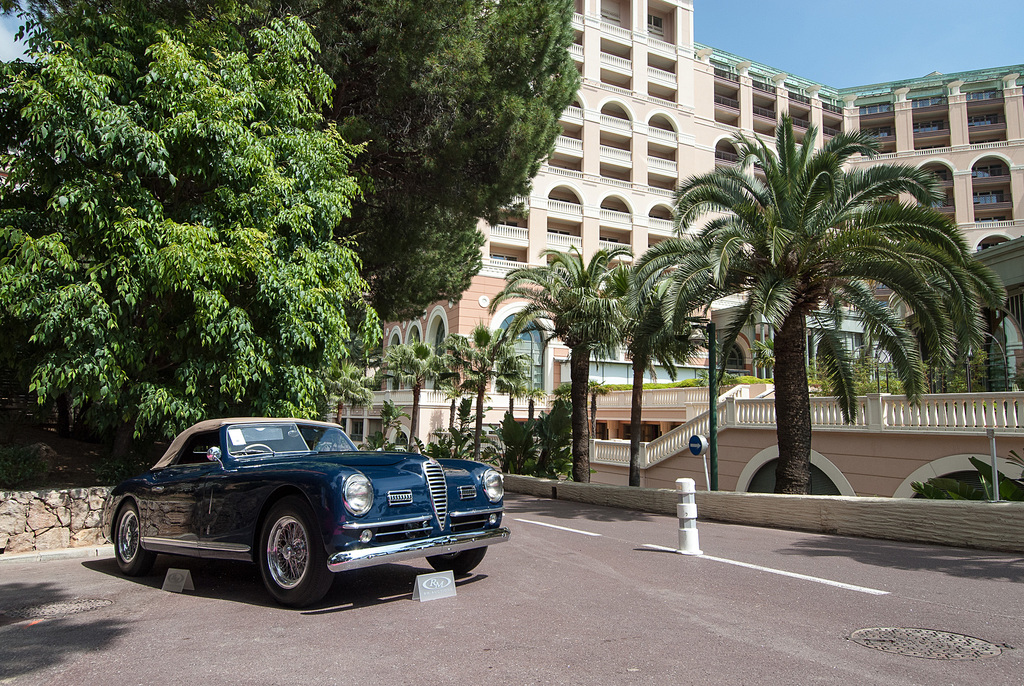 1949 Alfa Romeo 6C 2500 SS Cabriolet Pinin Farina 915797 – sold for €369,300
Desirable short-wheelbase Super Sports model. Highly presentable older restoration. Interesting provenance, with competition history. Delivered new to Vittorio Meneghelli.
Auction Source:
2014 Monaco by RM Auctions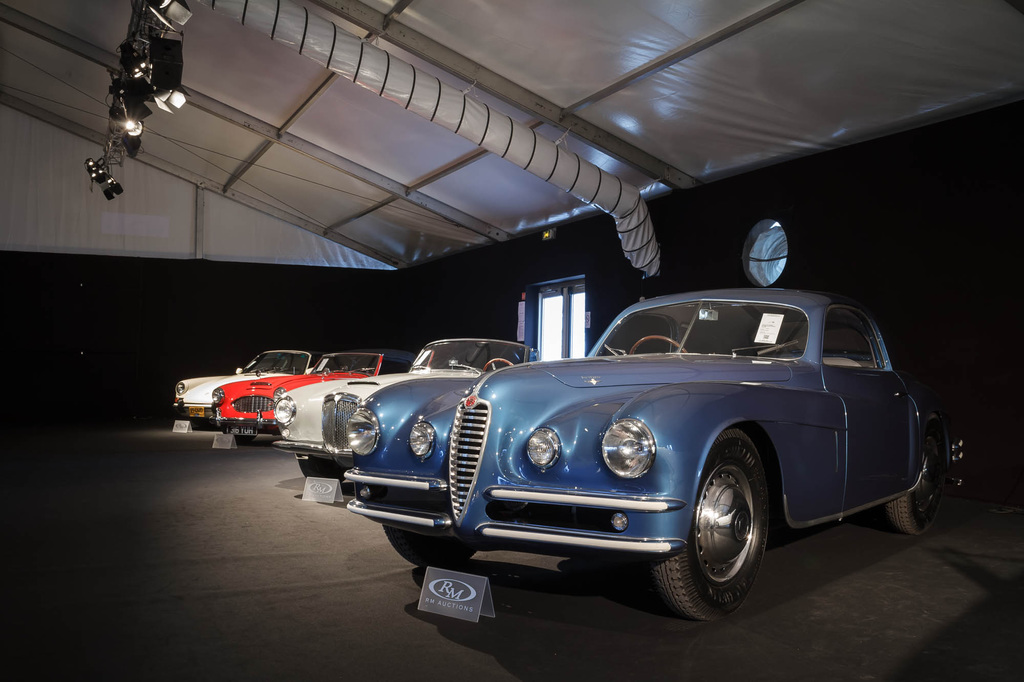 1948 Alfa Romeo 6C 2500 Super Sport Coupé Touring 915.681 –
The stunning Coupé offered here was constructed by Touring on Super Sport chassis number 915.681 and fitted with a very rare Webasto sunroof. It is believed to be a full-opening variation of the coachbuilder's Aerolux design, which was a half-opening system. It was delivered to Svevia Srl, of Milan, on 17 May 1949, and it was later exported to the United States and then to the Netherlands, before returning to the country of its creation with the present owner. It has recently been restored by the finest Alfa Romeo workshops in Modena, including a frame-off restoration of the body by Franco Ferrari, mechanical components being overhauled by Cabrini, electrical components being restored by Rodighiero, and an interior by Maieli.
Auction Source: 2014 Paris by RM Auctions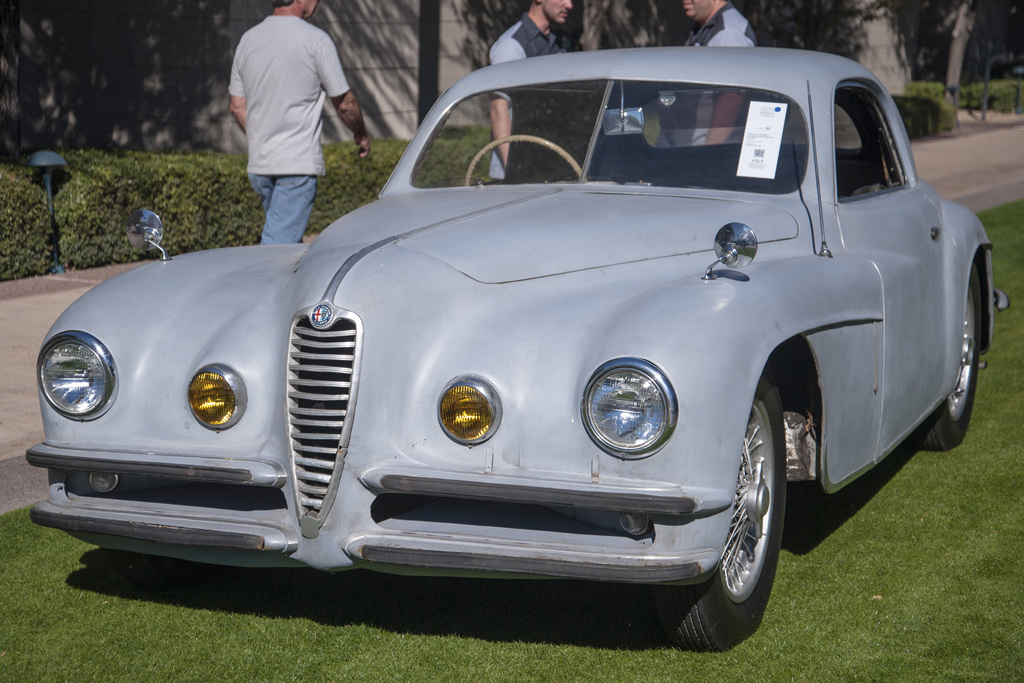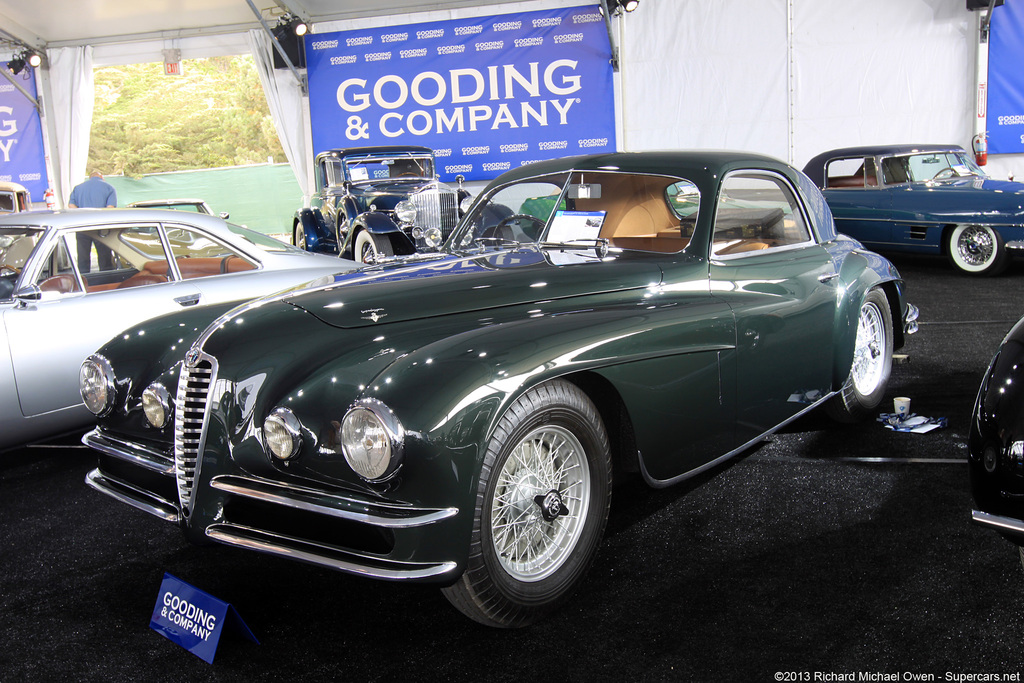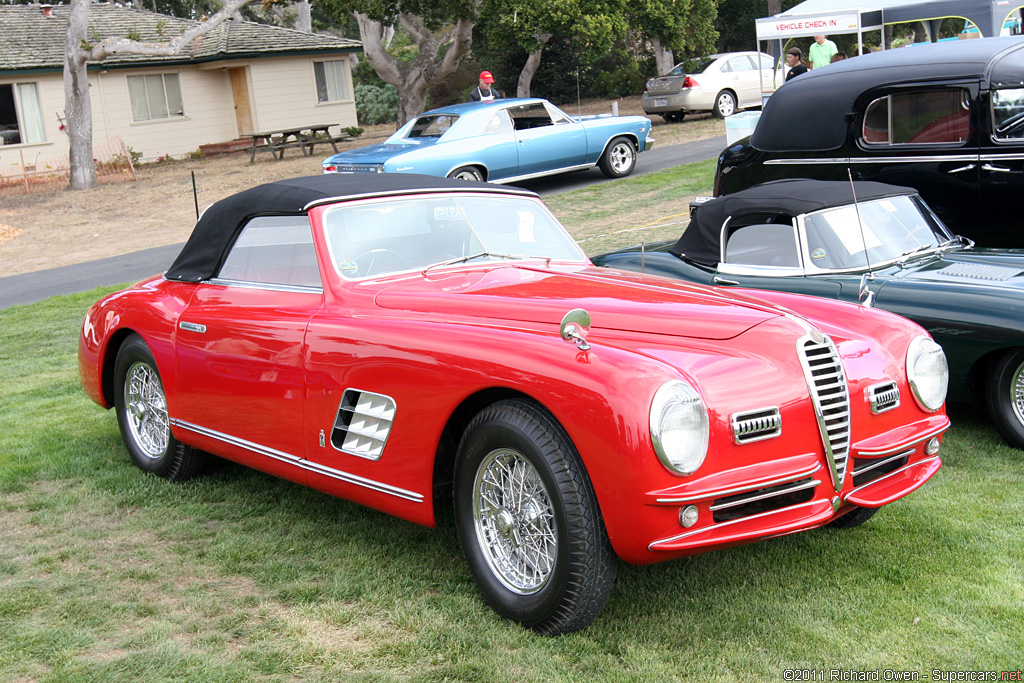 1949 Alfa-Romeo 6C 2500 SS Pininfarina Cabriolet –
This stunning SS Pininfarina Cabriolet has been in the ownership of a single family from the 50's until acquired by current owner, a well known Alfa Romeo collector.
Auction Source: 2011 Monterey Daytime Auction by Mecum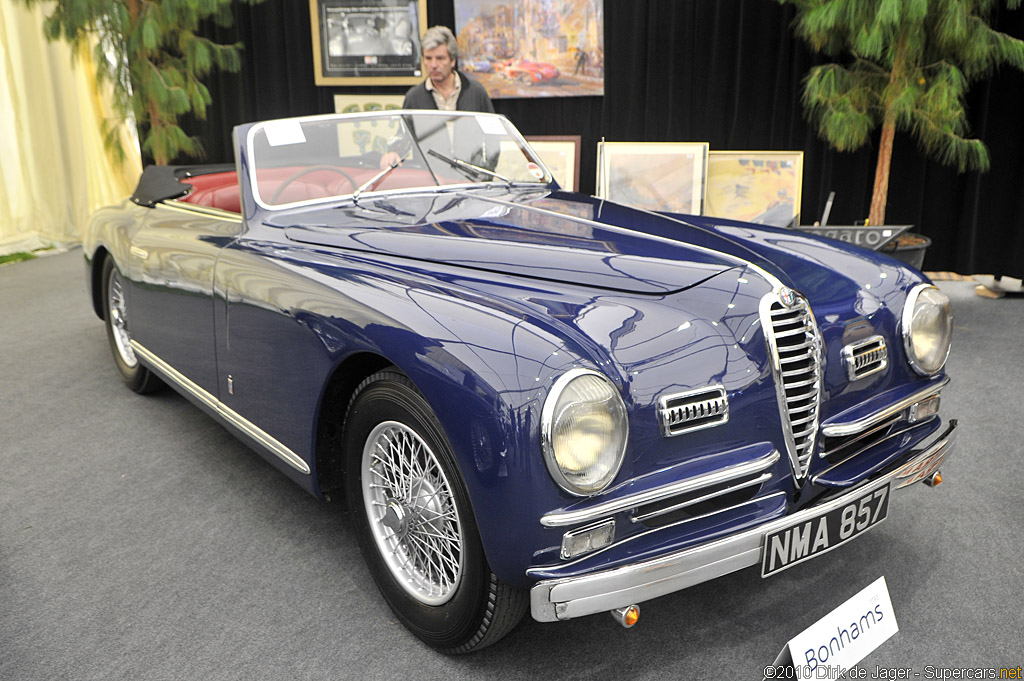 1949 Alfa Romeo 6C 2500 Super Sport Cabriolet Chassis 915725 –
This Alfa Romeo 6C 2500SS carries two-seater cabriolet coachwork by Carrozzeria Pinin Farina. Chassis number '915725' was finished by the factory on 1st February 1949 and dispatched to SALEM in Paris on 4th July that same year.
Auction Source: 2010 Collectors' Motor Cars at Goodwood Revival by Bonhams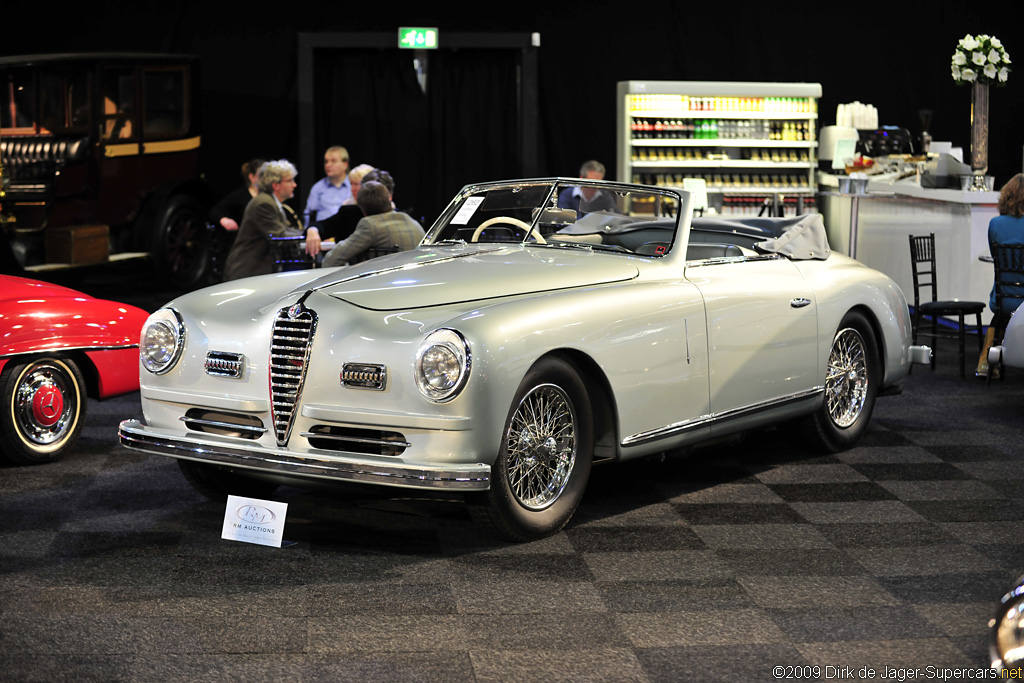 1947 Alfa Romeo 6C 2500 SS Touring Cabriolet –
The 6C 2500 was a favourite of coachbuilders, and the car presented here wears stunning coachwork from Pinin Farina. Pinin was the nickname of Battista Farina (1893-1966) who began his career at his brother Giovanni's Carrozzeria Farina. He visited America in the 1920s, learning much about mass production before founding Carrozzeria Pinin Farina in 1930, thirty years before the company and his name would become Pininfarina. He is revered as one of the world's great masters of elegant shapes and one of the largest influences on post-war styling. This 6C 2500 Convertible is no exception.
Auction Source: 2009 RM Auctions' Automobiles of London