1939 Bugatti Type 57 Ventoux
The Type 57 Ventoux was a factory-designed production body sold as a 2-door, 4-seat Coupé. Like the alternative production bodies, the Ventoux was named a mountain, this being the famous Mont Ventoux in the Provence region of France.
Jean Bugatti was personally involved with the Ventoux's style and used many traits from the outgoing Type 50 Coupe Profilee.
A large portion of Type 57 chassis received either factory Ventoux bodywork or an adaptation of the design by design houses such as Gangloff. We have counted 94 found cars, 28 lost cars and 17 Ventouxs which have been rebodied for an approximate total production of 139. Included in these are 57351 and 57647 which are reported as stolen.
Pictures & Gallery
See full 1939 Bugatti Type 57 Ventoux Gallery here
Specs & Performance
| | |
| --- | --- |
| type | Limited Production Car |
| built at | France |
| body stylist | Jean Bugatti |
| production | 139 |
| engine | Iron Alloy Inline-8 |
| position | Front Longitudinal |
| aspiration | Supercharger |
| valvetrain | DOHC, 2 Valves per Cyl |
| fuel feed | Stromberg UUR2 Carburetor |
| displacement | 3257 cc / 198.8 in³ |
| bore | 72 mm / 2.83 in |
| stroke | 100 mm / 3.94 in |
| power | 119.3 kw / 160 bhp |
| specific output | 49.12 bhp per litre |
| body / frame | Steel & Wooden body over Steel Ladder-Type Frame |
| front brakes | Hydraulic Drums |
| rear brakes | Hydraulic Drums |
| f suspension | Solid Axle w/Semi-Elliptic Springs, Telescopic Shock Absorbers |
| r suspension | Live Axle w/Quarter-Elliptic Springs, Telescopic Shock Absorbers |
| wheelbase | 3300 mm / 129.9 in |
| front track | 1350 mm / 53.1 in |
| rear track | 1350 mm / 53.1 in |
| transmission | 4-Speed Manual |
Auction Sales History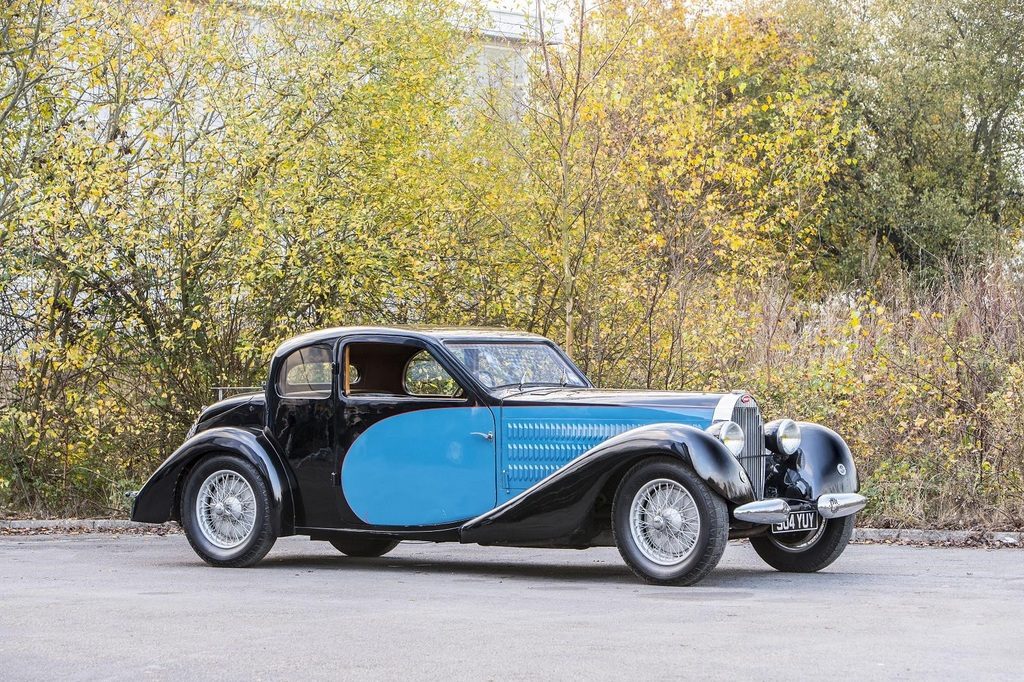 1936 Bugatti Type 57 Ventoux Coupé 57345 – sold for €437,000. A 1st Series Ventoux, chassis number '57345' remains outstandingly original. The car was ordered new in December 1935 by the Lyonnaise Bugatti agent Arnaud on behalf of its first owner, André 'Charles' Chauvenet, a prominent surgeon from Sèvres and one of Bugatti's most favoured clients. Chassis number '57345' retains its original engine '57345', gearbox '113', rear axle '585' and body '1146'. Body panels and trim components are stamped '57' and the body number, '1146', is stamped on the alloy coachwork's main panels. All panels are original and without any signs of accident damage, corrosion or past repairs. Paintwork is original nitro-cellulose, which is in surprisingly good condition while displaying the inevitable signs of almost 80 years use. Auction Source: 2015 Les Grandes Marques du Monde au Grand Palais
1937 Bugatti Type 57 Ventoux 57579 – sold for €298,000 Ex Roger Ballion Collection. Only known survivor of former version of 'Gangloff streamlined saloon'. Now fitted with Ventoux bodywork from 57659/474 which was taken from Henri Novo Bugatti Cemetery. Auction Source: The Baillon Collection at Rétromobile

1937 Bugatti Type 57C Ventoux 57584 – sold for $800,000 Believed to have been a Bugatti demonstrator at the 1937 Paris Auto Show. Subsequently retained as a factory demonstrator; driven by Pierre Veyron. Formerly owned by Hudson Mills and Bruce Meyer. Awarded the Elegance in Motion Trophy at Pebble Beach in 1998. Professionally restored to concours standards. Auction Source: Arizona 2015 by RM Auctions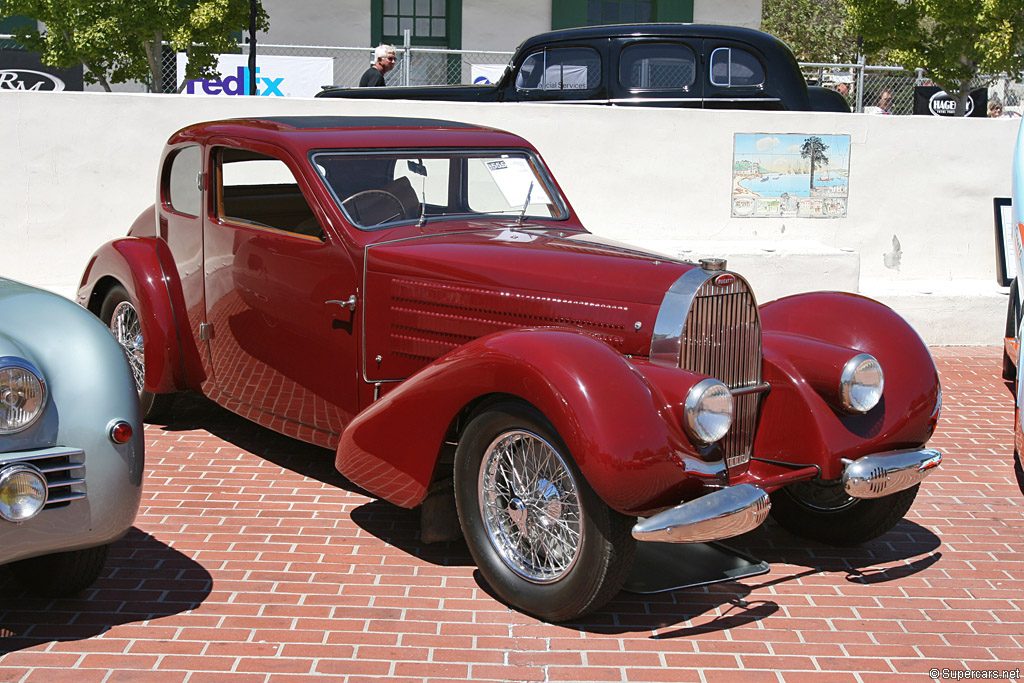 1935 Bugatti Type 57 Ventoux Coach 57344 – sold for €403,149 The car offered for auction is approximately the tenth from a series of around 30 cars produced by October 1936. The production rate of the Ventoux Coach was as follows: four in December 1935, five in January 1936, seven in February, five in March, four in April, three in May, and one final car in August 1936. Auction Source: Artcurial Motorcars à 2013 Rétromobile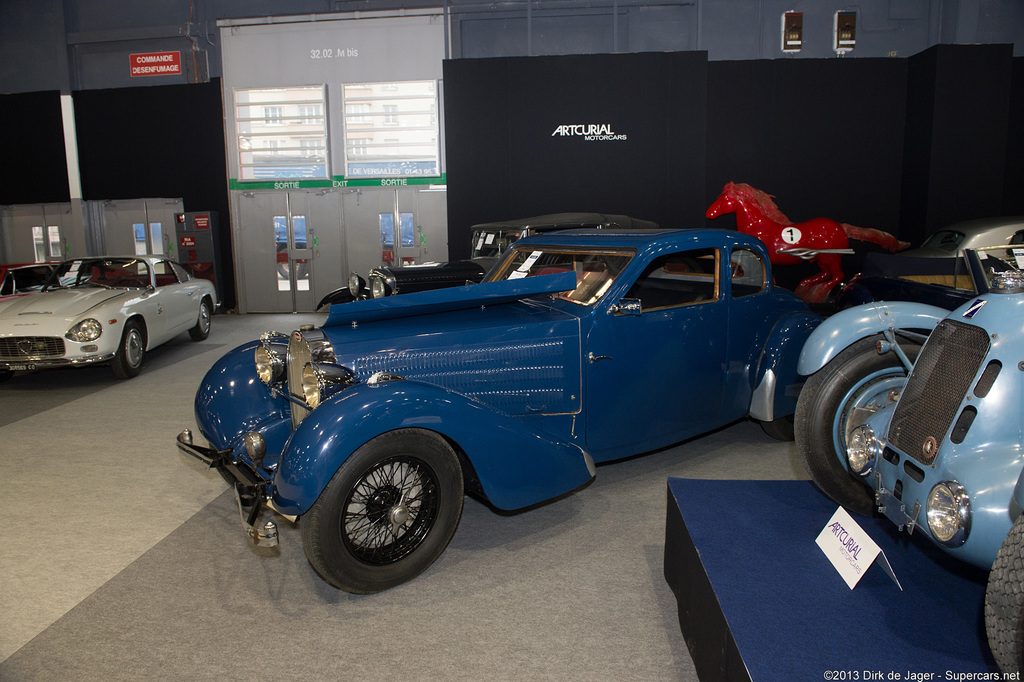 1936 Bugatti 57C Ventoux 57452 – sold for €421,445. The first Bugatti 57 C ever built. A piece of Bugatti history. Demonstration car driven by racing drivers of the period. Superb patina. Perhaps the most important Ventoux. We are indeed in the presence of the first Bugatti 57C ever built, the demonstration car for the Montaigne showroom during 1936 – 1937. Jules Goux, Robert Benoist , Pierre Veyron and perhaps Jean Bugatti himself, when he stayed in Paris, would undoubtedly have been the first people to drive this fast, supercharged, red Bugatti. Auction Source: Artcurial Motorcars à 2013 Rétromobile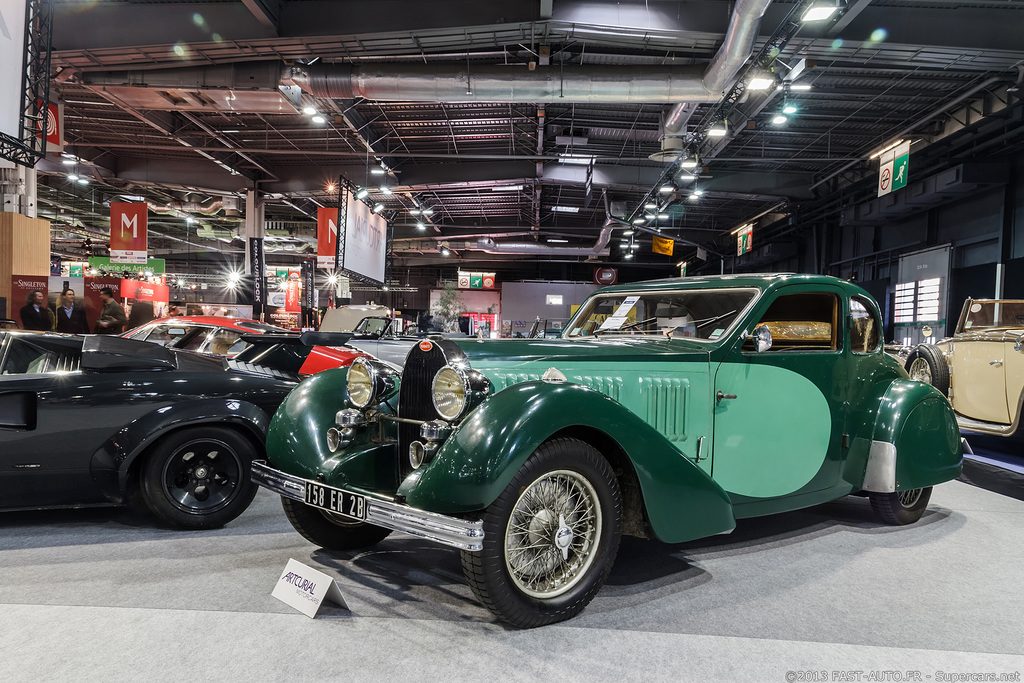 1937 Bugatti Type 57C Ventoux 57664 – sold for $797,500 The example we are pleased to offer here, chassis number 57664, is a remarkable automobile. It was treated to a no-expense-spared, full body-off, concours-quality restoration in the mid-1990s, performed by Bugatti specialists Ivan Dutton Ltd. of Aylesbury, Buckinghamshire, England. Approximately $450,000 was spent on the restoration to ensure that this Type 57C Ventoux would become the very finest Bugatti in world.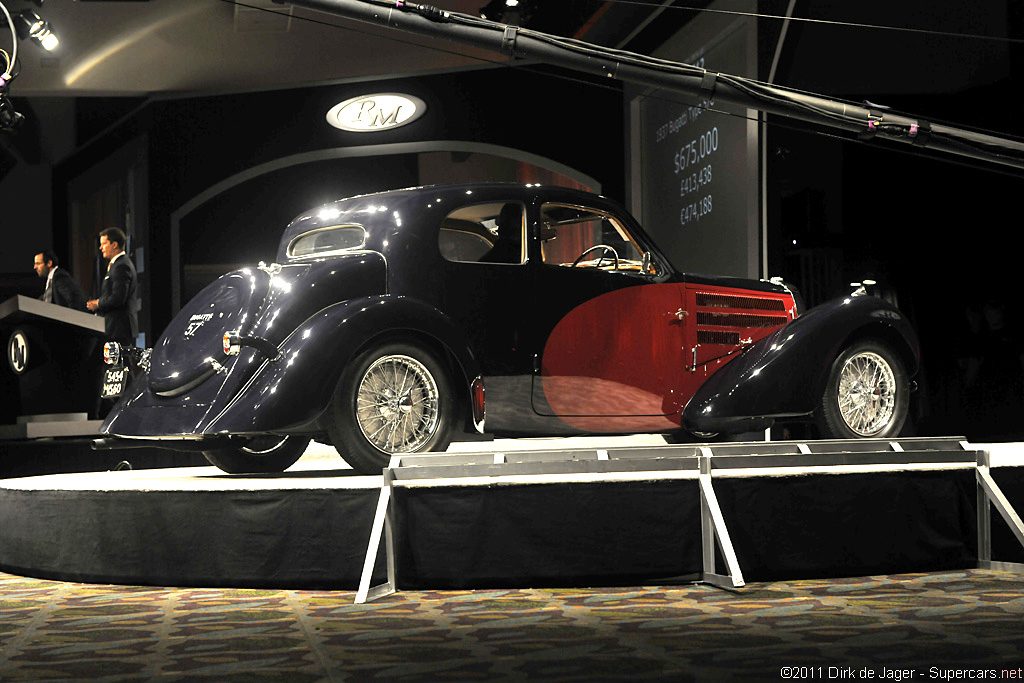 Auction Source: 2011 Monterey Auction by RM1935 Bugatti Type 57 Ventoux 57594 – did not sell for €220,000.The Ventoux sports saloon variant was undoubtedly one of the finest expressions of the Type 57 concept. The car offered here, chassis 57594, continues to benefit from an older restoration and was formerly owned by Bugatti agent Jean de Dobbeleer as well as collector Gene Cesari. In the ensuing years, it has passed through the ownership of Ken Hassrick, Paul Stader, Marylin Stader and Jaap Braam Ruben. It was either partially restored or sympathetically refurbished by 1996, when a well known Swiss Bugatti enthusiast acquired it. He retained the car until 2006, selling it at auction to a new owner from the United States, who in turn sold the car to another Swiss enthusiast.
As confirmed by a recent examination, the car is in exceptionally fine condition today after an older restoration. Offered complete with a US title, receipts and a copy of the prior bill of sale from 2006, the offering of this very fine classic Bugatti represents a wonderful opportunity. It is an enduring tribute to its inspired creator, Jean Bugatti, as well as a timeless design statement. Auction Source: 2010 RM Auctions Sporting Classics of Monaco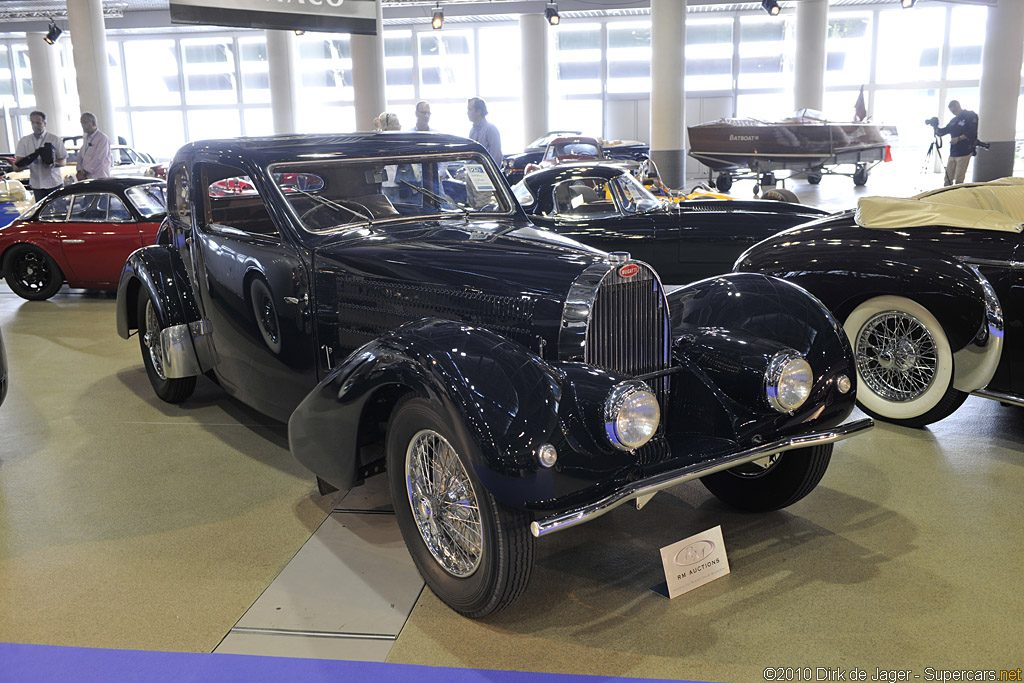 1937 Bugatti Type 57 Ventoux Coupe 57614 – did not sell for $390,000. The most recent restoration returned the Bugatti Type 57 to its original livery, Oxblood with tan hides and matching Oxblood Wilton carpets. The Ventoux Coupe has a tachometer in the dash fascia, which appears to be a factory special order accessory. Also of note, the Bugatti is fitted with factory correct 18″ wire wheels which have been tastefully chrome plated by a previous American owner. In addition to receiving cosmetic attention, a major mechanical service was included in the restoration. It was last checked over and subjected to a thorough road test by Bugatti expert and restorer, Mr. Scott Sargent of Fairly, Vermont in March of last year and was given a clean bill of health. Auction Source: 2008 Meadow Brook Concours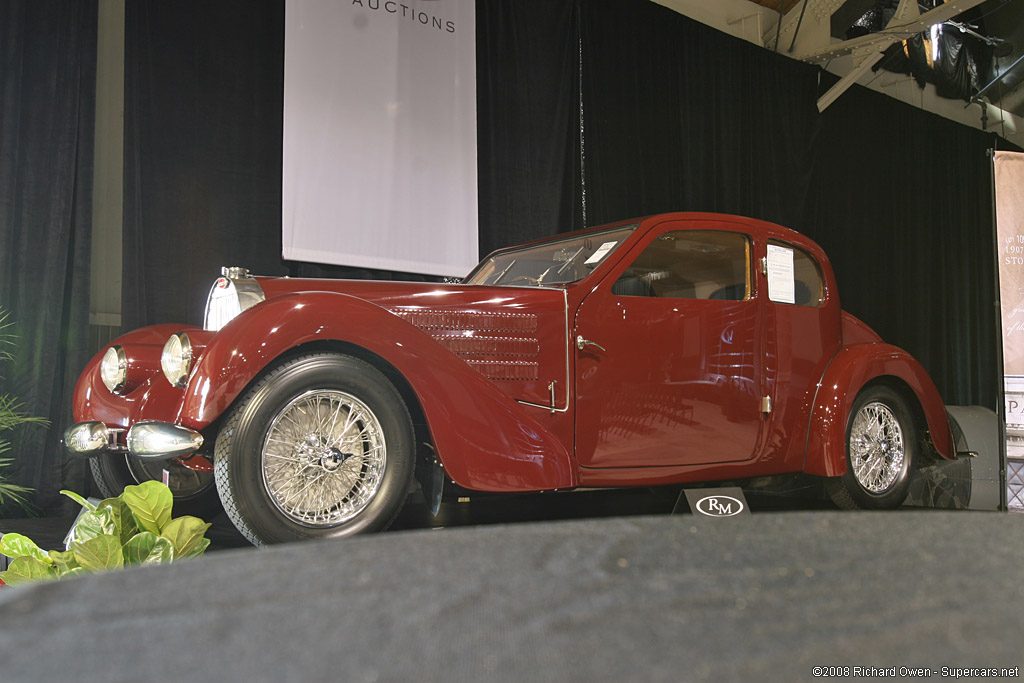 1937 Bugatti Type 57 Ventoux Coupe 57614 – sold for $412,500. The 1937 Bugatti Type 57 we are pleased to offer here, chassis number 57614, is an absolutely remarkable automobile. It was sold new on April 3, 1937 to Paul Pernod (of the beverage family) through agent Montaigne as a Ventoux Coupe with engine number 429. In the last 70 years it has resided in the collections of John Armstrong, Jean Arkin, as well as the Blackhawk Collection.
The most recent restoration returned the Bugatti Type 57 to its original livery, Oxblood with tan hides and matching Oxblood Wilton carpets. The Ventoux Coupe has a tachometer in the dash fascia, which appears to be a factory special order accessory. Also of note, the Bugatti is fitted with factory correct 18″ wire wheels which have been tastefully chrome plated by a previous US owner. In addition to receiving cosmetic attention, included in the restoration was a major mechanical service. It was last checked over and subjected to a thorough road test by Bugatti expert and restorer, Mr. Scott Sargent of Fairly, Vermont in March of this year and was given a clean bill of health. Auction Source: 2007 Monterey Preview