Ferrari 166 Inter
Having the distinction of being Ferrari's first road car, the 166 Inter set a high standard of engineering and style for every subsequent model that followed it. Powered by a V12 engine and bodied by the best Italian Carrozzerias, the 166 Inter sold alongside Ferraris race cars which featured similar engineering.
The centerpiece of all early Ferraris was their narrow-angle 60º V12. It was designed by Gioacchino Colombo to be a free-revving unit that used technologies like Tony Vandervill's Thinwall bearings to achieve a reliably high rate of rpms. In 1948 this was a very exotic unit and one seldom used in grand touring cars.
Ferrari turned to the best design houses in Italy to style the 166 Inter. Touring of Milan was an immediate choice since they did spectacular work on the Alfa Romeo's that Enzo Ferrari raced under his Scuderia Ferrari team in the prewar period. These were similar to the 166 Barchetta built on the 166 MM, but with a roof, split front windshield and pillarless side windows. Both cars used Touring's signature mustache grill surround. The first car bodied in this style appeared at the 1948 at the Turin Salon. Every car that followed was slightly different in detail, but kept the main design theme.
Stabilimenti Farina also produced four coupes to a similar design, but they lacked the front mustache and side creases for a much smoother appearance. These also used higher headlights and were criticized for looking too similar to the Stabilimenti Farina Simca.¹
All 166s sat on a dedicated chassis designed by Ferrari but produced by specialized Gilco in Italy. These were typcially lengthened to 2420mm similar to the 166 Spyder Corsa size. These supported the V12 engine and five speed transmission in much the same way as the 166 MM competition car. Unique to the 166 Inter, Ferrari sometimes fitted Rudge-type spline hubs with steel disc wheels from CABO and chrome hub cabs.
Around 20 166s were produced. All of these were Touring Berlinettas except for the four Stabilimenti Farina Coupes and two Stabilimenti Farina Cabriolets. These were typically built with odd-numbered chassis numbers leaving the even numbers for the racing cars.
Ferrari 166 Inter Chassis and Sales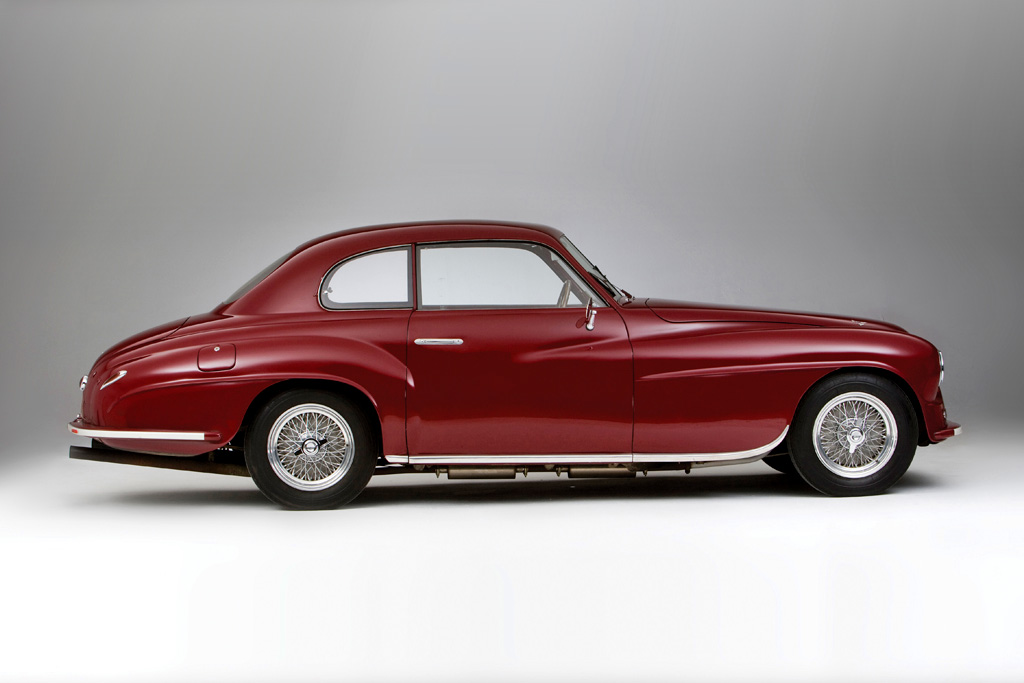 017S-1949 166 Inter Touring Berlinetta. Sold by RM Auctions at their 2009 Leggenda e Passione Auction for €258,500 inclusive of commision. Described as "the sixth car in the series by chassis number and the fourth produced with coachwork by Carrozzeria Touring of Milan. Chassis no. 017 S was sold new through Franco Cornacchia of Scuderia Guastalla fame in Milan, to the Cerana brothers of Busto Arsizio, Italy. It is not known how long they kept the car, but it is recorded as having been imported to Switzerland in June 1958, where it is believed to have remained with two owners until it was bought by the current owner in December 2000. Whilst in its last Swiss ownership it was run three times in the Historic Mille Miglia, underwent a full restoration and in 1997 had the engine and gearbox overhauled and rebuilt by Costantini in Zürich, Switzerland. Mr. Schermerhorn has maintained it regardless of expense and has used it regularly in touring events and displayed it at a number of Ferrari events and concours in Europe."

029S-1949 166 Touring Aerlux Coupe. Bought new in Italy by Francisco Severi in blue. Extensive restoration in 1990 by DK Engineering, painted black. Sold at Brooks 1998 Gstaad Ferrari Auction for $244,800 USD. Participated in 2002 Dutch Concours, 2005 Tour Auto and 2006 60th Anniversary.

037S-1949 166 Stabilimenti Farina Berlinetta. Offered by RM Auctions at their 2009 Leggenda e Passione Auction but was withdrawn. Described as "sixteenth car in the series by chassis number. It is understood to have been sold new to a Mr. Tamorri in Rome in June 1949. In the mid- to late-fifties it was exported to the United States, where it had a succession of owners over the years. In June 1987 it was sold in partly restored condition to Lord Charles Brocket in the UK, who commissioned a full restoration.
The car was then sold to Peter Agg in the UK, who completed the restoration. As part of the restoration the car was repainted silver over metallic blue, a combination that complements the lines very well. The interior was re-trimmed in handsome grey leather with blue piping, the work being completed in the late nineties. The quality of the restoration is self evident, as it is virtually flawless some ten years later. The restoration, including the rebuild of the engine, is fully documented with supporting pictures in the history file. As part of the restoration process the original disc wheels were replaced with Borrani wire wheels, adding a more sporting flare, but the original and very rare "CABO" (Carlo Borrani) steel wheels were retained and form part of the sale. The car retains most of its original features, apart from the air filter box and rear lights, and the units currently fitted are more modern circular units coupled with matching orange turn signal lights.
Mr. Schermerhorn bought chassis no. 037 S in 2000, and has maintained it regardless of expense, using it regularly in touring events and has displayed it at a number of Ferrari gatherings and concours in Europe, including the prestigious Villa d'Este Concorso d'Eleganza, on the shores of Lake Como in Italy (2008)."
Ferrari 166 Inter Pictures
See full 1948 Ferrari 166 Inter Gallery here
Specs & Performance
| | |
| --- | --- |
| submitted by | Richard Owen |
| type | Limited Production Car |
| production years | 1948 – 1950 |
| built at | Maranello, Italy |
| production | 20 |
| engine | 60º V12 |
| valvetrain | SOHC 2 Valves / Cyl |
| displacement | 1995 cc / 121.7 in³ |
| bore | 60 mm / 2.36 in |
| stroke | 58.8 mm / 2.31 in |
| compression | 7.5:1 |
| power | 82.0 kw / 110.0 bhp @ 6000 rpm |
| specific output | 55.14 bhp per litre |
| bhp/weight | 137.5 bhp per tonne |
| body / frame | Steel over Gilco Steel Ladder-Type Frame |
| driven wheels | RWD |
| wheel type | CABO Steel Discs w/Rudge-type Splined Hub |
| front brakes | Hydraulic Drums |
| rear brakes | Hydraulic Drums |
| steering | Worm & Sector |
| f suspension | A-Arms Transverse Leaf Springs, Houdaille Lever Arm Shock Absorbers |
| r suspension | Live Axle w/Semi-Elliptic Leaf Springs, Houdaille Hydraulic Shock Absorbers |
| curb weight | 800 kg / 1764 lbs |
| wheelbase | 2420 mm / 95.3 in |
| front track | 1250 mm / 49.2 in |
| rear track | 1200 mm / 47.2 in |
| transmission | 5-Speed Manual |
| top speed | ~170 kph / 105.6 mph |
Auction Sales History
1949 Ferrari 166 Inter Coupé 015S – did not sell for €350,000. One of just 38 Inters produced from 1948 to 1951. Ferrari Classiche certification. Known ownership history from new. 1949 Geneva Motor Show and Villa d'Este participant in 1949.