1948 Ferrari 166 Inter Spyder Corsa
Ferrari's first customer model was the 166 Inter with Spider Corsa bodywork. These were built after the great success of Ferrari's first major victory at the 1947 Gran Premio di Torino. These cars had Spider Corsa bodywork fitted with removable fenders and lights so they could race in Formula 2 and in sports car races.
The cars were named Inter in recognition of the car's adherence to the international Formula II regulations. When fitted with lights and fenders they were competing with the Maseratis and Cisitalias in the Sports category.
Ferrari spent their inaugural year in 1947 racing three prototypes in and around Italy. They started with a couple Type 125s, created a single larger 159 which then evolved into the 166 Sports and 166 Inter model of 1948. Spyder Corsas raced at events like the Mille Miglia, Targo Florio and the Paris 12-Hours. They also participated in many local Formula 2 (F2) races such as Bari, Mantua, Naples, Florence and Garda.
With the 166 Inter Ferrari intended to support wealthy clients that wished to contend the major sports car races in Italy. Teams Scuderia Inter and Scuderia Besana quickly adopt Ferraris sports cars. In 1948 Ferrari won the Targa Florio among four important victories that elevated the company and allowed Ferrari to move onto the single-seat type 125C and 166 Mille Miglia.3
Legendary driver Tazio Nuvolari with Sergio Scapinelli drove 010I at the 1948 Mille Miglia. They were posed to win until mechanical trouble forced them to retire at Reggio Emilia. At the time, they were was 30 minutes ahead of this nearest rival and it was going to be Nuvolari's very last victory as a racing driver. Fortunately Clemente Biondetti and Giuseppe Navone won the race outright in their Ferrari 166 Sport.
The first 166 Spyder Corsa was actually converted from chassis 002, the sole 159, in late December of 1947. This included boring and stroking the original 159 engine from 1497cc to 1922 then 1995cc to accommodate the Vandervell thin wall bearings. This larger engine was used in the multi-purpose Spyder Corsa as well as the 166 Sport which was fitted with a coupe body.
Like the earlier models, the 166 Inter used a chassis supplied by specialist firm Gilco Autotelai. These used two oval tubes for primary support that kicked up over the rear axle. At both ends, they were attached by cross supports and two bent pipes that formed an X section in the middle. When Colombo returned to Ferrari in early 1948, the chassis was modified to be shorter and the X section was substituted by a bolt-in center brace. These second generation chassis were used by two SWB Spyder Corsas and the 166 MM Barchetta which appeared at the Paris Motor Show.
A total of nine Spyder Corsas have been documented that include 002, 004C, 006I, 008I, 010I, 012I, 014I, 016I and 018I. All of these use a long-wheel-base chassis of 2420mm except 008I and 014I which have a 2250 mm chassis.
002 is our feature car and it was the first 166 Inter with Spyder Corsa bodywork. It is believed that this 166 started life as the only Tipo 159 and won the 1947 Gran Premio di Torino at the hands of Raymond Summer. Shortly after the race, Ferrari converted the car to a 166 Inter and sold it to the Besana brothers who became the first Ferrari customers ever.
Gabriele Besana first used 002 in South America making it the Ferrari car used abroad. After races in Argentina and Brazil, 002 came back to Europe. It was used considerably up until 1950 when it was rebodied by Motto into a Barchetta. In the 1960 Stan Nowack recognized the significance of the car and fitted replica Spider Corsa bodywork similar to the 1947 configuration.
002 was purchased at Christies' 2002 Monterey Jet Center Auction by Jim Glickenhaus who used the car several times before having the body corrected in 2011 by Ferrari Classiche in collaboration with the Brandoli workshops.
Gallery & Photos
We have included a handful of images here but you can see the full 1948 Ferrari 166 Inter Spyder Corsa Gallery here.
Specs & Performance
| | |
| --- | --- |
| | |
| type | Series Production Car |
| built at | Modena, Italy |
| engineers | Gioacchino Colombo, Angelo Nasi, Giuseppe Busso |
| production | 9 |
| predeccesor | 1947 Ferrari 159 S |
| succeccesor | 1948 Ferrari 166 MM Barchetta |
| engine | Columbo V12 |
| position | Front Longitudinal |
| aspiration | Natural |
| block material | Aluminum Alloy |
| valvetrain | SOHC |
| fuel feed | 3 Weber 32 DCF Caburetors |
| displacement | 1995 cc / 121.74 in³ |
| bore | 55 mm / 2.17 in |
| stroke | 60 mm / 2.36 in |
| compression | 11.0:1 |
| power | 96.9 kw / 130 bhp @ 7000 rpm |
| specific output | 65.16 bhp per litre |
| bhp/weight | 206.35 bhp per tonne |
| redline | 7000 |
| body / frame | Aluminum Body over Gilco Steel Tube Frame |
| driven wheels | RWD |
| wheel type | Borani Wire |
| front tires | 5.0×15 Pirelli |
| rear tires | 6.0×15 Pirelli |
| front brakes | Aluminum Hydraulic Drums |
| rear brakes | Aluminum Hydraulic Drums |
| steering | Worm & Wheel |
| f suspension | Double Wishbones w/Transverse Leaf Spring, Anti-Rollbar |
| r suspension | Live Axle w/Twin Leaf Springs |
| curb weight | 630 kg / 1389 lbs |
| wheelbase | 2420 mm / 95.3 in |
| front track | 1240 mm / 48.8 in |
| rear track | 1240 mm / 48.8 in |
| length | 3658 mm / 144 in |
| height | 1092 mm / 43 in |
| transmission | 5-Speed Manual |
| top speed | ~201.2 kph / 125.0 mph |
| fuel capacity | 75 litres or 19.80 gal. |
| race victories | 1948 Mille Miglia |
166 Spyder Corsa Auction Sales History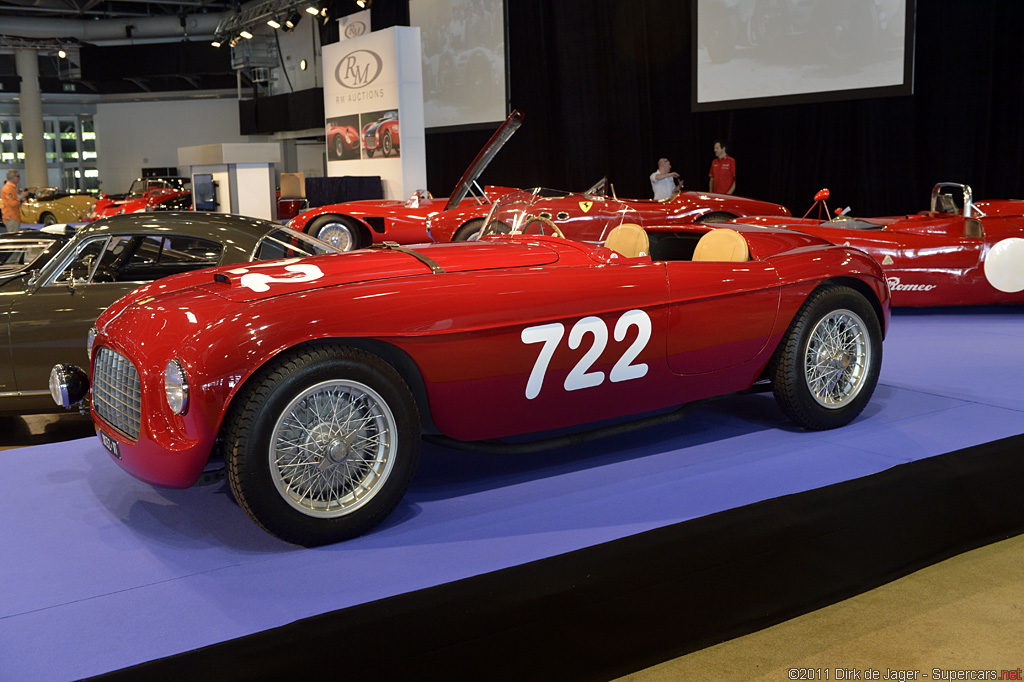 1948 Ferrari 166 Inter Spyder Corsa 012I – sold for €1,010,000. The ninth Ferrari built, the sixth of the iconic 166 Spyder Corsas. Elegant 1950 Barchetta body by Carrozzeria Fontana. Extraordinary provenance, including winner of the 1949 Italian Hill Climb Championship; twice run in the Mille Miglia and three documented entries in the Targa Florio. Numerous race wins with top drivers, including Giovanni Bracco, Umberto Maglioli, Giannino and Vittorio Marzotto and Froilan Gonzales. Superb, fresh, no-expense-spared restoration by respected specialists, utilising original chassis and 1950 Fontana body. Auction Source: Monaco 2012 by RM Auctions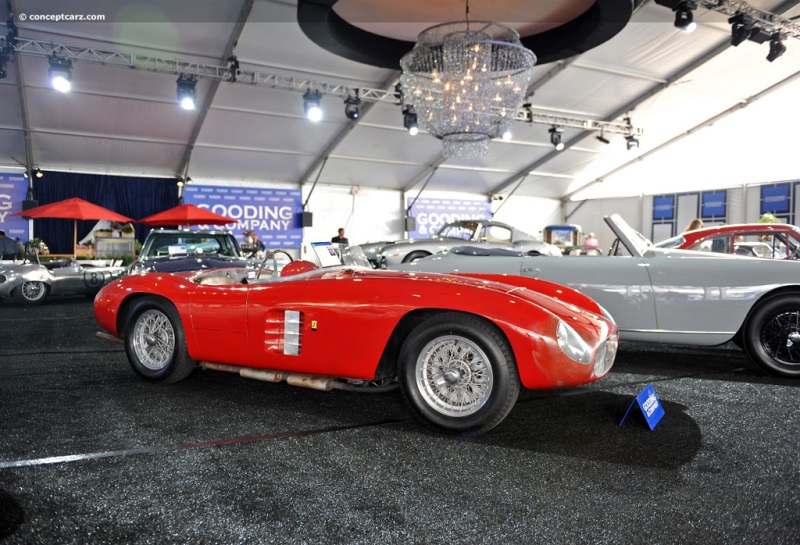 1948 Ferrari 166 Spyder Corsa – Chassis Num: 014I – Sold for $3,155,520 (€2,960,400) at 2017 Artcurial.
Ferrari 166 Spyder Corsa with chassis number 014I was constructed in May of 1948 and is a right hand drive vehicle. It was raced extensively by the factory during 1948 and sold to a privateer at the close of the season. Chassis 014I was the seventh competition sports Ferrari built (at least the seventh to be numbered). The two new shorter-wheelbase Spyder Corsas believed to be 008I and 014I were given to Ferrari's two works driver – Tazio Nuvolari and Raymond Sommer. It is uncertain what happened to chassis 008I. O141 was later sold to Giampiero Biancheti of Milan who also owned 003S, the 1948 Mille Miglia-winning 166S. The privateer, Giampiero Bianchetti of Milano continued its racing career by entering it in competition during the 1949 season.