1952 Jaguar XK120 Supersonic
May 30th, 2007- During the 2005 Retromobile show, we ran into a Ghia bodied Jaguar XK120 that we had never seen in person or photographs and it peaked our curiosity. Packing the best British engineering and Italian flair we instantly wanted to know more, but information was scarce. Fortunately, the same car was recently auctioned by Bonham's at their Les Grandes Marques a Monaco sale and sold for the highest bid that day: 680,000 EUR plus Premium and tax.
Hopefully the new owner won't be shy about touring this specialty which has rarely been seen in the last ten years.
Rather than rehash everything Bonham's published, we will provide the a snippet of their auction listing here:
Few XK120 owners can have had any cause for complaint about their car's looks, and only a relative handful of XK120s were supplied in bare chassis form for bodying by independent coachbuilders. The car offered here is a rare example of an XK120 fitted with bespoke, non-factory coachwork, being one of only three XK120s bodied in 'Supersonic' style by the renowned Italian coachbuilder, Carrozzeria Ghia.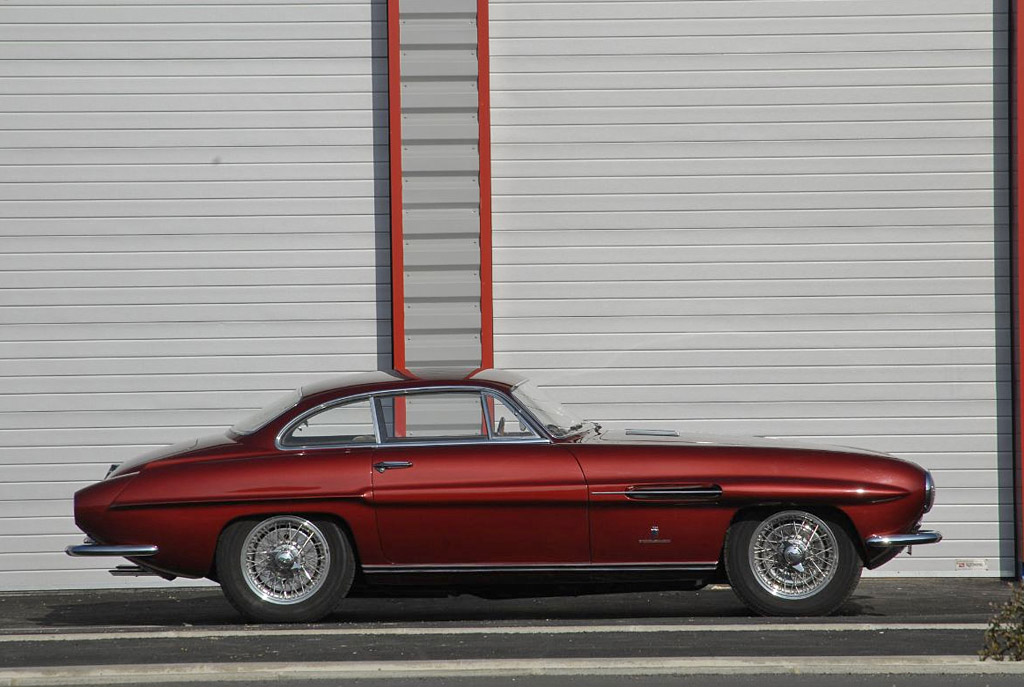 Carrozzeria Ghia was founded by Giacinto Ghia in Turin in 1919, soon establishing a reputation not just for luxury coachwork but also for bodying competition cars. Despite its founder's death in 1944 and wartime damage to the factory, Ghia resumed its place at the forefront of Italian coachbuilding after WW2, providing the training ground for many of Italy's rising-star designers: Michelotti, Boano, Frua and Savonuzzi all making a contribution to its continuing success. Ghia has collaborated with many of the world's leading car manufacturers, producing memorable models such as the Volkswagen Karmann Ghia, Lancia Aurelia B20 and FIAT 1500 and 2300 Coupes.
The 1950s decade was a period when automobile stylists the world over were influenced by developments in aircraft technology, in particular the coming of the 'Jet Age'. This influence would reach its zenith in the United States in the decade's latter years and is perhaps best exemplified by the outrageous tail fins of the 1959 Cadillacs. European designers too fell under its seductive spell, as this car clearly illustrates. The work of Giovanni Savonuzzi at Ghia, the 'Supersonic' body design first appeared on a Conrero-tuned Alfa Romeo 1900 entered in the 1953 Mille Miglia. In addition to the solitary Alfa and three XK120s, the Supersonic design also appeared on an Aston Martin and a number of FIAT 8V chassis.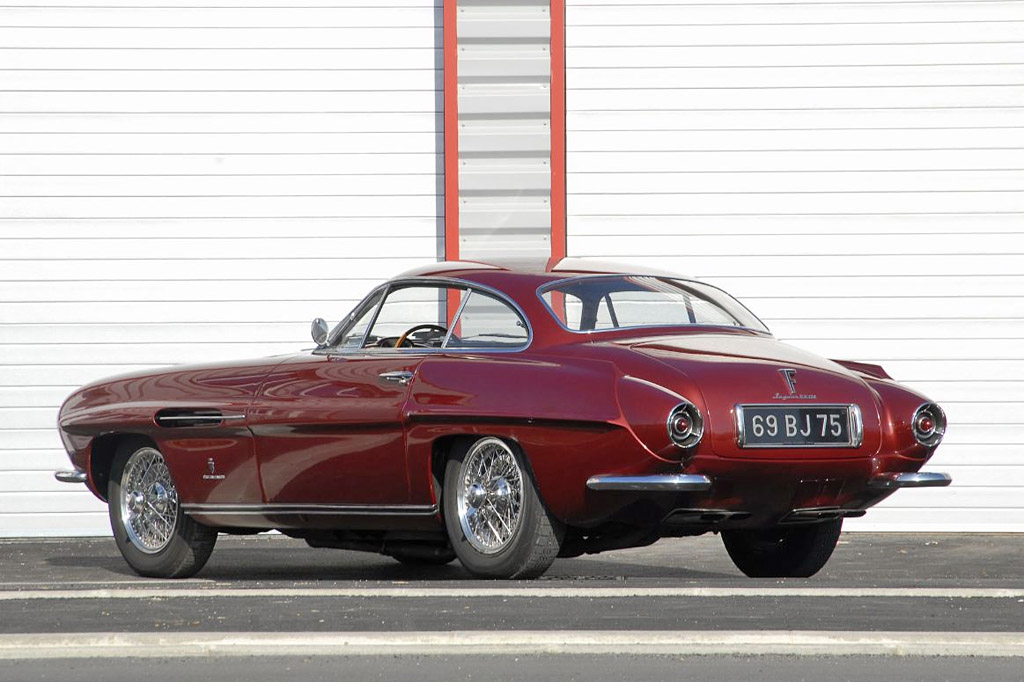 This left-hand drive Jaguar XK120 Supersonic, chassis number '679768', is one of two ordered via the French Jaguar importer in Paris, Royal-Elysees, by a Lyonnias businessman, a Monsieur Malpelli. The other Malpelli XK120, finished in blue, is known to exist in France while the third example's whereabouts are unknown. There are numerous detail differences between the coachwork of the red and blue Supersonics, while the car offered here, '679768', is the only one fitted with a cylinder head modified by Virgilio Conrero to accommodate three twin-choke Weber carburettors instead of the standard twin SUs. The engine is reputed to produce 220bhp.
After completion, '679768' was exhibited at the Paris and London Motor Shows in 1954 and took part in the Concours d'Elegance competitions in Montreux and Cannes. Originally registered '69 BJ 75′ and subsequently '66 BJ 75′, it was retrieved by Royal-Elysees following the disappearance of the mysterious Malpelli, remaining with the company until 1969 when proprietor Charles Delecroix ceased importing Jaguars. When Royal-Elysees sold up, the Supersonic was bought by Philippe Renault and subsequently sold by him to Roland Urban, who displayed the car at his motor museum devoted to special-bodied Jaguars in Montlhery. When the current owner, a prominent Jaguar collector and member of the French Jaguar Drivers' Club, bought the car from Roland Urban in 1994 it had recorded only 9,400 kilometres from new.
Following completion of a no-expense-spared total restoration undertaken with the assistance of marque specialists Atelier Sontrop of Pourrain, the Supersonic won 1st prize at the prestigious Louis Vuitton Concours at Parc de Bagatelle, Paris in September 1996. There are bills totalling circa FF240,000 for this restoration work in addition to Atelier Sontrop's invoice for servicing in 2005. Since restoration the car has covered only 10,000-or-so kilometres. Offered with French Carte Grise, this unique XK120 represents a rare opportunity to acquire a car that is not only an important piece of Jaguar history, but also a milestone in the development of Italian coachbuilding in the innovating post-war years.
In Detail
| | |
| --- | --- |
| engine | Cast Iron, Inline-6 |
| position | Front Longitudinal |
| aspiration | Natural |
| valvetrain | DOHC, 2 Valves per Cyl |
| fuel feed | Twin SU H6 Carburettors |
| displacement | 3442 cc / 210.0 in³ |
| bore | 83 mm / 3.27 in |
| stroke | 106 mm / 4.17 in |
| compression | 7.0:1 |
| power | 119.3 kw / 160.0 bhp @ 5000 rpm |
| specific output | 46.48 bhp per litre |
| bhp/weight | 133.33 bhp per tonne |
| torque | 264.38 nm / 195 ft lbs @ 2500 rpm |
| body / frame | Aluminum over Steel Frame |
| front tires | 6.00×16 |
| rear tires | 6.00×16 |
| front brakes | Girling Hydraulic Drums |
| f brake size | x 305 mm / x 12 in |
| rear brakes | Girling Hydraulic Drums |
| r brake size | x 305 mm / x 12 in |
| steering | Re-circulating Ball |
| f suspension | Double Wishbones w/Torsion Bar, Telescopic Shock Absorbers |
| r suspension | Live Axle w/Half Elliptic Springs, Girling Hydrualic Shock Absorbers |
| curb weight | 1200 kg / 2646 lbs |
| wheelbase | 2591 mm / 102 in |
| front track | 1295 mm / 51 in |
| rear track | 1270 mm / 50 in |
| length | 4394 mm / 173.0 in |
| width | 1562 mm / 61.5 in |
| height | 1245 mm / 49 in |
| transmission | 4-Speed Manual |
| gear ratios | :1 |
| top speed | ~214.0 kph / 133.0 mph |
| 0 – 60 mph | ~9.8 seconds |
| 0 – 100 mph | ~30.0 seconds |