1953 Chevrolet Corvette
In the 1950s, American motoring culture found a launch point to new performance credentials with the iconic 1953 Corvette. It was built as a response to European imports such as the MGA, Triumph TRs, Jaguar XKs and Porsche 356s that had a huge impact in America. Both Ford and GM wanted to create an ideal roadster that would introduce motoring performance into their brands.
Harley Earl, GM's head of styling, was a major player in development of the project and was inspired by the small size of the European imports. His department created a complete car that was made as tight as possible around existing GM components. The body consisted of 54 plastic-reinforced Fibreglass panels that helped the Corvette achieve a low weight.
The completed car debuted at at the Waldorf Astoria hotel in New York City in 1953. Then it toured with GM's Motorama show and made a huge impact on both the public and the GM executives. Unfortunately, it was also a complete product of GM Styling, which meant that performance was seemingly considered as an afterthought.
While the Corvette looked good, was toured extensively on the show circuits and flaunted an all fiberglass body, its performance was pedestrian and well below that of the Thunderbird's. GM was cheap to invest money in tooling so they reverted to the eighteen year old 'stovebolt six' and a production chassis that relied on the steel body for rigidity.
This lackluster performance would change for the better after Zora Arkus-Duntov from Allard saved the car. Duntov was the first to do the obvious: he motivated Chevrolet to install a manual transmission and larger engine into the Corvette, turning the 1956 version into a genuine sports car. Duntov would later convince GM to race, and upgrade, the Corvette into a world class supercar.
The Corvette was one of the first American showcars that went into series production. Almost all the funds went into the styling and marketing which were its initial strong points. The 1953 version of the Corvette was only sold in polo white with red interior and made in 300 copies. They all had power glide transmissions mated to 150 hp inline-6 engines.
See full 1953 Chevrolet Corvette Gallery
Story by Ricahrd Owen
In Detail
| | |
| --- | --- |
| type | Series Production Car |
| built at | USA |
| production | 314 |
| price $ | $ 3,500 |
| engine | Stovebolt Inline-6 |
| position | Front Longitudinal |
| aspiration | Natural |
| ignition | Delco Remy Coil & Distributor |
| block material | Cast Iron |
| valvetrain | Pushrod OHV |
| fuel feed | 3 Carter Side Draft 3706989 Carberetors |
| displacement | 3859 cc / 235.5 in³ |
| bore | 90.42 mm / 3.56 in |
| stroke | 99.82 mm / 3.93 in |
| compression | 8.0:1 |
| power | 111.9 kw / 150 bhp @ 4200 rpm |
| specific output | 38.87 bhp per litre |
| bhp/weight | 122.15 bhp per tonne |
| torque | 302.35 nm / 223 ft lbs @ 2400 rpm |
| redline | 5000 |
| body / frame | Fibreglass Body over Welded Box-Section Frame |
| driven wheels | RWD |
| wheel type | Short Spoke Discs |
| front tires | 6.70×15-4 Ply |
| rear tires | 6.70×15-4 Ply |
| front brakes | Drums w/Hydraulic Servo Assist |
| rear brakes | Drums w/Hydraulic Servo Assist |
| front wheels | F 38.1 x 12.7 cm / 15 x 5 in |
| rear wheels | R 38.1 x 12.7 cm / 15 x 5 in |
| steering | Worm & Sector |
| f suspension | Short/Long Arms w/Delco Shock Absorbers, Coil Springs, Stabilizer Bar |
| r suspension | Live Axle w/Semi-Elliptical Leaf Springs, Hydraulic Shock Absorbers |
| curb weight | 1228 kg / 2705 lbs |
| wheelbase | 2591 mm / 102 in |
| front track | 1448 mm / 57 in |
| rear track | 1498.6 mm / 59 in |
| length | 4241.8 mm / 167 in |
| width | 1834.9 mm / 72.24 in |
| height | 1231.9 mm / 48.50 in |
| transmission | 2-Speed Powerglide Automatic |
| tran clutch | Torque Converter |
| gear ratios | 1.00:1, 3.82:1 |
| final drive | 3.55:1 |
| top speed | ~160.9 kph / 100 mph |
| 0 – 60 mph | ~11.4 seconds |
Auction Sales History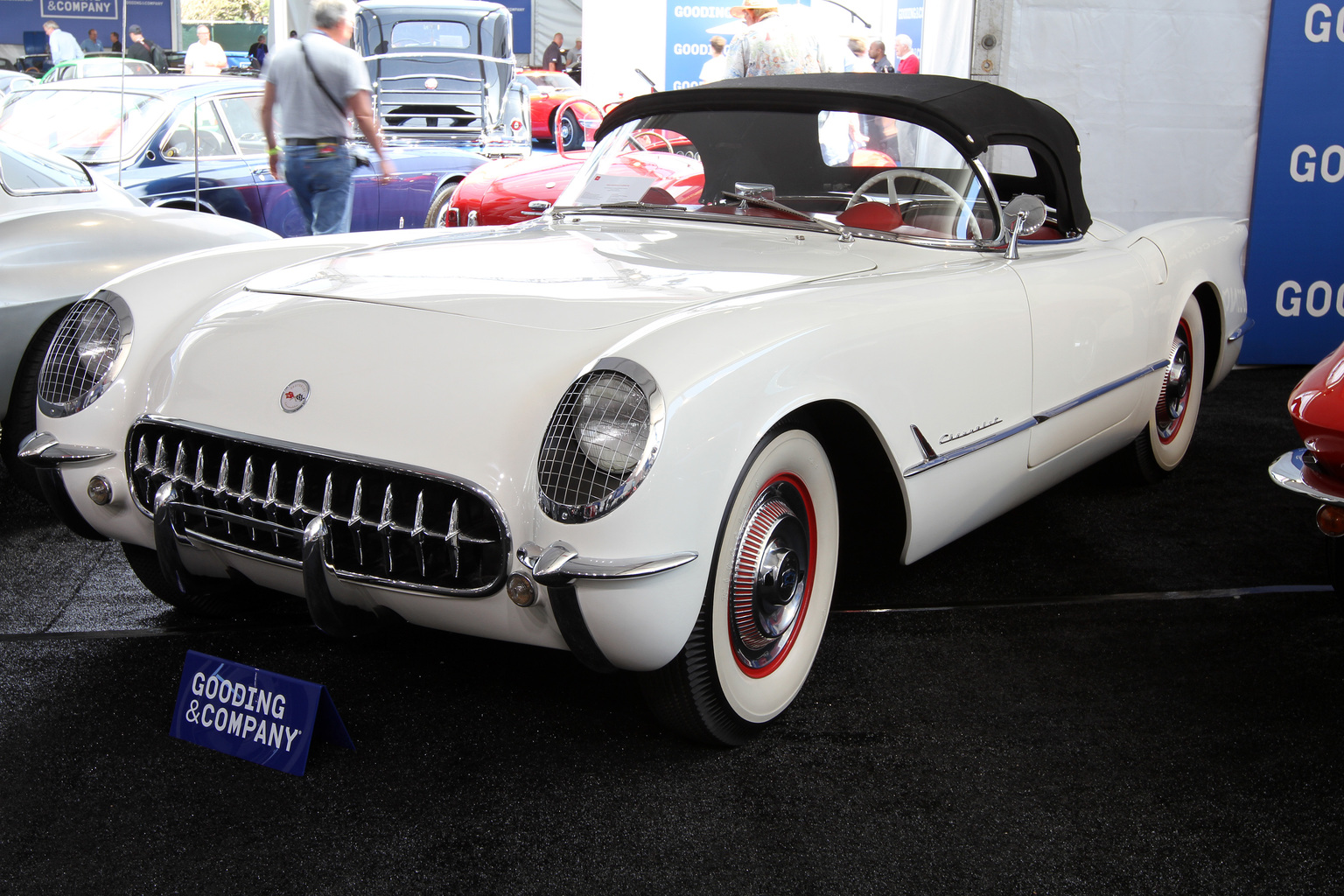 1953 Chevrolet Corvette E53F001210 – sold for $198,000 – The 1953 Corvette on offer is a remarkable example. It was acquired by the current owner at the Bloomington Gold Corvette show from an elderly gentleman who owned the car for about 19 years. The 210th car of the 300 built, it remains in excellent unrestored condition. Most importantly, however, it is a highly original example and has accumulated less than 4,000 miles from new – a remarkable feat indeed. The car is reportedly correct in all respects and very nicely presented in proper Polo White. Auction Source: 2009 Automobiles of Amelia Island RM Auction