1955 Astra Coupe
Important, sensational 1950s full custom, using aircraft-derived frame, designed and built by noted California industrial designer Jay Everett. Restyled in 1955 in collaboration with George Barris. All aluminum body, reputedly the first in the US to use an English wheel. Original Oldsmobile Rocket 88 OHV V-8 power. Full nut and bolt, professional restoration to 1955 specification with assistance from Barris, to award-winning condition, complete photo documentation. Subject of major two-part feature in Rod and Custom Magazine (June & July 2009).
Auction Description
When asked about the inspiration for his groundbreaking car in the January 1954 issue of Hot Rod Magazine, Jay Everett remarked, "I'm tired of looking at lead barges" – a surprisingly succinct answer for a project that required tremendous effort and exceptional talent!
Although Everett later enjoyed a highly successful career as a model maker, the car presented here preceded all those projects. Among other accomplishments, he is credited with developing the distinctive shape of the Michelob beer bottle as well as pre-production models of the famous Eames molded-plastic chairs, Polaroid cameras and World's Fair exhibits for the Finnish architect Eero Saarinen.
The car presented here first took shape in 1952. Everett, living in California, was a young father working from a small garage behind his house who briefly attended the Art Center College of Design in Pasadena, the breeding ground for the greatest automotive designers of the period, from the 1950s through the 1970s. After less than two years of effort, Everett, then only 25 years old, debuted this car at the 1953 Petersen Motorama.
Rather than beginning with an existing car and simply modifying and customizing it, this full custom was built from the ground up. The aluminum body and tubular chassis were all built from scratch, and the chassis was constructed by Paul Koonz from 2 3/8-inch diameter oval tubing. The car's shape was then defined by small tubes emanating from the chassis that created the framework upon which Jack Sutton and Dennis Powers painstakingly formed an aluminum body, in one of the industry's first uses of an English wheel in North America. The entire process was very reminiscent of aircraft construction, and Sutton, who also built many bodies for such racing cars as Max Balchowski's Ol' Yallers, executed Everett's vision masterfully. Although most of the body was built by hand, the windshield was from a 1952 Cadillac, the back glass was from a Chevrolet Fleetline and the side glass was framed with pieces of convertible window frames.
The front and rear of his initial design were certainly the most striking. The grilles were made from flat stock and tubing, with the rear unit concealing an innovative radiator in the Kamm-type tail. His intention was for the low pressure area at the rear to push air into the radiator. The front bodywork hinged forward in a "clam-shell" setup that preceded similar designs used in the industry, including Jaguar's E-Type. With its sloping fastback design, razor sharp edges and large wheel wheels, the car's European influence was unmistakable.
The car was critiqued for Motor Trend's September 1955 issue but then re-appeared almost a year later in the May 1956 issue of Rod & Custom after having been noticeably modified and given a name – Astra Coupe. The nose was pinched, with a scoop underneath that directed air to the radiator, which was now mounted in front. The fenders were bobbed and tapered and the headlight and hood scoop design was reminiscent of Lincoln's 1955 Futura and 1956 Premier. The tail section was closed off but, visually, remained much the same with a lattice of aluminum flat stock. The taillight assembly was split in two with stop and reverse lights, and the sloping deck lid had a machined aluminum fuel filler cap.
As for the interior, bucket seats replaced the earlier bench seat set-up, and the floor-mounted shifter, made from a stripped and shortened Cadillac column-shift piece, preceded George Hurst's design by several years. The second stalk, visible in period photos, indicates the car likely had an overdrive transmission and perhaps the same one it has today. Simple and clean, yet entirely hand-made, the banjo steering wheel, aluminum horn cap and column-mounted gauge pod complete with Stewart-Warner gauges were all made by Jay himself. Although earlier magazine stories hinted at Cadillac power, the powerplant residing under the cast-aluminum hood scoop was a 1952 Buick 303 cubic inch Rocket V8 engine, with exhausts exiting through a small side pipe in the rocker panels.
Everett finally sold the car in the late 1950s and co-founded Scale Design, the company with which he could create various prototype designs for the aforementioned clients. Astra's new owner was Dick Hoy, another one of the gear heads associated with George Barris' shop, who reportedly took the car to Barris' for a freshening that probably included a repaint in blue. It's believed Barris was eager to get his hands on the car as it had been upstaging other custom creations on the show circuit for some time.
.
Astra's next owner was the machinist Johnny Morris, who had a yard with various interesting cars in El Monte. The owner of Antique Auto Parts, Fred Torrisi, ultimately bought the car in 1979, and, according to his daughter Brandy, it was buried under a collapsed carport. Upon his death in 1990, the car passed to Brandy who transported it to her new home in the Pacific Northwest and sold it in 2004 to Jeff Allison, a Spokane, Washington artist.
Although both Brandy and Jeff wished to restore the car, the project did not begin until master restorer and coachbuilder JF Launier spotted the car in Jeff's shop. Launier is a former Ridler Award semi-finalist and the owner of JF Kustoms in British Columbia, which just this year won the World's Most Beautiful Custom award at the 59th Sacramento Autorama in California. Much like Jay Everett over 50 years earlier, JF started this project in his twenties and finished the restoration in just 10 months – a restoration made possible by its owners Barry and Carole Blomme.
The passage of time had taken its toll on the car and it would require a complete nut-and-bolt restoration. Yet, despite neglect, the car remained intact and the body could not be taken apart without undoing Everett's work. The hood, for instance, was made of 16 pieces of aluminum, all seamlessly gas-welded together. A rotisserie was built specifically for the car before it was reduced to its elements. The car was finished in urethane paint, as opposed to the original lacquer, but otherwise JF remained as faithful to the Astra's original construction as possible. The car was returned to its 1955 specification, complete with knock-off wheels, "Astra" badges, a bucket seat interior and the same 303 cubic inch Rocket 88 with which it was found.
Ten short months later, the car was debuted at the West Coast Customs' 2007 Paso Robles event where John Everett, Jay's brother, was in attendance with his wife. As JF had been unable to locate any of Jay's living relatives during the restoration, the run-in was quite a coincidence. John called his niece Kim Everett-Enriquez (Jay's daughter) who came to look at the car and, upon laying eyes on it, excitedly yelled out, "That's my dad's car!" Neither John or Kim had seen the car in five decades!
An extraordinary full custom, the Astra Coupe has been featured in every major custom and hot rod publication of the 1950s, including Hop Up, Hot Rod, Motor Trend and Rod & Custom. In fact, it was featured again this year in a two-part article in Rod & Custom. Beyond the innovative styling touches and aircraft-style coachwork, one must recognize Everett's use of aluminum, which was considerably more difficult to work with than the fiberglass creations of his contemporaries, Glasspar and Devin included. It is an iconic automobile, to say the least, with features and designs that beat even the Big Three to production. It has since been faithfully restored by an award-winning customizer and is beautifully presented in show-quality condition.
Story by Rm Auctions
In Detail
| | |
| --- | --- |
| | |
| type | Concept / Prototype Car |
| body stylist | George Barris |
| coachbuilder | Jay Everett |
| production | 1 |
| engine | Oldsmobile Rocket 88 V8 |
| position | Front Longitudinal |
| aspiration | Natural |
| block material | Cast Iron |
| valvetrain | OHV, 2 Valves per Cyl |
| body / frame | Aluminum Body |
| driven wheels | RWD |
Auction Sales History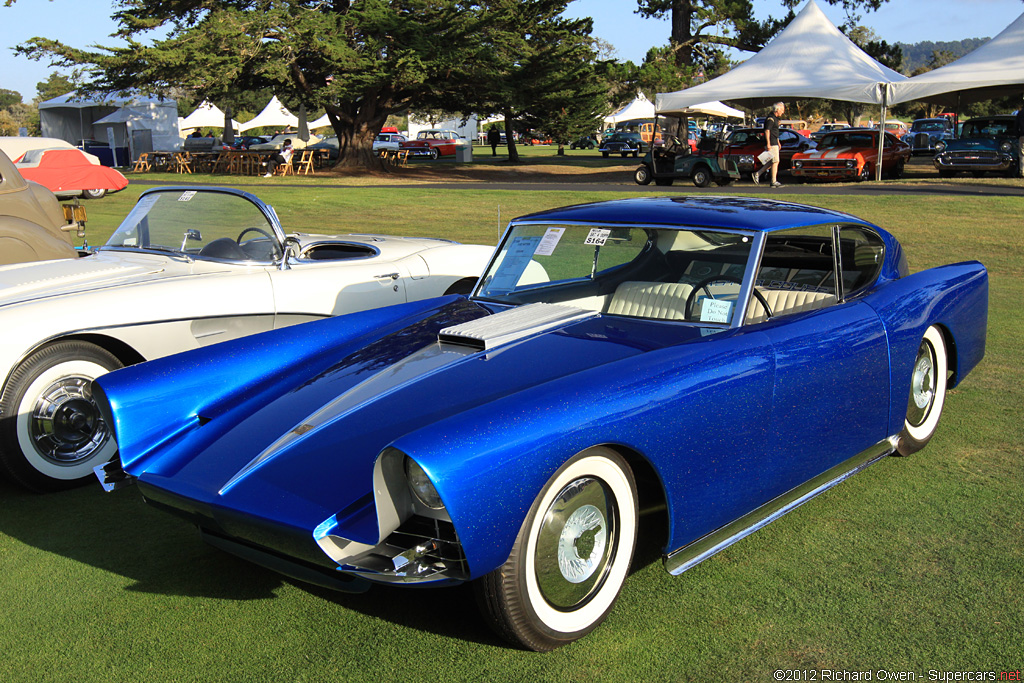 1952 Astra Coupe –

Full custom built by Jay Everett in 1952. Currently titled in Washington as a 1959. Aircraft inspired tubular frame and aluminum body. Complete restoration by coachbuilder JF Launier in 2007. The car was restored to 1955 configuration. 303 CI Olds Rocket V-8 engine. Lincoln automatic transmission. Ford tube axle. 102″ wheelbase. Bucket seats. Astra Coupe badges. Featured in virtually every major custom and hot rod publication throughout the 1950s.
Auction Source: 2012 Daytime Auction by Mecum