1955 Flajole Forerunner
After designing cars like the Nash Metropolitan, Bill Flajole started his own independent design consultancy which produced this Forerunner prototype. The design was influenced by its Jaguar XK120 underpinnings, but had tall fenders and a sloping fastback design with a retractable roof.
Bonhams sold the sole Flajole Forerunner prototype at their 2009 Exceptional Motorcars and Automobilia at the Quail Lodge Resort. They described it as "In addition to the dramatic dropped hood profile it had a sharp translucent Plexiglas roof panel and dramatic recessed cove panels behind the wheels. Painted light beige to contrast with the Forerunner's original dark green paint (probably Spruce Green, which Bill Flajole later identified as his favorite color), the Forerunner marked the first appearance of coves, before Chevrolet applied them to 1956 and subsequent Corvettes.
It received widespread publicity in publications of the day including Motor Trend, Road & Track and Sports Cars Illustrated. In addition to the innovative coves and retracting roof panel Flajole installed supportive aircraft-type seats with head restraints years before other designers appreciated the value of supportive seats in minimizing accident injuries.
Bill Flajole used it for personal transportation until the early 70s, attracting constant attention on his weekend drives in the car. The current show quality restoration in its dramatic metallic purple with white coves. matching white/purple leather upholstery and chrome wire wheels was probably done by Jeff Tamayo before he and his wife Sara donated it to the Blackhawk Automotive Museum. It was acquired from Blackhawk by Sidney Craig in 1998.
Story by Supercars.net, Bonhams & Butterfields
In Detail
| | |
| --- | --- |
| | |
| type | Concept / Prototype Car |
| production | 1 |
Auction Sales History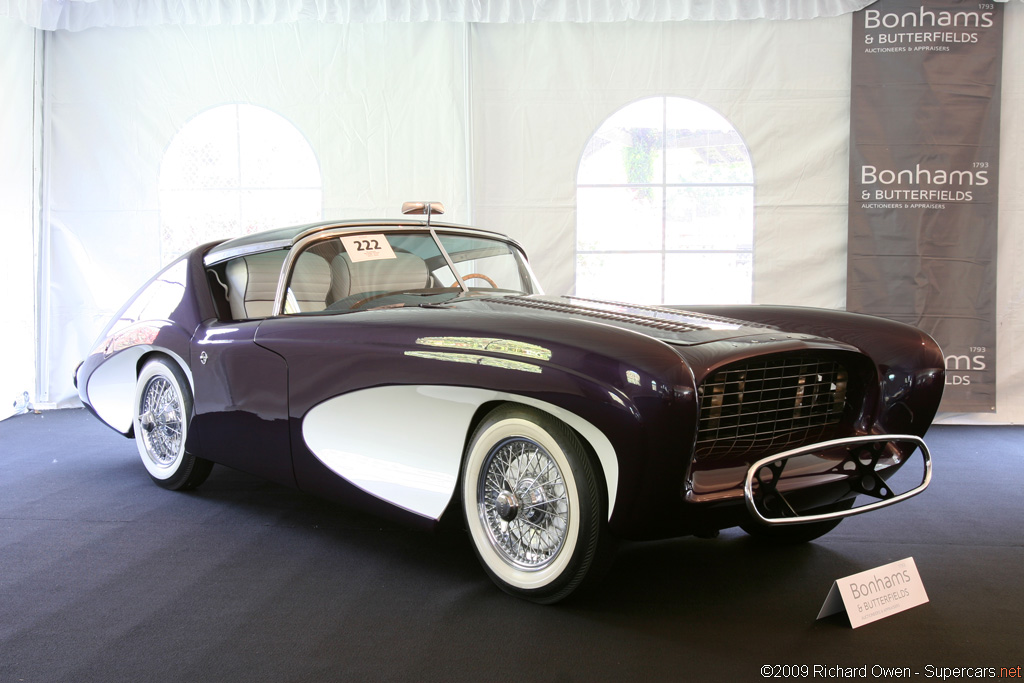 1955 Flajole Forerunner – sold for $188,500. A significant example of American design and creativity in the early Fifties, among the many celebrity cars in Sid Craig's collection the celebrity attached to Bill Flajole's Forerunner is that of an innovative, imaginative American designer. Its early experimentation with new materials like fiberglass and Plexiglas and safety concepts like aircraft-style seating that would take decades to make an impression upon the automobile industry identify the Flajole Forerunner as a milestone in design and concept. Auction Source: 2009 Bonhams Exceptional Motorcars at Quail Lodge Resort