1955 Jaguar XK140 'Royale'
IN 1955, this dramatic show car was envisioned by Charles "Andy" Anderson who wanted a new show car based on the XK140. The result was a chopped Fixed Head Coupe that was unique among all XK140s. Further adding to the cars credentials are class victories at Pebble Beach Concours d'Elegance and use by Paxton Products to to showcase their supercharger installation.
At their 2010 Sports & Classics of Monterey Sale, RM Auctions sold the sole Anderson Coupe. The described the car as "Created by Joe Wilhelm for Charles "Andy" Anderson, the Jaguar Royale, as this XK140 is known, won consecutive trophies at Pebble Beach in 1957 and 1958. A class award followed at the first Hillsborough Concours d'Elegance in 1957, and in 1958, the Jaguar was the cover car for the 1958 Hillsborough program. Featured in the most important enthusiast magazines of its day, it also won the Judge's Sweepstakes at the San Jose Autorama and was named one of the top-ten custom automobiles in the U.S. for 1958.
This survivor was first owned by Rod Carveth, who raced it before selling it to Anderson, who intended to create a drag racer/show car. A number of chassis and engine updates were made, before the Jaguar raced extensively for about a year. Meticulously maintained, the car also won seven first-place class awards and three Best in Show awards.
Anderson and his XK140 then caught the attention of John Thompson, head of the Paxton Products division of McCulloch Superchargers, who used the car to develop a Paxton supercharger installation for Jaguars. A C-type head, two-inch SU carbs and Isky camshafts were also installed, resulting in 312 hp on the engine dyno, good for 98.68 mph and 14.9 seconds in the quarter-mile.
San Jose, California's Joe Wilhelm extensively modified the body. Many supplementary instruments were installed, the interior wood was highly polished, and the car was re-trimmed in black leather. A few years later, Wilhelm modified the body further, creating the car's final form as seen today. Anderson sold the car a year or so later, and the new owner stored it until early 2004. Other than new chrome wire wheels and re-chroming, the Jaguar Royale Coupe is exactly as last modified by Joe Wilhelm in the late 1950s. With remarkable paint, running great and sounding wonderful, the Royale Coupe carries a fabulous history and remains a true time capsule."
In Detail
| | |
| --- | --- |
| type | Series Production Car |
| built at | San Jose, California, USA |
| body stylist | Joe Wilhelm |
| coachbuilder | Joe Wilhelm |
| engine | XK Inline-6 |
| position | Front Longitudinal |
| aspiration | Paxton Supercharger |
| valvetrain | DOHC |
| fuel feed | Twin SU H6 1 3/4 inch |
| displacement | 3442 cc / 210.0 in³ |
| bore | 83 mm / 3.27 in |
| stroke | 106 mm / 4.17 in |
| compression | 8.0:1 |
| power | 234.1 kw / 314 bhp |
| specific output | 91.23 bhp per litre |
| bhp/weight | 227.04 bhp per tonne |
| body / frame | Steel Body over Steel Frame |
| driven wheels | RWD |
| front tires | 6.0-16 |
| rear tires | 6.0-16 |
| front brakes | Drums |
| rear brakes | Drums |
| steering | Rack & Pinion |
| f suspension | Double Wishbones w/Coil Springs, Anti-Roll Bar |
| r suspension | Live-Axle w/Semi-Elliptic Leaf Springs, Telescopic Dampers |
| curb weight | 1383 kg / 3050 lbs |
| wheelbase | 2591 mm / 102.0 in |
| front track | 1295 mm / 51.0 in |
| rear track | 1283 mm / 50.5 in |
| length | 4470 mm / 176.0 in |
| width | 1638 mm / 64.5 in |
| height | 1397 mm / 55.0 in |
| transmission | 4-Speed Manual |
| gear ratios | 3.38:1, 1.98:1, 1.37:1, 1.00:1 |
| top speed | ~160.90 kph / 100 mph |
| 0 – 1/4 mile | ~14.9 seconds |
Auction Sales History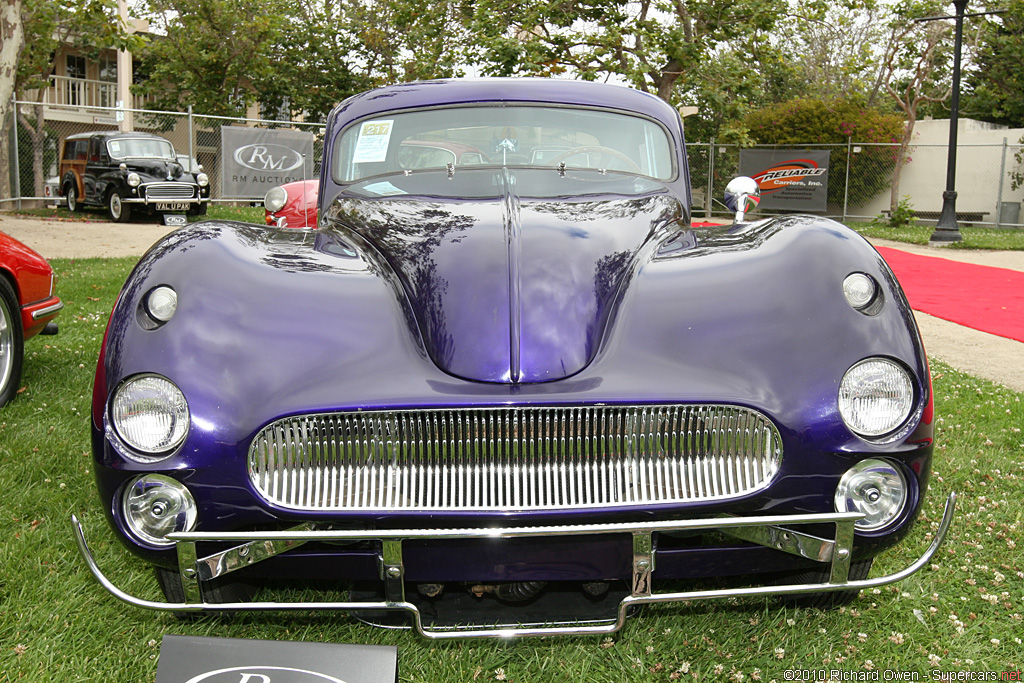 1955 Jaguar XK140 Royale Fixed Head Coupe – sold for $38,500 San Jose, California's Joe Wilhelm extensively modified the body. Many supplementary instruments were installed, the interior wood was highly polished, and the car was re-trimmed in black leather. A few years later, Wilhelm modified the body further, creating the car's final form as seen today. Anderson sold the car a year or so later, and the new owner stored it until early 2004. Other than new chrome wire wheels and re-chroming, the Jaguar Royale Coupe is exactly as last modified by Joe Wilhelm in the late 1950s. With remarkable paint, running great and sounding wonderful, the Royale Coupe carries a fabulous history and remains a true time capsule. Auction Source: RM Auctions' 2010 Sports & Classics of Monterey