1955 Kurtis 500SX
One of the last cars offered by Kurtis was the 500SX. They were based off the 1953 Indy 500 car with solid axles and torsion bars. Other chassis details include Halibrand magnesium wheels, quick-change rear end, disc brakes and a choice of Borg-Warner or Jaguar four-speed transmissions.
The Kurtis chassis was made to accept a wide variety of V8 engines and several had Pontiac or Buick power. Estimates put production of the 500SX at just 12 example and four of these were sold as non-completed kit cars. The $6,000 price tag for a car may be the reason why sop few cars were made
The tubular space frame chassis was modified from the 500S unit. It was widened to meet FIA regulations and included a fully-enclosed aluminum body that could be removed with Dzus fasteners.
1955 Kurtis 500SX Gallery
After driving A. K. Miller's hot rod, nicknamed El Caballo de Hierro, in the 1954 Carrera Panamerica, Miller and Doug Hudson turned their attention to the gruelling Mille Miglia. Miller's second car, nicknamed Caballo II, was built on a Kurtis X chassis. It was powered by a Chrysler Hemi engine donated by Briggs Cunningham, and used a variety of Lincoln components. With European style and an aluminum body built by Sutton's Body Emporium of Hollywood, California, it was good for over 170 mph. This car entered the 1957 Mille Miglia as car 524, and is the only American sports racer to ever enter Italy's historic road race. Now fully restored, the car will make its first public appearance in over 60 years at this year's Pebble Beach Concours d'Elegance.
Auction Sales History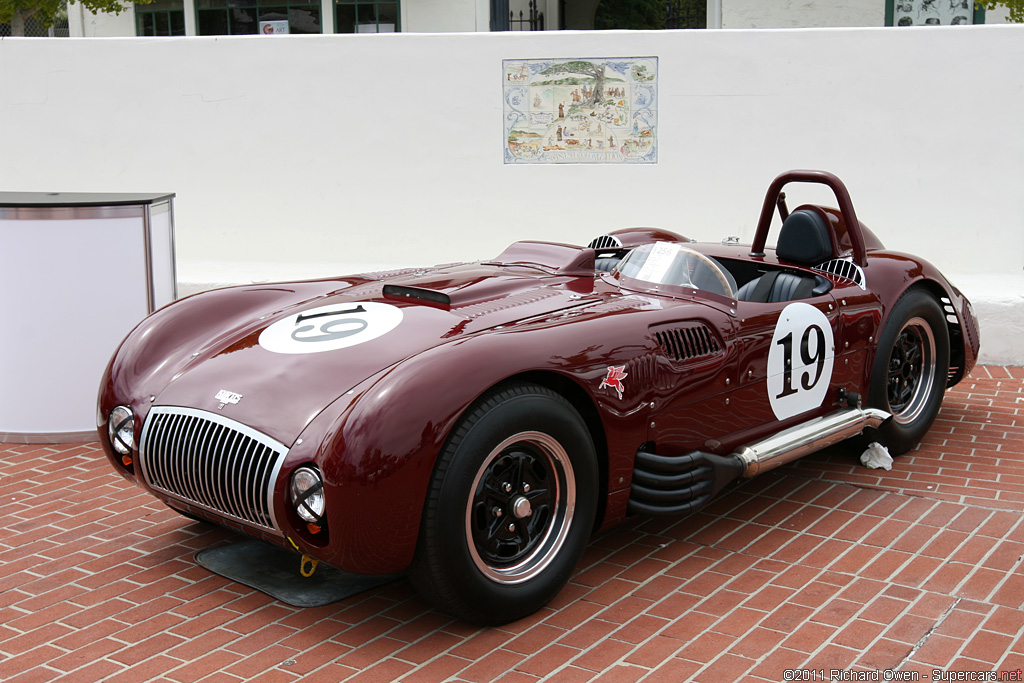 1955 Kurtis 500SX Roadster SX-001 – sold for $500,000 The first Kurtis 500SX roadster completed by the factory.- Raced by Mickey Thompson and Bobby Unser in the 1950s. Ground-up restoration in the UK with FIA and UK MSA papers. Competed at Goodwood Festival of Speed and Goodwood Revival.
Auction Source: 2011 Monterey Auction by RM
In Detail
| | |
| --- | --- |
| type | Racing Car |
| production | 12 |
| engine | V8 |
| position | Front, Longitudal |
| aspiration | Natural |
| body / frame | Aluminum Body over Steel Tubular Space Frame |
| driven wheels | RWD |
| wheel type | Halibrand magnesium |
| front brakes | Discs |
| rear brakes | Discs |
| transmission | Borg Warner or Jaguar 4-Speed Manual |