1956 Arnolt-Bristol Bolide
Created in 1954, the Arnolt-Bristol was Stanley Harold 'Wacky' Arnolt's ideal sports racer. It used British engine and chassis with a unique Italian body by Bertone. The design was successful enough to take a class victory at the 1955 Sebring 12 Hours.
At the time of production, Arnolt was a major MG distributor and also on the management board at Bertone. Also having worked on the Bristol 404, he conceived Arnolt-Bristol as an out-and-out race car. Chassis and engines were fabricated at Bristol and the bare chassis were shipped to Itlay for their bodies and interiors.
The car typically used a Bristol BS1 Mark II engine, but occasionally cars were fitted with American V8s. With a trio of Solex carburetors, the Bristol engine could offer 130hp at 6,000rpm. This essentially was a copy of the BMW 328 engine which was studied by the British after the war.
For serious racing efforts, the Bertone bodies were crafted from aluminum. Such cars were raced by Arnolt himself including a class win at Watkins Glen. A team of three factory cars entered the 1955 Sebring 12 hours, finishing first, second and fourth in class to win the team trophy. The following year they attempted the same feat, but lost behind Porfirio Rubirosa's Ferrari 500 Mondial.
Throughout production Arnolt was happy to conform to customer demands and many cars came in a 'Delux' form with a fully trimmed interior and windscreen.
In Detail
| | |
| --- | --- |
| submitted by | Richard Owen |
| type | Racing Car |
| engine | Bristol BS1 Mark II Inline-6 |
| position | Front, Longitudinal |
| aspiration | Natural |
| fuel feed | 3 Solex Carburetors |
| displacement | 1971 cc / 120.28 in³ |
| compression | 9.0:1 |
| body / frame | Aluminum or Steel body over Steel Tube Frame |
| driven wheels | RWD |
| front brakes | Alfin Drums |
| rear brakes | Alfin Drums |
| f suspension | Double Wishbones w/Transverse Leaf Spring |
| r suspension | Live Axle |
| curb weight | 908 kg / 2000 lbs |
| wheelbase | 2438.4 mm / 96 in |
| transmission | 4-Speed Manual |
| top speed | ~176.99 kph / 110 mph |
| key drivers | Stanley Harold 'Wacky' Arnolt |
| class victories | 1955 Sebring 12 hour |
Chassis & Sales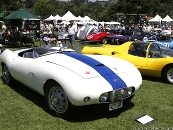 404/X/3086-This car was first shown at the 1954 Paris Motor Show and was equipped with special options like Boranni center-lock wheels, adjustable torsion bars and a Nardi adjustable steering wheel. It was first sold to an American in Europe and later shipped to Massachusetts.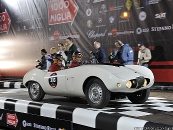 404/X/3009-1954 Arnolt Bristol Bolide Competition. Ordered as S.H.Arnolt's personal race car. It was used at several Eastern American events including the 1955 Sebring 12 Hours were S.H.Arnolt & Bob Goldich finished 2nd overall. 3009 was raced activity until 1956 and according to Eric Brumeni this car is the only surviving team car of the original three that raced Sebring.
1956 Arnolt-Bristol Deluxe Roadster by Bertone 404/X/3108 – sold for $484,000 Offered from the estate of Donald C. Mann. One of 142 built and fewer than 75 known survivors. Reportedly personally driven by S.H. "Wacky" Arnolt. Veteran of the Colorado Grand, the California Mille, and the Pebble Beach Motoring Classic. Eligible for numerous vintage events, including the Mille Miglia.
Auction Source: 2015 Amelia Island by RM Sotheby's