1956 Chevrolet Corvette SR
In 1956, Chevrolet took desperate measures and saved the model's future by presenting an armada of motorsports variants in 1956. None of these was more successful than the SR prototype which placed 9th overall at the 12 Hours of Sebring and has since been credited with saving the model's outright demise.
Advertised as The Real McCoy, the Corvette SR was a hurried attempt by race driver and team manager John Fitch to ready to the Corvettes for their first endurance test under the Raceway Enterprises banner. This meant developing new Regular Production Orders to include features such as brake cooling ducts and twin fan belts to comply with production regulations.
Of the four cars prepared this way for the 12 Hour endurance race, #1 was prepared as a Sports 8000 or B-Production car and fitted with whatever Zora Arkus Duntov and John Fitch could come up with. As a result, #1 was fitted with the Duntov cam, twin 4-barrel Carter carburetors and the overall capacity was bored out to 307 cubic inches. Attached to this was a 4-speed ZF gearbox.
All the cars carried different color night time identification lamps on their left hand fender, small plexiglass wind screens, Guide Y50 mirrors, extra lighting, leather hood straps, a tonneau cover with compartment divider, deleted heaters and SR features such as brake cooling ducts.
Drivers John Fitch and Walt Hansgen drove #1 to 9th overall and first in the Sports 8000 class against the Kurtis-Lincoln 500K of Ray Crawford which did not race. Of the remaining Sports 5000 standard Sebring Racers (SR), the #6 car of Max Goldman and Ray Crawford placed 15th overall and 6th in class behind the Ferrari 860 Monzas and Jaguar D-Types.
Other than the four cars built by Raceway Enterprises for Sebring, additional road cars were built with the trademark SR features in anticipation of RPOs that were never offered.
In Detail
| | |
| --- | --- |
| type | Racing Car |
| built at | St. Louis, Missouri, USA |
| body stylist | Carl Renner |
| interior designer | Joe Schemansky |
| production | 3167 |
| engine | V8 |
| position | Front, Longitudinal |
| aspiration | Natural |
| displacement | 5031 cc / 307 in³ |
Auction Sales History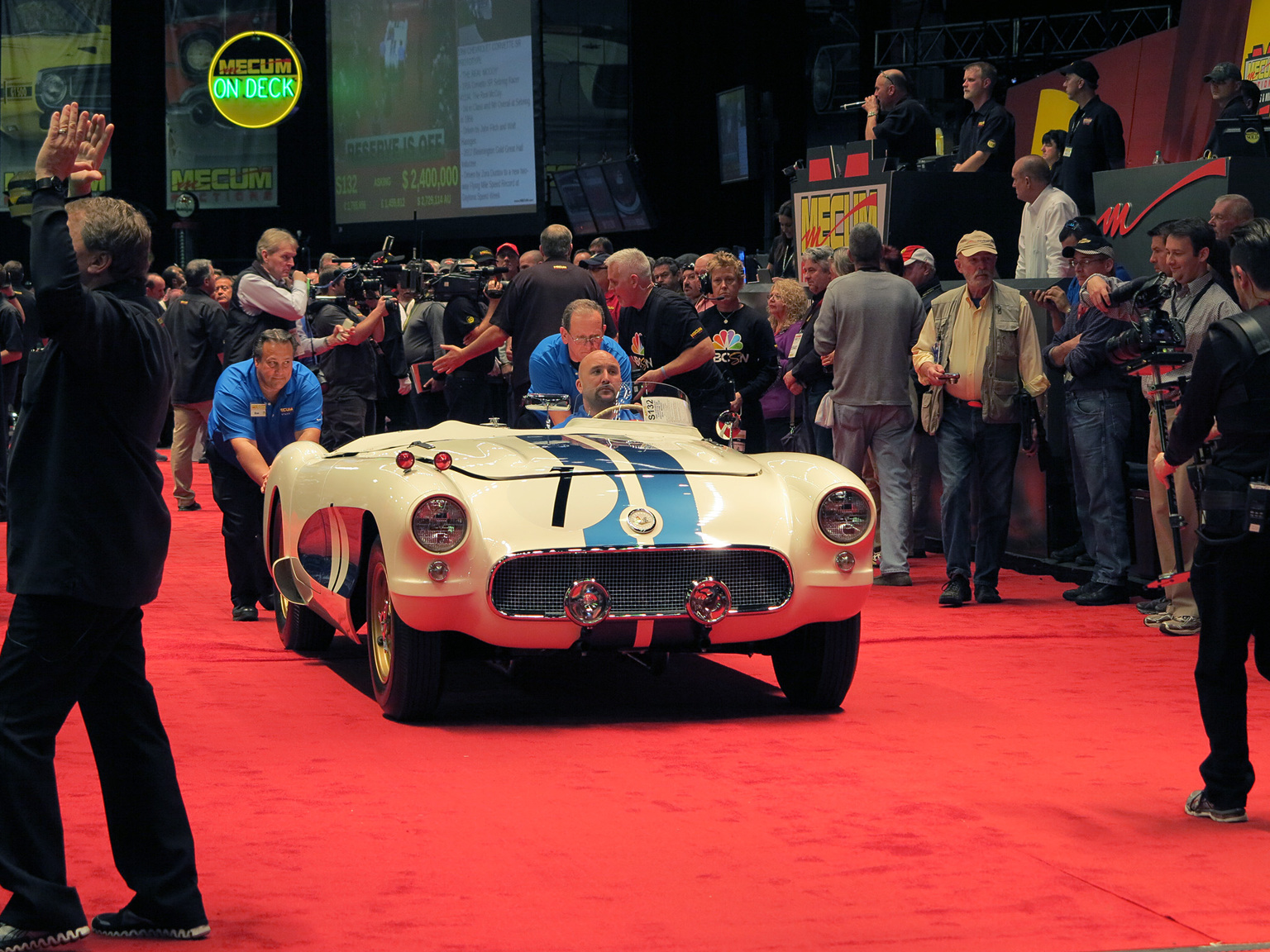 1956 Chevrolet Corvette SR Prototype VE55S001194 –
1956 Corvette SR Sebring Racer #1194, The Real McCoy. 1st in Class and 9th Overall at Sebring in 1956. Driven by John Fitch and Walt Hansgen. 2012 Bloomington Gold Great Hall Inductee. Driven by Zora Duntov to a new two-way Flying mile Speed Record at Daytona Speed Week. Touted in Chevrolet's advertising campaign after Sebring as The Real McCoy. Known as the car that saved the Corvette brand. Dual Quad 307 CI engine developed by Duntov for racing.
Auction Source: Kissimmee 2014, #WhereTheCarsAre by Mecum