1956 Chevrolet Corvette
1956 meant some drastic changes for the Corvette including a new body with protruding fenders and large cutouts behind the front wheels. It also had many changes to the chassis and drive train which improved out right performance. One of the most distinguished features of the '56 was the two-tone paint which could be ordered for $19.40 and painted the cutouts behind the front wheels.
Many features such as a better folding top, roll-up windows, an optional hardtop and external door hinges improved usability of the car. One very rare option was power windows. Joe Schemansky modified the interior only slightly to include a new 3-spoke steering wheel and waffle-pattern inserts in the seats.
Introduced only a year earlier, the small-block V8 engine was retained, but a new RPO449 option raised power up to 240 bhp.
Zora Duntov explained in Auto Age that "The target was to attain such handling characteristics that the driver of some ability could get really high performance safely. The main objects of suspension changes were: increase of high speed stability, consistency in response to the steering wheel over a wide range of lateral accelerations and speeds, and improvement of power transmission on turns" What he did was place shims in the front cross member to increase caster by 2º and raised the rear spring hangers.
Carl Renner was responsible for the styling changes to the Corvette which included many features from his LaSalle II Motorama show car including the cutouts behind the front wheels.
The Corvettes first major victory came at the the 1956 Sebring 12 Hours when John Fitch and Walter Hangsen drove their Corvette to 9th overall and first in class.
Despite being fairly competitive, the Corvette was a good match for the Mercedes 300SL in American racing. Dick Thompson raced a Corvette in 1956 and won the C-Production class. He nearly won the last running of the Pebble Beach National Road Races but lost due to his fading brakes. He said "The car ran very well and I led the race at Pebble until the brakes evaporated. The Corvette brakes were absolutely terrible and they continued to be for a long time." Thompson describes his win at Palm Springs: "On the last lap the brakes went out completely and I drove the final lap of that race with no brakes"
See full 1956 Chevrolet Corvette Gallery
Sources & Further Reading.
1.Friedman Dave. Corvette Racing Thunder. Gullstrand Motor Productions: 2003.
Story by Richard Owen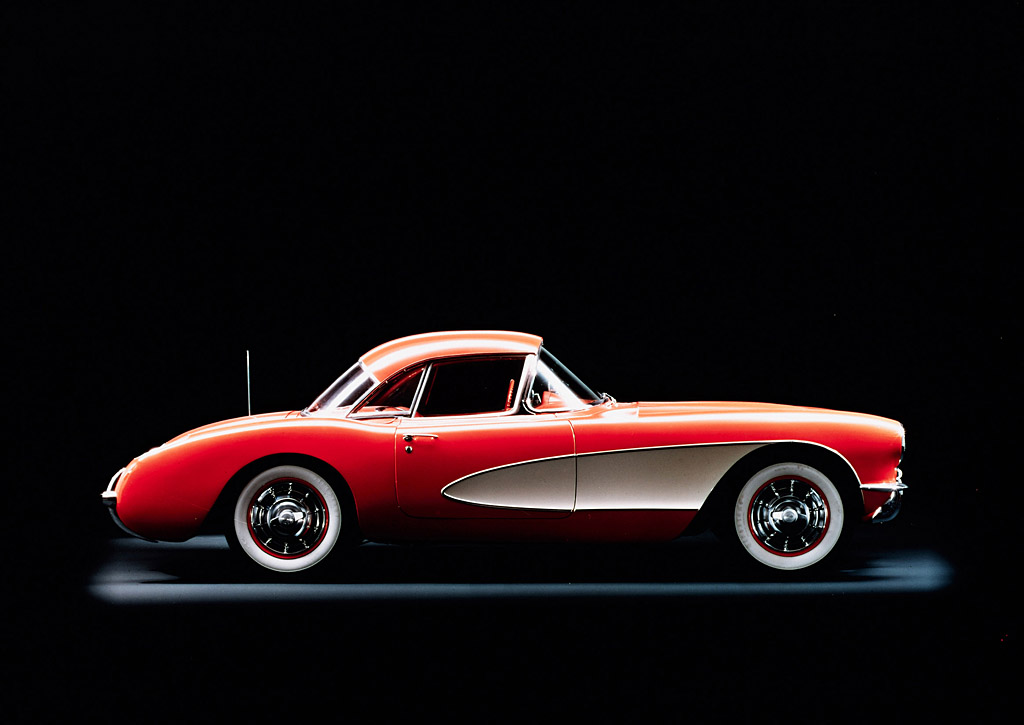 1956 Chevrolet Corvette. W56HV_CH002
In Detail
| | |
| --- | --- |
| type | Series Production Car |
| built at | St. Louis, Missouri, USA |
| body stylist | Carl Renner |
| interior designer | Joe Schemansky |
| production | 3167 |
Auction Sales History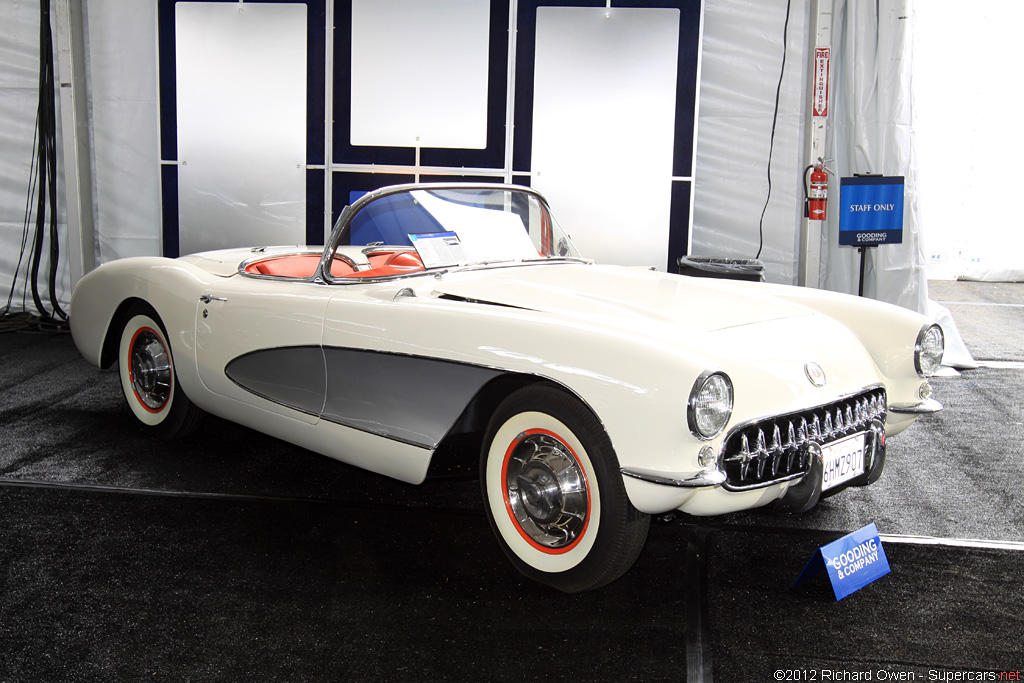 1956 Chevrolet Corvette – sold for $74,250
Believed to have been sold new in Arizona, this Polo White Corvette features optional silver metallic coves and a proper red vinyl interior. The Corvette received a restoration to a high standard in the mid-1990s and its drivetrain is thought to be original to the car. The engine compartment appears neat and tidy, and correct in detail; its steel valve covers and single four-barrel carburetor lend a refreshingly unmodified look. Auction Source: 2012 Pebble Beach Auctions by Gooding & Company