1957 Ford Thunderbird D/F-Code Phase I
For the 1957 Daytona Speed Weeks, Ford prepared an amarda of special cars including 15 supercharged versions of the Thunderbird. That weekend Harold Mauck ran 138.755 mph for the Two-Way Flying Mile and Ford subsequently put the F-Code supercharged Thunderbird into production.
The D/F-Code was part of a Ford Motor Company Supercharger Program to homologate Ford's superchargers into NASCAR. As part of 100 supercharged cars, they made 15 Thunderbirds. These had their radio, heater, clock and lighter deleted as well as black tires, no fender skirts and small hubcaps.
All 15 cars were built on January 25, 1957 using a single carburetor engine, McCulloch VR57 Phase 1 supercharger and a heavy duty three-speed manual transmission.
Later that year, Ford offered the F-Code Thunderbird which used the same Paxton-McCulloch VR57 supercharger, supercharger but with the full array of options.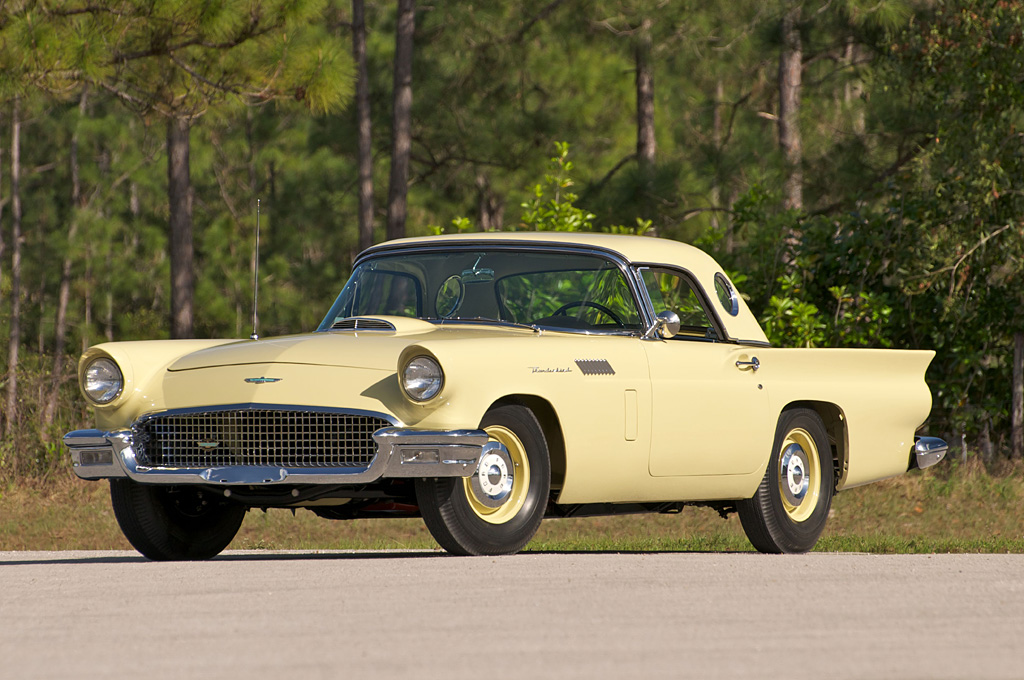 In Detail
| | |
| --- | --- |
| submitted by | Richard Owen |
| type | Racing Car |
| released at | 1957 Daytona Speed Weeks |
| built at | Dearborn, USA |
| production | 15 |
| engine | P-Code 90º V8 |
| position | Front, Longitudinal |
| aspiration | Paxton-McCulloch VR57 Supercharger |
| block material | Cast Iron |
| valvetrain | Pushrod OHV, 2 Valves per Cyl |
| fuel feed | 4-Choke Carburetor |
| displacement | 5113 cc / 312 in³ |
| bore | 96.5 mm / 3.8 in |
| stroke | 87.4 mm / 3.44 in |
| power | 223.7 kw / 300 bhp @ 4500 rpm |
| specific output | 58.67 bhp per litre |
| bhp/weight | 200.0 bhp per tonne |
| torque | -1.0 nm / -1.0 ft lbs @ 2300 rpm |
| body / frame | Steel Body over Steel Chassis |
| driven wheels | RWD |
| steering | Worm & Roller |
| curb weight | 1500 kg / 3308 lbs |
| wheelbase | 2591 mm / 102.0 in |
| length | 4453 mm / 175.3 in |
| width | 1829 mm / 72 in |
| height | 1321 mm / 52 in |
| transmission | 3-Speed Manual |
| top speed | ~185.1 kph / 115 mph |
| 0 – 1/4 mile | ~17.0 seconds |
Auction Sales History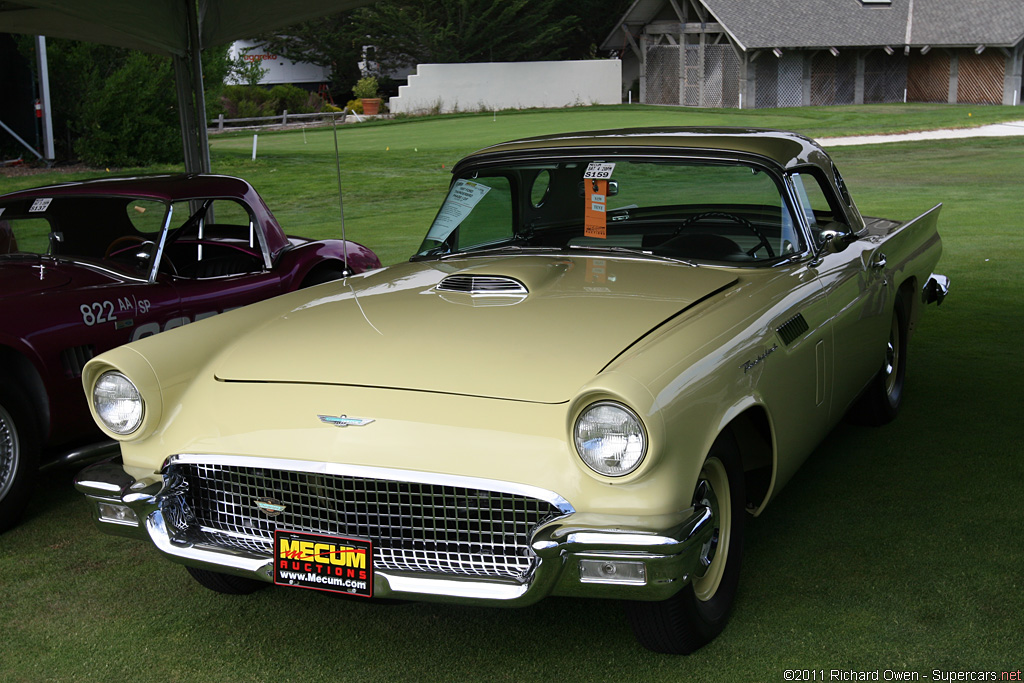 1957 Ford Thunderbird Phase I D/F – sold for $250,000. 1 of only 15 Thunderbirds hand built for racing. Only 8 known to exist. Ownership chain is known and documented. Drag raced by original owner, Dewey "Gilley" Gilleland. Restored by CTCI Authenticity Chairman, Gil Baumgartner. First Thunderbird to receive perfect score in CTCI judging. Shown at Amelia Island, Meadowbrook and Palm beach Concours. Only Phase I D/F Thunderbird with overdrive. Only Phase I D/F Thunderbird in the color, Inca Gold. Most complete documentation of all Phase I D/F Thunderbirds. Much rarer then the "F" birds. The Phase I D/F Thunderbirds were built 5 months before the "F" bird production.  Auction Source: 2011 Monterey Daytime Auction by Mecum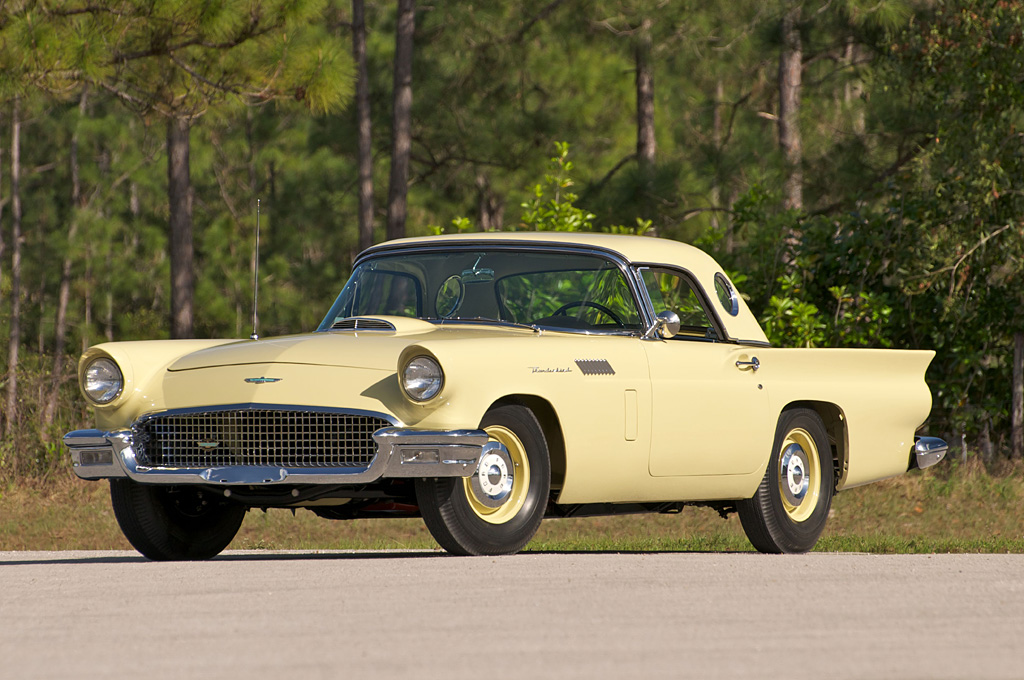 Thunderbird Phase I D/F 312/300 HP, 3-Speed – sold for $260,000. 1 of only 15 Thunderbirds hand built for racing. Only 8 known to exist. Ownership chain is known and documented. Drag raced by original owner, Dewey "Gilley" Gilleland. Restored by CTCI Authenticity Chairman, Gil Baumgartner. First Thunderbird to receive perfect score in CTCI judging. Shown at Amelia Island, Meadowbrook and Palm beach Concours. Only Phase I D/F Thunderbird with overdrive. Only Phase I D/F Thunderbird in the color, Inca Gold. Most complete documentation of all Phase I D/F Thunderbirds. Auction Source: 2011 Mecum Indy Spring Classic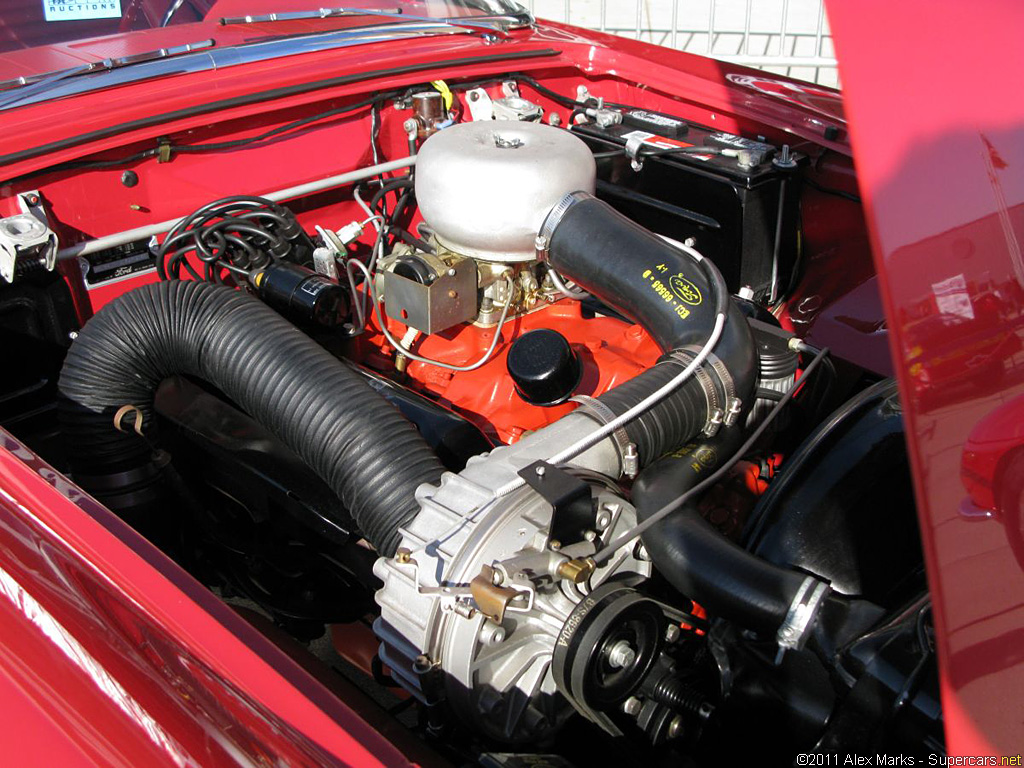 1957 Ford Thunderbird Df Phase 1 – sold for $250,000 Last of 15 cars specially built. Built by Ford to participate 1957 Daytona Speedweek for flying mile. Original build sheet paperwork. Possibly the best Phase 1 in existence. Finished in striking Torch Red with a Red interior, Black top and Red steel wheels with center caps, the car is in impeccable condition and comes with documentation that includes the all-important original build sheet and paperwork. Auction Source: 2011 Mecum Kissimmee, FL Auction