1957 Jaguar XK-SS
The XK-SS is the limited edition road going version of the D-Type. Most changes on the car were made for comfort and safety purposes. The XK-SS includes a new larger windscreen, a folding soft top, a passenger side door, luggage grid & extra luxury trim.
Following Jaguar's withdrawal from competition at the end of the 1956 season, a number of completed and partially completed D-types remained unsold at the Browns Lane factory. In an attempt to recoup some of the investment made in building these unused chassis, and to exploit the lucrative American market for high-performance European sports cars, Sir William Lyons decided to convert a number road-going specification. Only minor changes were made to the basic D-type structure: the addition of a passenger side door, the removal of the large fin behind the driver's seat, and the removal of the divider between passenger and driver seats. In addition, changes were made for cosmetic, comfort and legal reasons: a full-width, chrome-surrounded windscreen was added; sidescreens were added to both driver and passenger doors; a rudimentary, folding, fabric roof was added for weather protection; chromed bumpers were added front and rear (a styling cue later used on the E-type); XK140 rear light clusters mounted higher on the wings; and thin chrome strips added to the edge of the front light fairings.
On the evening of 12 February 1957, a fire broke out at the Browns Lane plant destroying nine of the twenty-five cars that had already been completed or were semi-completed. Most of the surviving 16 XKSS were sold in the USA.
1957 Jaguar XK-SS Gallery
Auction Sales History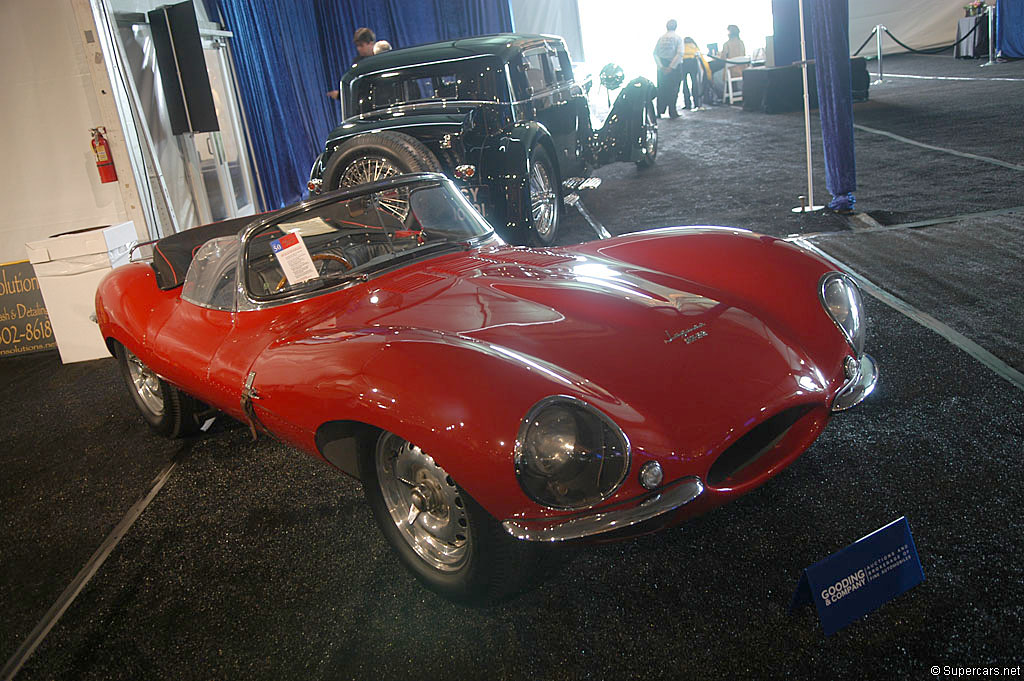 1957 Jaguar XK-SS Roadster XKD563 – sold for $1,925,000 24850 miles. Completely restored and driven. Campaigned by Dick Thompson and David Causey in SCCA races from 1958 to 1959.
Auction Source: 2005 Monterey Events
In Detail
| | |
| --- | --- |
| | |
| type | Series Production Car |
| built at | England |
| price $ | $ 6,900 |
| engine | Inline-6 |
| valvetrain | DOHC |
| displacement | 3442 cc / 210.0 in³ |
| bore | 83.06 mm / 3.27 in |
| stroke | 105.9 mm / 4.17 in |
| compression | 9.0:1 |
| power | 193.9 kw / 260.0 bhp @ 6000 rpm |
| specific output | 75.54 bhp per litre |
| bhp/weight | 256.92 bhp per tonne |
| torque | 352.5 nm / 260.0 ft lbs @ 4000 rpm |
| driven wheels | Front Engine / RWD |
| front brakes | Dunlop Discs |
| rear brakes | Dunlop Discs |
| front wheels | F 40.6 x 14.0 cm / 16.0 x 5.5 in |
| rear wheels | R 40.6 x 16.5 cm / 16.0 x 6.5 in |
| steering | Rack & Pinion |
| curb weight | 1012 kg / 2231 lbs |
| wheelbase | 2301 mm / 90.6 in |
| front track | 1270 mm / 50.0 in |
| rear track | 1219 mm / 48.0 in |
| length | 3988 mm / 157.0 in |
| transmission | 4-Speed Manual |
| top speed | ~239.8 kph / 149.0 mph |
| 0 – 60 mph | ~5.2 seconds |
| 0 – 100 mph | ~13.6 seconds |
| 0 – 1/4 mile | ~14.1 seconds |