1960 Fiat Abarth 1000 Bialbero
With the introduction of the Abarth twin cam 982cc engine came the 1000 Biabero. It used many of the same design principles from the 750 Record Monza and 700 Biabero models which were produced in earlier years. These were specially built race cars that employed Fiat components and were tuned for motor sports.
The car's engine was a derivative of same found in the Fiat 600, but with an enlarged bore and stoke. Added to this was a special DOHC cylinder head that used hemispherical combustion chambers and an increased compression ratio. Along with an improved intake and exhaust the 1000 Biabero could produce 91 bhp – nearly 100 bhp per liter.
A smaller version of this engine was used to power a Pininfarina bodied prototype that beat many records and averaged 190 kph over two days. During the celebrations for this achievement, the Biabero was launched and emphasis on engine reliability was made.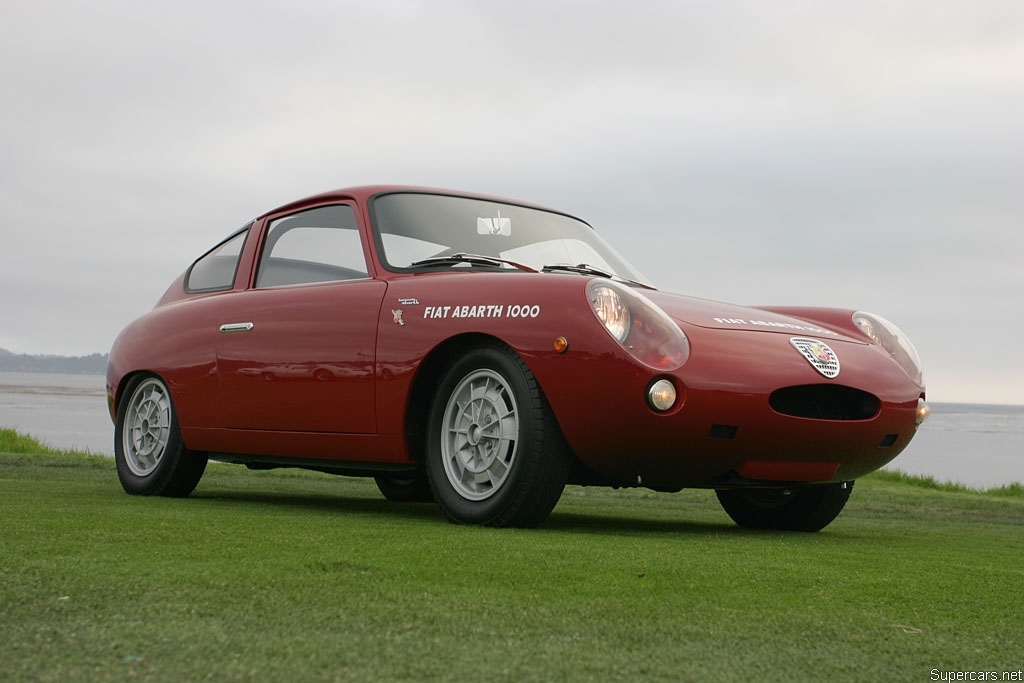 The new car had numerous styling changes executed by Sibona & Basono but most of the shape came from the earlier 1959 Record Monza cars which were bodied by Zagato.
The 1000 Biabero first publicly appeared at the 1961 Turin Motor Show where its price of 'LIT2.600.00' was announced. It was built alongside the 700 Biabero which shared the same chassis and engine design. The main difference between the two, aside from engine size, was the use of disc brakes on the 1000.
1961 was a successful season for the 700/1000 coupes and the latter did particularly well in the 1000cc class which it won almost every time out. By September, a front mounted radiator was installed and a small cutout was made for it around the front badge. Also in September, Abarth offered a road-going version called the 1000 Monomille that featured a detuned single cam engine and split chrome bumper bars.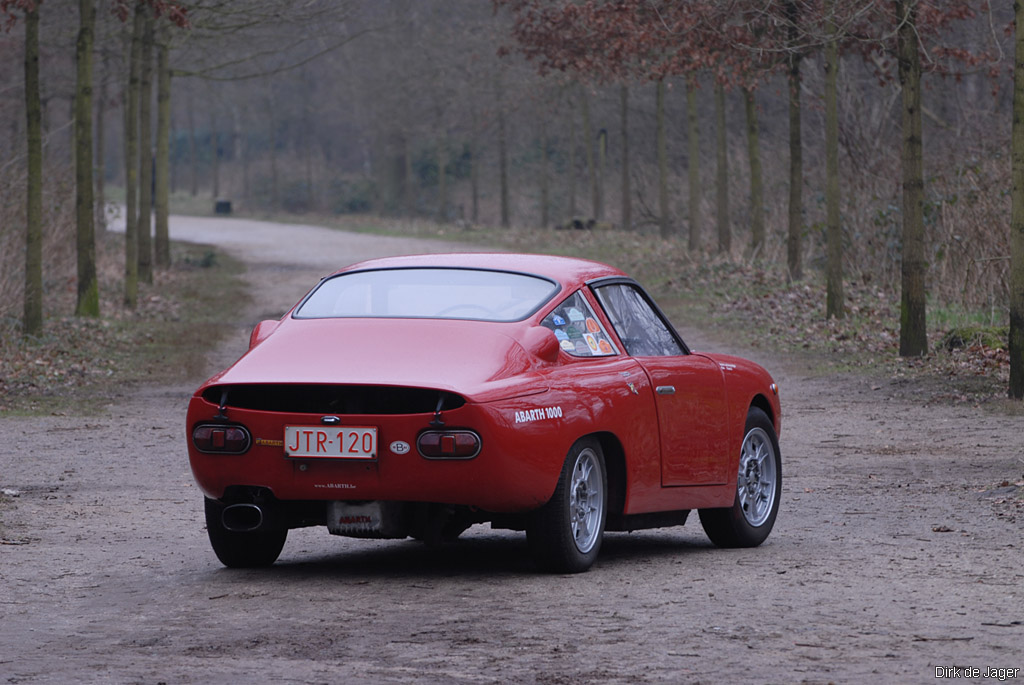 In 1962, 1000 Biabero production continued alongside a new Simca-powered model called the 1300 GT which would eventually overshadow it. One of the highlight victories that year came at the 500 kms of the Nurburgring where 14 Abarths were entered and won the event outright. This gave Abarth the 1962 Manufacturers Championship title for Division 1 (up to 1000cc cars). For the rest of the year, Biaberos often won sub-class victories and dominated the Italian Championship sub-classes.
The success of the Biabero in 1962 motivated Abarth to improve the model for 1963. Most of the changes were made to the shape of the body which was extended at the engine hood to improve stability. Along with a new five speed transmission, top speed was now 210 kph. These improvements helped Abarth again secure the Division 1 championship.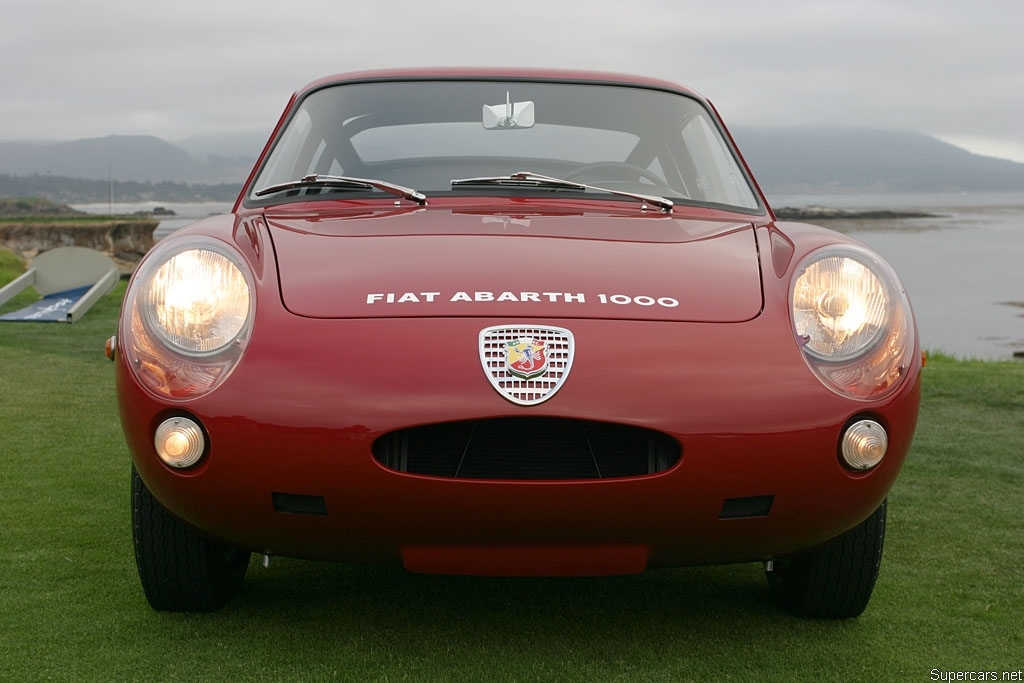 Before the end of 1963, a long nose variant was introduced with a new body from Sibona & Bassano. It featured a fiberglass, front-opening hood that replaced the fixed aluminum unit. This feature was standard in 1964, with a slight power increase to 104 bhp @ 8000 rpm and a top speed of 220 kph. Although the model was updated, focus shifted in 1964 to the larger displacement cars, especially after Division 1 was increased to 1300cc.
Bibliography and Further Reading
Braden, Pat & Schmidt, Greg. Abarth Fiat Simca Porsche Street Race Record, Osprey, United Kingdom: 1983.
Cosentino, Alfred. Abarth Guide, Nigensha Publishing, Japan: 1984.
Greggio, Luciano. Abarth, the man, the machines, Giorgio Nada Editoire, Italy: 2002.
In Detail
| | |
| --- | --- |
| | |
| type | Racing Car |
| built at | Turin, Italy |
| engine | Inline-4 |
| position | Rear Longitudinal |
| aspiration | Natural |
| valvetrain | DOHC, 2 Valves per Cyl |
| fuel feed | 2 Twin Choke, Weber 36DCL Carburettors |
| displacement | 982 cc / 59.9 in³ |
| bore | 65 mm / 2.56 in |
| stroke | 74 mm / 2.91 in |
| compression | 9.3:1 |
| power | 67.9 kw / 91 bhp @ 7000 rpm |
| specific output | 92.67 bhp per litre |
| bhp/weight | 159.65 bhp per tonne |
| body / frame | Aluminum over Boxed Sheet Steel Chassis |
| driven wheels | RWD |
| front tires | 135×13 |
| rear tires | 135×13 |
| front brakes | Discs |
| rear brakes | Drums |
| steering | Worm & Sector |
| f suspension | Independant w/Upper Trailing Arms, Transverse Leaf Springs, Hydrualic Dampers |
| r suspension | Independant w/Upper Trailing Arms, Coil Springs, Hydrualic Dampers |
| curb weight | 570 kg / 1257 lbs |
| wheelbase | 2000 mm / 78.7 in |
| front track | 1150 mm / 45.3 in |
| rear track | 1160 mm / 45.7 in |
| length | 3470 mm / 136.6 in |
| width | 1350 mm / 53.1 in |
| height | 1140 mm / 44.9 in |
| top speed | ~205 kph / 127.4 mph |
Auction Sales History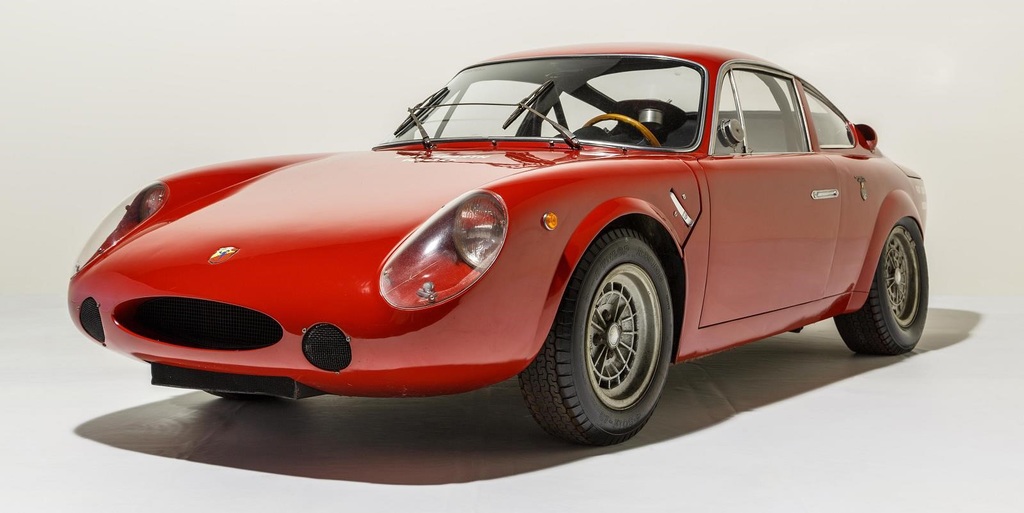 1964 FIAT-Abarth 1000 Bialbero Long-Nose 1290286 – sold for €161,000 This beautiful little competition coupe formed part of the famed Maranello Rosso Collection. It has been for many years on long term museum display so will require re-commissioning to a greater or lesser extent. Auction Source: 2015 Les Grandes Marques du Monde au Grand Palais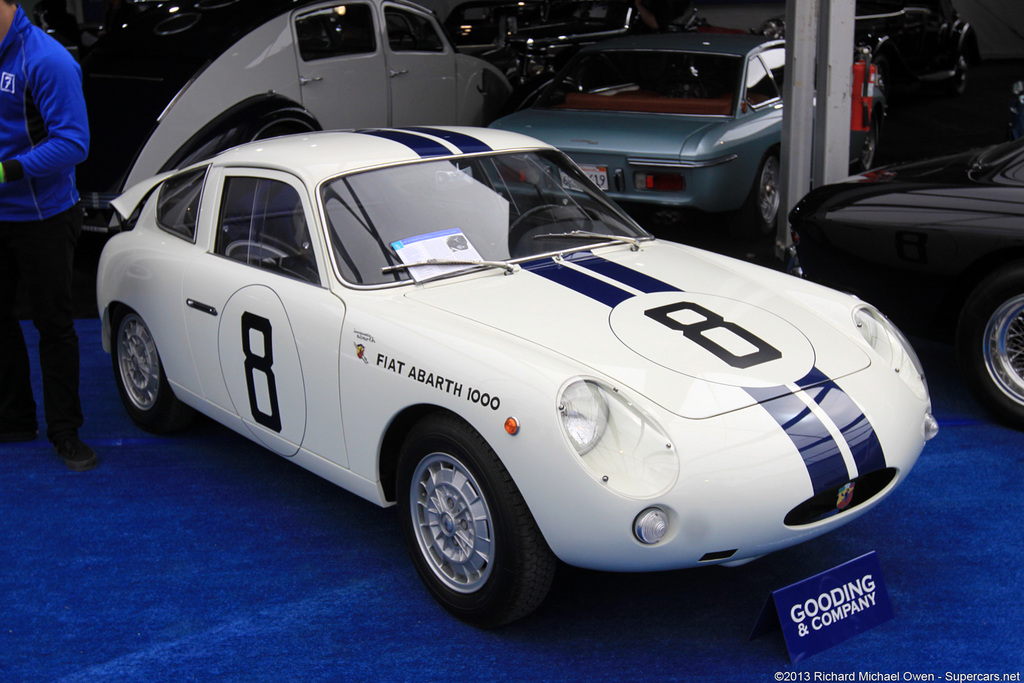 1961 Fiat-Abarth 1000 Bialbero GT Competition Coupe 1128948 – sold for $302,500. Winner, 1962 Sebring 3-Hour Race for Cars Under 1.0 Liter. Star Period Drivers Include Bruce McLaren and Walt Hansgen. 2nd in Class and 4th Overall at the 1962 Bridgehampton 400 KM. Part of Abarth's First Manufacturer's Championship-Winning Season. Expert Concours-Level Restoration by Nino Epifani of Berkeley, California. Best in Class Winner, 2002 Pebble Beach Concours d'Elegance. Handsomely and Correctly Presented and Highly Charismatic. A True "Giant-Killer" in the Finest Abarth Tradition. Auction Source: Gooding & Company's 10th Anniversary 2013 Pebble Beach Auction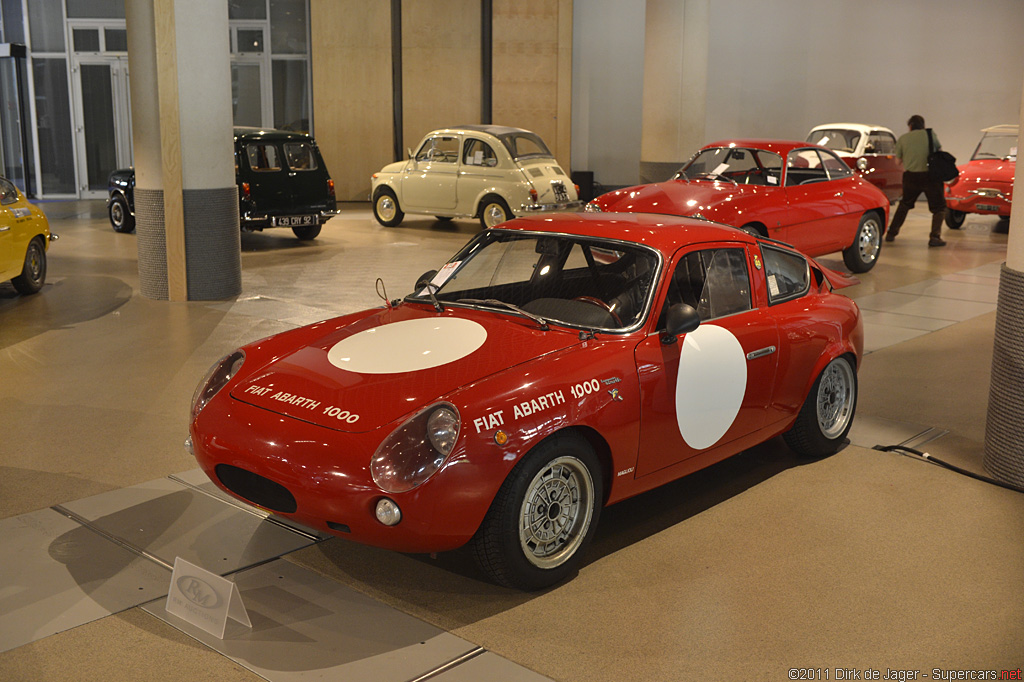 1963 Fiat Abarth 1000 Coupé Bialbero 129/0555 – did not sell for €110,000. Finished in red with the traditional lightweight Abarth interior and dominated by a central Jaeger mechanical rev counter, chassis 129/0555 was delivered to Italy, registered to its first owner in the Vicenza area and has remained in Italy ever since.
It was acquired by the current owner in 1983 from Giuseppe Ceccon, in Venice, Italy, who in turn had purchased the car from Danilo Calmonte, a well-known Italian event organiser. In 1984, the current owner applied for and received FIA papers for the car, and he subsequently entered a historic race at the Autodromo di Monza, where so many of these cars raced in the 1960s. After the race, he commissioned a full engine rebuild by Abarth specialist Aldo Zannone of Biella, Italy.
The car has remained within the vendor's collection ever since and has only seen limited use, making chassis 129/0555 mechanically fresh with virtually no miles on the engine since it was rebuilt. Still retaining its original Italian number plates and finished in red with white roundels, this car now comes to market for the first time in over 25 years of ownership and is now offered complete with Italian ASI certification and the aforementioned FIA papers. Auction Source: Monaco 2012 by RM Auctions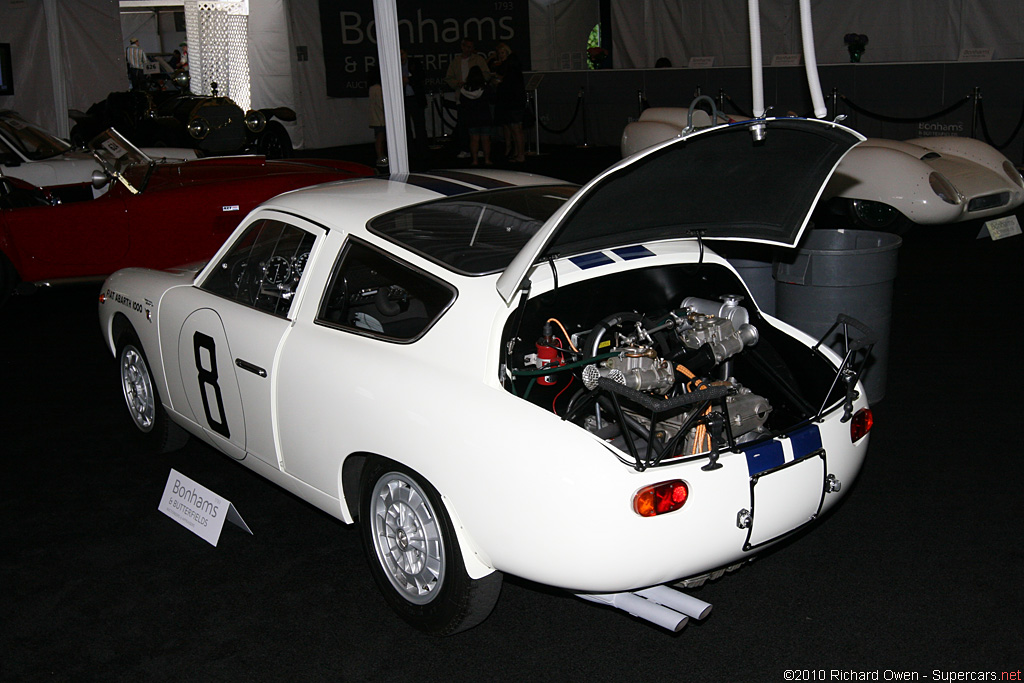 1961 Fiat Abarth 1000 Bialbero GT 1128948 – sold for $337,000. The Ex-Bruce McLaren Briggs Cunningham Team Sebring 3-Hours winning. This exquisitely well presented and historically important Fiat-Abarth Bialbero ('Twin camshaft') is the car in which the legendary New Zealand racing driver, Bruce McLaren, won the 1961 Sebring 3-Hours race for up-to-1-liter Grand Touring cars. The car was prepared and entered for the race by Briggs Cunningham's iconic American racing team. It is one of three sister Fiat-Abarth Bialberos delivered to the Cunningham Team in February 1962.
Amongst all highly-desirable surviving Fiat-Abarths, chassis '1128948' offered here is surely one of the most important to have come to the public market in recent years. Its history of having been prepared in period by none other than Alfred Momo's Momo Corporation, of having been entered at Sebring and Bridgehampton by the charismatic Briggs Cunningham team, of having been driven to victory in the Sebring 3-Hours by none other than Bruce McLaren, and to another fine World Championship points-scoring finish by that all-American road racing icon, Walt Hansgen, absolutely speak volumes about this beautiful little Coupe's historic quality. When a frequently-voiced collectors' mantra exhorts committed enthusiasts always to buy the best…here it is. Offered on a Certificate of Title. Auction Source: Bonhams 2010 Exceptional Motorcars and Automobilia
Story by Richard Owen for Supercars.net