1962 Ferrari 250 GT Bertone Coupé
Bertone was one of the few great Italian design houses that didn't establish any great relationship with Ferrari. Instead, Bertone focused on Alfa Romeo but a few distinct projects between Ferrari and Bertone did get finished.
3269GT is one of three custom Ferraris to receive bodywork by Bertone. It reflects Ferrari's F1 styling for the period and also uses design traits from the DB4 Bertone Jet.
Supposedly Nuccio Bertone couldn't drive a Ferrari with anyone else's coachwork and also couldn't resist marque's allure. At the time Pininfarina was doing the bulk of the 250GT bodies for Ferrari, so maybe this was Nuccio's distinct way of motivating a more serious relationship.
This show car was Nuccio Bertone's personal transportation; he ordered and paid for the chassis himself. When delivered, Ferrari wrote "your thoughts and words are the unmistakable signs of a man gripped by the same passion that has led me to where I am today"¹
Bertone who was not a stylist had Giorgetto Giugiaro pen the design for his Ferrari. Built under the supervision of Giacinto Capogna at Carozerria Bertone,¹ the result was stunning and debuted at the 1962 Turin Motor Show.
The car has undergone two restorations since new. During last paint job in 1996, the bodywork received a deep blue hue. Before then, the car was silver.
Ferrari 250 GT Bertone Coupé Gallery
See full 1962 Ferrari 250 GT Bertone Coupé Gallery here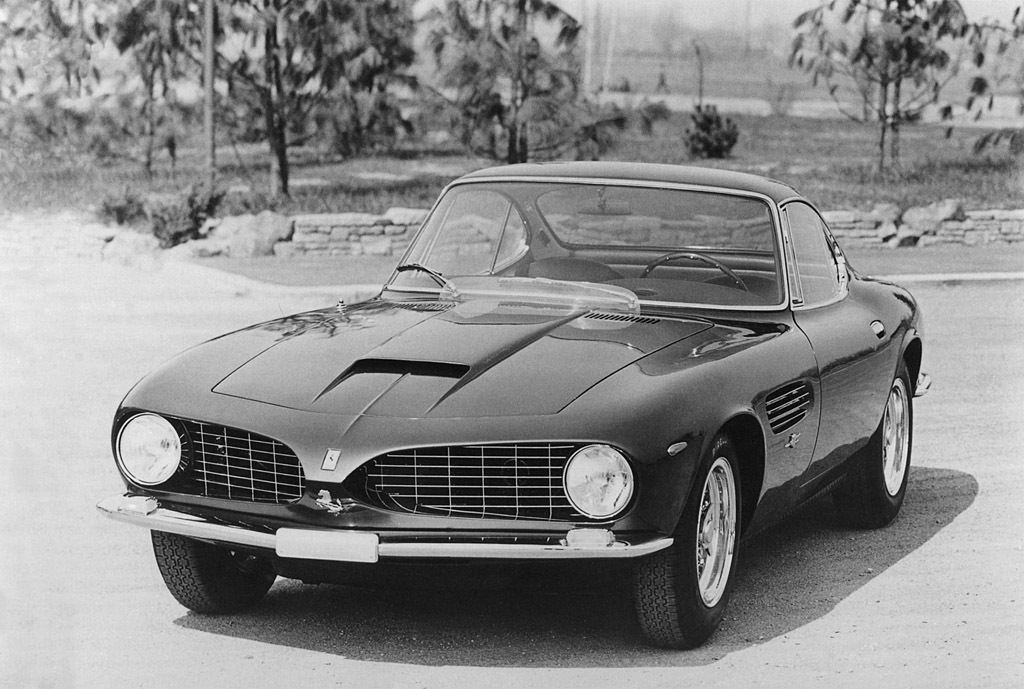 Sources & Further Reading
1. Anselmi, Angelo et. al. Making a Difference, Le Edizioni Dell Opificio: 2006.
Ferrari 250 GT Bertone Coupé Specs & Performance
| | |
| --- | --- |
| type | One Of |
| released at | 1962 Turin Motor Show |
| built at | Turin, Italy |
| body stylist | Giorgetto Giugiaro |
| coachbuilder | Carrozzeria Bertone |
| production | 1 |
| engine | Tipo 168 V12 |
| displacement | 2953 cc / 180.2 in³ |
| bore | 73 mm / 2.87 in |
| stroke | 58.8 mm / 2.31 in |
| compression | 9.2:1 |
| power | 164.1 kw / 220 bhp |
| specific output | 74.5 bhp per litre |
| redline | 7000 |
| front brakes | Dunlop Discs w/Power Assist |
| rear brakes | Dunlop Discs w/Power Assist |
| f suspension | Wishbones |
| r suspension | Live Axle w/Leaf Springs |
| transmission | 4-Speed Manual |
| top speed | ~225.3 kph / 140.0 mph |
Ferrari 250 GT Bertone Coupé  Auction Sales History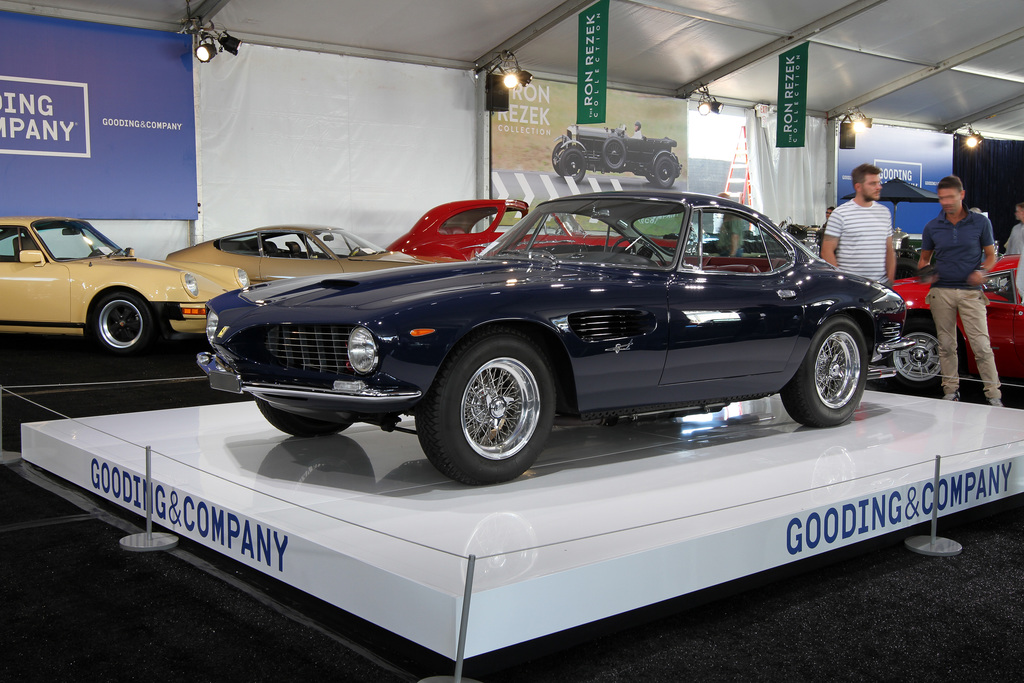 1962 Ferrari 250 GT SWB Berlinetta Speciale Bertone 3269 GT – sold for $16,500,000. One of the Most Beloved and Recognizable Coachbuilt Ferraris Giugiaro Design Inspired by Ferrari's Legendary Sharknose Racing Cars. Nuccio Bertone's Personal Car; Displayed at Geneva and Torino Auto Shows. The Centerpiece of the Lorenzo Zambrano Collection for Three Decades. Best of Show Winner at Leading International Concours. Complete with Books, Tools, Massini Report, and Ferrari Classiche Certification. Auction Source: The Pebble Beach Auctions 2015 by Gooding and Company