1962 Ferrari 250 GT 'Breadvan'
One of the few Ferraris known for its nickname is the Breadvan. This unsavory term was first used by the English press who where probably pessimistic about the car's uneasy features: a pointed nose, flat roofline and rear end that was very unlike any Ferrari. It was also a term that did little justice describe to one of fastest racecars from the early sixties.
Even today, chassis 2819GT is still referred to as the Breadvan. To see it is a rare, unusual and exciting sight. It is a one-of, and of all the modified Ferrari's, it has to be the most notorious.
The Breadvan was developed by ex-Ferrari personnel and raced by a team that was refused sale of the car they wanted most, the 250 GTO. At the time, Enzo Ferrari must have been particularly perturbed as he did not allow the car the race as a Ferrari, nor carry his badges.
The origins of the Breadvan began with the palace revolt that happened at the end of October, 1961. This dispute, between Enzo's wife and several key employees, forced many workers, including engineers Giotto Bizzarrini and Carlo Chiti, to find work elsewhere. So, they defected to Scuderia Serenissima, a race team run by Count Giovanni Volpi of Misurata also known as Scuderia SSS. After Enzo Ferrari found out, the team's 250 GTO order was canceled, and they were left to hunt used cars for the 1962 season.
See full 1962 Ferrari 250 GT 'Breadvan' Gallery here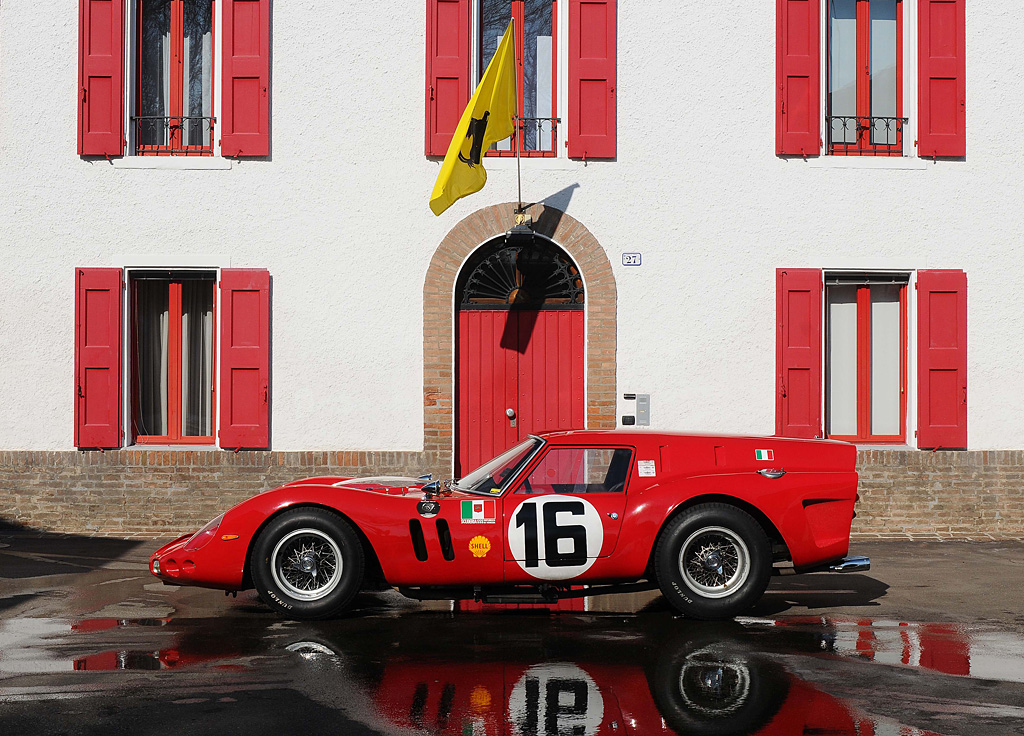 Not resting on their laurels, the Scuderia Serenissima team went out on a limb to create an even better version of Ferrari's 250 GTO. Bizzarrini & Chiti were the same engineers that created the original GTO, so they easily had the necessary talents to develop an even better one for Count Volpi.
Scuderia Serenissima started work upon chassis 2819GT, one of the few competition SWB 250s built to contest LeMans which was also the direct predecessor to the GTO. Bizzarrini then added all the features of the GTO that made it successful. This included dry sump lubrication, a lower, more centered engine position and a radical body that was executed by Piero Drogo's coachworks.
In some ways, Count Volpi got a car that was better than a GTO. At the 1962 LeMans, the Breadvan, with much smaller proportions, weighed 143 lbs lighter than the standard GTO. Despite the lack of five-speed gearbox, the reduced weight helped the Breadvan stay ahead of the GTOs at Le Mans, until it retired four hours into the race.
See full 1962 Ferrari 250 GT 'Breadvan' Gallery here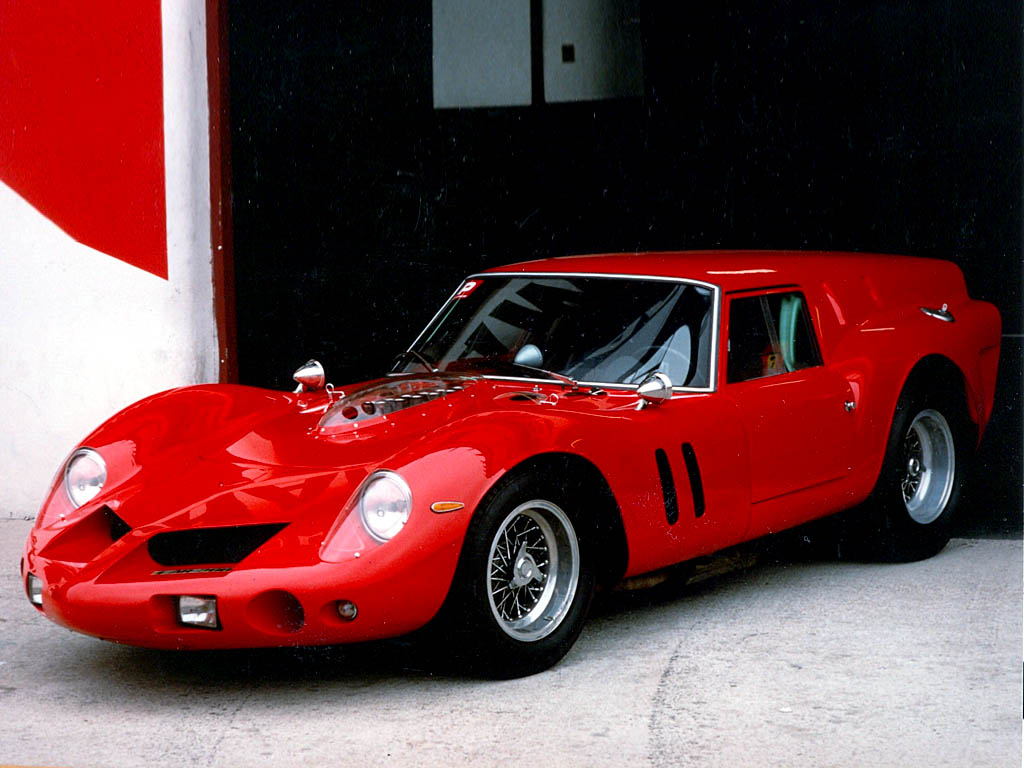 The Breadvan only raced four more times after LeMans, and managed a take class win at Brands Hatch in 1962. In later years, it was used as daily transport until maturing into a vintage racecar, used fairly regularly by Monte Shalett in the 1970s and John Harper in the 80s and 90s.
2819GT was auctioned by Chrisites at their Monterey Jet Center Auction in August of 2005 but was not sold with an estimate of $3,500,000 to $5,000,000. Later it was purchased Klaus Werner who had the car completely refurbished complete with a period-correct nose from Hietbrink Coachbuilding. IN April of 2010 Ferrari Classiche issued a notice of Attestation for vehicles that "do not comply with the strict Ferrari Authenticity Certification criteria, have been deemed, as a result of their competition and/or international recognized show history, to be of historic interest."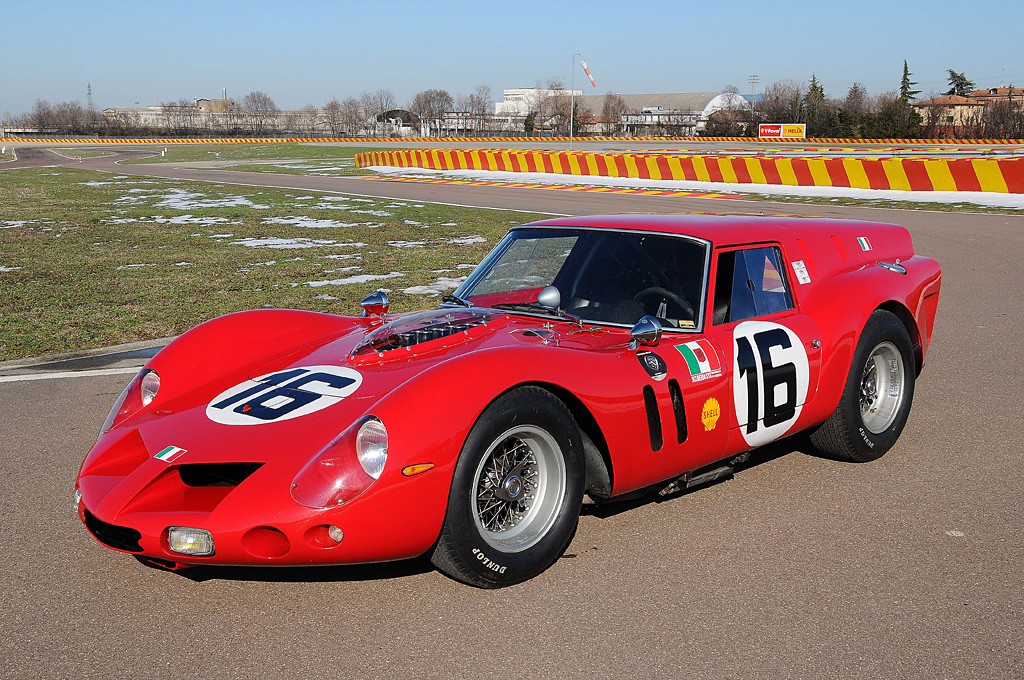 In Detail
| | |
| --- | --- |
| | |
| type | Racing Car |
| built at | Maranello, Italy |
| production | 1 |
| engine | V12 w/Dry Sump Lubrication |
| position | Front Longitudinal |
| aspiration | Natural |
| valvetrain | SOHC, 2 Valves per Cyl |
| fuel feed | 6-Twin Choke 38DCN Weber Carburettors |
| displacement | 2953 cc / 180.2 in³ |
| bore | 73 mm / 2.87 in |
| stroke | 58.8 mm / 2.31 in |
| compression | 9.5:1 |
| power | 217.7 kw / 292 bhp |
| specific output | 98.88 bhp per litre |
| bhp/weight | 312.3 bhp per tonne |
| body / frame | Aluminum over Steel Tube Frame |
| front tires | 185×15 |
| rear tires | 185×15 |
| front brakes | Discs |
| rear brakes | Discs |
| steering | Worm & Wheel |
| f suspension | Double Wishbones w/Coill Springs |
| r suspension | Live Axle w/Leaf Springs |
| curb weight | 935 kg / 2061 lbs |
| wheelbase | 2400 mm / 94.5 in |
| length | 4430 mm / 174.4 in |
| width | 1980 mm / 78.0 in |
| height | 1130 mm / 44.5 in |
| transmission | 4-Speed Manual |
| key drivers | Carlo Maria Abate, Colin Davis, Ludovico Scarfiotti |
| class victories | 1962 Guards Trophy, Brands Hatch |