1962 Ferrari 330 TRI/LM
As raced at LeMans, the 330 TRI/LM was the last in a long running and highly successful series of Ferrari Testa Rossas. In this regard, it was the most developed and benefited from all the versions which came before it. But, our feature car also has the distinction of being a unique prototype that won at LeMans. This is certainly one of the most important Ferraris.
In the early sixties, Ferrari won Lemans three consecutive years with front-engine Testa Rossas. The last of these victories marked the end of an important era for Ferrari and sports car racing. After their LeMans victory, piloting the final and definitive Testa Rossa, Phil Hill and Olivier Gendebien become the last winners of the event in a front engine car.
Hill and Gendebien's car was a unique version of the 250 Testa Rossa built on chassis #0808. This chassis started life in 1960 as a factory-run works car bearing chassis #0780 and ran the Targa Florio and LeMans. It was upgraded in 1961 with the twin nostril front end and kamm rear tail for another full season. Despite several crashes, it remained with the Factory team, and was constantly repaired and upgraded each season. For 1962, Ferrari modified the car so drastically, they issued a new chassis number for their one-of creation.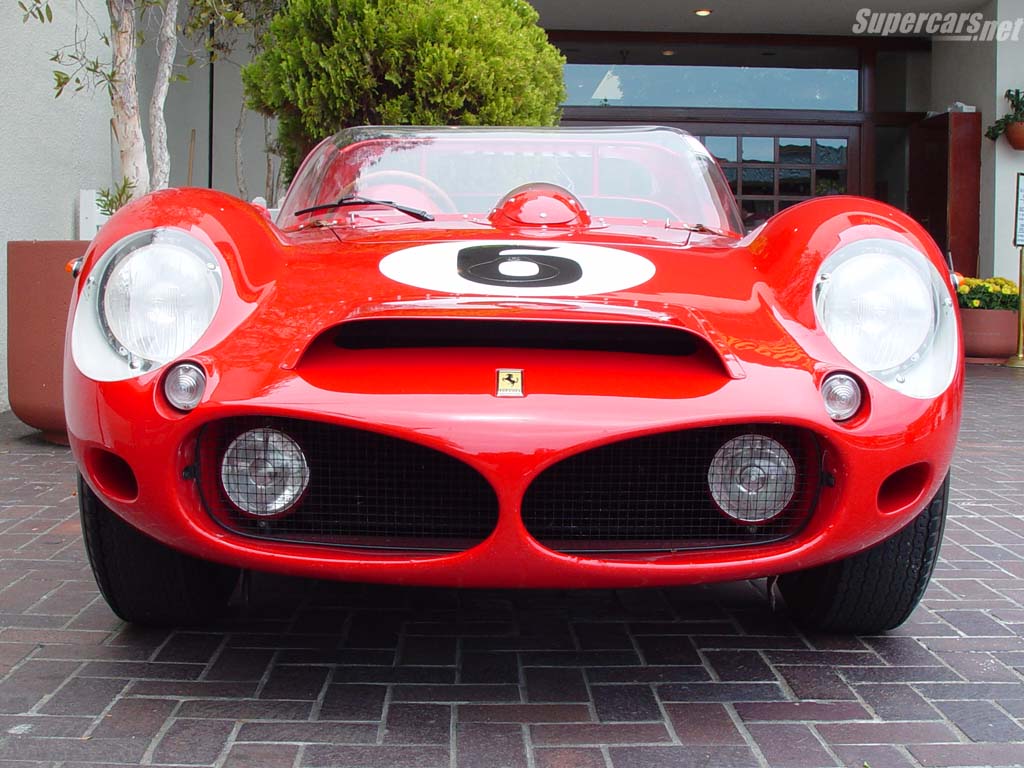 Built in response to LeMans' new four liter restriction, #0808 was lengthened to accept a much larger four liter engine borrowed from Ferrari's Superamerica range. This engine block was combined with Testa Rossa style cylinder heads which had six 2-barrel Weber 42DCN carburetors mounted to them. With such a specification, #0808 became the most powerful Testa Rossa, producing nearly 400 bhp (290 kw).
For LeMans, #0808 was entered in an experimental class which made their primary opposition a trio of Maserti Tipo 151s, one of Maserati's final front engine designs. When all the Maseratis dropped out by the half way point, the 330 had an obvious advantage and finished 42 miles ahead of the second place 250 GTO.
The win at LeMans was a rather obvious outcome as #0808 was made of tried and tested components that worked well with the limits of the experimental class regulations. Hill and Gendebien led for virtually the entire race to win their third Testa Rossa victory at LeMans in a row. A stunning record!
After the 1962 season, and their highlight victory at LeMans with #0808, Ferrari retired the Testa Rossa line which was replaced by the 250P, Ferrari's first prototype with a midship V12.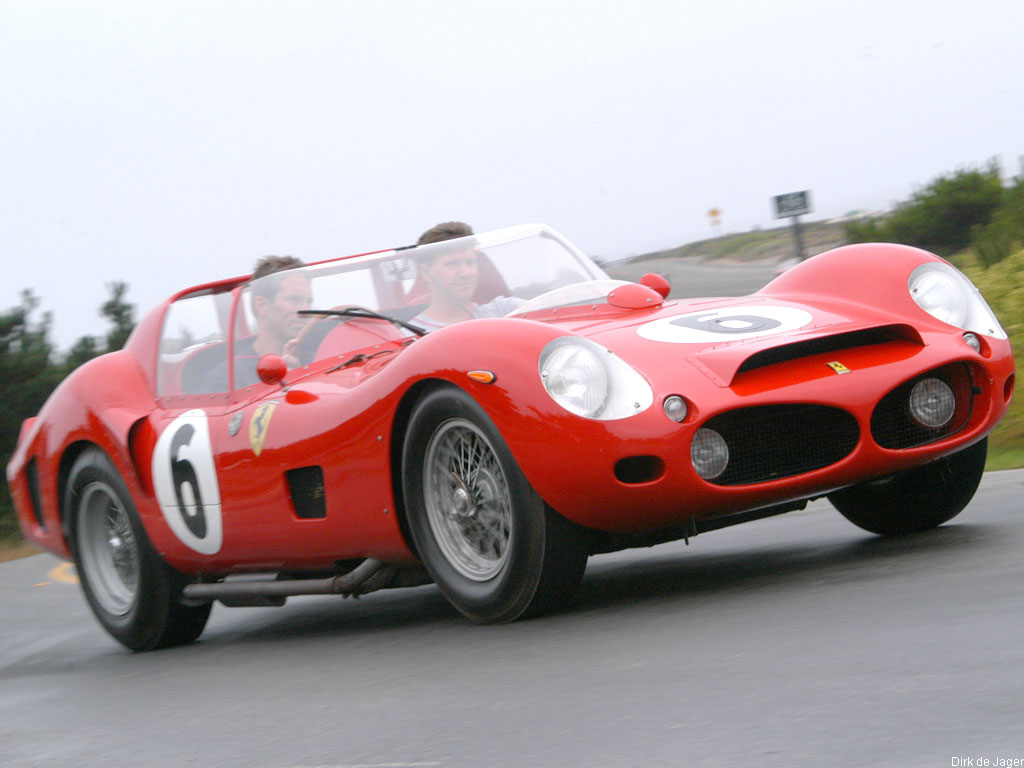 Ferrari 330 TRI/LM Chassis & History
#0808 Since Le Mans
The history of 0808 since its LeMans victory is an interesting one. After the race, it was sold to Chinetti's NART team. Under him, the car again raced Lemans in 1963. Unfortunately, the car suffered a bad accident, and luckily the driver was unharmed. This was the last racing effort for 0808.
Chinetti had two bodies made for the smashed car by Fantuzzi, the first being an open spyder with a rear roll hoop. Eventually this was discarded for a coupe body was fitted. Hisashi Okada then took ownership for nine years and he drove the car on the roads in and around New York. The next owner was Pierre Bardinon of the famed Mas Du Clos collection. He purchased the car and went to Fantuzzi to construct an exact copy (minus glass windscreen insert) of version he originally made in 1962. Thanks to Bardinon, the car was gloriously brought back to its 1962 LeMans configuration, including its original engine and chassis.
#0808 at Auction
In August of 2002, Bardinon sold the car and it was quickly offered for public sale at the Monterey Sports Car Auction by RM Auctions. It was the first time the car had been offered for public sale and it sold 5.9 million USD plus the mandatory 10% buyers premium which put the car at 6.5 million in total. Jim Spiro purchased the car through his Fantasy Motors dealership.
In 2005, #0808 was again offered for auction, this time at the Sotheby's Ferrari Auction at the Factory but did not sale. Two years later at the same auction #808 fetched record price of 6 875 000 EUR plus commission.
Ferrari 330 TRI/LM Gallery
See full 1962 Ferrari 330 TRI/LM image gallery here.
Specs & Performance
| | |
| --- | --- |
| | |
| type | Racing Car |
| built at | Maranello, Italy |
| production | 1 |
| engine | Tipo 163 Superamerica V12 w/Testa Rossa Cylinder Heads, Dry Sump Lubrication |
| position | Front Longitudinal |
| aspiration | Natural |
| valvetrain | Chain Driven SOHC, 2 Valves per Cyl |
| fuel feed | 6 Twin-Barrel Weber 42DCN Carburetors |
| displacement | 2968 cc / 181.1 in³ |
| bore | 77 mm / 3.03 in |
| stroke | 71 mm / 2.8 in |
| compression | 8.7:1 |
| power | 290.8 kw / 390.0 bhp @ 7500 rpm |
| specific output | 131.4 bhp per litre |
| body / frame | Fantussi Aluminum Body over Steel Tube Frame |
| driven wheels | RWD |
| front tires | 6.0×16 |
| rear tires | 7.0×16 |
| front brakes | Dunlop Vented Discs |
| rear brakes | Inboard Dunlop Vented Discs |
| front wheels | F 40.6 x 15.2 cm / 16.0 x 6.0 in |
| rear wheels | R 40.6 x 17.8 cm / 16.0 x 7.0 in |
| f suspension | Double Wishbones |
| r suspension | Double Wishbones |
| wheelbase | 2418 mm / 95.2 in |
| front track | 1354 mm / 53.3 in |
| rear track | 1350 mm / 53.1 in |
| transmission | 5-Speed Testa Rossa Transaxle w/Upgraded Internals |
Sources and Further Reading
Bluemel, Keith. 'A Ferrari of Many Guises'. Cavallino 141, July 2004.
Carey, Rick. 'Lot #143, Ferrari 330 TRI/LM'. Monterey Sports Car Auction, August 2002.
Finn, Joel E. Testa Rossa V12, Newport Press: 1979.
Pritchard, Anthony. Scarlet Passion, Haynes: 2004.