1962 Ford Mustang I Concept
In the 1960's Ford wanted to create a compact sports roadster that would both challenge the Corvette and other British roadsters. Several concepts were drawn up including a very unique design by Troutman and Barnes of Los Angeles. This concept was one of the first cars to bear the name Mustang in honor of the World War II fighter plane.
Forming a basis for the car was a steel frame made out of one inch tubing. Roy Lunn and Herb Misch of Ford designed the chassis to accommodate four-wheel independent suspension, rack and pinion steering and disc brakes. Highlighting the chassis design was its mid engine layout.
The concept of having the engine in the middle of a production car was a new idea in the sixties. In 1962 the first mid-engine road-car was released by ATS, a small company founded with the help of Carlos Chiti and Giotto Bizzarrini. Many areas of motor sport were also experimenting the mid engine layout.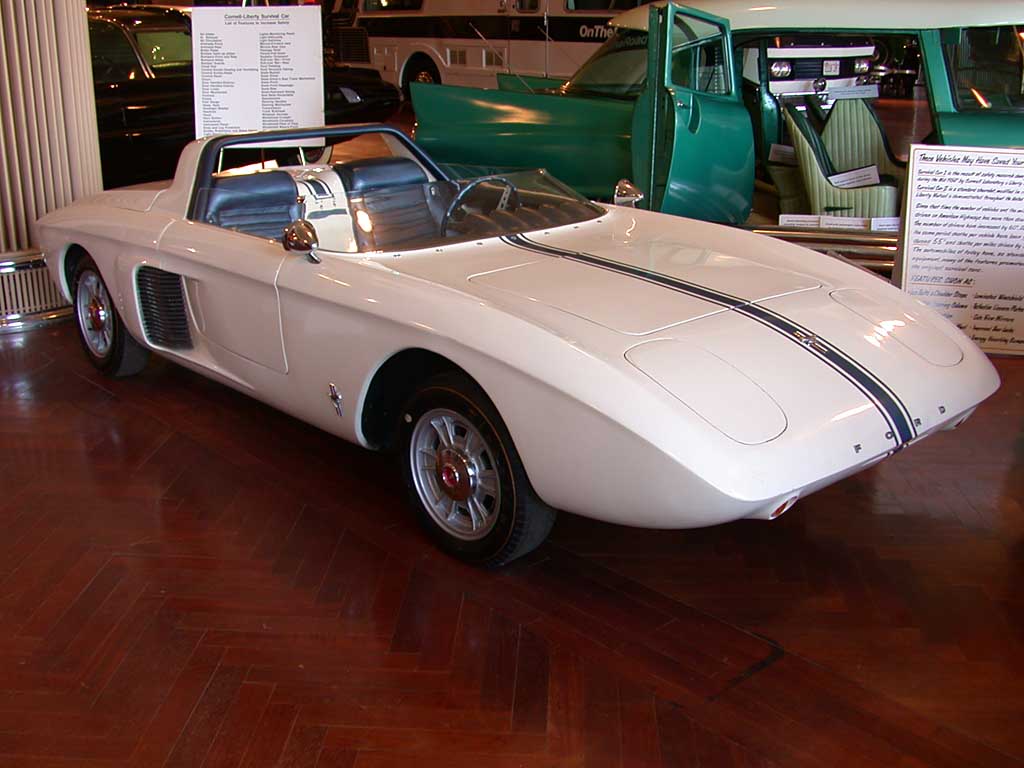 The engine itself was a an unusual V4 which was originally designed for an economy car called the Cardinal. This very short engine met the dimensional requirements to fit in the rear and had ample power for the lightweight car which used a stressed aluminum body.
In 1963 the radical Mustang 1 from LA was completed. Its first public appearance was the United States Grand Prix at Watkins Glen. It was driven by Dan Gurney. The car received a lot of attention, but was too complex for regular production. As such the final Mustang design didn't resemble this concept car in many ways.
Two of these concepts were made. The first was a detailed, but non-running fiberglass mock-up while the second was a fully functional car.
In Detail
| | |
| --- | --- |
| submitted by | Richard Owen |
| type | Concept / Prototype Car |
| built at | USA |
| body stylist | John Naijar |
| coachbuilder | Troutman & Barnes |
| production | 2 |
| engine | 60 Degree V4 |
| position | Mid Engine |
| aspiration | Natrual |
| valvetrain | OHV |
| fuel feed | Solex carburettor |
| displacement | 1927 cc / 117.6 in³ |
| power | 81.3 kw / 109 bhp @ 6400 rpm |
| specific output | 56.56 bhp per litre |
| bhp/weight | 155.71 bhp per tonne |
| body / frame | Stressed Aluminum Body over Steel Tube Frame |
| front brakes | Discs |
| rear brakes | Drums |
| steering | Rack & Pinion |
| f suspension | Double A-Arms w/Adjustable Springs & Shocks, |
| curb weight | 700 kg / 1544 lbs |
| wheelbase | 2286 mm / 90.0 in |
| front track | 1219 mm / 48 in |
| rear track | 1245 mm / 49 in |
| length | 3912 mm / 154.0 in |
| height | 1016 mm / 40 in |
| transmission | 4-Speed Transaxle |
| final drive | 3.30:1 |
| top speed | ~160.9 kph / 100.0 mph |
| 0 – 60 mph | ~11.0 seconds |
| 0 – 1/4 mile | ~18.0 seconds |