1963 Alfa Romeo Giulia TZ
The Tubolare Zagato (TZ) was conceived in 1959 to replace the SZ using most of the Giulia series assemblies, but with a radical tubular space frame chassis and lightweight Zagato body. These advanced traits made the TZ much more purpose-built for racing than the standard Giulia.
Chief designer Giuseppe Busso said "The TZ1 is the result of the evolution of the concept of a 1500cc racing car that dates back to 1955 that is even before the SZ." He's Referring to the 750 Competizione which used a steel-boxed chassis which was eventually dropped. Instead the TZ1 used a more elaborate version of the SZ's tube frame.
Work on the TZ began in 1960 and the first road trials were conducted in 1961. However, it took a long time to reach production because precedence was given to the new Giulia and 2600 models.
Zagato, who had bodied previous competition Giulias, was entrusted to create the body. Zagatos lightweight aluminum bodies were ideally suited for the TZ's advanced chassis. Their recent advances in aerodynamics led the inclusion of a Kamm Tail which helped raise stability without introducing drag.
Wanting a return to serious racing, company president Giuseppe Luraghi had Oarzio Satta approach ex-Ferrari engineer Carlo Chiti to produce the Tubulare Zagato (TZ). Chiti then setup Autodelta in March of 1963 to foster this new agreement. As the TZ1 progressed and became successful, Autodelta increasingly became Alfa Romeo's racing wing until the company was eventually purchased by the firm.
Three years after the project began, the TZ was first shown on Zagato's stand at the 1962 Turin Motorshow. It was later sold in 1963 with a 112 bhp engine identical to the one on the Sprint Special: this engine was then further developed for the TZ1 in participation in Grand Touring Category races. It was later offered with twin-spark ignition.
After its sporting debut in minor races, the Giulia TZ1 was immediately able to make its mark in demanding races such as the FISA Cup in Monza in 1963, at the Sebring 12-hour race, the 48th Targa Florio, the 1000 km Nurburgring, the Le Mans 24-hour race, the Tour of France, the Coupe des Alpes, and the Tour of Corsica. These victories confirm the great class of a car suitable not only for track racing, but also for more demanding road circuits.
Story by Alfa Romeo & Supercars.net
In Detail
| | |
| --- | --- |
| submitted by | Richard Owen |
| type | Series Production Car |
| engine | Inline-4 |
| position | Front Longitudinal |
| aspiration | Natural |
| displacement | 1570 cc / 95.8 in³ |
| power | 119.3 kw / 160 bhp @ 7000 rpm |
| specific output | 101.91 bhp per litre |
| bhp/weight | 242.42 bhp per tonne |
| front brakes | Discs |
| rear brakes | Discs |
| f suspension | Double Wishbones w/Coil Springs, Telescopic Dampers, Anti-Roll Bar |
| r suspension | Independent w/Coil Springs, Telescopic Dampers, Anti-Roll Bar |
| curb weight | 660 kg / 1455 lbs |
| wheelbase | 2200 mm / 86.6 in |
| transmission | 5-Speed Manual |
Auction Sales History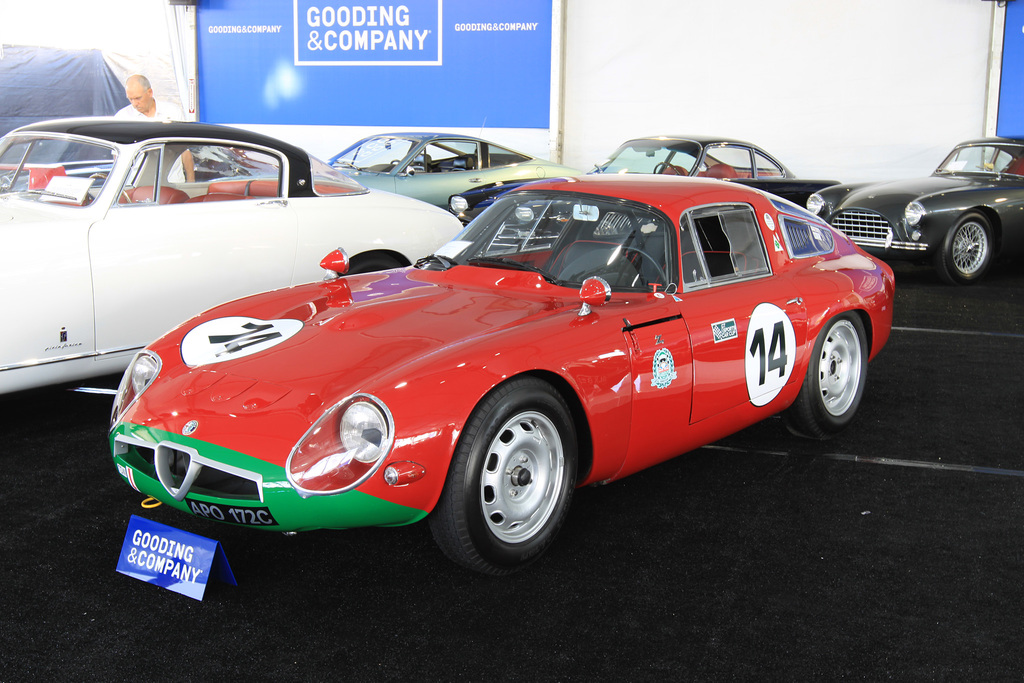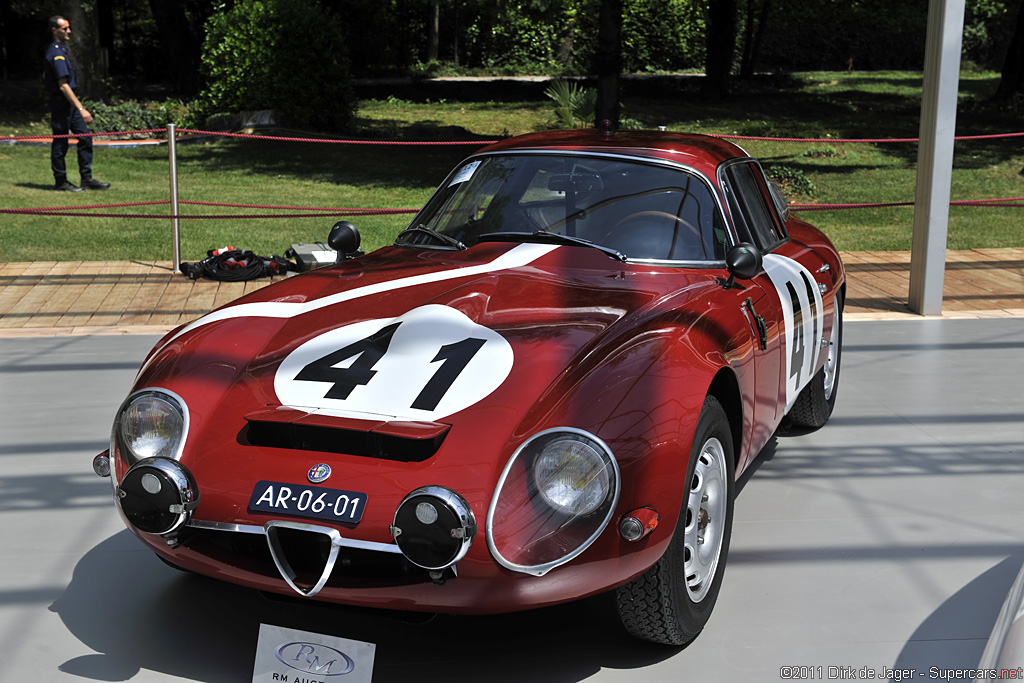 1964 Alfa Romeo TZ Coupé 750006 – sold for €627,200
One of the most important TZs in existence, race-prepared new for Alfa Romeo by Autodelta. Entries at the Targa Florio, Le Mans 24 Hours, Monza 1000 Kms and Tour de France. Landmark Alfa Romeo model with gorgeous aluminium Zagato coachwork. Fully restored by Piet Roelofs Engineering to 1964 Le Mans configuration and livery. Single-family ownership for 23 years.
Auction Source:
RM 2011 Villa d'Este Auction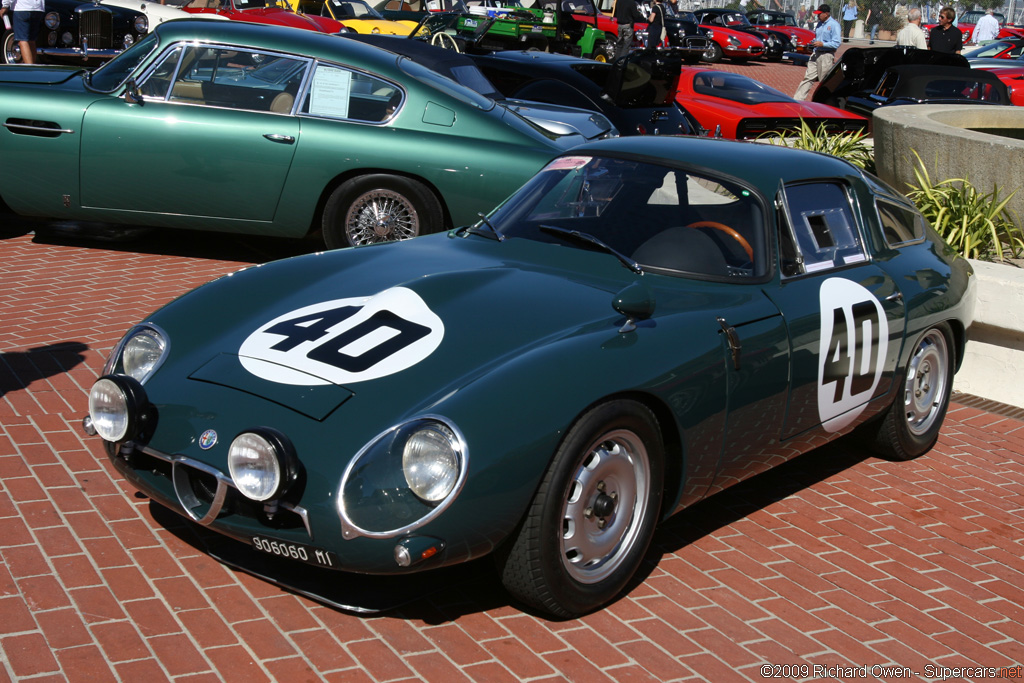 1963 Alfa-Romeo TZ (TZ-1) – sold for $302,500
In its original Verde Bottiglia (bottle green) livery of Scuderia Sant'Ambroeus, TZ 003 was entered in the 1964 1000 Kilometres of Nürburgring, then on to the Le Mans 24 Hours. Driven by the Franco-Italian team of Jean Rolland and Fernand Masoero, the car crashed on lap 47 in the fifth hour of the race. Recommissioned with a new nose, sporting the single horizontal air vent, 003 went on to enter the Tour de France (Berney/Biscaldi), the Tour de Corse (Tomas/Gamet) and the Criterium Cevennes (Masoero/Massad).
Auction Source: 2009 RM Auctions Sports & Classics of Monterey