1963 Ferrari 250 GT Drogo Berlinetta
This body design is one that was made by Carrozzeria Sports Cars under the direction of Piero Drogo. Giotto Bizzarrini has been attributed to the design which was very similar to the current Ferrari 250 GTO.
Chassis 2735GT started out life as one of the potent SEFAC Hot Rods initially raced under the Rob Walker by greats like Stirling Moss and Graham Hill at Le Mans. After a long string of races in 1961 it was then sold to Laystall then Christopher Kerrison who severaly damaged the car at the 1962 Goodwood Tourist Trophy.
Kerrison sent his car to Piero Drogo's Carrozzeria Sports Cars to be updated and reflect the performance of the 250 GTO. The car was very distinct with a very low front noise, plexiglas front intake bluge and fashback rear profile. Inside a bespoke interior was fitted. The entire car was so low a regular dashboard couldn't be fitted, and so the gauges were all mounted on the transmission tunnel.
In this configuration it was raced heavily in 1963 and 1964 in dark metalic green until it was eventually sold off. By 1980, the car had lost original GTO-spec engine, but this didn't Grand Prix Metalcraft from making a replica SWB body in aluminum to suit that car. Eventually the original specification and livery were fabricated.
The scrap body was then installed on 250 GTE 2+2 chassis 3611GT. John Starkey bought the 'GTO-ized' chassis and began to complete the project with help from Christopher Kerrison.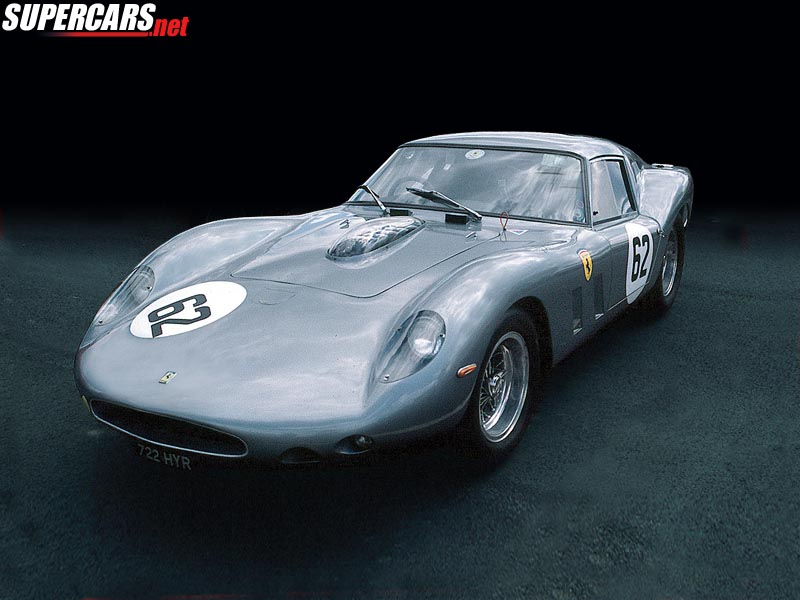 In Detail
| | |
| --- | --- |
| | |
| type | Racing Car |
| released at | 1963 Easter Monday Goodwood Meeting |
| built at | Modena, Italy |
| body stylist | Giotto Bizzarrini |
| coachbuilder | Carrozzeria Sports Cars |
| production | 1 |
| engine | V12 |
| valvetrain | SOHC 2 Valves / Cyl |
| displacement | 2953 cc / 180.2 in³ |
| bore | 72.9 mm / 2.87 in |
| stroke | 58.8 mm / 2.31 in |
| power | 216.3 kw / 290.1 bhp |
| specific output | 98.24 bhp per litre |
| bhp/weight | 283.02 bhp per tonne |
| curb weight | 1025 kg / 2260 lbs |
| height | 1130 mm / 44.5 in |
| transmission | 4-Speed Manual |