1964→1965 Ford Mustang Hardtop
Ford released their first Mustang at the 1964 New York World's Fair as a 1965 model year car. It was immediately well received and broke production records in the first year. Production began in March 1964 win 1965 VIN numbers, but with subtle differences, the early cars are sometimes referred to as 1964½.
At the time of sale, the Mustang was sold alongside the Falcon, Fairlane and Thuderbird as a more compact option. To cut down on production costs and maintenance, the Mustang borrowed many common components from the other Ford products.
The project was managed by Lee Iacocca who wanted a four-seater car, no longer than 180 inches that could sell for less than $2,500 USD and have multiple performance and luxury options.
The Mustang came with either a Thiftpower Inline-6 or a variant of the Windsor V8. The most powerful option was the HiPo 289 V8 which offered 271 bhp. Transmissions included a 3 or 4-speed manual with an optional Cruise-O-Matic 3-Speed automatic.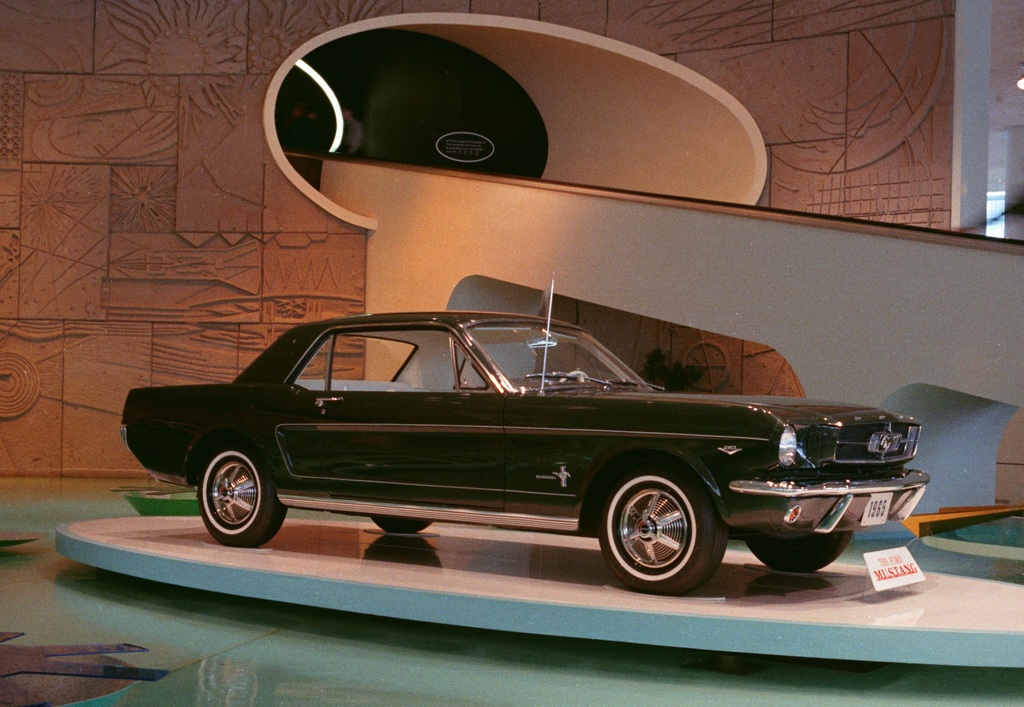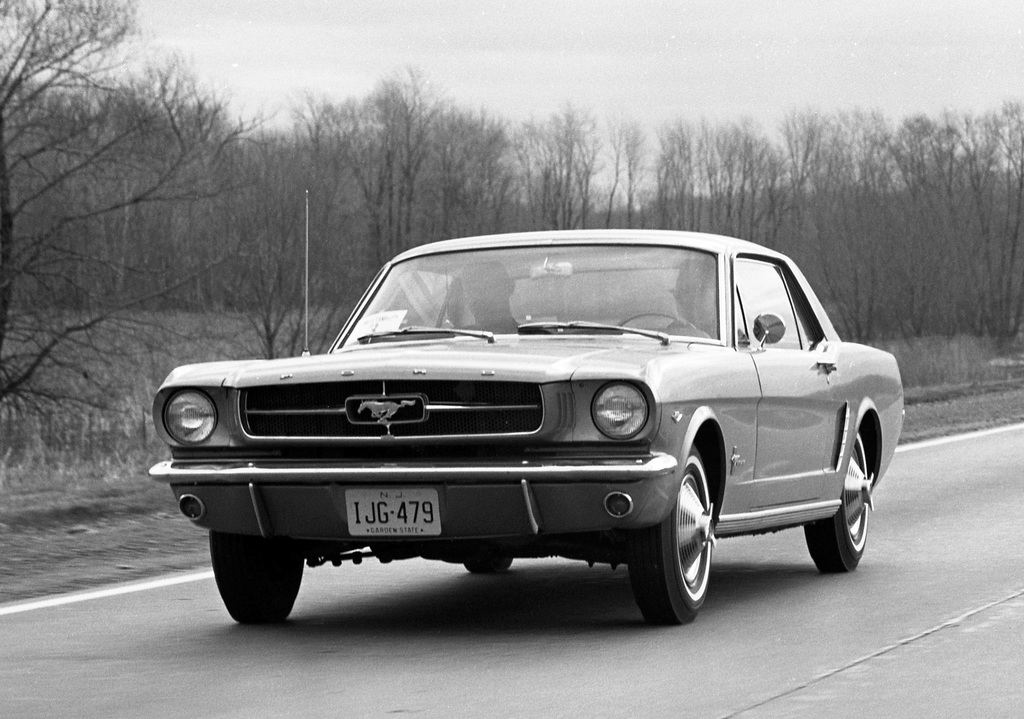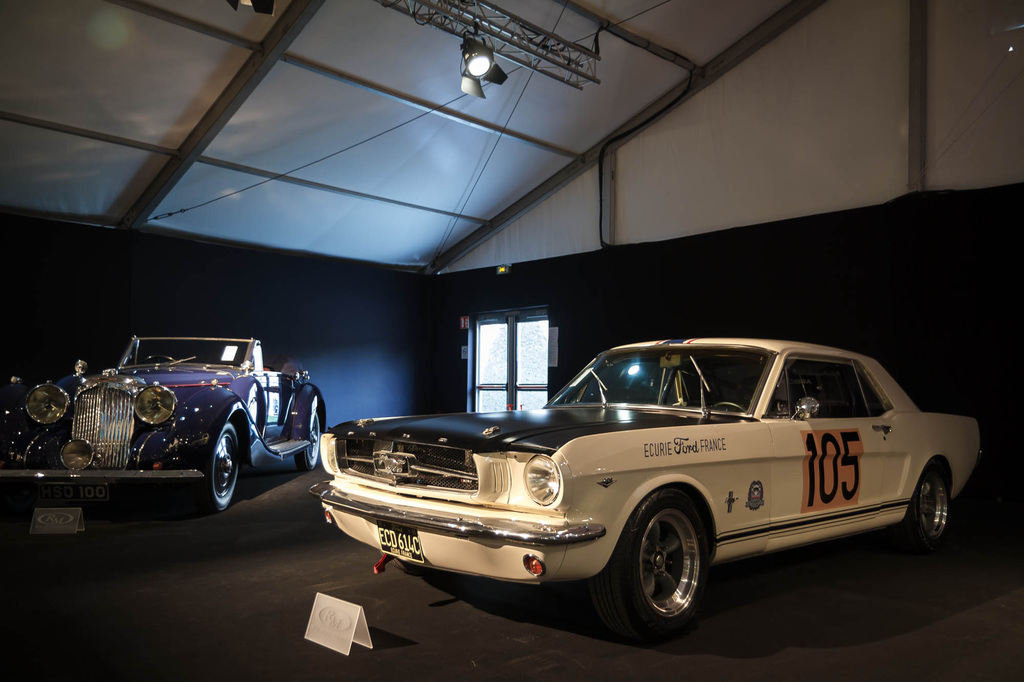 Colors for the model included Raven Black, Wimbledon White, Rangoon Red, Silver Smoke Grey, Guardsman Blue, Skylight Blue, Caspian Blue, Dynasty Green, Chantilly Beige, Vintage Burgundy, Prairie Bronze, Samoan Coral, Red Metallic, Padoga Green and Chrome Yellow with either Black, Red, Blue, Palomino or White interior.
A GT Equipment Package became available in 1965 that added grill-mounted fog lamps, rocker panel stripes, disc brakes and extra interior gauges.
In Detail
| | |
| --- | --- |
| | |
| type | Series Production Car |
| production years | 1964 – 1965 |
| built at | Dearborn, USA |
| body stylist | Joe Oros, L. David Ash, Gale Halderman, John Foster |
| interior designer | Damon Woods |
| engineers | Donald N. Frey |
| engine | High Performance V8 |
| position | Front, Longitudinal |
| aspiration | Natural |
| bore | 101.60 mm / 4.00 in |
| stroke | 72.90 mm / 2.87 in |
| compression | 10.5:1 |
| power | 202.1 kw / 271 bhp |
| bhp/weight | 198.97 bhp per tonne |
| torque | 423.0 nm / 312 ft lbs |
| body / frame | Steel Body over Steel Platform Chassis |
| driven wheels | RWD |
| wheel type | Steel Disc |
| front tires | 6.50-13 |
| rear tires | 6.50-13 |
| front brakes | Drums |
| rear brakes | Drums |
| front wheels | F 33.0 x 11.4 cm / 13 x 4.5 in |
| rear wheels | R 33.0 x 11.4 cm / 13 x 4.5 in |
| f suspension | A-Frame and Lower Arms w/Coil Springs, Anti-Roll Bar |
| r suspension | Solid Axle w/Leaf Springs |
| curb weight | 1362 kg / 3000 lbs |
| wheelbase | 2743 mm / 108 in |
| front track | 1407 mm / 55.4 in |
| rear track | 1422 mm / 56.0 in |
| length | 4613 mm / 181.6 in |
| width | 1727 mm / 68 in |
| height | 1295 mm / 51 in |
| transmission | 4-Speed Manual |
| gear ratios | 2.78:1, 1.93:1, 1.36:1, 1.00:1 |
Auction Sales History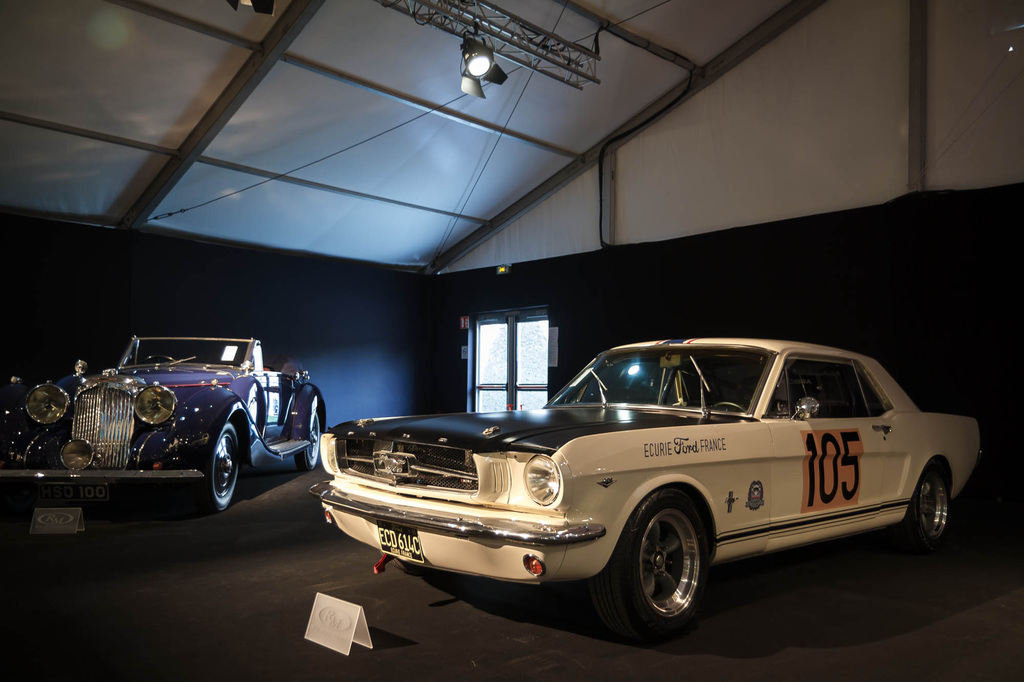 1965 Ford Mustang 289 Racing Car 5F07C602557 – sold for €67,200 This notchback Mustang has had vast expense lavished on it in order to build it into an ideal historic race/rally competitor. The shell was sent to highly regarded preparer Rae Davis Racing, and main assembly and preparation was carried out by the talented men at CCK Historics of Kent, with an array of invoices for their work and the parts purchased on file. Auction Source: 2014 Paris by RM Auctions