1964 Fiat Abarth 1000 Berlina Corsa
After modifying Fiat's 500/600 line for nearly a decade, Abarth became one of the most sought after and ambitious Fiat tuners. Made in partial agreement with Fiat, these 1000 Berlina Corsa's represented the last and most potent evolution of these models. As such, the 1000 benefited from all the versions which came before. SO much so, the 1000 raced successfully up to 1970.
The first 1000 Berlinas appeared in 1962 and used a version of the Fiat 600D engine. Prepared for road and track, these cars helped win points in the 1000cc Touring Car Class. Limited to only 68 bhp, and only finishing 32nd at the Rally Monte Carlo, the racing version was replaced by the Berlina Corsa in 1964.
The Berlina Corsa was distinguished by its front mounted radiator that was placed upfront and in between the bumper bars. Its engine was tuned to produce 76 bhp helped the car reach 185 kph. Cooling was aided by permanetly opening the engine hood.
In 1965, the model was updated with a larger radiator and support shroud which eliminated the need for a fan to cool the rear unit. The window wipers also used a new linkage and a fuel filler cap was located in the center of the front hood. These verions helped dominate the 1965 Division 1 Championship for 1000cc and smaller cars. They also secured similarly structured Italian Championship sub-classes.
Abarth continued on with this model in 1966 with a larger front radiator shroud that extended the entire width of the car. This was good to win the Division 1 Touring Car Championship and the similar Italian Championship. The cars also competed in many Hillclimbs and Rallies with intermittent success. Many of the factory works cars in 1966 were painted with red checkerboard roofs.
Beyond 1967, the cars continued to race much in the same vein as they did in previous years, dominating the 1000cc class of the Italian Championship and the International Touring Car Championship. In 1970, they were updated with huge rear flares for Group 2 racing following the Appendix J International Regulations.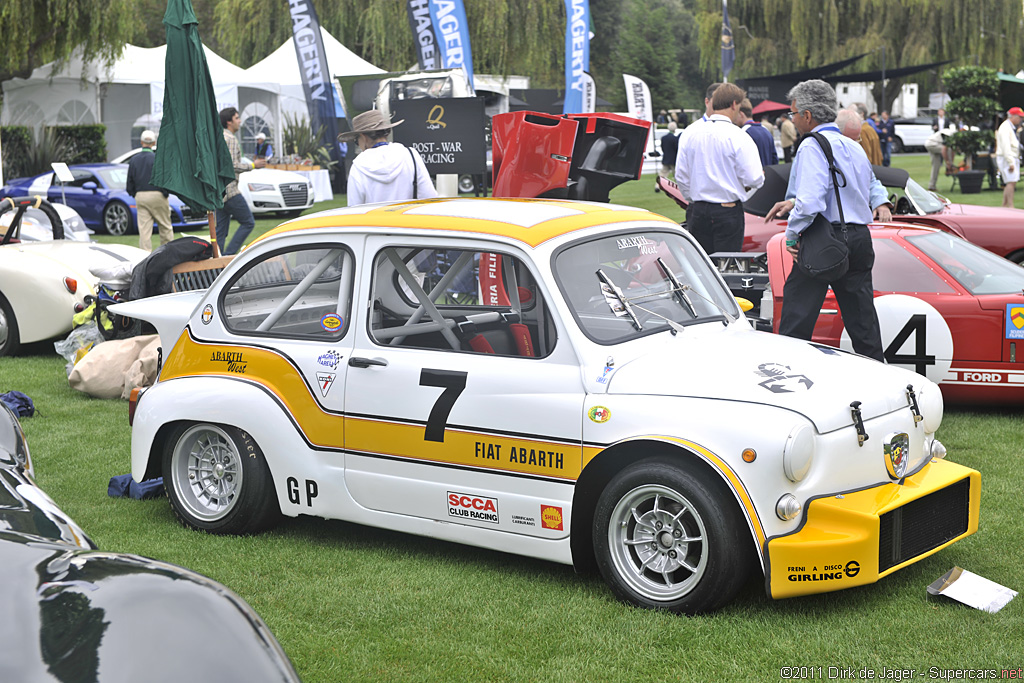 Bibliography and Further Reading
Braden, Pat & Schmidt, Greg. Abarth Fiat Simca Porsche Street Race Record, Osprey, United Kingdom: 1983.
Cosentino, Alfred. Abarth Guide, Nigensha Publishing, Japan: 1984.
Greggio, Luciano. Abarth, the man, the machines, Giorgio Nada Editoire, Italy: 2002.
In Detail
| | |
| --- | --- |
| | |
| type | Racing Car |
| built at | Turin, Italy |
| engine | Inline-4 |
| position | Rear Longitudinal |
| valvetrain | Pushrod OHV, 2 Valves per Cyl |
| displacement | 982 cc / 59.9 in³ |
| bore | 65 mm / 2.56 in |
| stroke | 74 mm / 2.91 in |
| power | 56.7 kw / 76 bhp @ 6000 rpm |
| specific output | 77.39 bhp per litre |
| bhp/weight | 128.81 bhp per tonne |
| body / frame | Unit Steel |
| driven wheels | RWD |
| front tires | 4.25×13 |
| rear tires | 4.25×13 |
| front brakes | Discs |
| rear brakes | Discs |
| steering | Worm & Sector |
| f suspension | Independent w/Upper Trailing Arms, Transverse Leaf Springs, Hydraulic Dampers |
| r suspension | Independent w/Upper Trailing Arms, Coil Springs, Hydraulic Dampers |
| curb weight | 590 kg / 1301 lbs |
| wheelbase | 2000 mm / 78.7 in |
| front track | 1150 mm / 45.3 in |
| rear track | 1160 mm / 45.7 in |
| length | 3285 mm / 129.3 in |
| width | 1380 mm / 54.3 in |
| height | 1400 mm / 55.1 in |
| transmission | 4-Speed Manual |
| top speed | ~185 kph / 115.0 mph |
Auction Sales History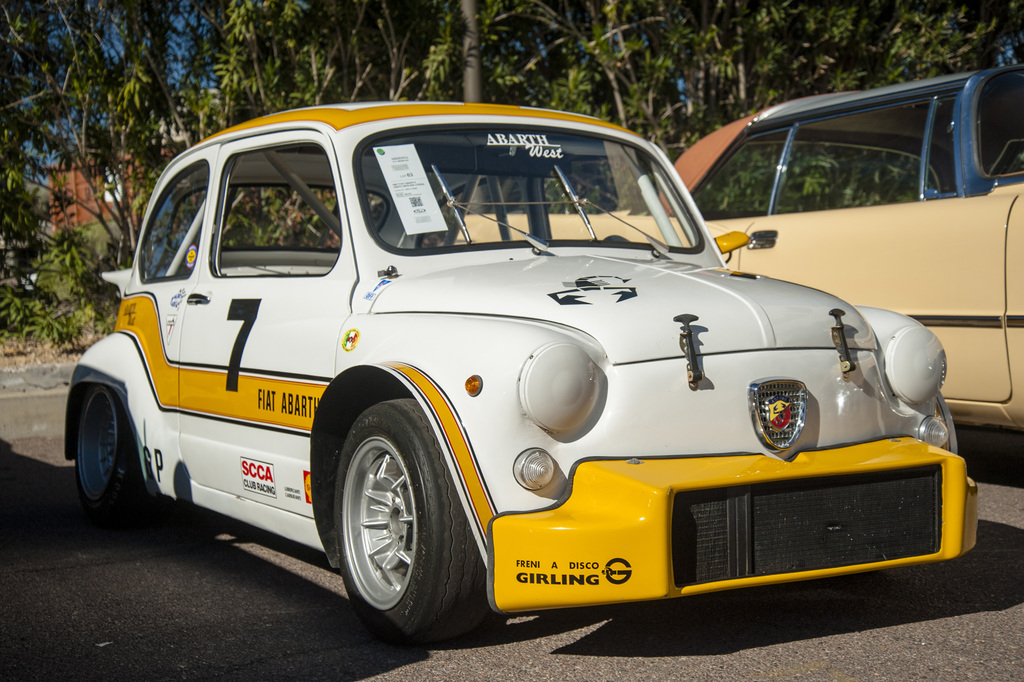 Story by Richard Owen for Supercars.net