1965→1966 Fiat Abarth OT 1300
While the Ferrari GTO was heralded for winning the Division 3 World Touring Car Championship, the Fiat Abarth OT 1300 nearly matched its performance in Division 1. This small car won many important victories for Abarth including the 1966 and 1967 Division 1 World Championships.
Based on Simca parts, the OT 1300 used a heavily modified version of its chassis. Engineer Mario Colucci was responsible for the design which used a modified Simca 1000 floor pan. Attached to this were new front and rear sections that supported independent suspensions and modified Fiat 850 components.
The engine was designed from the ground up, but was similar to the Simca 1.3-liter they had raced in previous years. It was built at Corso Marche and by Luciano Fochi who had already designed the 1.6 and 2.0-liter units. Hallmarks of the engine included five main bearings, twin overhead cams and twin choke Weber carburetors.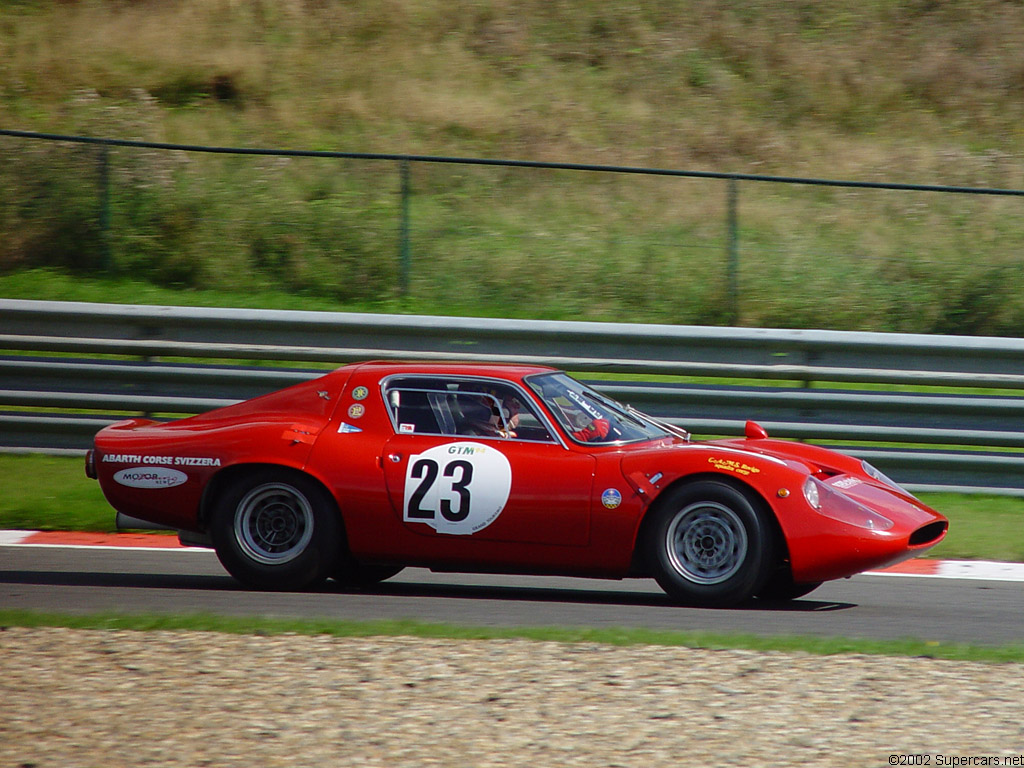 The whole car was covered in a sleek fiber glass body that was penned Mario Colucci and fabricated at Sibona & Basano of Turin. Upfront was a large opening to feed air to a radiator which was then extracted out the top of the hood. Both the front and rear sections were hinged and provided ample access to the running gear.
Between May 1965 and March 1966, over 50 examples of the OT 1300s were made to satisfy homologation requirements. It replaced the Abarth Simca 1300 but raced in the prototype class until homologated in May of 1966. During the season, the OT 1300 racked up 37 points towards the Constructor's Championship.
In 1967, the design was updated starting with the chassis which was widened. Probably the most distinctive touch was the addition of a roof-mounted scoop which fed the carburetors fresh air. At the rear were many changes including larger Plexiglas rear window and a very small spoiler.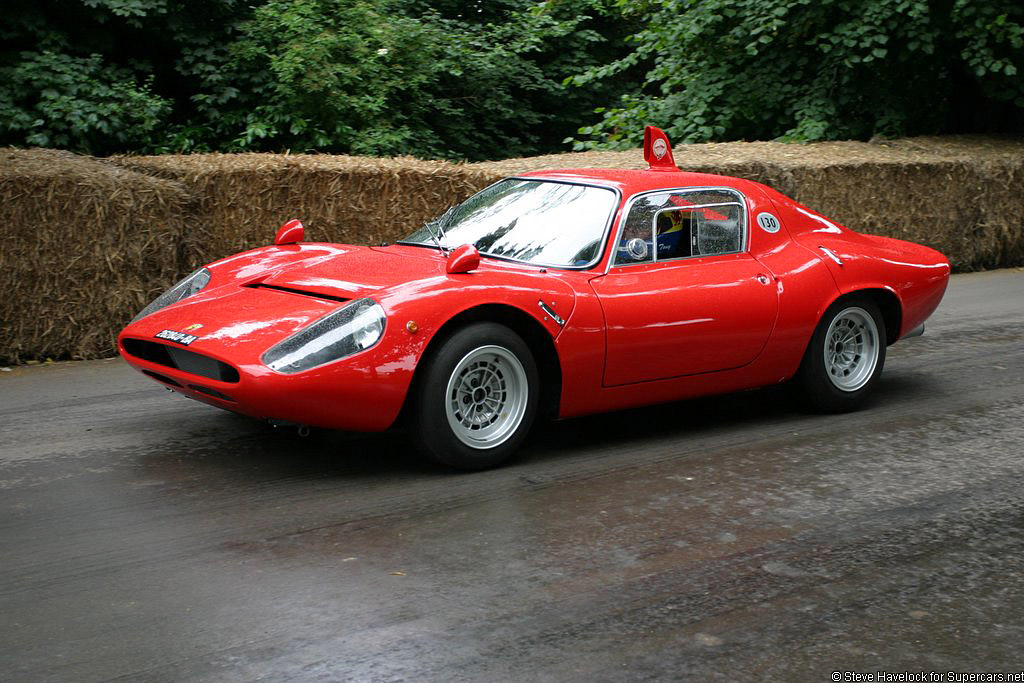 At the 1967 Le Mans, the 1300 OTs were the very last cars to complete their race, but won their class in 16th place overall. They were behind similarly powered Alpine A210 Renaults that had to be placed in the prototype category due to homologation requirements.
Overall both the series I and series II OT 1300s were very successful. They won the 1966 and 1967 Division 1 Grand Touring World Championship and the 1966, 67 and 68 Group 4 Italian Championship.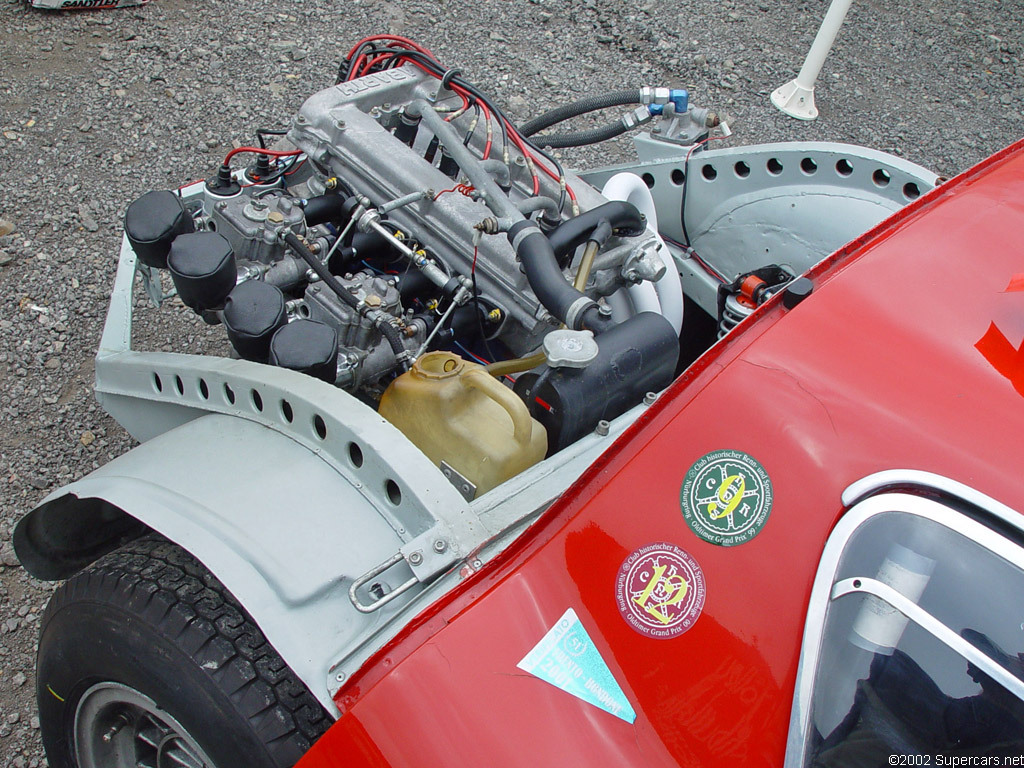 Bibliography and Further Reading
Braden, Pat & Schmidt, Greg. Abarth Fiat Simca Porsche Street Race Record, Osprey, United Kingdom: 1983.
Cosentino, Alfred. Abarth Guide, Nigensha Publishing, Japan: 1984.
Greggio, Luciano. Abarth, the man, the machines, Giorgio Nada Editoire, Italy: 2002.
In Detail
| | |
| --- | --- |
| submitted by | Richard Owen |
| type | Racing Car |
| production years | 1965 – 1966 |
| released at | 1965 Nürburgring 500kms |
| built at | Turin, Italy |
| body stylist | Mario Colucci |
| coachbuilder | Sibona & Basano |
| production | 50 |
| engine | Abarth Inline-4 |
| position | Rear, Longitudinal |
| aspiration | Natural |
| valvetrain | DOHC, 2 Valves per Cyl |
| fuel feed | 2 Twin-Choke Weber 45DCOE9 |
| displacement | 1289 cc / 78.7 in³ |
| bore | 86 mm / 3.39 in |
| stroke | 55.5 mm / 2.19 in |
| compression | 10.5:1 |
| engine designer | Luciano Fochi |
| power | 109.6 kw / 147 bhp @ 8800 rpm |
| specific output | 114.04 bhp per litre |
| bhp/weight | 224.43 bhp per tonne |
| body / frame | Box Steel Chassis |
| driven wheels | RWD |
| front tires | 5.5×13 |
| rear tires | 6.0×13 |
| front brakes | Discs |
| rear brakes | Discs |
| steering | Worm & Sector |
| f suspension | Trailing Arms w/Coil Springs, Hydraulic Dampers, Anti-Roll Bar |
| r suspension | Trailing Arms w/Coil Springs, Hydraulic Dampers, Anti-Roll Bar |
| curb weight | 655 kg / 1444 lbs |
| wheelbase | 2015 mm / 79.3 in |
| front track | 1296 mm / 51.0 in |
| rear track | 1340 mm / 52.8 in |
| length | 3830 mm / 150.8 in |
| width | 1620 mm / 63.8 in |
| height | 1040 mm / 40.9 in |
| transmission | 5-Speed Manual |
| final drive | 5.4:1 |
| top speed | ~245 kph / 152.2 mph |
| race victories | 1966 500 km Nürburgring, 1967 GP Hockenheim |
| class victories | 1966 1000 km Monza, 1966 1000 km Nürburgring, 1966 GP Mugello, 1966 Coppa Citta di Enna, 1966 GP Hockenheim, 1966 500 km Zeltweg, 1967 GP Mugello, 1967 Coppa Citta di Enna, 1967 500 km Zeltweg, 1967 Ollon-Villars Hillclimb, 1967 500 km Nürburgring |